Like GearBrain on Facebook
When creating new accounts online, it is convenient when Apple devices like Mac computers, iPads and iPhones suggest a secure password and automatically save it.
It is equally convenient when you come to log into a service and your device automatically fills in the password for you. As with a lot of password managers, when used correctly this is a secure way to create and use online accounts, and means you don't even need to know what your passwords are, let alone remember them.
Read More:
But what happens when you need to manually enter a password? You are unlikely to know what it is, and while password manager apps let you log in to view them, Apple doesn't have a standalone password app, as they are instead saved to iCloud.
We recently came across this problem when setting up the new Amazon Echo Show 10 (which you can read the review of here). Setting up Echo speakers is done using the Alexa app, into which our iCloud automatically enters our Amazon password. But the Show is set up by using its own touchscreen.
Thankfully, it is remarkably quick and easy to find any password saved to your iCloud account. All you have to do is ask Siri, by saying: "Hey Siri, show my passwords."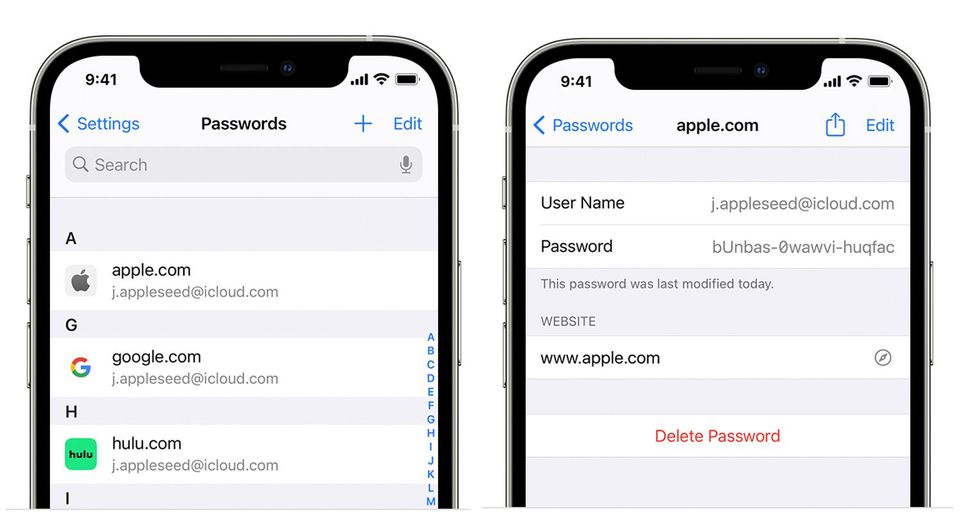 Viewing passwords saved on an iPhoneApple
Your iPhone or iPad will then perform a biometric security check with Face ID or Touch ID, before showing a searchable, alphabetical list of every account your iCloud holds a password for. These include websites as well as online services like email, banking and more. You can also ask Siri on a Mac, which will then ask for a Touch ID check or your Mac user password.

If you are looking for a specific password, as we were when logging into the Echo Show 10, you can say: "Hey Siri, what's my Amazon password?" and after the biometric check or password entry you'll be shown that password.
As well as a list of all of your passwords saved to iCloud, you'll be shown any security recommendations that the system thinks you should be aware of. This includes a list of any passwords that have appeared in data leaks online, putting the account at a higher risk of being compromised. Below this you will see a list of passwords that should be changed because they are commonly used and therefore easier to guess, and a list of services with which you have used a duplicate password.
If you don't want to use Siri, just open the Settings app of your iPhone and scroll down to Passwords.
From Your Site Articles
Related Articles Around the Web
Like GearBrain on Facebook