Like GearBrain on Facebook
The latest member of the Amazon Echo family is the third-generation Echo Show, complete with a display that turns to make sure you can always see it – and the integrated webcam can always see you.
Most at home on a kitchen counter or breakfast bar, the Echo Show 10 is a 10-inch touchscreen smart display with Alexa, smart home control, good audio quality, and the ability to show recipes, streaming video, video calls and more.
Read More:
Priced at $250 / £240, this is the most expensive Echo device to date, and is more than twice as much as the Echo Show 8, which is just two inches smaller but lacks the rotating feature of the Show 10 and has a far lower-resolution camera.
Should you invite the new Echo Show 10 into your home? Would it make the perfect addition to your kitchen counter? Read on to find out.
Amazon Echo Show 10 (3rd Gen) review: Hardware and design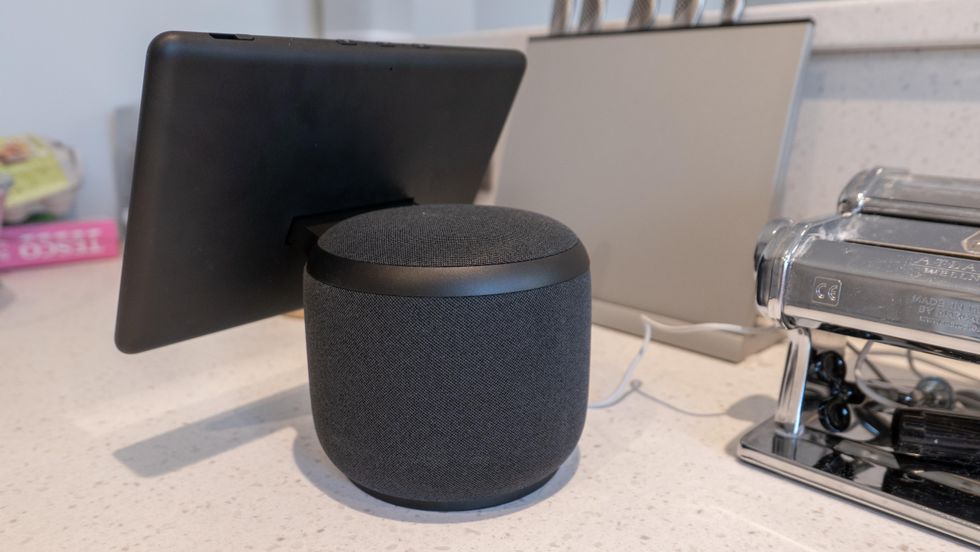 The Show 10 includes a pair of tweeters and a three-inch subwooferGearBrain
Your first impression will undoubtedly be that the Echo Show 10 is a big and heavy item. Its 10-inch display sits on a base that is roughly the size of the latest Echo smart speaker, and it weighs in at a hefty 90.3oz. We found it is far too big to sit on a bedside table or desk (unless you have a particularly large desk, that is) and even on the breakfast bar it takes up a fair bit of space – and that's before you give it room to rotate. All in, Amazon recommends you give the Echo Show 10 a space measuring 15 inches by 10 inches.

Available in black and white, the base unit is finished in the same fabric as the current Echo smart speaker range, and if you're buying this for your kitchen we suggest the darker option, as any food spatter is going to quickly ruin the lighter model.
The display can turn through 175 degrees in either direction from the center, and it does so silently and fairly quickly. The Echo Show 10 uses its camera to see you and turn the display accordingly, but Amazon says what it sees isn't an image and that data can't be used to create a visual representation of what you look like. It also uses the microphone to work out where you are, as when you say "Alexa" it turns to face where the sound came from.
There is a physical shutter that can be slid over the 13-megapixel camera for extra peace of mind when you don't want to use it, but doing this also disables the Show's ability to rotate to face you. Also on the top edge are buttons to control volume and one for muting the microphone, preventing Alexa from responding to your voice.
Inside, audio is produced by a pair of 1.0-inch tweeters and one 3.0-inch subwoofer.
Amazon Echo Show 10 (3rd Gen) review: Setup and software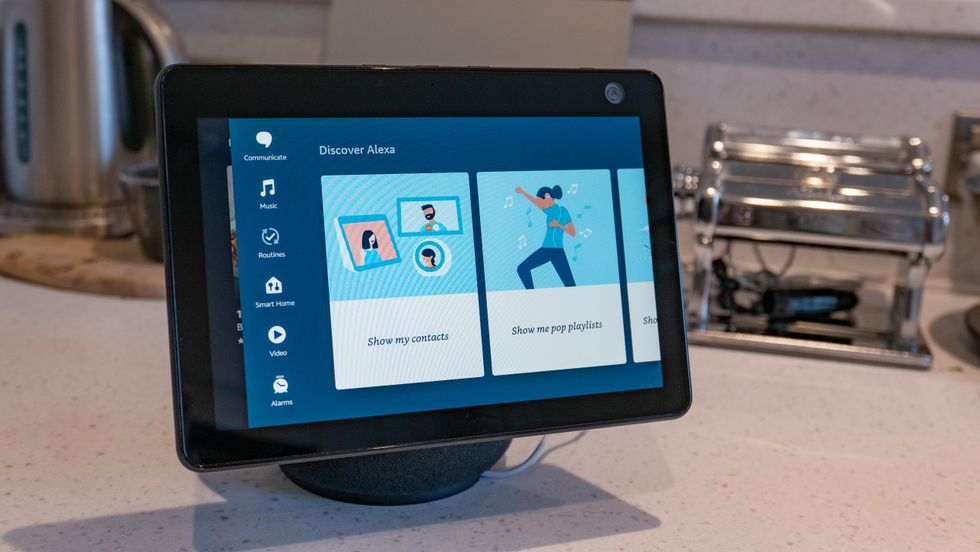 The Home Screen of the Echo Show 10GearBrain
Setting up an Echo Show is quite different to the Echo smart speaker range. Because there is a display, that's where you set everything up (instead of using the Alexa smartphone app). This only takes a few minutes and the on-screen keyboard makes it easy to log into your Amazon account, followed by your various streaming accounts like Netflix, YouTube and Spotify (but Disney+ is missing for now).

What takes the most time to set up is the Show 10's rotational feature. You are asked quite specifically where the device will be located, then go through a process that traces the disp;ay how far it can rotate in each direction. If you have plenty of space, it can rotate the full 175 degrees in either direction, but if the Echo Show 10 is in a corner, you can set it to only rotate by a certain amount to avoid it hitting anything.
This is all well and good, but if you move the Echo Show 10 (or relocate anything around it) you'll have to go through this entire process again. The software is also keen to run this setup again whenever the display bumps into something. Ideally, this is a device for sitting down once then never moving again.

Once everything is set up, the Show 10 works much like other Alexa smart displays. It will cycle through Amazon-curated images or your own image library while showing the date, time and other tidbits of information. A swipe from the right edge to the center opens the home screen, where there are shortcuts for the Communicate, Music, Routines, Smart Home, Video and Alarm sections of the operating system.
Calling up or dropping in on a friend (with audio or video) is simply a case of tapping their name in the Communicate section, while the Smart Home section provides access to all of your Alexa-controlled devices, like smart lights and plugs. Video gives access to streaming apps (although unfortunately YouTube must be viewed via the Show's web browser as there is no native app). It is all fairly self-explanatory, and of course you can reach any other functions by speaking to Alexa too.
Amazon Echo Show 10 (3rd Gen) review: Features and performance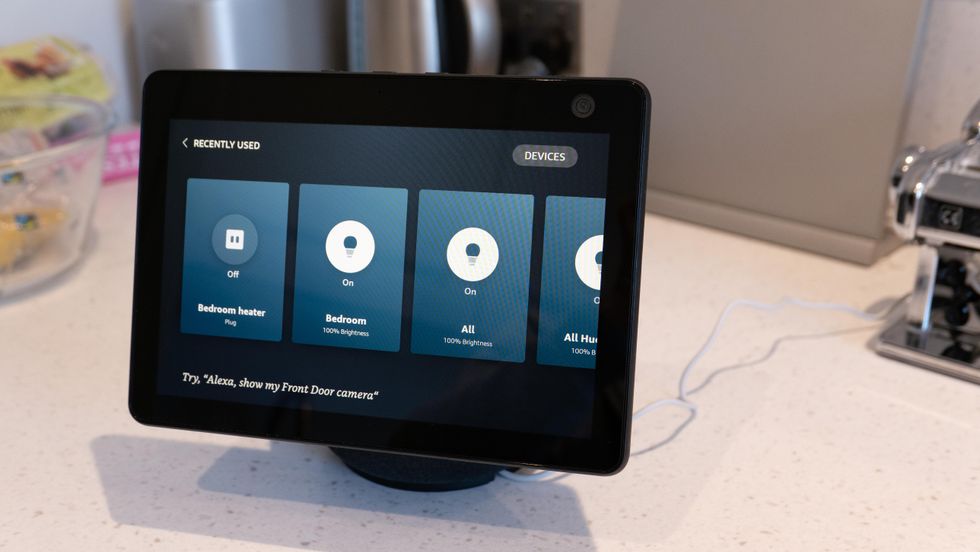 Smart home controls on the Echo Show 10GearBrain
The main feature of the Echo Show 10 is how it rotates to face you. This has two uses; firstly it means the display is always visible no matter where you are standing, and secondly it means you are always in frame during a video call. In that case, the camera also zooms in slightly so it can digitally move up and down too, further keeping you neatly in the center of frame.

This all works really well, and the display is even a little creepy in how accurately it spins to always face you square-on. But, while clever and occasionally useful, we can't help but wonder if this is really a must-have feature, and how much cheaper than Echo Show 10 might have been if it didn't include this feature.
Walking around your kitchen while on a video call with friends or family is something we've all become used to in the last year, but quickly moving the laptop, tablet or phone to adjust the view never felt like that much of a chore.
That said, if you've the space to let the Show 10 rotate freely we can see it spinning usefully into many smart homes, at least once you get over its following you being a little creepy. The camera can also be viewed remotely via the Alexa app, turning it into a simple security camera that can be rotated via the app to get a complete view of the room.
Elsewhere, the device works just as you would expect. The display is only 720p HD resolution but that's probably enough considering you are unlikely to sit down and watch a movie on it. For displaying recipes, video calls and the occasional YouTube video or Netflix episode while you prepare dinner, it's perfect.
The sound produced by the Echo Show 10 is also pretty good. To our ears it seems slightly better than the latest third-generation Echo smart speaker, which itself impressed us given its compact size and sub-$100 price. We were pleased to see (or rather, hear) how the display doesn't obstruct the audio as it appears it would, with music, video and Alexa's voice coming out nice and clear. We think the Echo Show 10 could certainly be the soul audio device in a room like the kitchen, where it can also perform as a small TV, a smart home controller, a video chat interface and means of viewing recipes and setting timers.
Lastly, the Echo Show 10 connects to thousands of compatible smart home devices just like other members of the Echo family, and also includes the Zigbee wireless smart home standard and Amazon's own Sidewalk technology.
Our only real complaint when it comes to performance is how the operating system sometimes took a couple of seconds to respond to inputs. For example, it can sometimes take in the region of five seconds for the video streaming apps page to appear after tapping the Video icon on the home screen.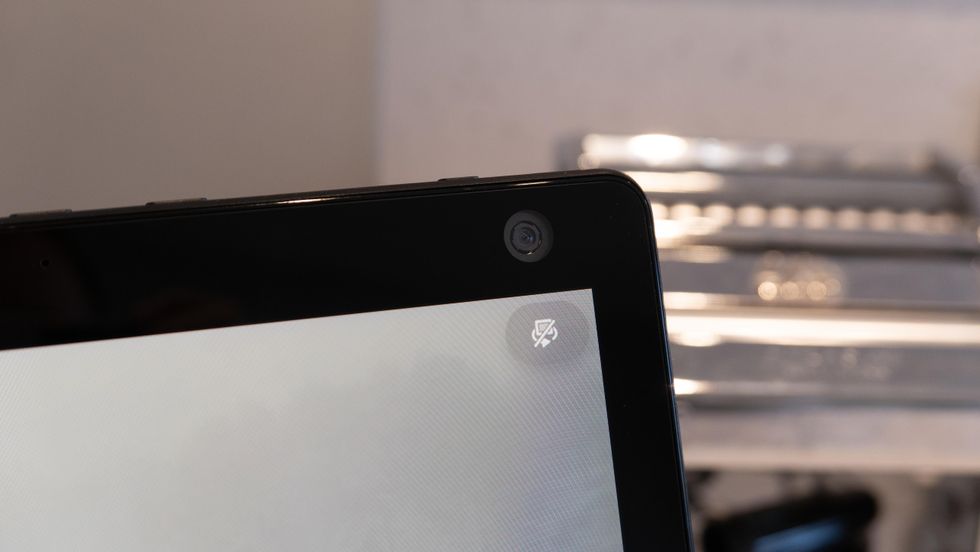 13-megapixel camera of the Echo Show 10GearBrain
Verdict

If you have the space, the Echo Show 10 makes a lot of sense as a smart display for the kitchen. It has all of the Alexa intelligence we're used to, with great sound for music playback, access to (some) video streaming apps, and a camera that handles video calls and home surveillance.
Getting the most out of the rotating feature will depend on the space you have and the layout of the room you put the Show 10 in. On a kitchen counter or breakfast bar, with room to spin and conveniently follow you around, it's a useful addition to the smart home. But we'd still love to know how much cheaper one would be without the motor and rotating design.
Pros
Big touchscreen display
Good sound
High quality camera
Cons
Rotating design won't be useful to everyone
Expensive for an Echo
User interface isn't the quickest
All-new Echo Show 10 (3rd Gen) | HD smart display with motion and Alexa | Charcoal
From Your Site Articles
Related Articles Around the Web
Like GearBrain on Facebook