Our expanding smart homes are quickly becoming segregated between proactive and reactive intelligent devices. On one side are the traditional proactive "smart" gadgets – light bulbs, thermostats, cameras, locks – which can react and function autonomously based on circumstances. On the other side are reactive appliances – washers, dryers, dishwashers, refrigerators, et al – which cannot function autonomously and, therefore, aren't nearly as smart. So-called smart appliances require initial human action – loading, for the most part – before they can act smartly, usually only in the form of status and control.
At CES, appliance makers are making a concerted effort to bridge this proactive-reactive gap by upping their 2017 appliance intelligent quotient. But unless you can get something like Rosie the robot maid from The Jetsons, you'll still have to load 'em first.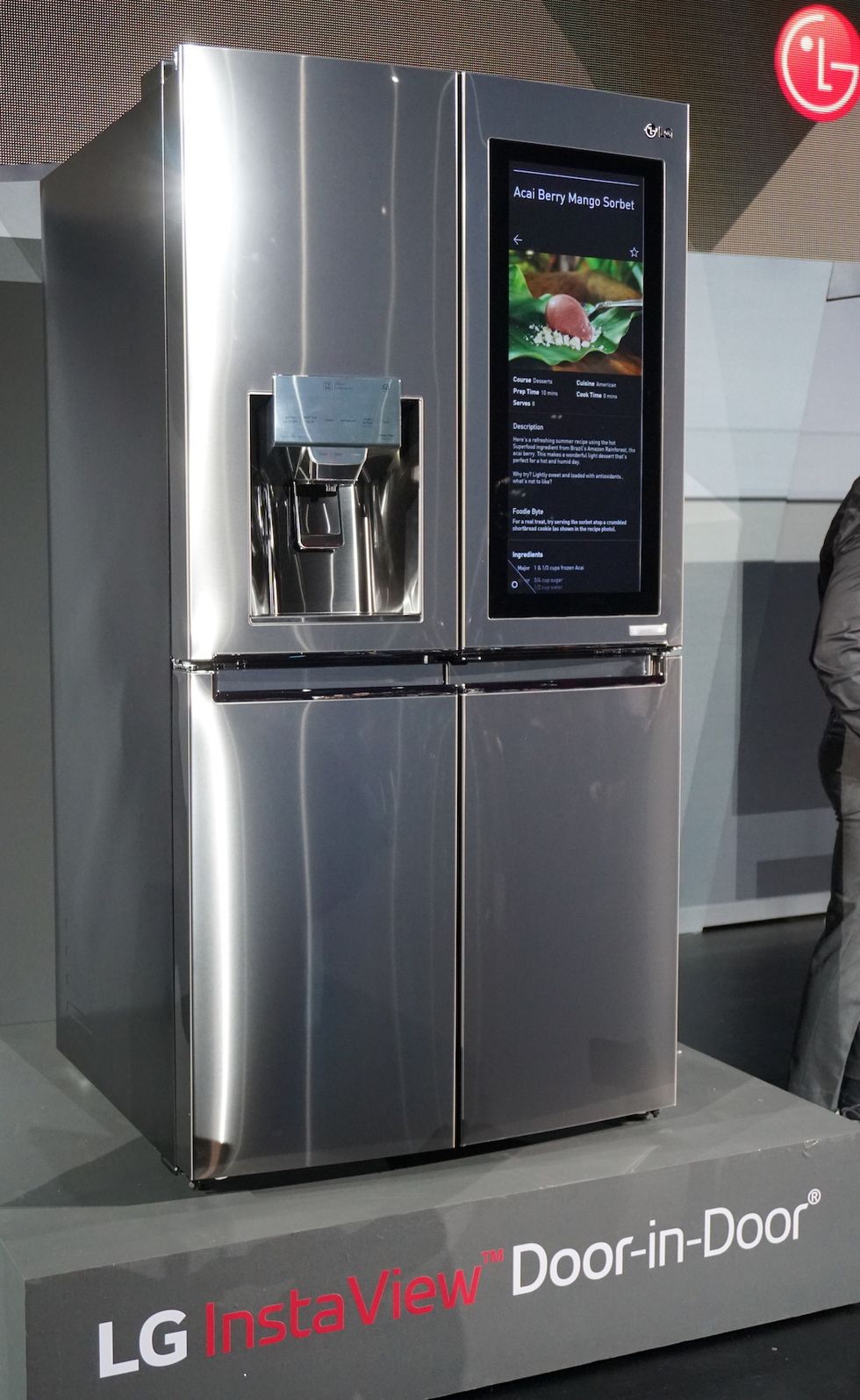 LG InstaView Fridge taps into Amazon Alexa to let owners re-order groceries.
LG
The Korean giant has unveiled five new "smart" appliances, all imbued with its DeepThinQ "deep learning" capability, which is designed to learn and adapt to user behaviors. LG's 2017 "deep learning" appliances include:
• In the door of LG's second-generation Smart InstaView refrigerator is a 29-inch webOS-powered vertical touchscreen that, when knocked on, will turn transparent so you can see inside. Equipped with Wi-Fi, the fridge also incorporates Amazon Alexa so can talk to it to order food, will play music through a 10-watt Bluetooth speaker and can stream video content. A "panoramic view" camera lets you see if you need milk or eggs, and the fridge analyze your usage and eating patterns and predict your family's activities based on their past behavior, while scanning food items result in expiration date alerts;
• Robot vacuum, which will learn to recognize objects its "sees" in your the room and react accordingly. For instance, if it bumps into your leg, it'll actually say "excuse me," but will remain silent if it bumps into a table leg or a wire. There'll also be a smart/automated canister vacuum, which will follow you around the house instead of having to be pulled or pushed;
• A DeepThinQ air conditioner analyzes your daily behavior patterns to figure out which the parts of your home are most occupied at certain times and automatically adjusting temperatures accordingly;
• Similarly, several front-loading DeepThinQ washing machine models will learn your local environment as well as your everyday activities. For instance, if your local water contains excessive calcium carbonate, the washer will adjust both the water temperature and the amount of water used to counter its effects on your clothes, or add a rinse cycle if your locale is excessively dusty.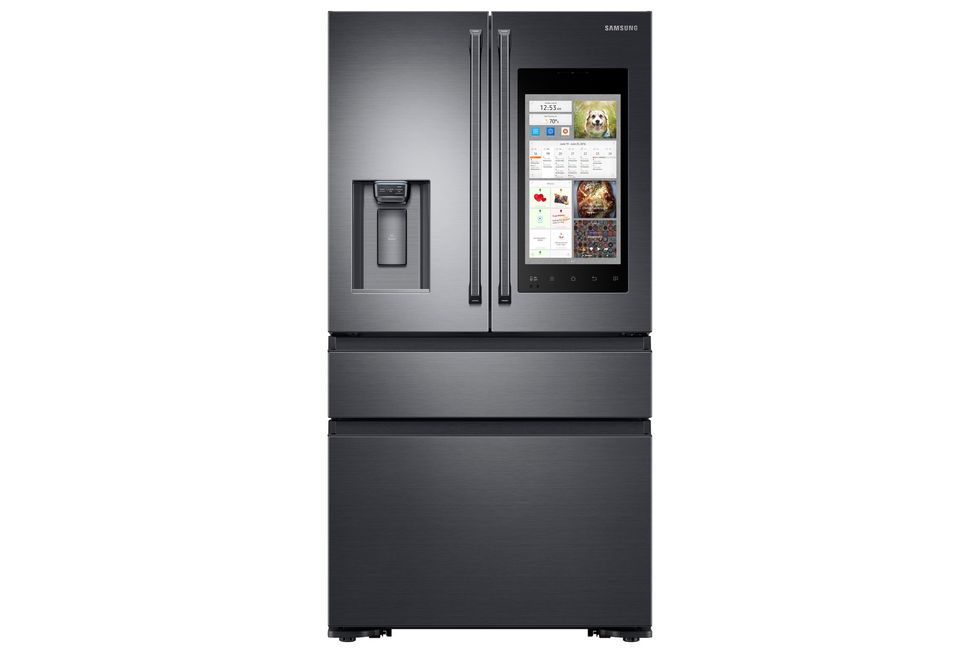 Samsung's Family Hub 2.0 will likely be priced lower than the $5,000+ Family Hub.
Samsung
Reacting to the lofty $5,000-plus price tag on last year's breakthrough Family Hub refrigerator, Samsung will unveil a second-gen model, the cleverly named Family Hub 2.0.
Instead of the Amazon Echo-compatibility that Samsung initially announced but then took back for the first gen model, Family Hub 2.0 will use Samsung's own voice recognition system for Alexa and Siri-like functionality.
While no pricing was announced on the varying models – 3- and 4-door French door models as well as the existing 4-Door Flex lineup – the rumor mill says they'll be priced in the $3,000 range.
In addition, Samsung will be on-upping LG's TwinWash washing machine with its own dual top-plus-front combo that requires only a single rather than separate water lines, along with status and control via the Samsung Smart Home app.
And the company's new robot vacuums are shorter so will more easily slide under furniture to get at that hard-to-reach dust and dirt.
Whirlpool
Instead of individual device dribs and drab intros, Whirlpool unveiled an entire suite of "care-inspired" smart appliances at CES with a single app to control them all, as well as compatibility with Amazon Echo voice control, Amazon Dot reordering, and Nest.
Included in its 2017 smart appliance lineup are a French door-within-a-door refrigerator, a washer-dryer combo, and the Zera food recycler (available for pre-order starting today via Indiegogo, available in April), which turns food waste into fertilizer.
In addition to app control, each appliance in the suite includes a 4.5-inch color touchscreen with similar navigation controls, and the overall system tracks family cooking and food prep preferences.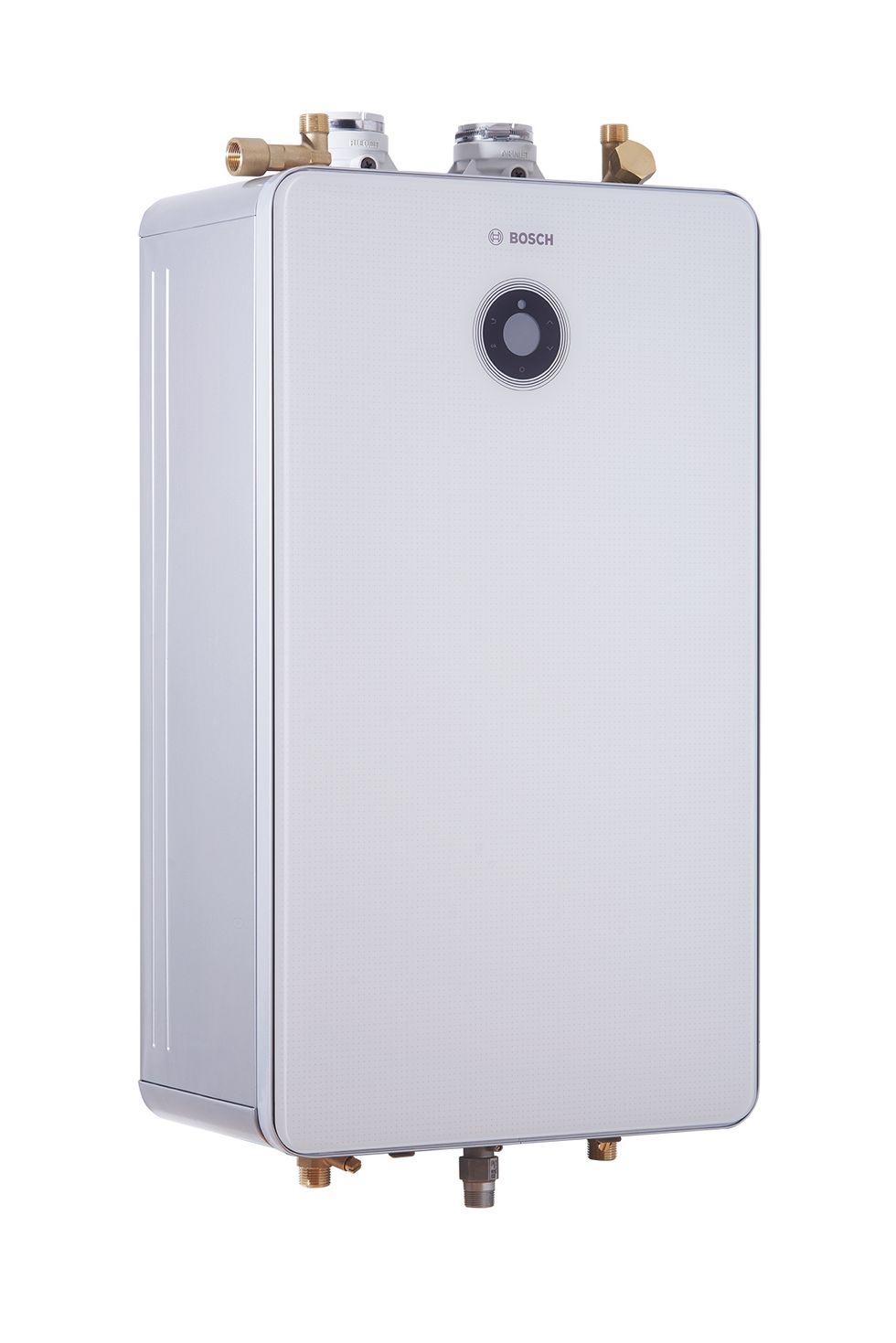 A Bosch smart water heater will be Wi-Fi enabled
Bosch
This German giant will be exhibiting its Wi-Fi-enabled Greentherm 9900i SE tankless water heater, one of nine 9000-series models, which, via the Bosch Control App, will enable you to control water temperature.
In addition, Bosch's new CT100 programmable Wi-Fi Enabled Room Thermostat lets you monitor and control the company's compatible boiler to control individual room temperatures via a touchscreen or the app.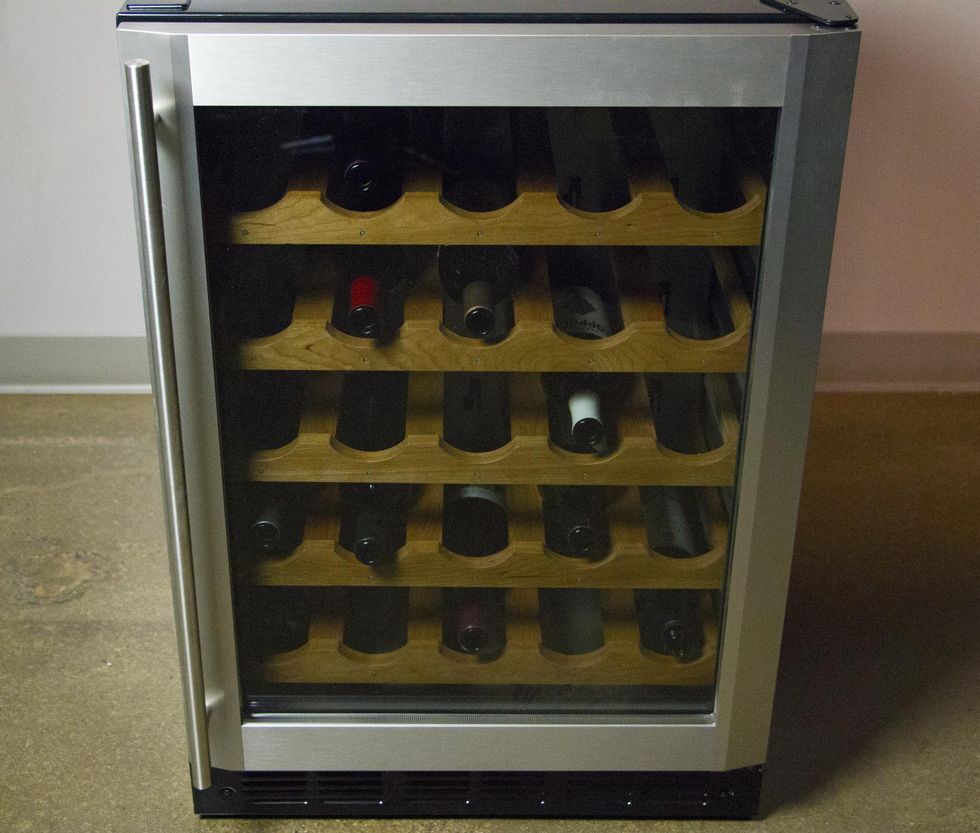 GE's new Smart Wine Chiller should hit the market in 2017
GE

Some say moderate wine drinking is smart. But if you're a wine lover, keeping track of your collection can make you feel stupid. To the rescue is this smart GE FirstBuild Simblee Connected Smart Wine Chiller, which includes a smart integrated bottle management system designed by Heptagon that automatically tracks and syncs your collection when you move or remove a bottle. It'll hopefully go on sale toward the end of the year.
Arist
If coffee is your drink of choice, the new Arist coffee maker smartly uses NFC to detect the size of your cup and automatically dispenses your favorite caffeinated beverage, no app necessary. There is an app, of course, which remembers your preferences and java drinking habits, includes an ever-growing collection of barista recipes based on the beans you may have or can get from the Arist or local store, and includes access to a community of like-minded joe enjoyers.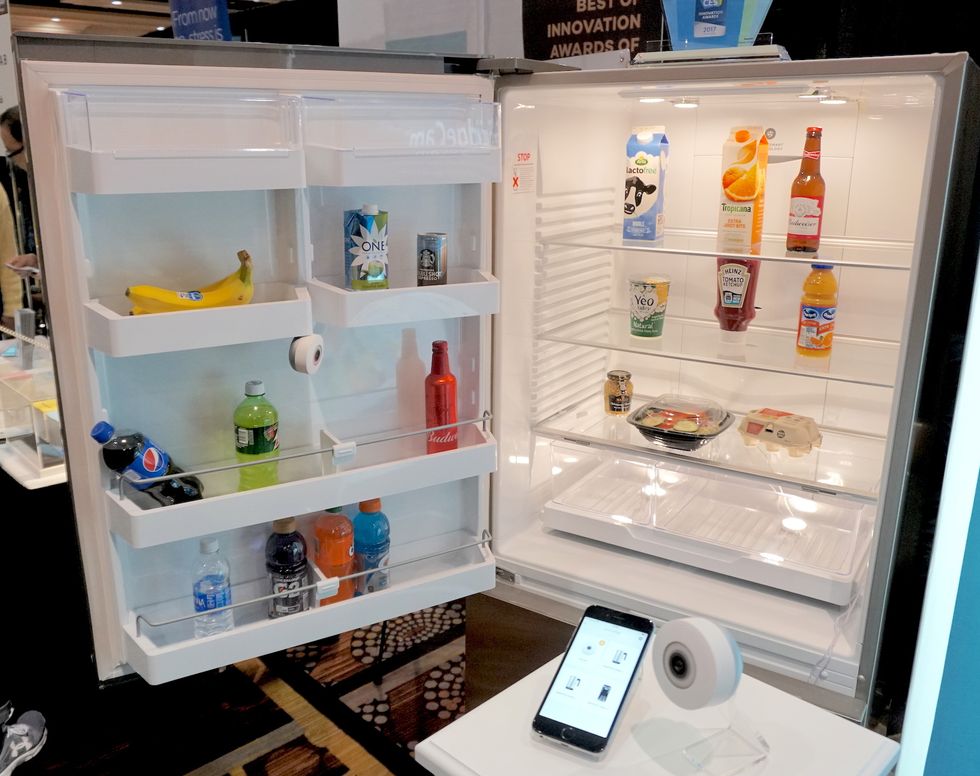 Smarter's Fridge Cam is an affordable way to view the contents of your refrigerator remotely.
Smarter
If you can't afford a smart refrigerator, here's the next-best-thing: Smarter's FridgeCam ($149.99, late February-early March), a Wi-Fi camera for your fridge. It hangs on the inside door of any refrigerator, and you use the app to see what stuff you have or what supplies are running low, how long each item has been in the fridge, and get alerts to remind you to buy what you're short of, what expiration dates are nigh, and if the temperature in the fridge isn't quite right.
GeniCan
If you've no room in your dumb fridge for a smart camera but still want to automate your grocery shopping, attach instead this GeniCan scanner ($124.99, early 2017, available now for pre-order) to your garbage or recycling bin. Before you toss the empty food container, you scan its bar code to add it to the accompanying app's grocery list or for automatic Amazon Dash replenishment. It will run on four AA batteries, which are included.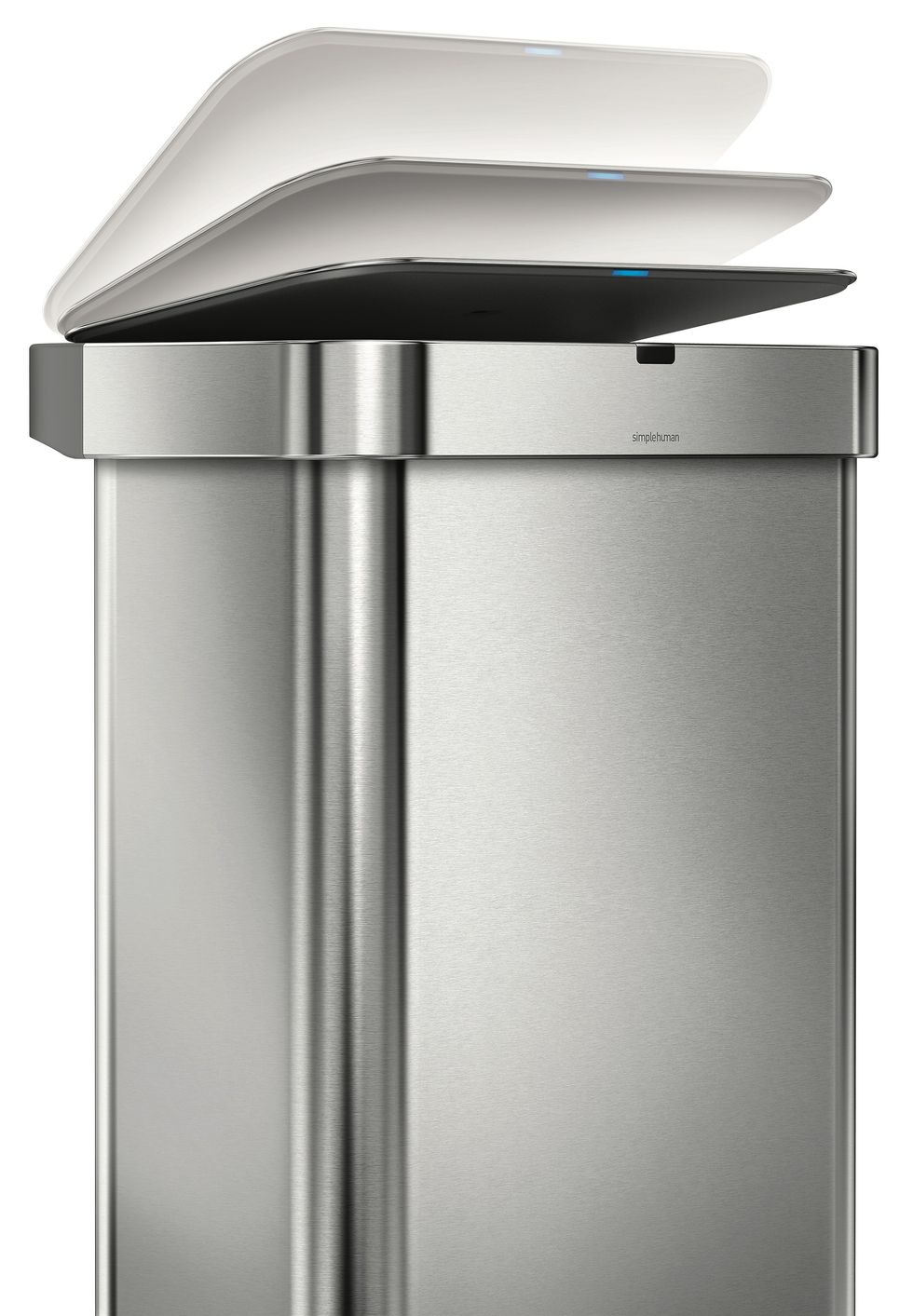 "Open Sesame" gets the simplehuman trash can working.
simplehuman

If you fancy an even smarter garbage can, this intelligent container will open when you tell it to – that's right, just say "open sesame" (really) – or by waving over its motion sensor. I guess you can attach the GeniCan to this simplehuman can to really raise its refuse IQ when it becomes available. It'll be available in a single ($179.99) and dual compartment ($229.99) editions.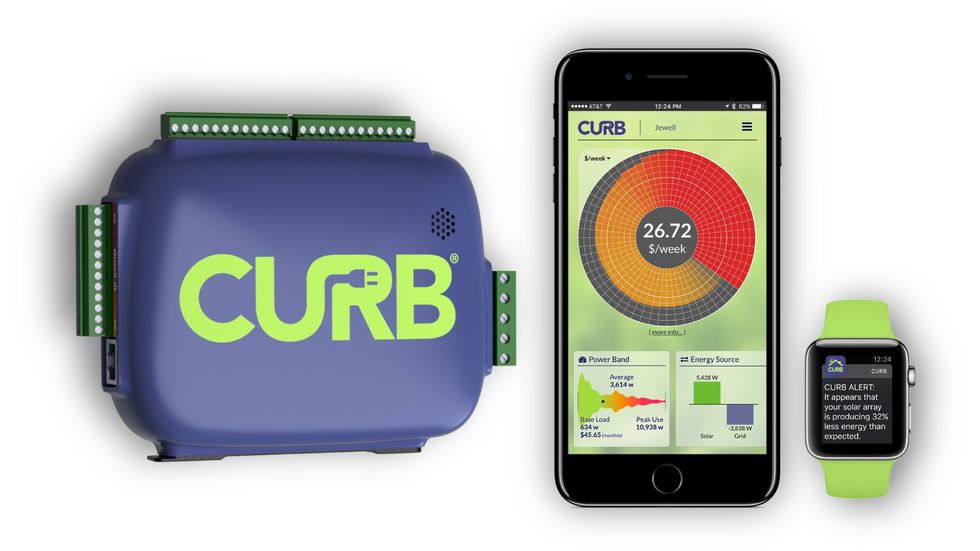 Monitor home energy usage with Curb
CURB
If you're worried that all these smart appliances are enlarging your electric bill, Curb is demoing its smart home energy monitoring system. This smart home starter kit ($399) plugs directly into a breaker panel to give you circuit-level insight into energy usage and production throughout your home, down to specific appliances and rooms.