With Tesla still leading the way when it comes to electric car range, and its Model S this year passing the 400-mile barrier, a startup from San Diego, California claims it can go significantly further.
Aptera revealed its first car this week, featuring a lightweight body covered by three square meters of 700-watt solar panels. With this, the company claims the car can add 45 miles of range to its battery per day.
Read More:
Claiming the average car owners drivers just 29 miles each day, Aptera says its car can satisfy most people's needs without ever being plugged into a charger. A tool on the company's website states even buyers who live in countries lacking regular sunshine will need to charge just a handful of times a year.
For example, the Aptera says someone who lives in northern Europe, an area not famed for its clear blue skies, need only charge eight times per year, even if they drive 50 miles every day.
There are two models of three-wheeled car from Aptera, called the Paradigm and the Paradigm+. Both opened for pre-order this week, with reservations requiring a $100 refundable deposit, and sold out in 24 hours. That said, it isn't clear how many pre-order slots were available.

its its large touchscreen, the interior is similar to that of the Tesla Model 3Aptera
The Paradigm has a claimed 400-mile range from its 40kWh battery pack, while the Paradigm is said to achieve a huge 1,000 miles of range using a 100kWh battery pack. Prices range from $25,900 to $46,900, depending on battery size and optional extras.

That massive range is partially owing to the car's ability to top up its battery while parked (it can't be run from the solar panels while driving), and partly due to its compact size, low weight and aerodynamics.
Speaking of aerodynamics, Aptera claims the car has a drag coefficient of just 0.13, which is significantly lower than the 0.23 of the Tesla Model 3.
The unusual car has two wheels at the front and one at the back. The entry-level Paradigm sends 100kW of power to the front wheels and has a 0-60 mph time of 5.5 seconds, with a top speed limited to 110mph.
More expensive versions have 150kW, with 50 kW sent to the rear wheel; this shortens the 0-60mph time to 3.5 seconds. Although not offered for sale or preorder yet, Aptera also mentions a 25kWh battery version with 250 miles of range, and a 60kWh model capable of driving 600 miles on a charge.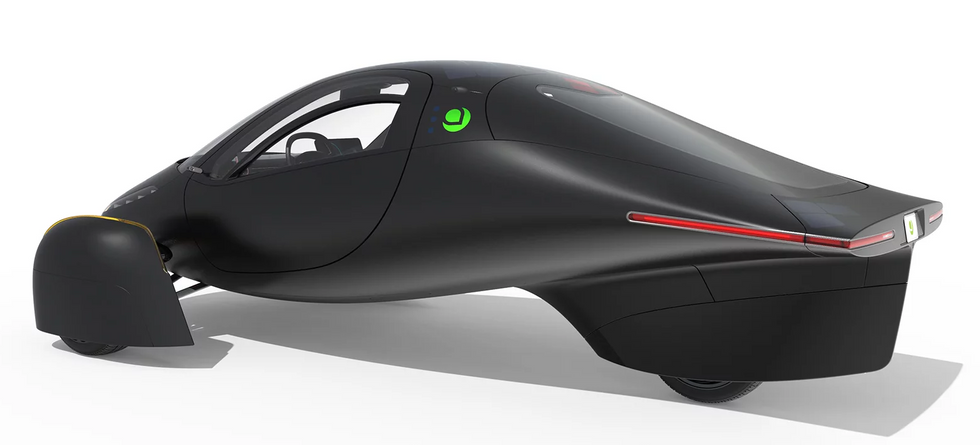 The two-seat Paradigm has three wheels and a very low drag coefficientAptera
Aptera says the Paradigm can be charged like a regular electric car, at up to 500 miles per hour using a DC rapid charger, or at 12 miles per hour from a domestic, 110v AC supply.

With a centrally-mounted 15-inch touchscreen display and minimalist design, the interior looks similar to that of the Tesla Model 3.
We will be very interested to see if Aptera can deliver all that it has promised for what is a relatively cheap car. It may be small and only have seating for two adults, plus space for their luggage. But promising 1,000 miles of range, solar power and an all-new design seems at odds with the sub-$50,000 price tag.
Aptera was founded back in 2006 but closed down in 2011 after it failed to attract enough funding for the vehicle. According to its Crunchbase profile, the company has received a total of $56.3 million in funding from six investors participating in five funding rounds.
Now relaunched with new funding in place, Aptera says its cars will begin shipping at some point in 2021.
This isn't the first time solar panels have been added to an electric car. The Lightyear One was announced in June 2019 and promises a range of 450 miles, thanks to solar panels charging its batteries at a rate of over seven miles per hour. Priced at around $170,000, an initial run of 100 examples quickly sold out. Deliveries were expected to begin in the next few months, but the company is now stating a late-2021 arrival.