Like GearBrain on Facebook
Automotive startups and veterans alike are looking at solar panels as a way to increase the range of electric cars. In the past fortnight, startup Lightyear and veteran Toyota have shown off such technologies.
First came Lightyear, a startup founded in 2016 and which in late-June announced that its first car, appropriately called the Lightyear One, would offer an electric range of 450 miles, and that solar panels would top up the battery by 7.5 miles per hour.
Read More:

The One is priced from €149,000 (approximately $170,000), making it considerably more expensive than electric vehicles from the likes of Hyundai, Jaguar, Audi and even Tesla, whose most expensive car costs up to $142,000. But that 450-mile range promise is greater than anything Lightyear's rivals can produce today.
Although the One's ability to charge will likely depend on weather conditions, 7.5 miles per hour of charging from the solar panels could mean completely free commuting for some owners of the One, which could then be plugged in at night and charge from energy harvested from solar panels at home. Lightyear hopes to start delivering the One to customers in 2021.
Next came industry veteran Toyota, which is yet to sell a fully-electric plug-in car despite kick-starting the hybrid industry with its Prius. The car also makes the hydrogen-powered Mirai, but the infrastructure to power this lags far, far behind that for plug-in electric vehicles.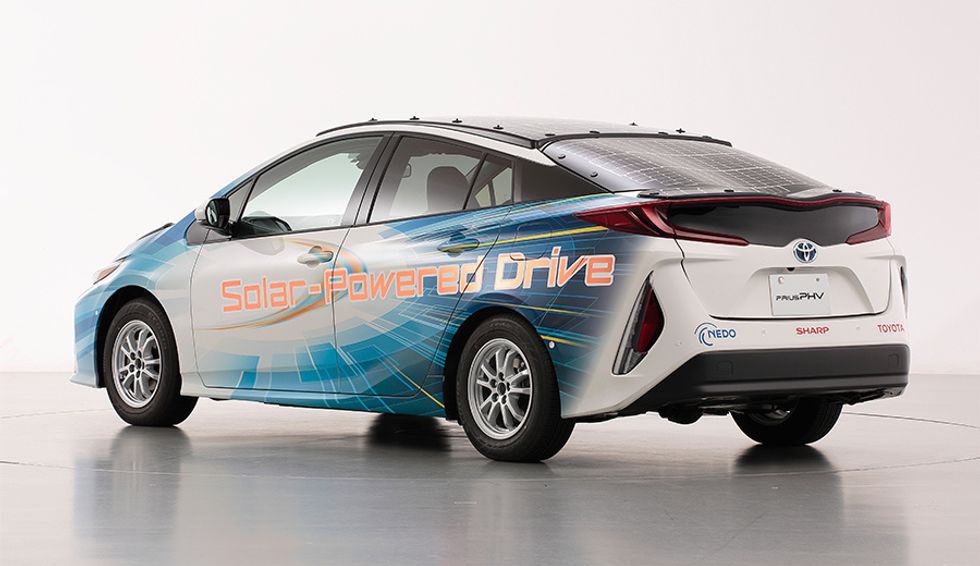 The car will begin public testing in late-JulyToyota
Instead of going fully electric, Toyota has announced plans to develop a new solar panel for its Prius which could add up to 44.5 km (28 miles) of range to the battery per day.

This claim is less impressive than that of Lightyear. But regardless it could add a meaningful amount of range to the car, and Toyota says the panels - which are just 0.03mm thick - also gather energy from the sun when the car is being driven, not just while it is parked.
Toyota has offered polar panels on its Prius in the past, but this only added power to the ancillary battery, used to power the infotainment system and climate control, not the car's drivetrain. The new panels, Toyota says, can produce 4.8 times as much power as the old model, and boost the car's range by seven times more.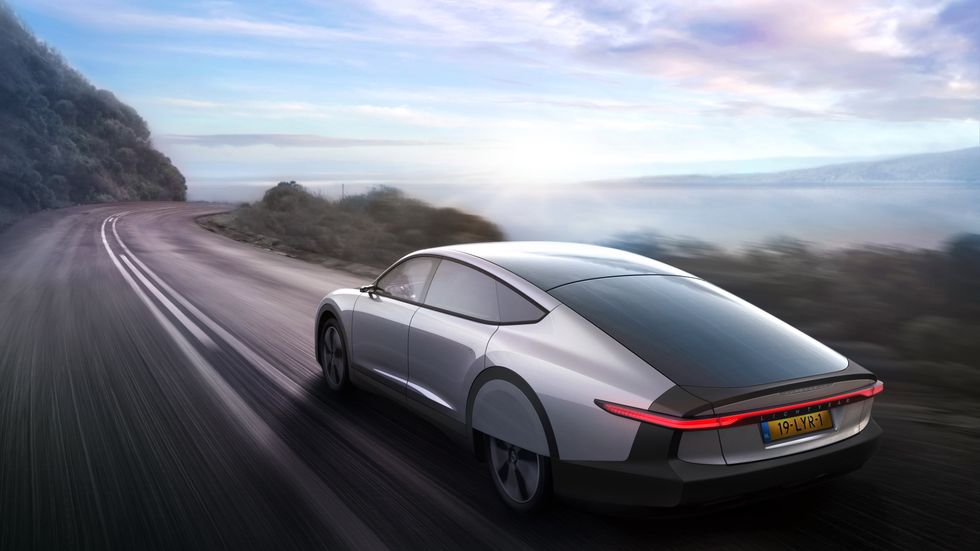 Due to arrive in 2021, the One has a claimed range of 450 miles Lightyear
The new panels are being developed in partnership with Nedo and Sharp, and trials on public roads will begin in late-July. The panels are located on the car's roof, hood and rear hatch.

Gains in range will always be welcomed by electric vehicle drivers, especially when the energy is freely harvested when the car is parked or even while it is driven on a sunny day. But the gains are still relatively small, especially when the solar panels cover almost the entire top of the vehicle. We suspect some drivers will not want their car's visuals to suffer in return for just a handful of extra driving miles per day.
That said, if you don't mind the look (and manufacturers can make the technology cheap enough to make the gains worthwhile), then the promise of a free daily commute via solar power - and without installing panels at home - is certainly an attractive proposition.
Like GearBrain on Facebook