Like GearBrain on Facebook
A telescope is a great investment, helping people take a closer look into the skies above, bringing objects in our solar system, and those even further, feel more immediate. They can vary, of course, in size and strength — from the Hubble Space Telescope which circles the Earth, to smaller telescopes that families can bring into their home.
The StarSense Explorer LT 80AZ is designed for this second group, perfect as a beginning telescope for a family, for a classroom or anyone who doesn't want to invest too much at the start. (It's a pretty great way to take a virtual field trip too.) The telescope takes advantage of a smartphone app which helps it locate objects in the sky, a kind of telescope that is growing in popularity among buyers.
We spent some time with it, outside and inside, to get a sense of how simple the telescope is to use — and how well it helped us locate objects in the sky.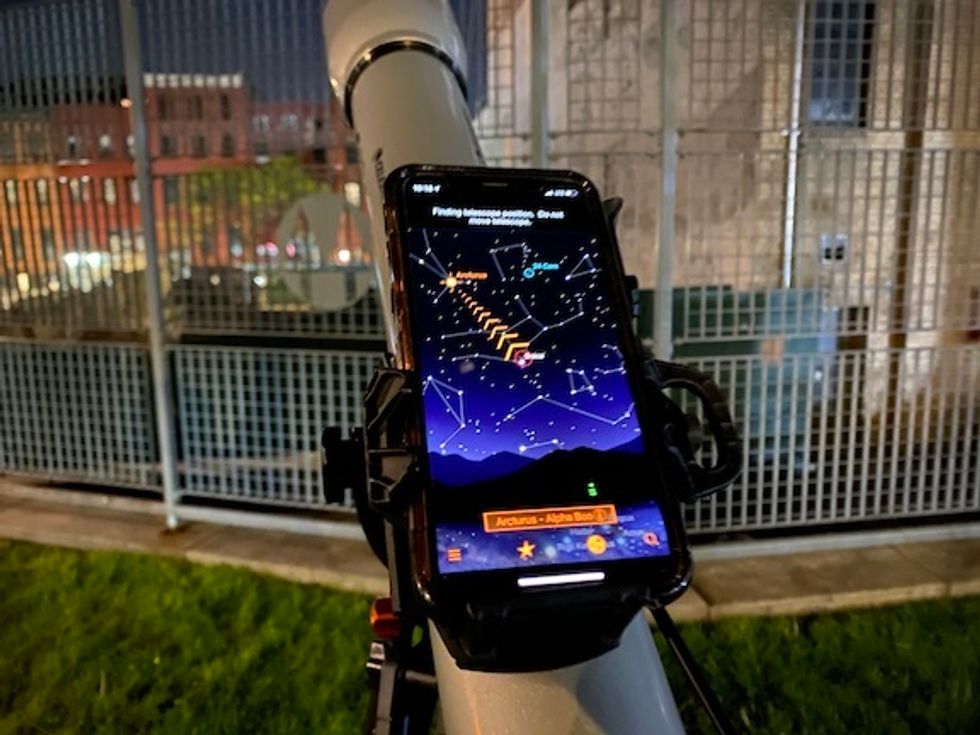 By pairing the StarSense app to the telescope, you can more easily locate objects in the skyGearBrain
What is the StarSense Explorer LT 80AZ

Made by Celestron, the StarSense Explorer LT 80AZ is best described as a telescope with training wheels. We spied this first at CES 2020, and were immediately taken with its size, how sturdy the telescope feels, and the fact that it takes advantage of a smartphone app to help star gazers more easily locate and gaze at objects in the sky.
The first tip that this is a solid educational toy is the fact that you need to put much of the StarSense Explorer LT 80AZ together yourself. Inside the box you have a number of pieces that need to be screwed into place, from the finderscope to the smartphone dock.
You also get two eyepieces, one that's 25mm and one that's 10mm, and a full-sized tripod, which can be toggled to different heights. That's a perfect solution for families as it can grow with children as they get older too.

The pieces are well-made, and the instructions are simple. We were able to put the entire telescope together in about 30 minutes. The telescope, even put together, is also quite lightweight, just 9.2 pounds. That makes it easy to move around, meaning you can take this from inside a house to a car, to a backyard to a school, without needing help. The tripod folds up easily, and the telescope also never felt in danger of falling or tipping over once it was tightened down.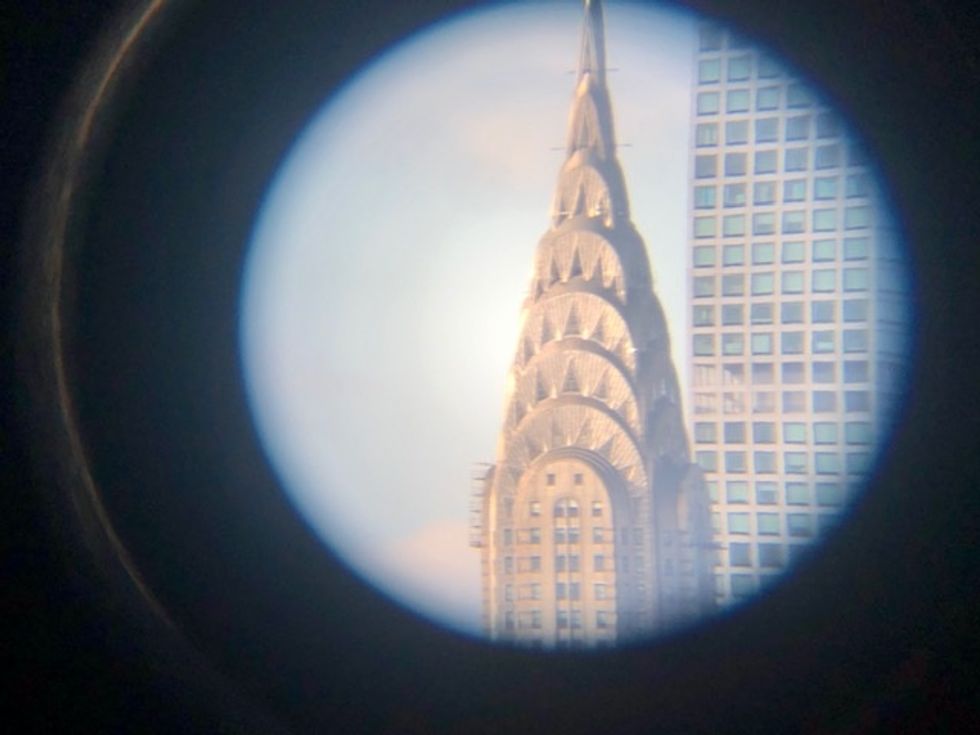 You can use the telescope to bring objects that are far away seem closer, even during the dayGearBrain
Smartphone app

The selling point for the StarSense Explorer LT is how it is paired with an app. You calibrate the telescope first by honing in on an object, like a lamppost, and then you sync the finderscope to same object. Next, you download the StarSense Explorer app to your smartphone — which works on both iOS and Android devices — and then slip that into the dock which sits on top of the telescope.
We did have some trouble getting the app and the telescope's scope to sync together once we had the telescope outside in the evening. The text on the screen — we have to admit — was also a bit small, especially given that your smartphone is going to be more than a foot from your face and up a bit on top of the scope. The instructions say this should take about two minutes. We spent about 10. That's not terrible. Just be patient with yourself.
Once they're paired though, the app is excellent. Celestron says it uses a LISA technology — Lost in Space Algorithm — which is what satellites use to reorient themselves when moving through their orbit. Basically as you aim the telescope into the sky, the app will pick up on things, while also naming what you're looking at with your eye.
Even better, the app will let you know objects that are viewable every night, when they're rising and setting, and where in the sky they're located. The app also highlights objects that are best seen in dark skies — and those that can be spied even from cities where ambient light can make visibility less than ideal.
You also get some highlights on these objects, tips on how to find them — and the app will also read, aloud, some of these details. That's an excellent bit of education added for free.
Also nice — you don't need the app. The telescope absolutely works without a smartphone attached. It's an extra element, and nice to use but won't render the telescope unusable if it's not downloaded.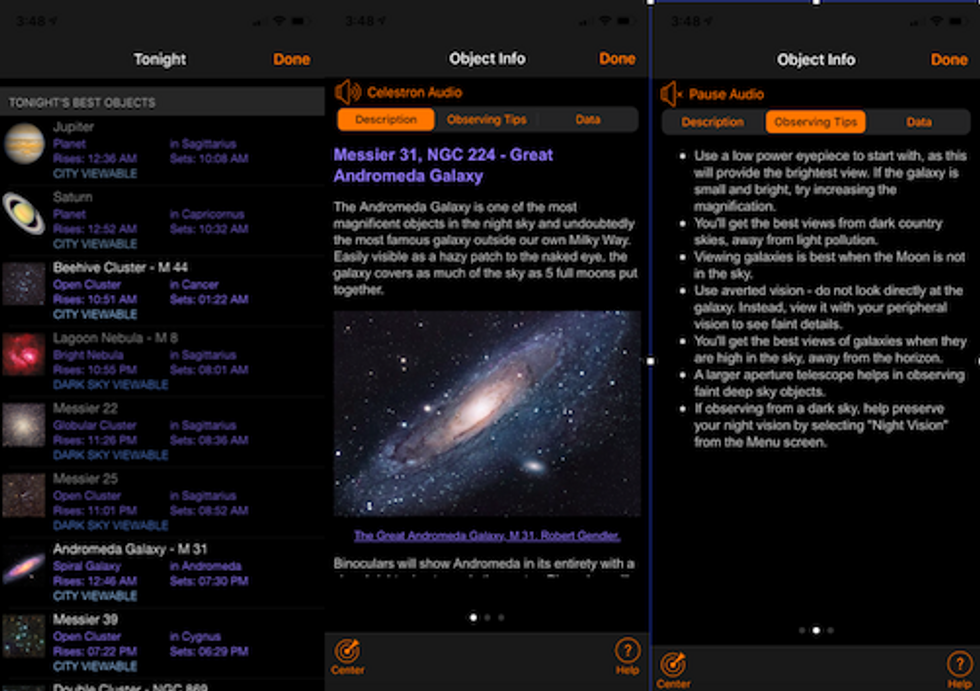 You can pull up educational material within the app including details about planets, stars and galaxies.GearBrain
Using StarSense

On one cool May night we were easily able to see Arcturus with our eye. But the app also made it clear that our telescope was in fact aimed directly at the red giant star that's more than 36.6 lightyears from Earth, and also one of the brightest stars visible from Earth. Arcturus looked spotty and white, moving quickly through our viewfinder. We moved the telescope to a new location, and did need to realign the app. We were able to do this quickly. Even indoors, the telescope brought a lot of fun, allowing us to spy some fairly famous landmarks from our home and bring them closer.
Price
The StarSense Explorer LT 80AZ is priced at $179.95, although we have seen it available at lower prices on Celestron's web site during certain specials.
Worth buying?
The StarSense Explorer LT 80AZ is a solid option for those looking for a telescope, especially those who have never used one before, or want a telescope that can grow with their family. It's lightweight yet sturdy, and the StarSense app that pairs with it makes the telescope much (much) simpler to locate objects in the sky. The app is also full of educational features, from celestial coordinates of objects, to details about what astronomers have learned about them over time.
With summer approaching, and people yearning to get outdoors — even just in their backyard — it's the perfect time to invest in a telescope. We can definitely recommend the StarSense Explorer LT 80AZ as one to consider.
Pros:
Cons:
Takes time to sync smartphone app to telescope
May need to help younger children put the telescope together
From Your Site Articles
Related Articles Around the Web
Like GearBrain on Facebook