Neil deGrasse Tyson is excited about the third season of Cosmos, which dropped on National Geographic this month. That it took six years after the last season — and let's not talk about the 34 years since Carl Sagan's original aired in 1980 — doesn't seem to diminish his enthusiasm for the worlds outside our own.
The new 13-part show, with a new episode airing each Monday until May 18, 2020, is a welcome diversion for the daily onslaught of news on the coronavirus COVID-19 — and what is sure to be with us for months, if not years to come. Forty years after Sagan took us off our own planet, inspiring future generations to think beyond our immediate world, Tyson continues to do the same.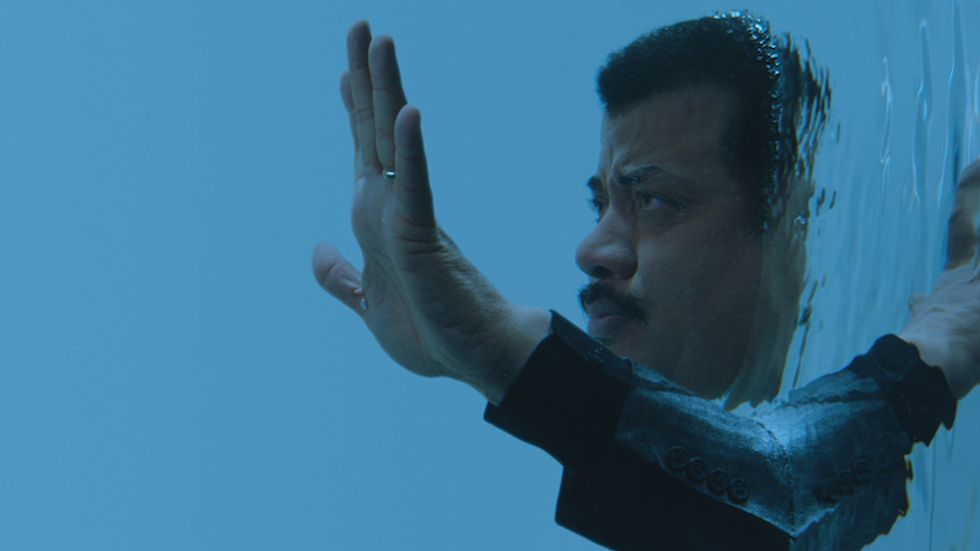 Neil deGrasse Tyson hosts the third season of "Cosmos" Cosmos Studios
Each episode takes a look at our cosmos, but with the human experience and our Earth as the center, whether we're meeting geneticist Nikolai Vavilov who made his life work about ending hunger by collecting the world's seeds to the scientists who shepherded the spaceship Cassini and its remarkable mission to bring us closer to one of the great planets in our own solar system, Saturn.

Much of the imagery and video in the episodes is imagined — a descent by humans to a new moon is not something we're capable of doing today. But the pieces are beautifully rendered, with Tyson narrating and hosting each one.
To date, of course, humans have not traveled much beyond their own planet. A select few have been able to go into orbit above Earth, spend time on the International Space Station, and an even rarefied fewer stepped foot on our closest celestial body, Earth's moon. And our last visit was more than 47 years ago — nearly eight years before Sagan's original Cosmos ever aired. (That's not to say, of course, we're not trying.)
The final episode of this season looks at pavilions of a future World's Fair, and where science may take us. But to humans traveling to star systems outside our own? That's feat may take a discovery we don't have today — the ability to extend human life way beyond its current capacity, Tyson said.
"A warp drive, we would need warp technology or to travel through wormholes," he said during a call with reporters. "Without it, there is a mismatch of the life expectancy of human physiology and the time it takes to travel those distances."
To Tyson, humans traveling to another galaxy would be akin to a snail trying to travel across even the United States in its lifetime gliding one bit at a time. It's not possible. And as much as we may dream of reaching the worlds we see from our front porch on a bright night, or through powerful lens, that's as close, today as we can get.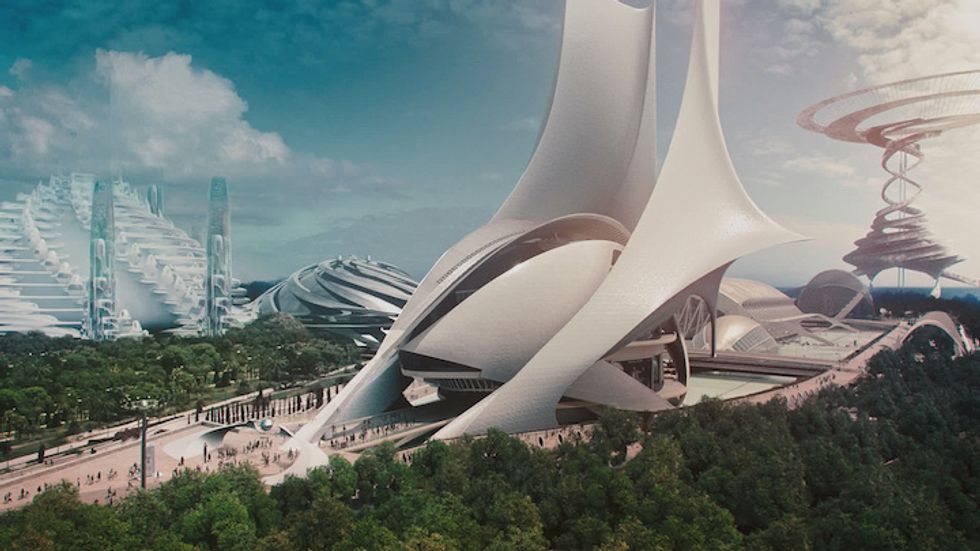 "Cosmos" looks to past and future, including an imagined 2039 New York World's Fair Cosmos Studios
"Yeah, fortunately we have telescopes that can bring information from other star systems to us, but to visit them is really out of the picture," he said.

Instead, should the next season of Cosmos take another 40 years to appear, Tyson believes we'll be talking about our own Earth still, and the challenges it is facing. That could include how to make the planet more hospitable to finding resources for the humans still living on our pale blue dot — and maybe a new red one as well.
"My reply to that is, if we have the power of geoengineering, to turn Mars into Earth, then of course we have the power of geoengineering to turn Earth back into Earth," he said. "There's not going to be, "Let's all go to this other new haven that we just made." No, we'll have two havens, Earth and Mars."
"Cosmos: Possible Worlds," co-written and co-directed by Brannon Braga and Sagan's collaborator Ann Druyan, will air from 8 to 10 pm ET on Mondays, with actors lending their voice to the show including Patrick Stewart, Viggo Mortensen, Judd Hirsch and Sagan and Druyan's daughter, Sasha Sagan.
Celestron - 70mm Travel Scope - Portable Refractor Telescope - Fully-Coated Glass Optics - Ideal Telescope for Beginners - BONUS Astronomy Software Package