Like GearBrain on Facebook
When looking for a smart video doorbell, you should consider a few things. Do you need a battery-powered doorbell, or one that will work with the existing wiring that powers your current, non-smart, doorbell? How big is the field of view (FOV) on the doorbell you're looking at — and crucially, will you pay extra to store videos taken by your new smart video doorbell? These are all important questions that can help you pick the right device for your home — and those that we asked as we reviewed the new Swann Wire-Free 720p Smart Video Doorbell.

The Swann Wire-Free 720p Smart Video Doorbell includes a number of solid features, including two-way communication, HD video resolution, night vision, and a 112-degree field of view (FOV). You also get rechargeable batteries, plus free video recording for up to 30 days. In the app, you can set up alerts so you're notified when someone presses the doorbell or if any heat-based activity is detected nearby, providing not only practicality, but peace of mind. The doorbell uses Swann's True Detect technology and is able to operate outside or indoors. It works off a 2.4GHz Wi-Fi connection, but the doorbell does need to be within 65 feet (20 meters) of your Wi-Fi router to work properly.
Inside the box you'll find the Swann Smart Video Doorbell, one mounting bracket, mounting screws, extra tools, wall plugs, a USB to MicroUSB charging cable, a user manual, and theft deterrent stickers.

How do you install or launch it?
To start, take the Swann Video Doorbell out of the box and charge it. Charging takes about four hours to get the device completely juiced, so do this right away to make sure your doorbell is ready for installation when you are. You'll know it's fully charged when a blue light illuminates. In the meantime, while your new doorbell is charging, you can remove the old doorbell you're currently using. Remember, if you're replacing a traditional wired doorbell, turn off the power prior to removal the device for safety reasons. Next, download the Swann Buzz app from either the App Store (iOS) or Google Play (Android) and follow the installation instructions. The Swann doorbell does come with a user guide in the box with installation instructions. You can follow these directions, but we found the app to be more helpful.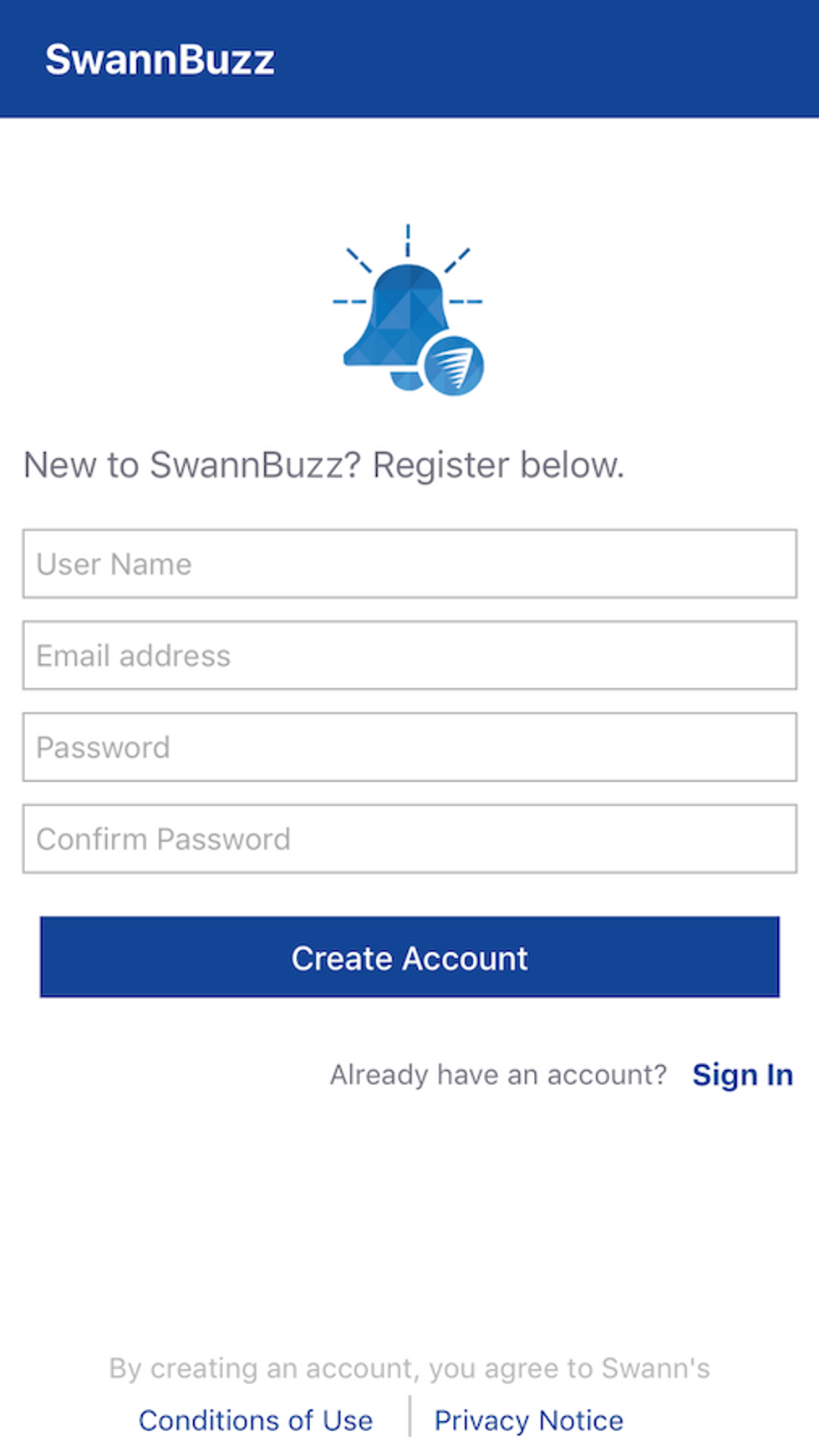 Need to open an account to use Swann appGearBrain
Once the Swann Smart Video doorbell is charged, you can start to linking to your home Wi-Fi network. Using the Swann Buzz app, connect the doorbell first — and then begin installing the doorbell mounting bracket. Pick a location on the door frame where you want your doorbell to sit, but before securing the frame, check the Wi-Fi signal at the door. You need to have good Wi-Fi for the Swann Smart Video doorbell to work properly, and the Swann app can check this for you. If your Wi-Fi signal is good at that location, finish installing the bracket and attach the Swann Smart Doorbell. This entire process should not take more than 20 minutes unless you have a bad Wi-Fi signal and need to keep moving the installation spot.
Smart Home Integrations
Swann does not integrate with smart home devices except for their own products. We don't think this is ideal — and wish Swann would integrate with smart lock makers like Yale, August Home, and Schlage. The way Swann functions now, if someone comes to your door and rings the doorbell, you can see and talk to them — but if you want to unlock the door, you'll have to open another app, the one for your smart lock, to let them in your home. Other smart video doorbell manufacturers integrate more seamlessly with other smart locks, and we hope Swann will consider adding this in future updates. We'd also like to see this doorbell work better with home security systems. If someone's trying your doorbell — or hanging out near your door — an alert to an existing security system would be a great addition. Combining all these devices — and features — into one app is what consumers are looking for, because they make everything easier for them to use, a one-stop-shop, so to speak.
How well did this work?
Swann Smart Doorbell worked satisfactorily. It requires a good high-speed Wi-Fi connection for it to work at full capacity. Since it is battery-powered, you will need to charge the battery about once a month. We found the battery charge on our device lasted about three to three and a half weeks, but this could change based on the amount of traffic you have at your door. We also found the size of the doorbell to be relatively large — that can make installation a challenge, especially if you have a slim door frame.
Video alerts are easy to set up in the Swann Buzz app, and there are an extensive number of features you can control there too:
Check battery and Wi-Fi status of your smart video doorbell
Select battery saving mode which works only when you press the doorbell
Choose HD video quality (keep in mind you need a fast or high-speed internet connection)
Set motion detection. You can select 1, 3, or 5 minutes of recording time. This means if no motion is detected after any of these pre-set time limits, the recording will stop.
Set video exposure. There are three settings: background, foreground, and auto. You can adjust the video exposure based on your location's light conditions. For instance, if the background is too bright, select 'background.' If the person at your door will be standing underneath a light when they ring your doorbell, select 'foreground.' This will help you see your visitor more clearly. If your lighting falls in between foreground and background, you would use the 'auto' setting which will adjust accordingly.
Swann also offers a 'timeout' feature. You can choose 1, 3, or 5 minutes for live streaming video to automatically run.
If you record videos, you can choose the amount of time you want to record video which is stored for 30 days for free by Swann. Choose from 15 seconds, 30 seconds, 45 seconds, and 60 seconds.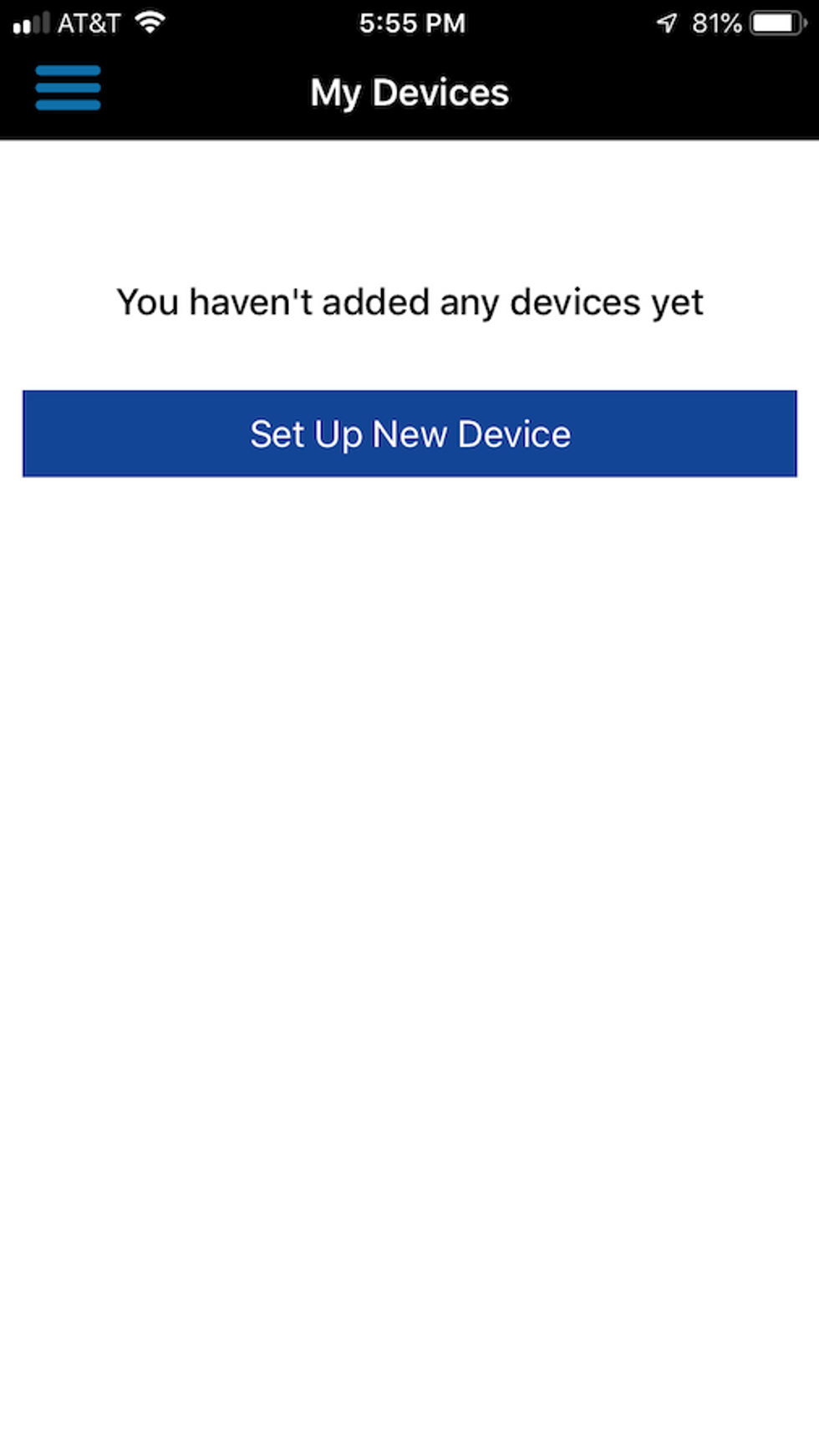 Setup screen in SwannBuzz mobile appGearBrain
Additional Features

Swann is a manufacturer of security camera products, which include home security monitoring and home alarm systems, as well as high-quality security cameras. Some of these products work with Amazon Alexa and Google Assistant. They all include True Detect technology, which is a heat-based PIR motion detection feature, and Swann was one of the first security camera manufacturers to use this technology. The tool helps capture and record activity more effectively than simple motion detection, and is what helps to determine if motion is coming from a car or a person — extremely useful if your doorbell is close to the road.
Cost
The Swann Smart Video Doorbell has a MSRP of $199, it's currently on sale for only $79.99. The company also has a kit which includes the Swann Video Doorbell, and a doorbell chime for only $149.99, which you can find on the company website, as well as Amazon, Best Buy, and Lowe's.
Summary
Swann Video Smart Video doorbell is an all-around solid device. It includes several features we think are important to have in a video doorbell. We like the True Detect technology, as it can prevent repetitive alerts — which can be very annoying — if your home is close to the road. The doorbell is also very easy to set up, and the 30 days of free video storage is rare — as the closest we've seen from competitors is seven days of free storage.
This smart doorbell is also well priced — starting at $119.99, but currently on sale for $79.99 on its website — far more affordable than most 720p smart video doorbells we have found today on the market. That's also a plus as, if you want to hear when the Swann video doorbell in the house, you might need to buy Swann's doorbell chime. Without the chime, the doorbell will only rings on your app — which is important to note.
However, there are some issues with this doorbell. First, its size. The doorbell camera is just a little too big, and if you have a small or slim door frame, that's going to make this doorbell a challenge to install. Next, we weren't thrilled with its smart home integrations. Swann has a number of security products under its brand, some which work with Google Assistant and Amazon Alexa-enabled devices. However, the smart video doorbell does not integrate with other brands smart home devices — and for those who want to manage their devices in a streamlined fashion, that's a disappointment. This is a function buyers are going to be looking for, and we hope Swann will open its devices up to other smart locks, and home security system in the future. As consumers add more devices to their smart home, they are going to want an all-in-one app to manage it all.
Overall, if you are looking for a battery-powered smart video doorbell that doesn't charge extra for video storage, Swann is an excellent choice, one we recommend. However, if you are looking for a smart video doorbell that work with a smart lock to control your front door, this is not one to consider as it functions today.
Pros

Price, and free 30-day video storage
True Detect technology (heat and PIR motion detection) plus night vision
Easy to install
Cons
Lacks smart home integrations with locks or home security companies
Too big (dimensions)
Short battery life
Technical Specs:

Video Resolution: 720p HD (1280 x 720 pixels)
Viewing Angle: 112°
Motion Sensitivity: True Detect Heat-Sensing PIR
PIR Distance: Up to 16ft / 5m
Night Vision Distance: Up to 13ft / 4m
Memory: Internal, Up to 30 days (rolling)
Power Source: Rechargeable 5000mAh Lithium Battery or Connect to Existing Doorbell Wiring
Battery Recharging: Via Micro USB Cable (included)
Supported Power: 5V DC / 16-24V AC
Dimensions (WxDxH): 2.8" x 1.5" x 5.7" / 70mm x 39mm x 144mm
Weight: 0.53lbs (242g)
Operating Temperature: 14ºF to 113ºF / -10ºC to 45ºC
Indoor/Outdoor: Indoor & Outdoor, IP65 Rating
Wi-Fi Frequency: 2.4GHz (wireless range up to 65ft/20m*)
App (iOS & Android): SwannBuzz
Smart Video Doorbell Buying Guide - GearBrain www.youtube.com
Like GearBrain on Facebook