As if people needed another reason to entice them to the gym, in steps Apple with a new program that rewards people with gift cards to Nike, a free Apple Watch, discounts on memberships or donations for others, plus other perks if they workout. Four gyms are launching first in the program, called Apple Watch Connected, and include YMCA, Basecamp, Crunch Fitness and Orangetheory Fitness.
To be a part of the program, the gyms have to develop an iOS or Apple Watch app and launch reward programs called Earn With Apple, take Apple Pay inside their gyms and add GymKit, which links workouts on machines in their gyms to the Apple Watch. People can also earn when they're working out even if they're not at the gym.
Apple Watch Series 5 (GPS, 40mm) - Space Gray Aluminum Case with Black Sport Band
The global health and fitness wearable market is expected to hit $5 billion by 2025, according to a January 2020 report from Research and Markets. There's a lot of interest in these devices as well — and not just from consumers. Take Google's recent acquisition of FitBit for $2.1 billion.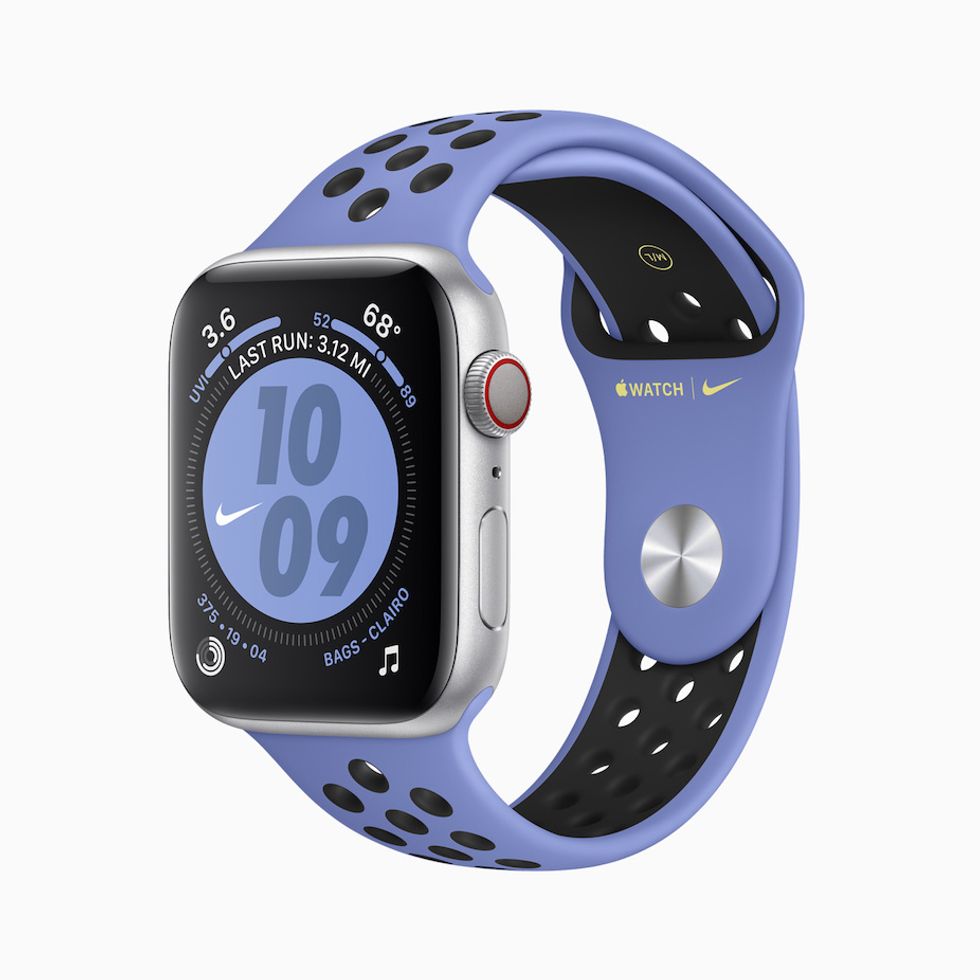 The new program launches at four gyms to start, with perks including gift cards to NikeApple
While you may be tempted into thinking that Silicon Valley has your health at the top of their mind, note that the data companies can glean for your run or yoga class is substantial. In the case of the Apple Watch, your workouts are tracked which monitors other health metrics as well, including heart rhythms, mobility, hearing and more. And Apple is betting big on healthcare, teaming up with groups as large as the U.S. Department of Veterans Affairs so that 9 million veterans can track their health records through Apple's Health app, which also works on its iPhones.

The new Apple Watch Connected is starting at four gyms, which range from national chains to those that more local. But the initial rollout is very limited to what looks like New York and Minnesota.
While the YMCA has branches across the world, the first locations to start using the new program will be at St. Paul Midway in Minnesota and then other locations nearby in the state. Crunch Fitness is also spread out across the U.S., Canada and Costa Rica, but is only starting the new program at a Financial District location and one on 83rd Street. Orangetheory Fitness is located across the U.S. and countries including Australia, but is starting this only at its Soho and Astor Place locations.
The perks for each gym varies. At Orangetheory Fitness, people who enroll can earn gift cards to Nike and Apple among other brands if they hit goals in their workout. The YMCA is letting you build, in essence, sweat equity — your workouts are then used towards donations which can be applied to community programs, like swim classes for children, in an area. Crunch Fitness will let you use your workout goals towards discounts on monthly fees, earning about $3 to $4 a week. Basecamp, which has just nine locations across the U.S., including in Burlingame, California — in Silicon Valley — will cover the price of a non-cellular Apple Watch Series 5, if you attend three classes a week over a year.
Apple Watch Series 4 (GPS, 44mm) - Space Gray Aluminium Case with Black Sport Band