Like GearBrain on Facebook
Budget smart speakers like the $50 Amazon Echo Dot and Google Home Mini are great gifts for anyone who is new to smart home tech - but what if they value high-quality music as much as an intelligent voice assistant?
That is where this range of premium smart speakers come in, blending voice assistants like Alexa, Siri and the Google Assistant with quality audio from established speaker makers like Bose, Harman Kardon, and Bang & Olufsen.
Here are eight premium smart speakers to look out for this holiday season:
Sonos One — $200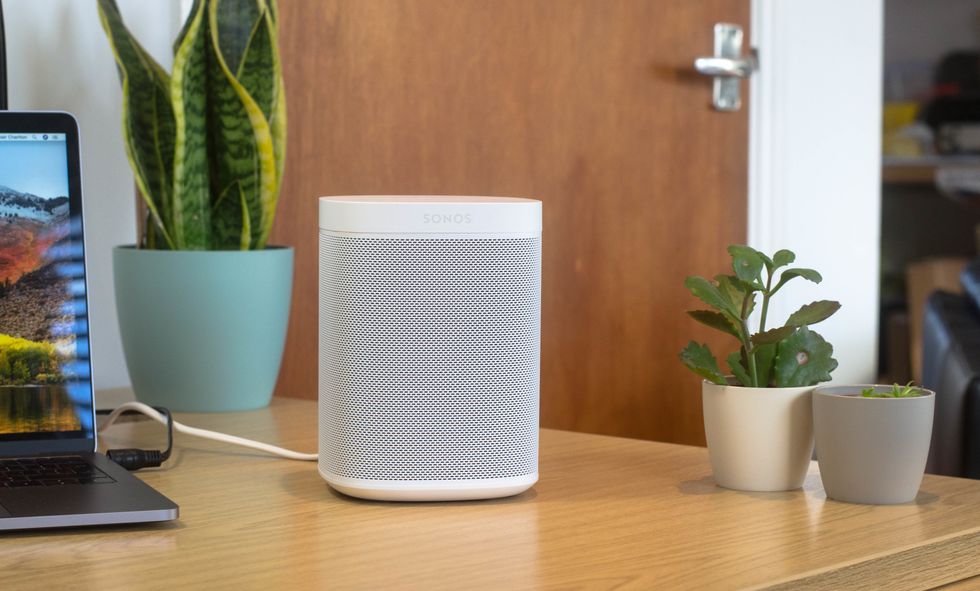 Sonos OneGearBrain
One of the first off the mark in the premium smart speaker race was Sonos, which launched the One a year ago as high-end answer to the Amazon Echo. The One uses Amazon's Alexa assistant for answering questions, playing music and controlling your smart home, while the Sonos app enables the One to hook up with dozens of streaming services.

The Sonos One also works with Apple's AirPlay 2 — so you can ask Siri on your iOS device, Mac or Apple Watch to control the speaker, and Sonos says the Google Assistant will be added via a software update before the end of 2019.
Sound quality is excellent for such a compact device, and if you buy two you can sync them up as a stereo pair. The Sonos One is available in white and black.
Bose Home Speaker 500 — $400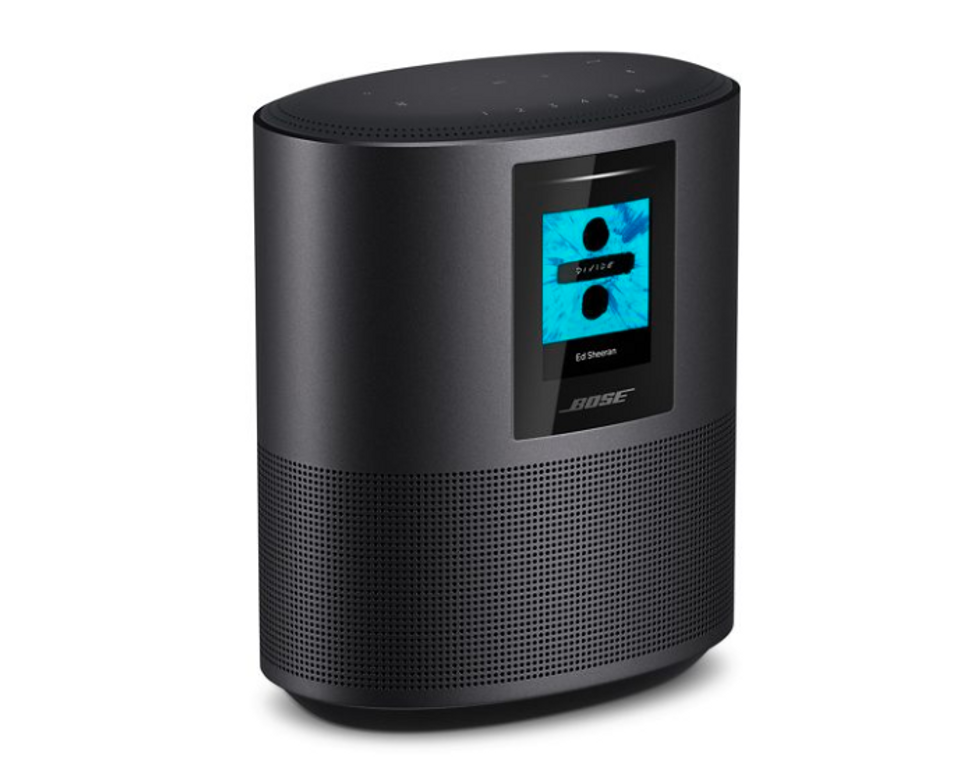 Bose Home Speaker 500Bose
Bose took its first steps into the smart speaker world with the Home Speaker 500, which includes Amazon Alexa. The speaker can be controlled with voice commands, or via touch controls and a companion smartphone app.

Bose claims the Home Speaker 500 has the "widest sound" of any smart speaker currently on sale, helping to deliver room-filling audio from its two internal speakers which face away from each other to spread sound outwards.
As well as playing music from Amazon, the Bose can hook up to Spotify, Pandora, Deezer and other streaming services, and there's Bluetooth for playing music directly off your phone.
Harman Kardon Citation — $199 to $2,499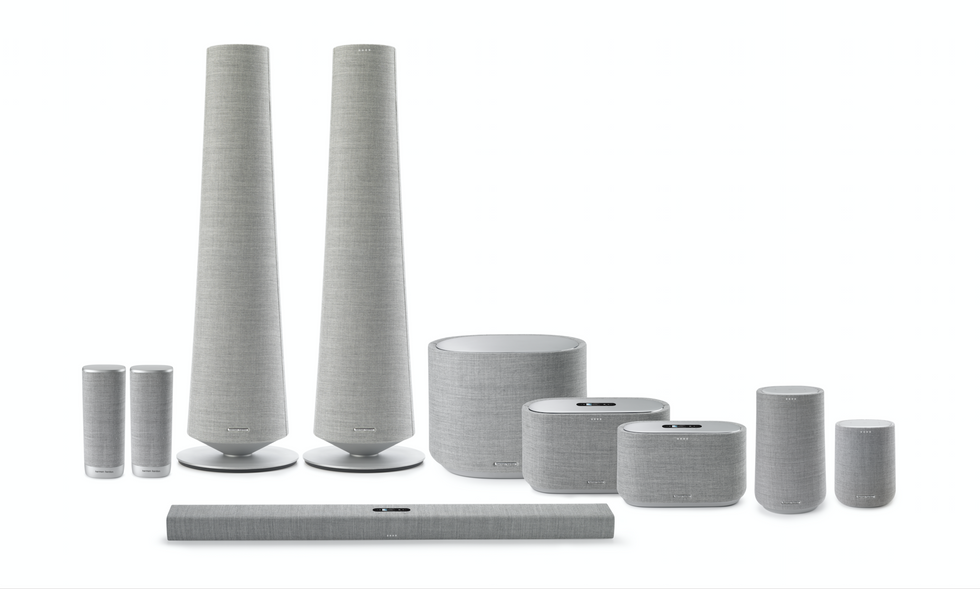 CitationHarman Kardon
Citation is the name of a new smart speaker range by Harman Kardon, which spans from the compact One - which is similar to the Sonos One — up to the Citation Tower pair. In-between these are three more smart speakers, a soundbar, and a sub woofer, all of which can be hooked up wirelessly to create a complete system.

Harman has sided with the Google Assistant for the brains of the Citation range, meaning a quick 'Hey Google, play some music.' is all that's needed to get the party started. As with Alexa, the Google Assistant can also answer questions, read out the news and weather forecast, play games, tell jokes, set timers, and control smart home devices.
All members of the Citation family (apart from the entry-level One and the sub) feature a small touch screen for viewing album art, changing music and adjusting settings. Covered in the same fabric used on Range Rover seats, the Citation collection is available in black and light gray.
JBL Link 300 — $250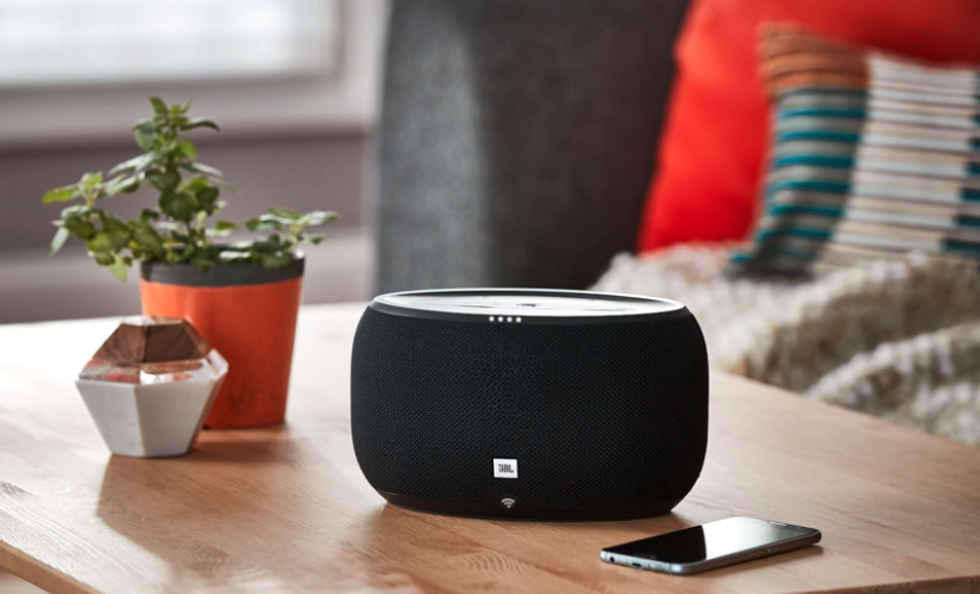 JBL Link 300JBL
The Link 300 by JBL is a mid-range smart speaker which gets its intelligence from the Google Assistant. There's also Chromecast built in, so you can stream content from a wide range of music, podcast and radio services by telling the assistant what you want.

The Link 300 can be added to your Google Home app, which allows for multi-room playback if you have more than one compatible speaker - meaning different songs in each room, or the same song playing throughout the home.
Bang & Olufsen BeoSound 2 — $1,750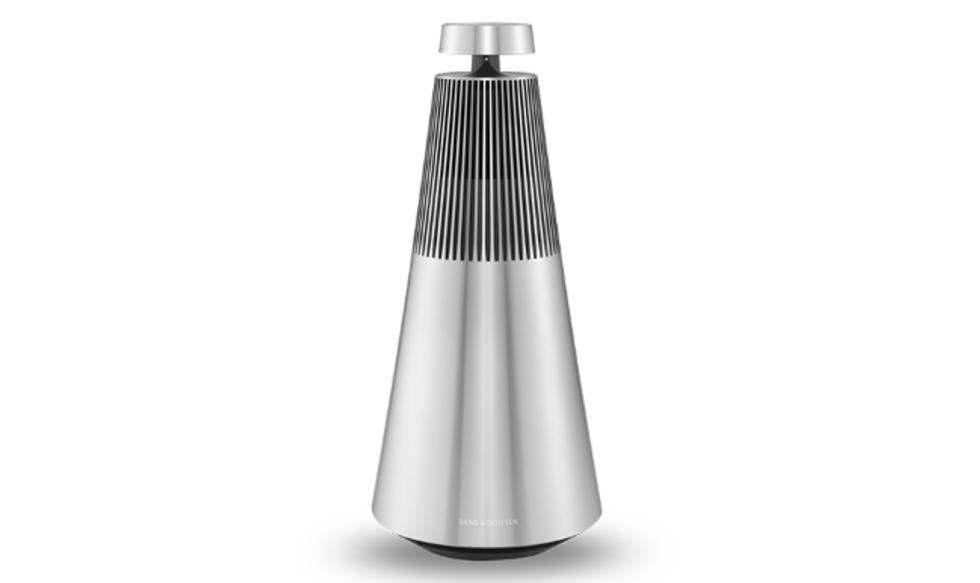 BeoSound 2Bang & Olufsen
If you're feeling particularly generous this holiday season, then allow us to present the BeoSound 1 by designer speaker company Bang & Olufsen. This cone-shaped speaker has the Google Assistant baked in and is designed to be portable, thanks to a rechargeable battery which lasts up to 16 hours.
You can control music by speaking to the assistant, tapping at the Google Home app, or with a control panel on top of the device. There are also four buttons which can be programmed as shortcuts for performing certain tasks, like having the Google Assistant read out the weather forecast, or play your favorite radio station.
The BeoSound 2 also has Apple's AirPlay 2 built in, so you can ask Siri on your Apple device to control it too.
Google Home Max — $400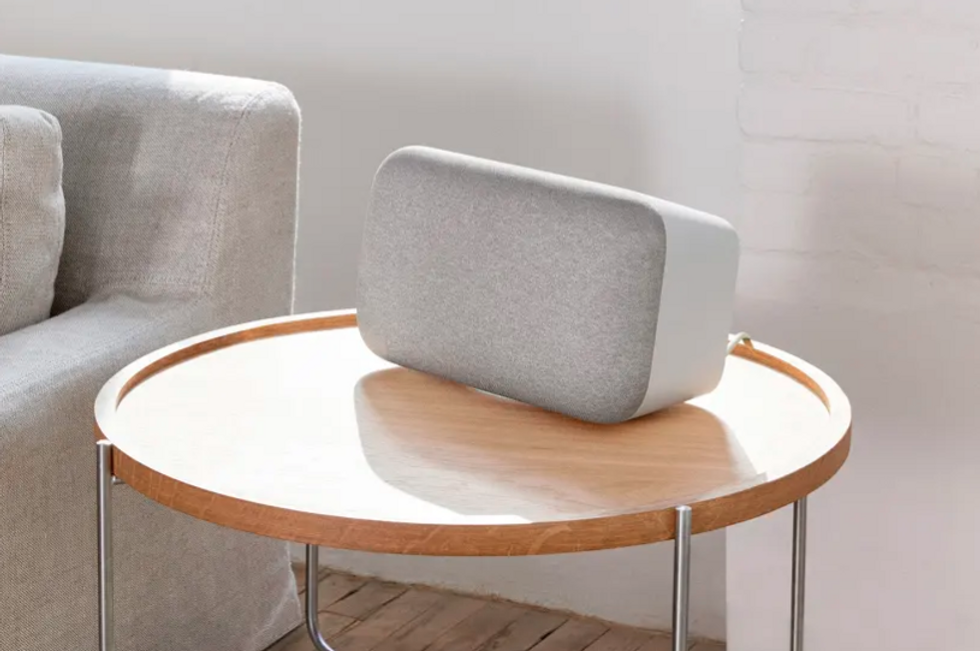 Google Home MaxGoogle
Not to be outdone by four-figure speakers from designer European brands, Google has a high-end smart speaker of its own, the Home Max. This speaker boasts significantly more power than the smaller Home and Home Mini members of the family, and offers exactly the same intelligence thanks to the built-in Google Assistant.

The fabric-covered speaker is available in black and light gray, and a neat trick is how you can stand two Maxes up on their sides, then sync them together to create a pair of stereo tower speakers, each with a sub, midrange speaker, and pair of tweeters.
Music can be streamed over Wi-Fi, played from another device via Bluetooth, or from a record player or other sound system using a standard audio cable.
Apple HomePod — $349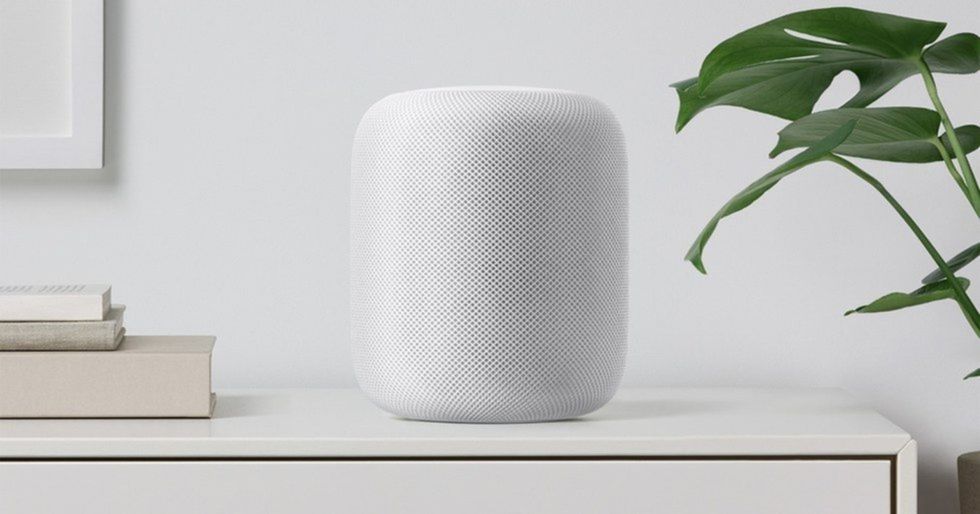 Apple Homepod Apple
If your loved one is an Apple fan, then the smart speaker they'll want is likely the HomePod. Controlled by speaking to Siri, the HomePod employs some clever audio tricks to help produce good sound quality to matter where in the room it is positioned.

Playlists are pumped in from Apple Music by default, but AirPlay 2 means you can also play tracks from Spotify, Deezer, Amazon Music and other services via your iPhone.
As with the Home Max, the Apple HomePod can be turned into a stereo pair by purchasing two and syncing them up.
Amazon Echo x2 and Echo Sub — $250 (down from $330)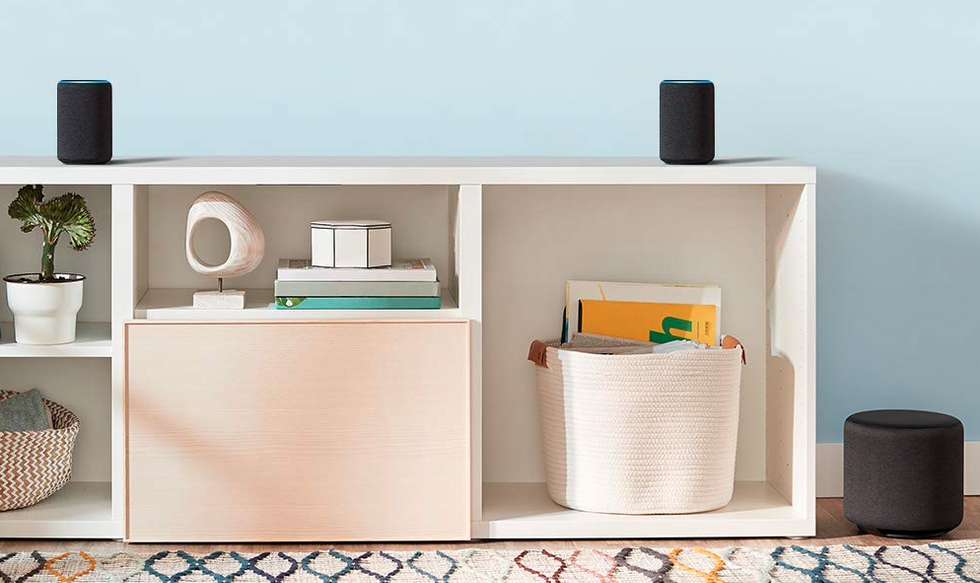 Amazon Echo and Echo SubAmazon
Finally, here's an alternative way to give the gift of a quality smart speaker. The latest generation of Amazon Echo speakers can be synced together to make a stereo pair, and Amazon also now sells an Echo-branded subwoofer, giving the speakers a bass boost. Buy all three together, and Amazon lowers the total price by $80.

As with all Echo products, this setup gives you the intelligence of Alexa — who is always listening and ready to play music, answer questions, and control your smart home — with quality sound.
Check out The GearBrain, our smart home compatibility checker to see the other compatible products that work with Google Home and Home Mini as well as Amazon Alexa enabled devices.
What You Need To Know About Smart Speaker Assistants www.youtube.com
Like GearBrain on Facebook