Like GearBrain on Facebook
Technology may have gone to the dogs — but in this case, it's a good thing. High-tech devices aimed at simplifying how we care for our pets have multiplied in recent years. As the holidays approach, a gift idea for someone who adores their cat or dog is never the wrong move. Here are the 8 best gadgets we think will appeal not only to the pet owner on your list — but to their pets as well.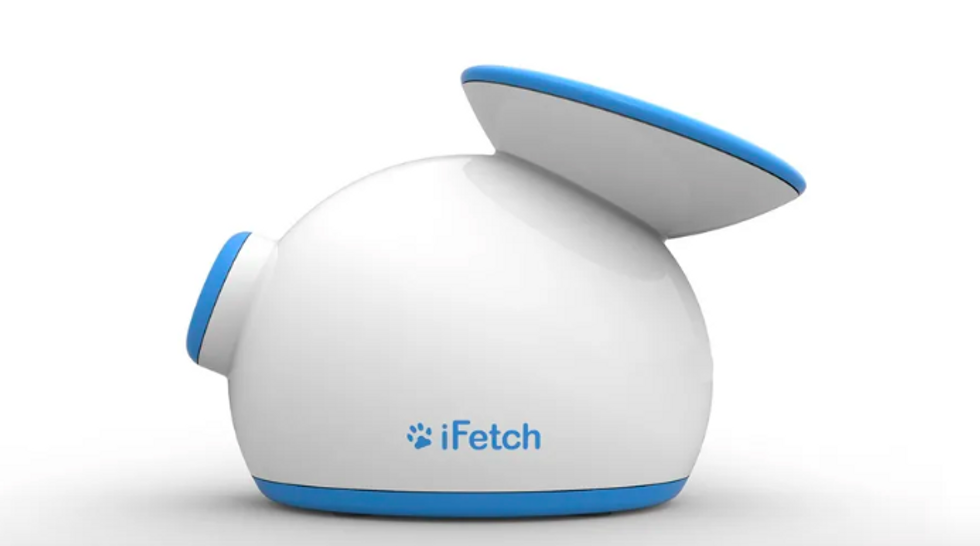 For pet owners with dogs that could play catch for hours.iFetch
iFetch

While tossing the ball for your dog shouldn't be a hard ship (if it is, perhaps a smaller dog is in order), iFetch is certainly the perfect gift for any pet owner with a rambunctious pup who could stay outside for hours. Key to iFetch is actually training a dog to use it themselves. (Yes you read that right.) Of course owners can drop the ball in the chute and send it flying for their dog. But iFetch comes with training suggestions so dogs can walk up and drop the ball themselves — and then chase the ball at leisure. The rechargeable device comes in three sizes — one for smaller balls, one for tennis-sized balls and one that actually shoots a ball out from a random chute. Starting at $39.95 — with free shipping — iFetch can be used indoors and outside.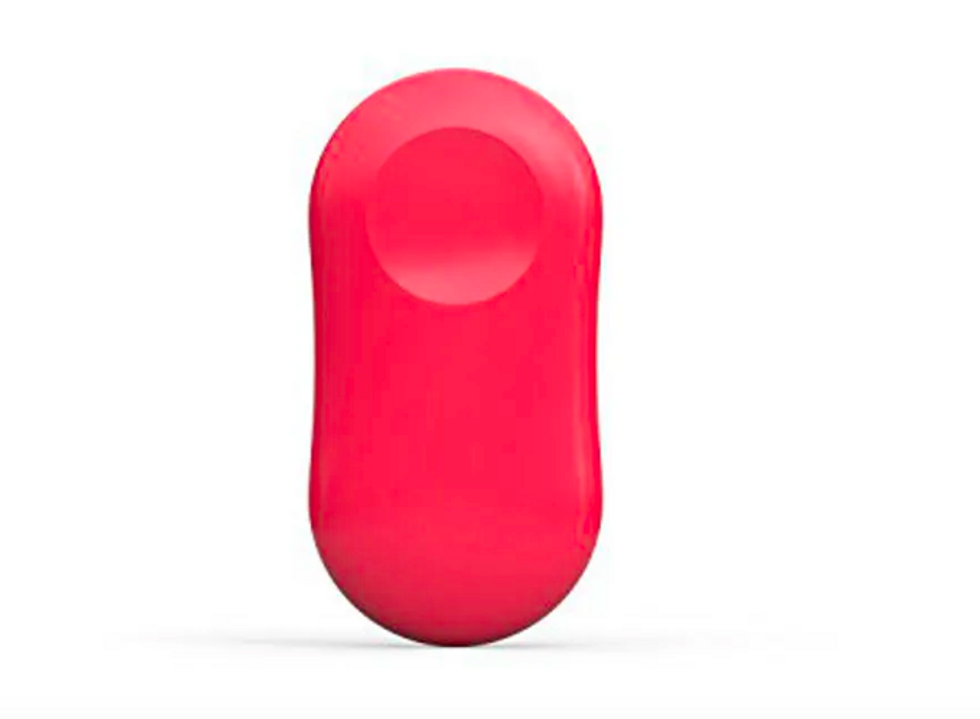 ThermoPeanut is a tiny sensor that reads the indoor temperature remotely.Sense
ThermoPeanut

Summer months are tough for cooped up pets — and their owners too. Yes, leaving the air conditioning on is a good safety measure for those sweltering days, but if the power goes out, and an owner's at work, there's a danger that a pet could get overheated. A smart thermostat is one solution, but an even more affordable one (and perfect for your budget holiday giving) is ThermoPeanut. This small device sticks to any surface, and lets you read the temperature through a smartphone app. That's it. The gadget doesn't connect to a smart home device — so you can adjust the temperature. But for $29, knowing a pet is napping comfortably (and a pet owner knowing you care about their favorite pooch) is worth it. (For those looking for more high-tech gizmos to make a home more comfortable check out our Holiday Tech Gift Guide for Grandparents — trust us.)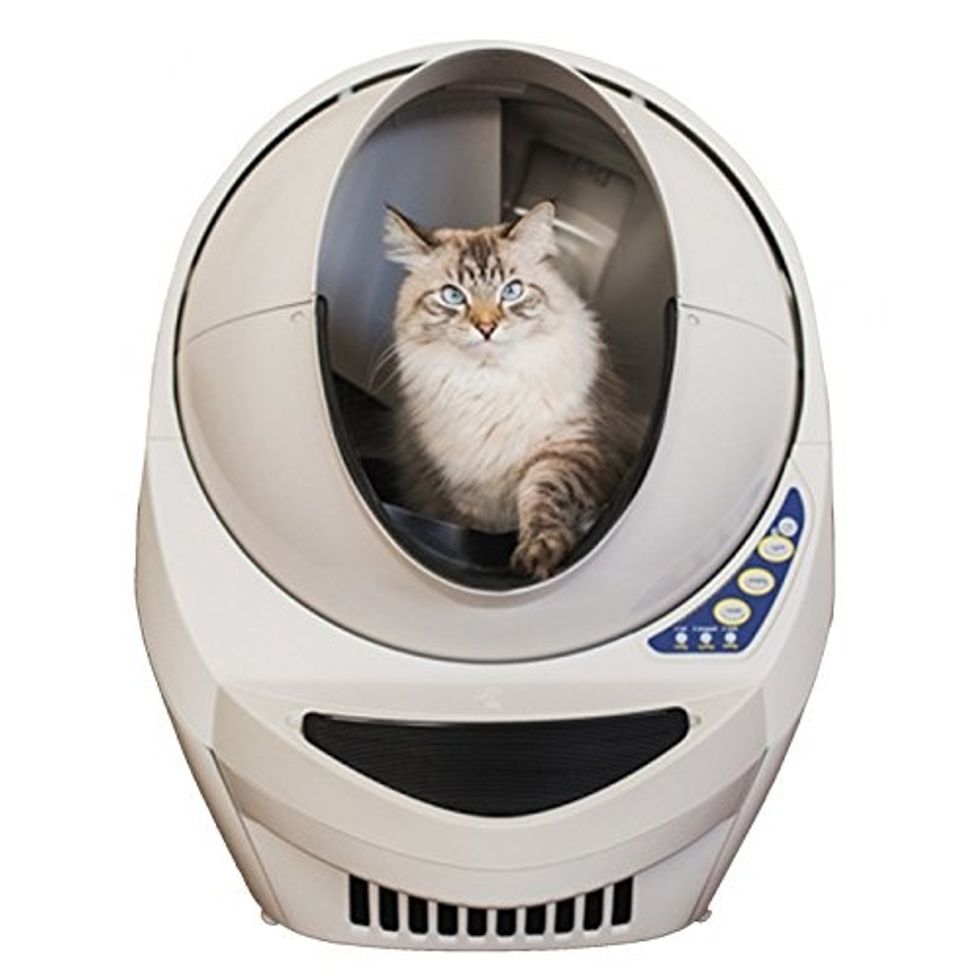 Litter-Robot cleans up — so pet owners don't have to.Litter-Robot
LitterRobot III

A self-cleaning litter box? There's not a cat owner on the planet who wouldn't want one of these devices. So meet Litter-Robot III, a litter box that does separates waste from litter, pushing it into a drawer for easy removal later. Priced at $449, it's not exactly a stocking stuffer option. And you'll want to be careful of who gets this on your list: they may think you're telling them something about the odor in their home. But for the right pet owner, and right friend, this may be a pet-friendly tech gift idea that gives all year long.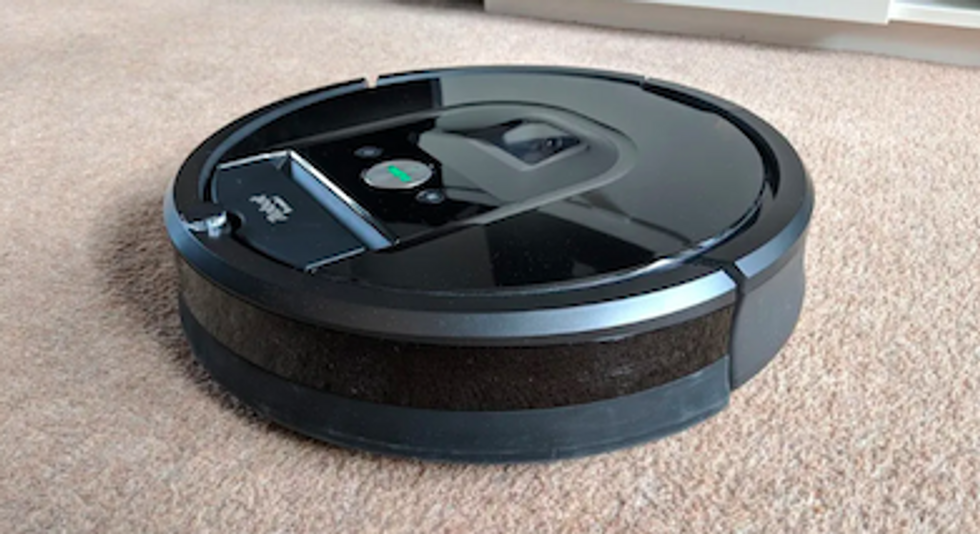 Have a pet? Vacuum cleaning is a daily affair.GearBrain
iRobot Roomba 980

Anyone who owns a cat or dog knows the need for a strong vacuum cleaner. One that takes care of that task on its own? That's a real gift. The iRobot Roomba 980 is a Wi-Fi connected, Alexa and Google Assistant-speaking, powerful cleaner that keeps the pet hair at bay all day long. Have a dog who is particularly afraid of vacuums? You can set invisible walls with the Roomba 980 so the device can stay away — and not terrorize your pet — while you're at work. Yes, the Roomba 980 starts at $900, but you can get $100 off for the holidays plus free shipping.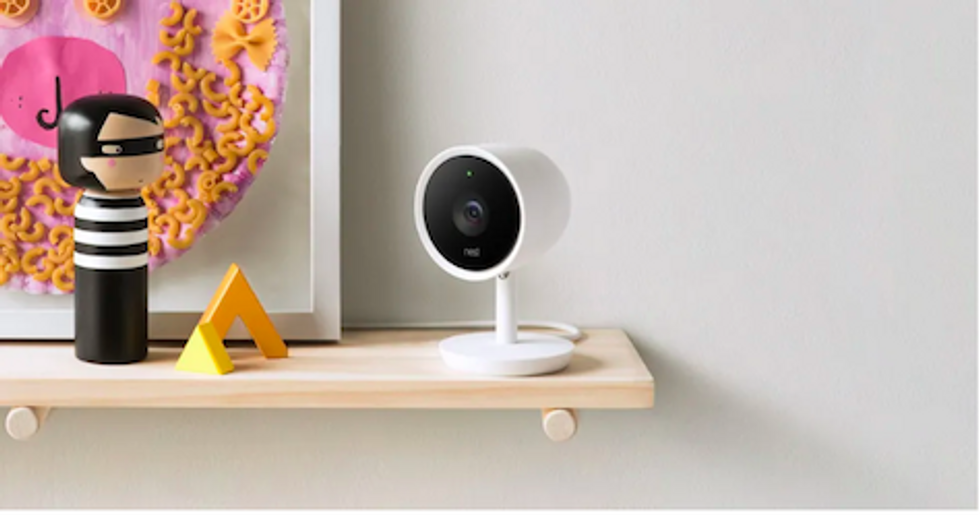 Keep an eye on pets while at the office or away with the Nest Cam IQ camera.Nest Cam
Nest Cam Wireless Security Camera

Most pets past kitten and puppy stage sleep during the day. Most. Have a way to check on them — without coming home and initiating the playtime routine — is something most pet owners want. Certainly a high-end way to know a favorite pooch hasn't torn up the trash, or kitty hasn't slashed up a favorite pillow is the Nest Cam series of indoor cameras. Nest Cam IQ indoor is one of its latest on the market, priced at $299 with the option to update to its Nest Aware service which sends alerts to smartphones. Pet owners will likely approve.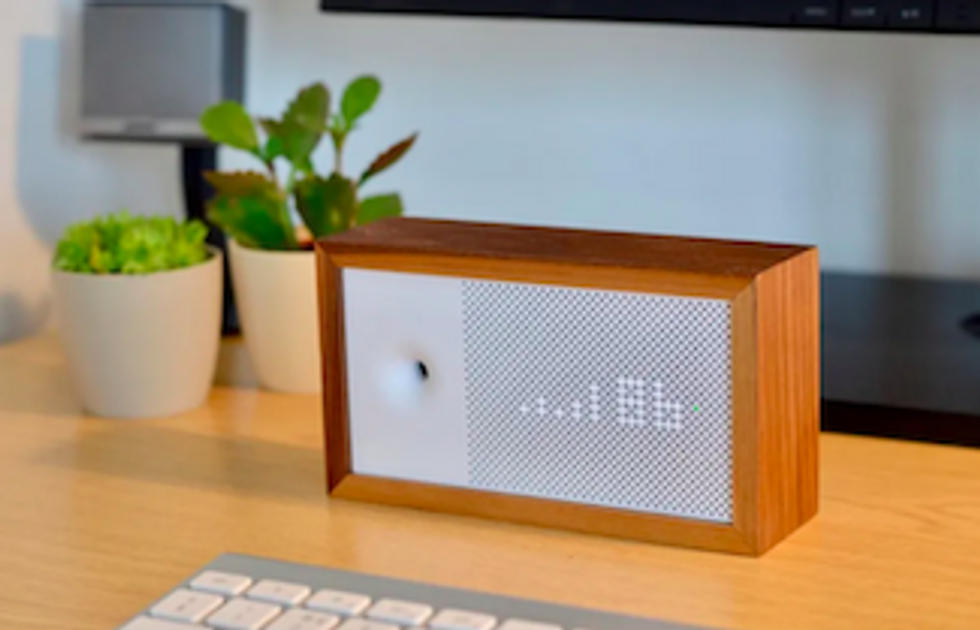 Awair reads the air quality in your home, sending alerts when levels get worrisome.Awair
Awair Air Sensor

Indoor air can be a toxic stew — particularly for animals, like cats, who rarely head outdoors. Knowing what may be swirling inside your four walls could help you decide when to leave the windows open to bring in some fresh air or even plug in an air purifier. The Awair Air Sensor measures five different metrics inside your home: the humidity, temperature, the CO2 levels, dust and also certain chemicals. Awair can't fix any of the issues — if you have them. But there's peace of mind in knowing that the air a pet is breathing is safe. Awair is priced at $199.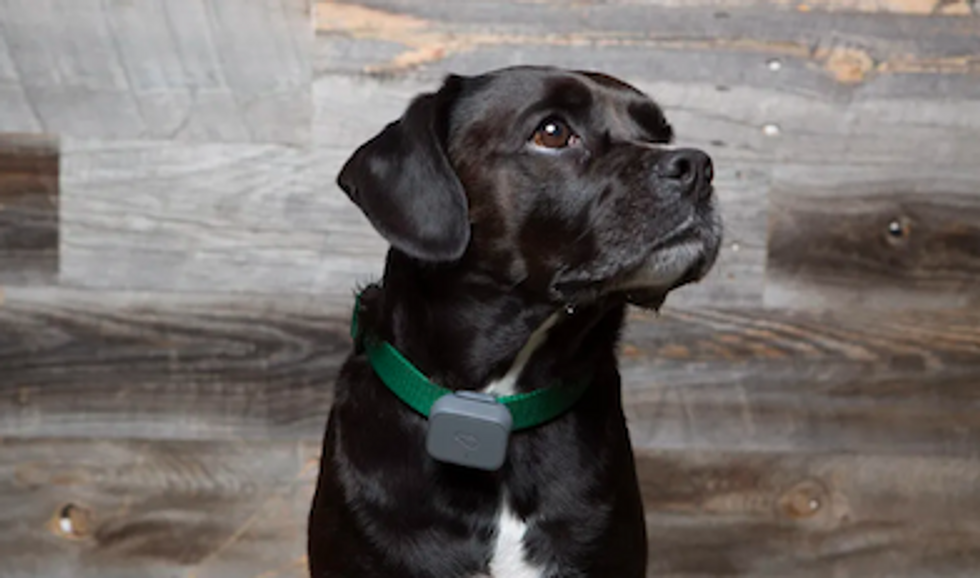 Keep track of a pet's location and activity levels with Whistle 3Whistle
Whistle 3 GPS Pet Tracker

A lost pet means a distraught pet owner. While chipping a dog or cat is one option — another is to use a GPS tracker on their collar. Whistle 3 not only keeps track of a pet's location it also records activity levels. How nice is this? For those who work outside of the home and depend on a dog walker for their pet's exercise, Whistle 3 can keep watch to ensure a pooch stretches his hamstrings enough during the day. The device itself is $79.95 — but owners do need to opt into a subscription plan which starts at $6.95 with a two-year commitment. So Whistle 3 is not an inexpensive gift — but it's a thoughtful one.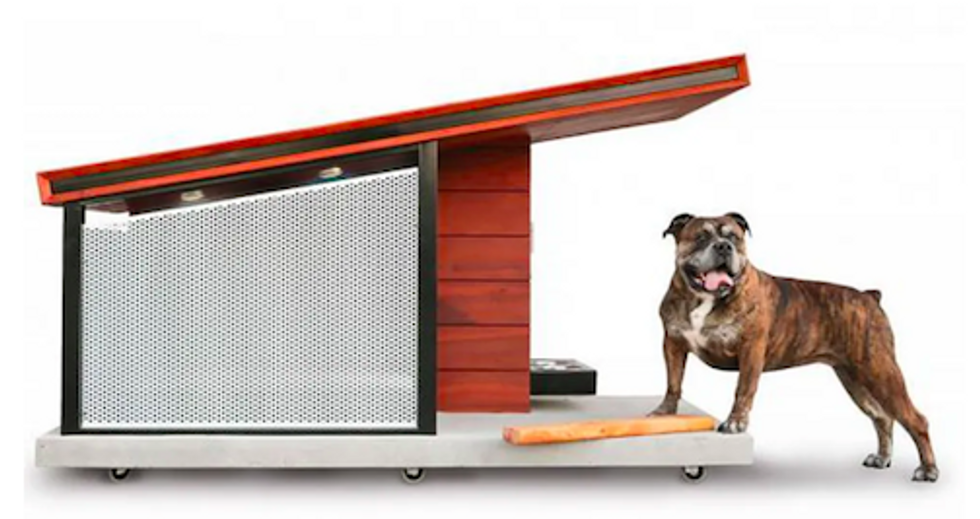 This solar condo is the epitome of creature comforts.Hammacher Schlemmer
Canine's Passive Solar Condo

This is a dog house that we almost want to live in — a modern abode with solar paneling and a teak roof. (That's Brazilian teak.) There's a transom above the window (yes, you read that correctly) that allows for air circulation. Sure the Canine's Passive Solar Condo is $3,700 — but that includes a personalized name plate and a memory foam pillow which should last a pal's pooch at least 10 minutes before being chewed into smithereens.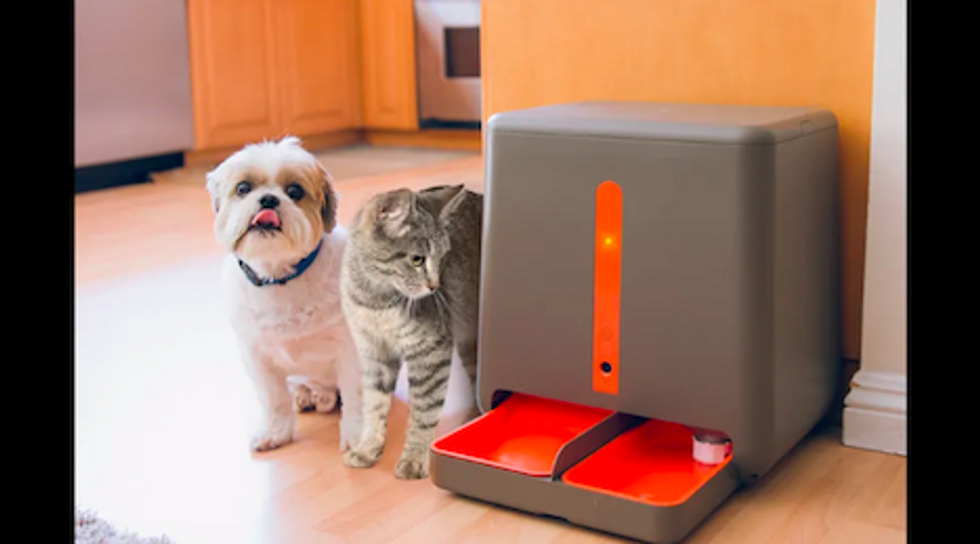 easyFeed keeps pets fed — and reorders kibble when supplies run low.easyFeed
easyFeed Pet Feeder

Remembering to feed a pet — that's not something pet owners should forget. But opening up the dog food container and finding barely a cup left? Who hasn't been there. (Ahem.) The easyFeed Pet Feeder does more than remind pet owners that they're running low — the device actually places the reorder through Amazon. Currently priced at $250 the company is offering free shipping plus 25 percent off the second one if you buy two. Have multiple pet owners on your holiday gift list? You may have found the solution.
From Your Site Articles
Related Articles Around the Web
Like GearBrain on Facebook