Like GearBrain on Facebook
An air quality monitor might not sound like the sexiest gadget to introduce Alexa to, but hold on a minute — you haven't met Awair.
A four-year-old San Francisco startup, Awair is on a mission to not only improve our air quality, but also raise awareness (get it?) and make wooden gadgets cool. (You can check out Awair 2nd Edition smart air monitor review here.)
Wood and technology may have parted ways since the massive CRT televisions of the 1970s. But just a moment's eyeing-up of the Awair is all that's needed to realize this is a seriously attractive piece of kit. As you might expect, the Awair is made from 100 percent toxic-free materials. Awair usually costs $199, but is currently offered on the manufacturer's site for $179.
Looking a bit like a portable speaker, Awair is compact enough to fit anywhere and its minimalist, almost Scandinavian design should complement almost any room you put it in. That's a good thing, because the Awair and its companion smartphone app are intended to be used in every room of the house, and for just about any situation. A different version called Awair Baby offers the same features, but replaces the wood finish with soft plastic in either green or pink.

Getting started
On setting up Awair (a case of plugging in the power cord, pointing the app to your Wi-Fi network and entering a number displayed on the unit's dot matrix display), you are asked where the device will be used and what you want to get out of it. Locations include bedroom, lounge, living room, TV room, kitchen, gym, study, play room, dining room, garage, guest room, laundry and more.
Not USB-compatible, the Awair must use its own main cable.GearBrain
Tap one, then tell Awair "what matters to you" — meaning pick between general, allergy, sleep, productivity and baby. Each mode will interpret the readings collected by Awair slightly differently, then shows a score while offering advice based on what you want to get out of it. For example, pick sleep and Awair will suggest you crack a window when the temperature gets too high for optimal sleep. Your preference can be changed in the app at any time, as can the device's name, location, display brightness and a feature which turns the display off when there is no ambient light (in case you keep it by your bed).

Once configured (this literally takes no more than two minutes from start to finish), you are greeted with the Awair interface — a score chart that appears on the device itself and in more detail in the app.
Your air quality is measured using five metrics: temperature, humidity, CO2, chemicals and dust. Each is represented, in that order, with a vertical line. Next to that is a score out of 100, with a higher score being better. If any level changes drastically a message scrolls across the dot matrix display and a notification is sent to your phone; a followup message arrives when levels have returned to normal.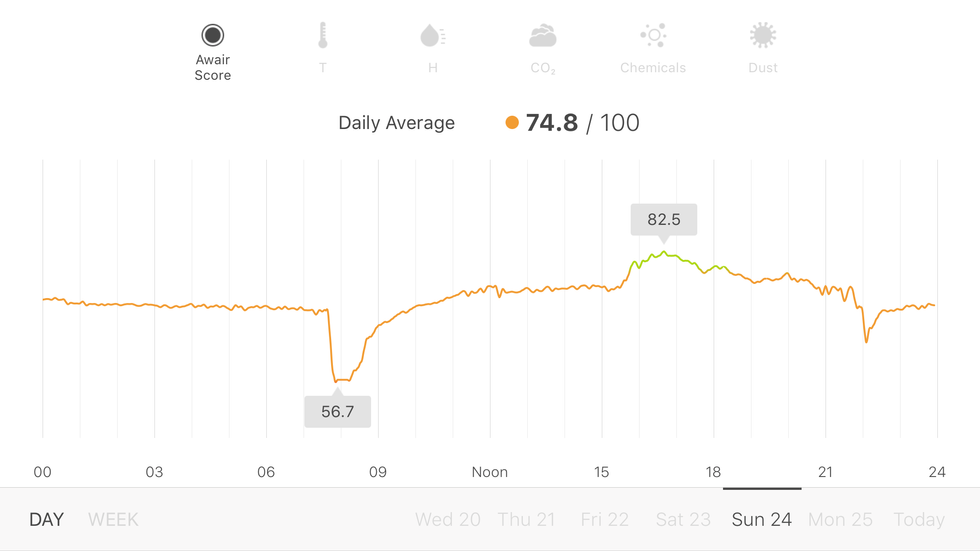 The app tracks air quality over time for each dayGearBrain
Setting preferences
The notifications can become annoying. When I used Awair in my bedroom I'd get exactly the same message about high chemicals every time I sprayed deodorant nearby, and sometimes no messages will be sent for several days. This all makes the Await feel a bit beta-stage for now, but with a smarter algorithm these annoyances could be removed.
In the app's Tips section there are cards of information on helping you improve your air, based on the preference you set during the setup process. As mine is configured for productivity and sits in my living room, I get advice on how to lower dust and CO2 levels to boost my productivity. Sometimes these cards are adverts suggesting you buy a product the Awair can communicate with via If This Then That (IFTTT); others open helpful Medium blog posts written weekly by the Awair team.

For me, dust seems like the biggest problem in my living room/home office. In my bedroom all levels were low but down here, despite being close to large open windows, the dust reading is always high. The Awair can't do anything to change this, of course, but it has made me aware of the situation and keen to find a solution. Perhaps a fan and air purifier are needed.
If I go for a fan with IFTTT support I can set up the Awair to turn the fan on whenever dust, chemical or CO2 levels get too high. I could also set the heating to come on if the temperature fell (via IFTTT or a Nest smart thermometer).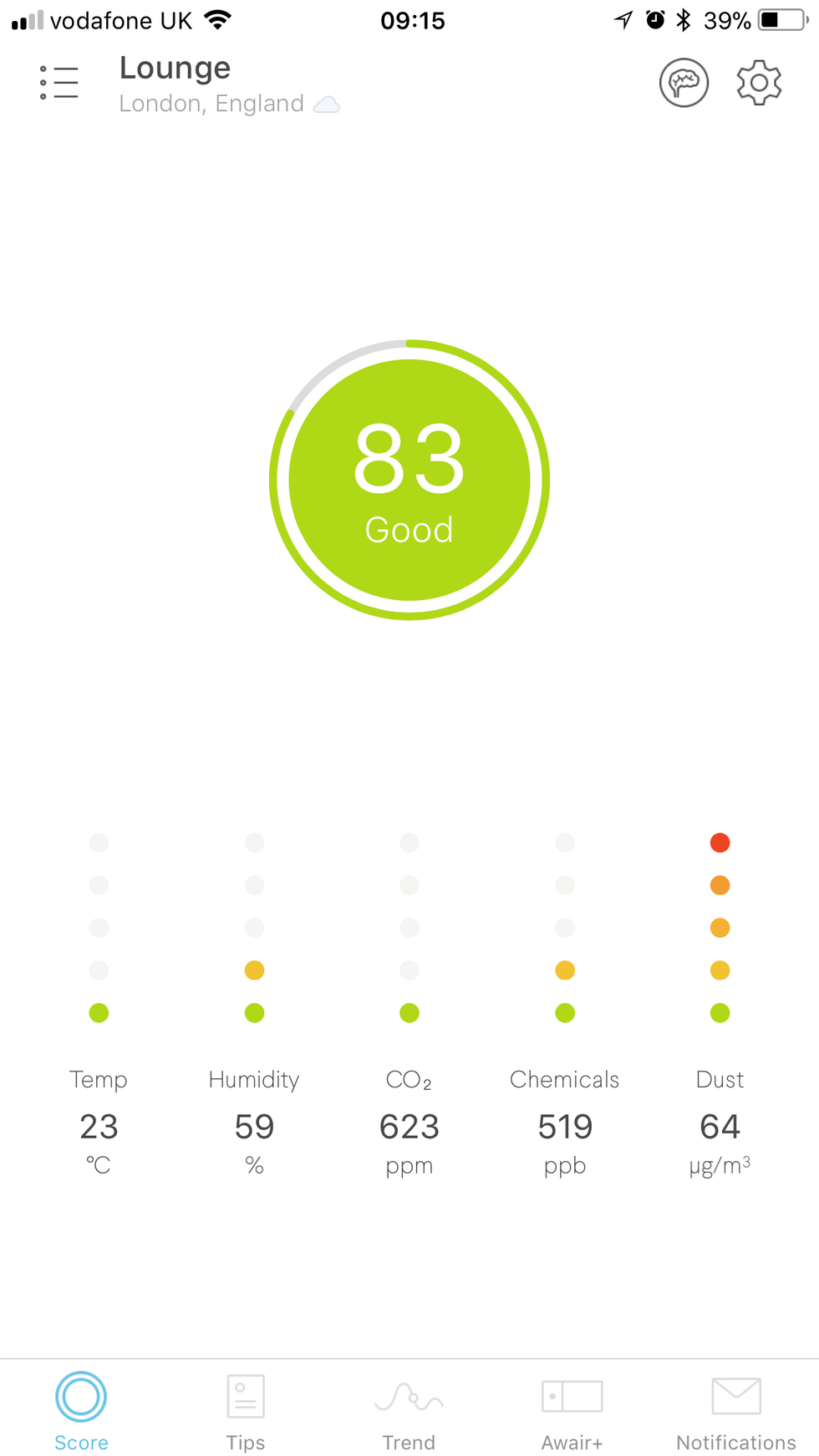 The app gives a live score out of 100, the higher the betterGearBrain
For those looking to connect 'dumb' devices like fans, purifiers and air conditioners, Awair also sells the $99 Glow, which acts like a smart plug. First plus the Glow into an outlet, and to your Wi-Fi network.Then plug a fan into Glow, pair the device to the Awair app, then set that up to switch the plug on when dust levels or the temperature get too high.
Amazon Alexa support is also included, via the Awair Alexa skill enabled in the Alexa app. Say 'Alexa, ask Awair about my air quality' and she will read our your current score, highlight anything which seems too high, and offer a brief conclusion on how your air is at that moment.

To me, she replied: "Lounge Awair score is 86, with dust being the worst at 53 microgram per meter cubed. Breathe easy, your indoor air is perfect for efficiency and productivity."
When I switched the Awair settings to 'bedroom' and 'allergy', she gave the same score but suggested: "Sounds like you need some fresh air", because for someone focused on improving air to combat their allergies, a high dust score is bad news.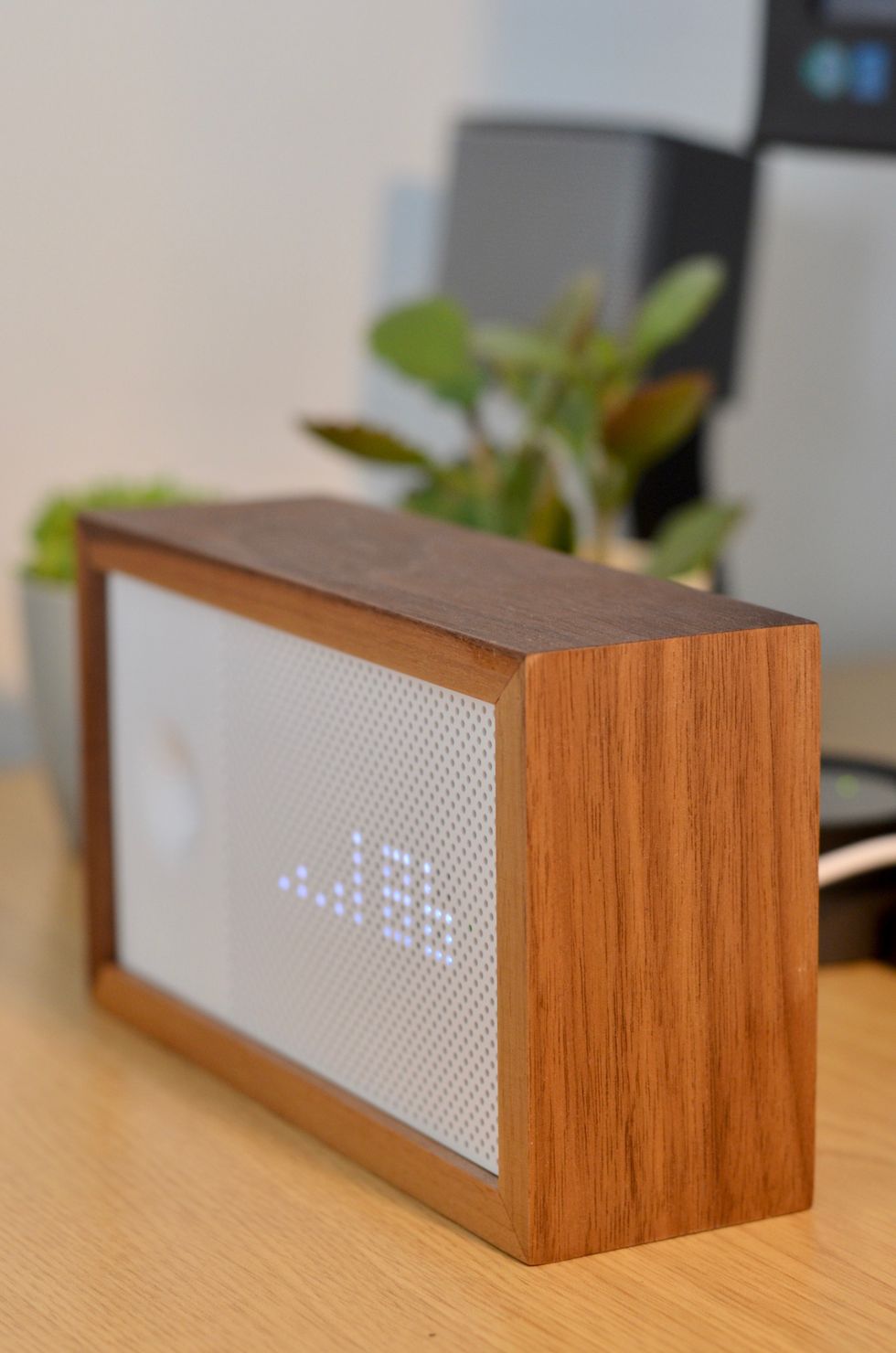 The wooden finish brings a bit of Scandinavian design to any settingGearBrain
Take a deep breath
I've really enjoyed using Awair in my home. The device looks fantastic, is easy to set up and provides just enough information without being overwhelming. Alexa support feels a bit like a novelty. Then again, hooking Awair up to a range of other products through IFTTT and Nest is a great way to add value to what seems an expensive product when used in isolation. Awair has encouraged me to buy more plants and open the windows far more often than before: That's a good thing.
Pros: Fantastic design, useful app and wide smart home support.
Cons: Pricey, suggestions are sometimes repetitive
- This review previously mentioned a slight noise emitted from the Awair device. We have since troubleshooted this and found the blame to lie with a power adapter. When used with a different outlet, no noise was emitted. The review has been updated to reflect this realisation -
Like GearBrain on Facebook