Grandparents love to give gifts — but getting them is pretty wonderful too. With this year making it particularly hard to stay in touch with our grandparents, a present that can help bring them closer to your life is something they're sure to adore. We're sure they'll likely appreciate a gift that can help them spruce up their home, and one that allows them install and even maintain all of these tech devices if you can't get there to help just yet.
Aura by Carver digital frame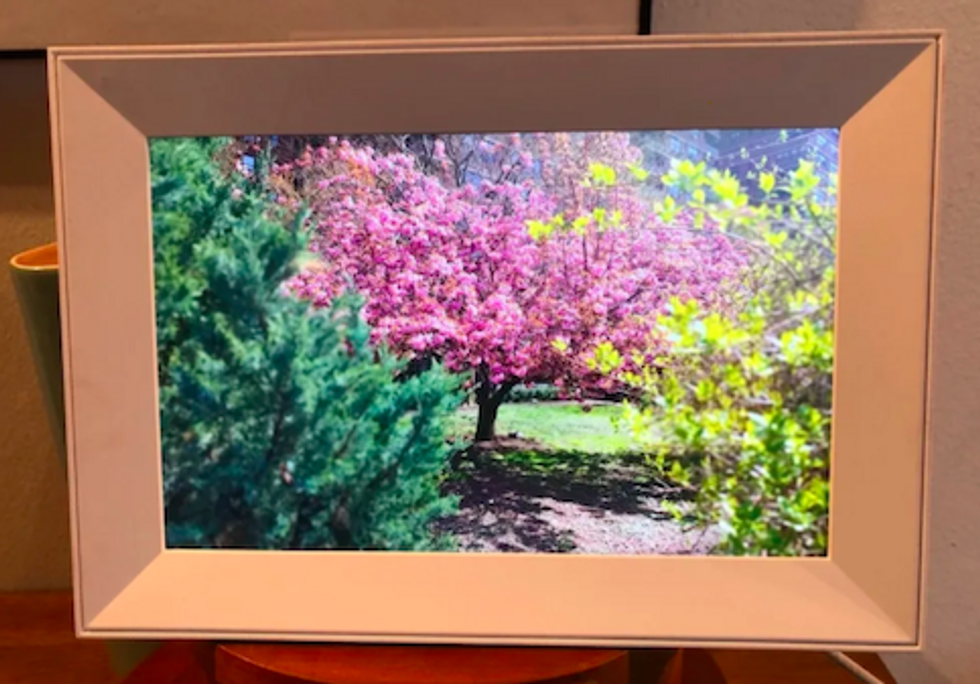 You can photos to the Aura by Carver frame from any mobile device GearBrain
Digital frames allow people to rotate through photographs — many of them, in fact. And today, with social distancing needed for families and friends, being able to see the people we love is even more important than ever. The $200 Aura by Carver frame has a chunky, almost architectural, back which makes it very stable. You can easily invite other family members to add images, and even get notified if someone has added new images.

Looking at photos through Aura is spectacular, with that full light that we're used to when viewing a photo on a smartphone or a display. Details are incredibly crisp. The quality is fantastic. And considering the social distancing almost everyone is facing today, we think digital frames make a wonderful addition to anyone's life
Lenovo Smart Tab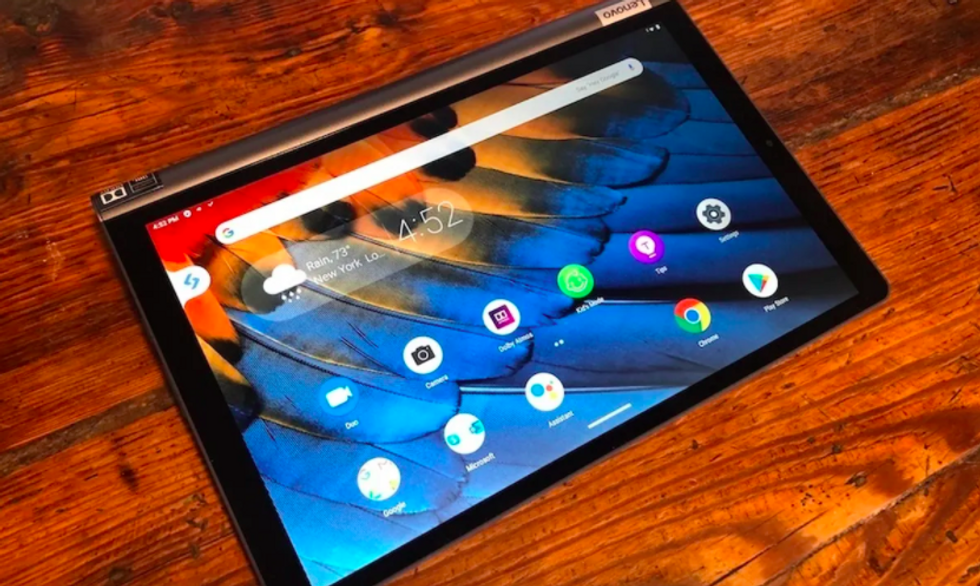 The Lenovo Smart Tab has Dolby Atmos speakers insideGearBrain
While many grandparents have a computer in their home, a second screen is a wonderful luxury, which is exactly what the $200 Lenovo Smart Tab offers. You can access the Web, view videos on YouTube (yes, your grandparents are aware of YouTube) and link the tablet to your Google account bringing up Google Assistant just by asking questions aloud.

The Lenovo Smart Tab has a 10.1-inch haptic touchscreen display, and JBL speakers with Dolby Atmos. Plus, there's a rounded edge that made the device feel like a book in your hand — and one great addition: a kickstand. So they can stand this tablet up too, which is a solid option, when they're using the Smart Tab to make video calls with you.
Muse S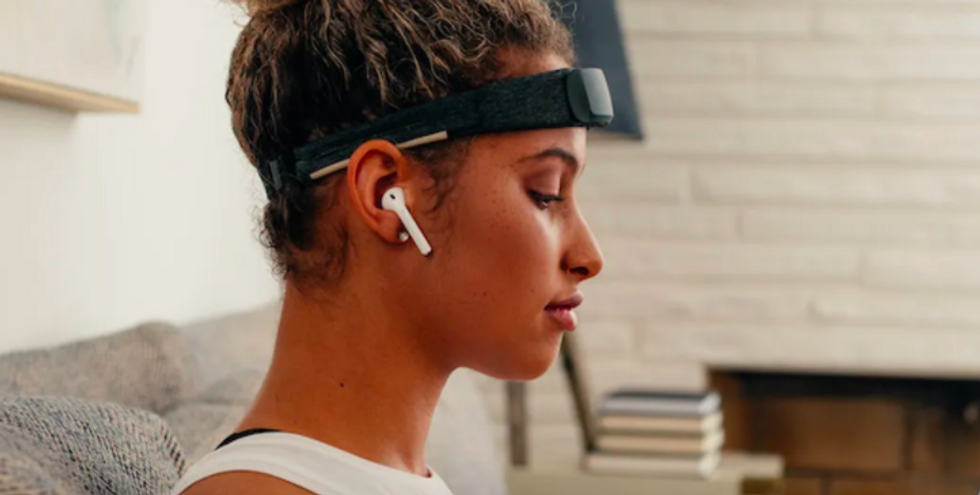 Muse S teaches you to meditate by listening for birdsMuse
Muse S is one of favorite devices we've reviewed this year, a way to making meditation almost a game. The soft band is easy to put on, the app easy to install, and together they can help train your mind to relax and quickly move to a state of calm. You're actually taught to try and get birds to sing — the more they sing, the more your mind is calmed. The device is $350, plus you'll spend about another $95 to subscribe to the app. But we think anyone, especially your grandparents, will find Muse a wonderful Lenovgift, a way to step away from any stress this year has brought.
Lenovo Smart Clock Essential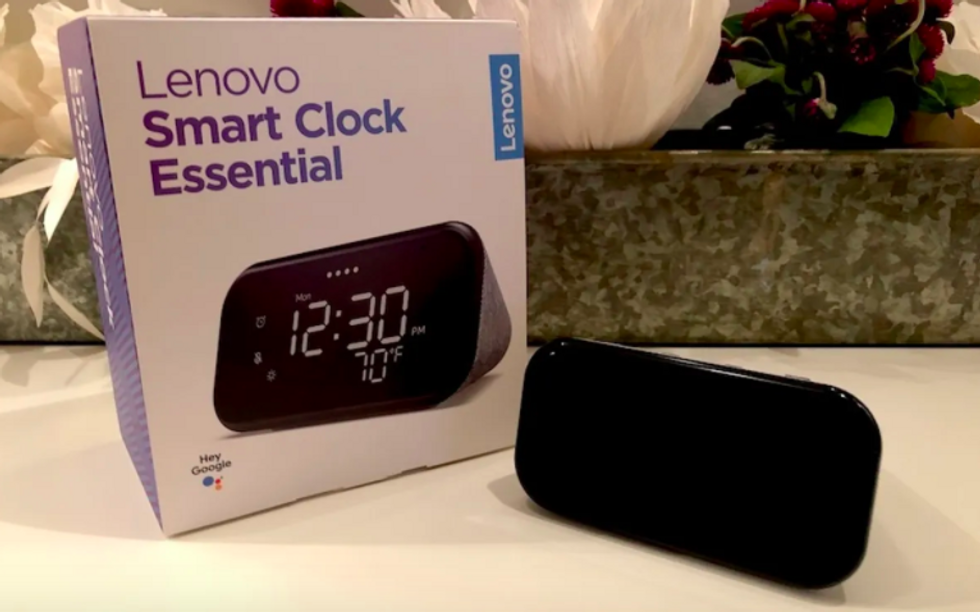 Lenovo Smart Clock Essential is just $49.99, and works with Google AssistantGearBrain
We like this smart clock for its stripped down retro look, plus the newly released Lenovo Smart Clock Essential does what its name suggests, offer up basic information right on its digital face: weather, the time and the day of the week. The icons are easy to read, and you can do all the things you'd expect to do with a bedside clock like set an alarm. The Smart Clock Essential also has a few extra features, like bringing up Google Assistant when you call, and it also doubles as a USB charger so you can power up your smartphone right from its base. At $49.99, this is a definitely a useful and we think even fun gift for grandparents this year.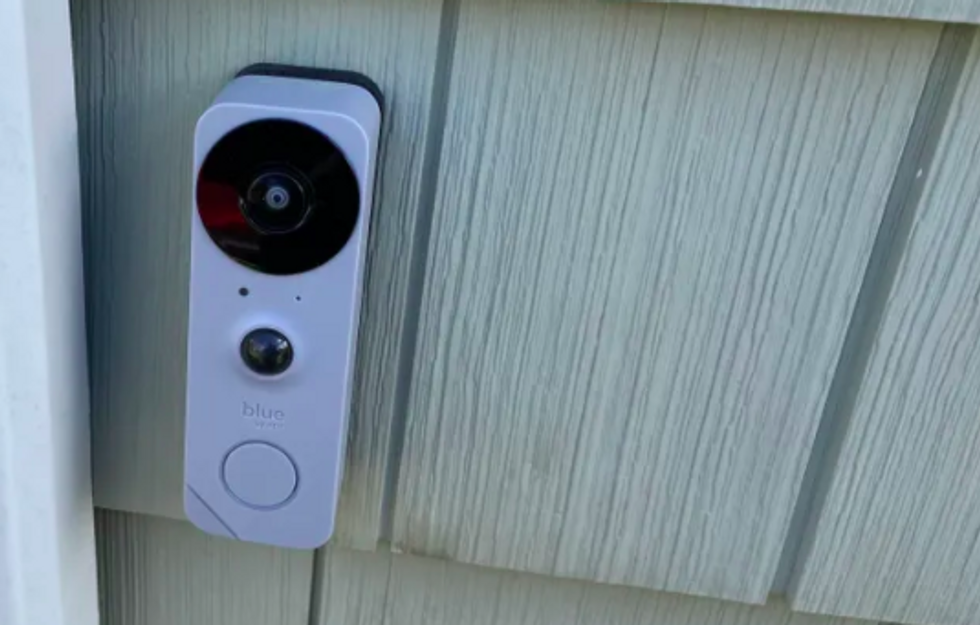 The Blue by ADT camera has a very wide field of viewGearBrain
A smart doorbell camera is a device that lets you see who is outside your home — without having to go to the door or open it, making it an excellent security device. But you can also use the camera to check in with family as well, if grandparents give children or grandchildren permission to access the app, and the camera. ("Hi Grandma!")

We like the $200 Blue Doorbell Camera because it has an exceptionally wide field of view — meaning you can see across your entire front lawn and then some — plus it has facial recognition, which is a super nice feature.
Apple iPhone SE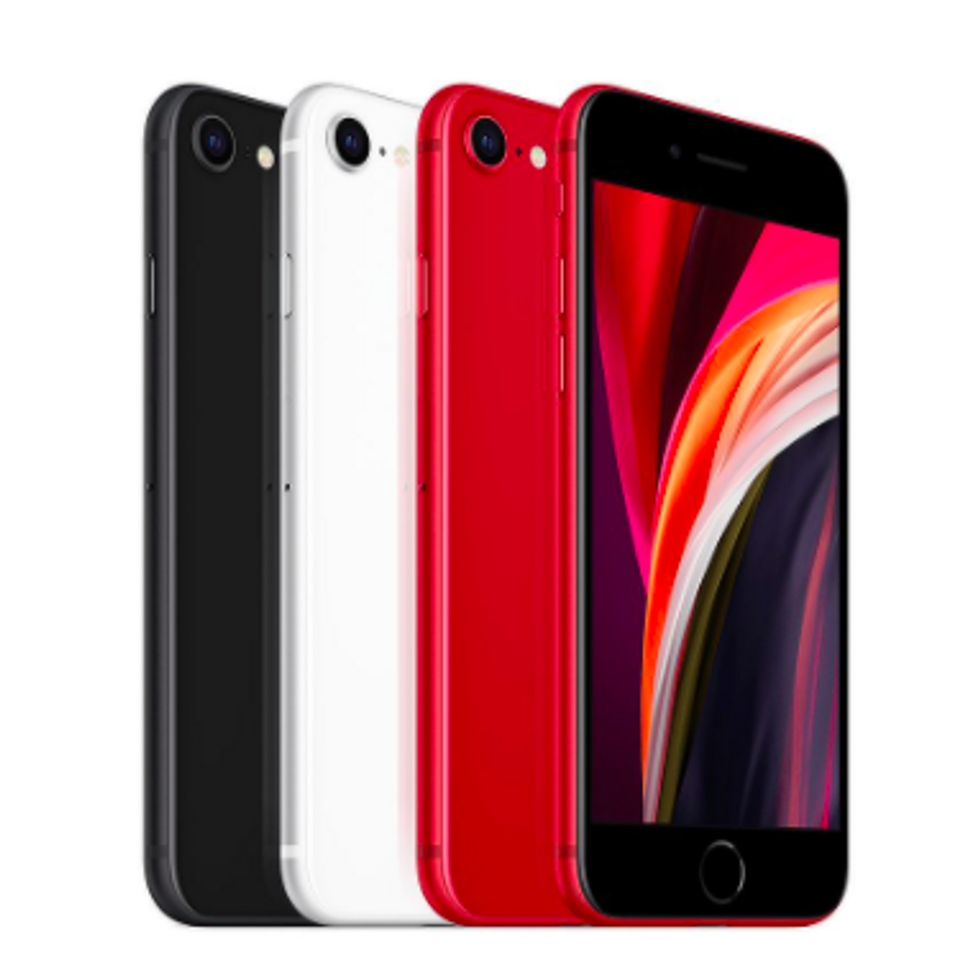 The Apple iPhone SE is just $399, one of the lowest priced iPhones in recent yearsApple
Apple phones are notoriously expensive — there's just a lot going on. But this year Apple released a solid smartphone that's not going to break the bank as much as other models — the iPhone SE. It's the perfect smartphone for anyone, like you grandparents, who may use their device for basic needs from email to texting, video chatting to watching videos. The $399 phone has a Retina display, and camera effects are excellent including Portrait lighting. You get Touch ID, can pick between black, white and red, and the entire device is water resistant. It's a little splash of fun for their holidays this year.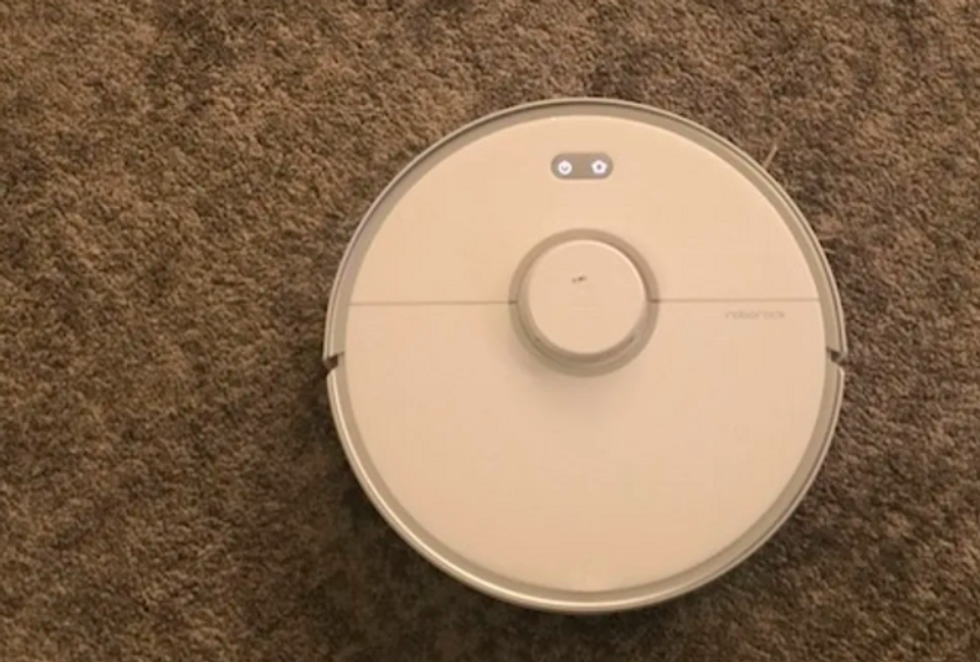 The Roborock S5 Max lets you schedule when you want the vacuum to cleanGearBrain
Robot vacuums are one of the best smart home devices people can buy. They tend to do one thing, vacuum up floors and rugs, and they do this task quite well — unless you're the Roborock S5 Max which does both, extremely well. The $600 smart vacuum lets you schedule the you want your house cleaned, and you can even block off certain rooms where the robot can't go if you choose. Plus it works with Alexa, so if your grandparents like Amazon's smart assistant they can just ask the S5 Max to start cleaning, even while they're on a call with you.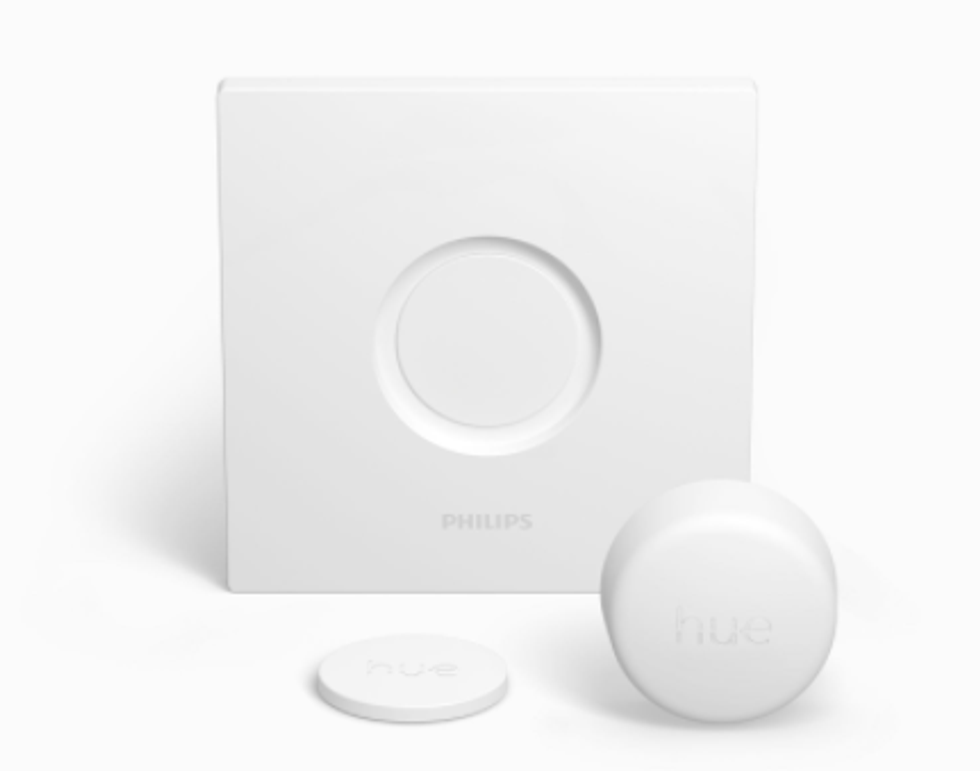 The Philips Hue Smart Button puts a smart light switch anywhere in your homePhilips Hue
A smart button is a fun little add-on that lets you add a switch anywhere in your home, even on a piano. With the Philips Hue Smart Button, you just click, and your lights turn on and off. You don't need to add wiring, you don't need to call in an electrician. And the entire device costs just $20. You do need to be using Philips Hue smart lights (which you could spring for if they don't already have) but after that, your grandparents have an easy way to just turn off the lights before they go to sleep, or turn them on before they get out of bed and never stumble around a dark room again.

Geek Squad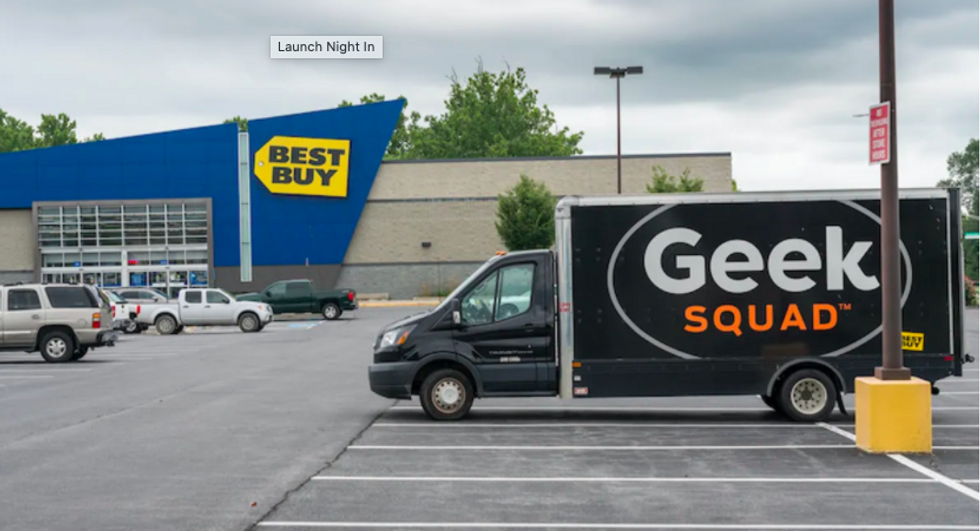 The Geek Squad will install any device, even those you don't buy from Best BuyGetty Images/iStock
After you've bought your grandparents a new tablet, robot vacuum or TV, consider splurging for the one thing you know they'll definitely need — some tech assistance. Best Buy's Geek Squad is a service that lets you make an appointment to have qualified people come to your home to install products, and maintain technology — even if you didn't buy that item from Best Buy. You pay $200 for the initial sign up, and then $50 each time you need something installed. Repairs are extra, but Geek Squad members get a 20 percent discount, and you never have to leave your home. Help comes to you. Or in this case, your grandparents.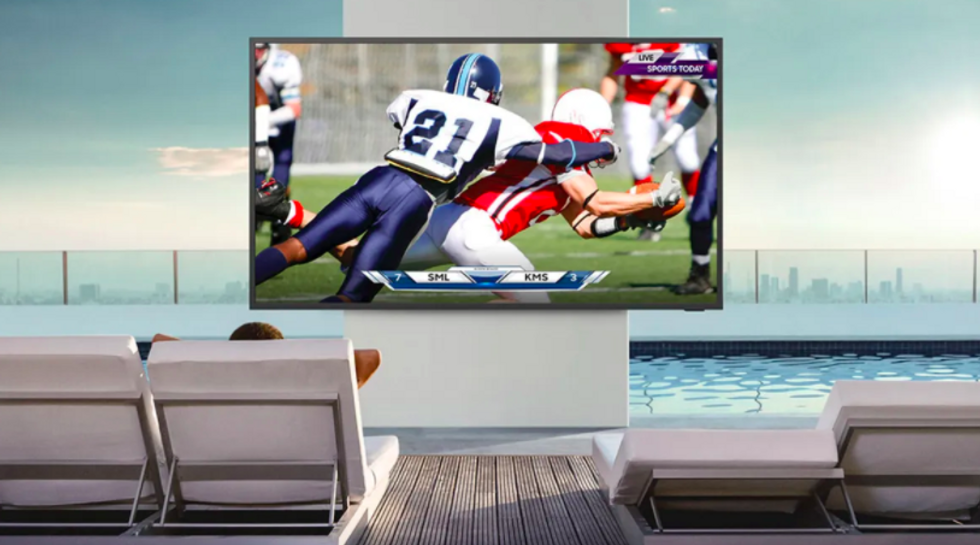 The Samsung Terrace is a TV designed for outdoor useSamsung
This is the TV of all TVs, the Samsung Terrace which is designed for outdoor use, making it perfect for any grandparents who live in climates where their backyard is like a second living room. The TV starts at a 65-inch size and goes up, and each screen has Ultra HD 4K resolution, even outside. Of course it's weatherproofed, and it also connects to Wi-Fi so you (or your grandparents) can stream Netflix, Apple TV and more. The TV starts at $5,000 so this may be one of those gifts where everyone in the family (hello, second cousins) may want to chip in for this big (very big) gift.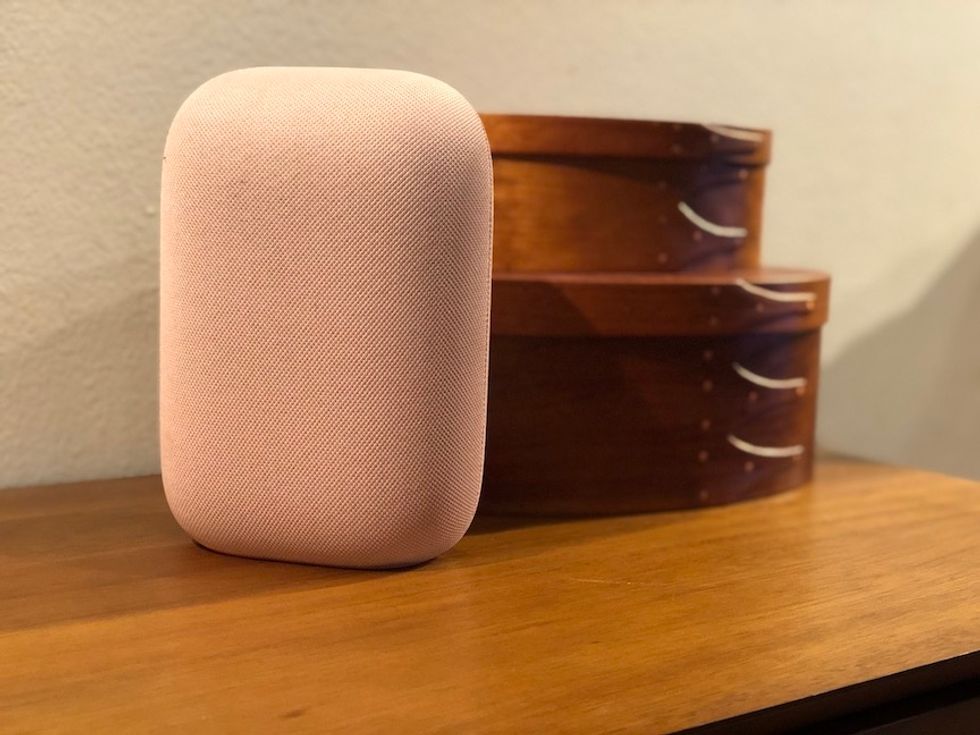 Nest Audio pushes out full, round sound in a well-designed speaker for just $99 GearBrain
Nest Audio is a good upgrade from the original Google Home, a speaker that first introduced people to the idea of having a smart assistant in their space. It's good a great design, and keenly solid sound quality — music sounds full, round and when put in a location where sound is directed forward, quite clean and bright. For grandparents who have adopted Google Assistant, whether they're Android users or Google Home fans, the new Nest Audio, at $99, is a fun gift this year.

You can also read our 2019 Best Tech Gift Guide for Grandparents for more ideas this year.
Plus, check out The GearBrain, our smart home compatibility checker to see the other compatible products that work with Amazon Alexa and Google Assistant enabled devices.

Introduction of The GearBrain, The First Compatibility Find Engine for Smart Devices www.youtube.com