Grandparents love to give gifts — but getting them is wonderful too. Over the past two years it has been particularly hard to stay in touch with our grandparents due to the pandemic. Even giving a present to help bring them closer to your life has been hard but is something they're sure to adore this year. To help you find the right gift for grandma and grandpa, we have compiled a list of smart tech devices this year which can help spruce up their home. They are also easy to install and maintain even if you can't get there to help just yet.
Mason by Aura digital frame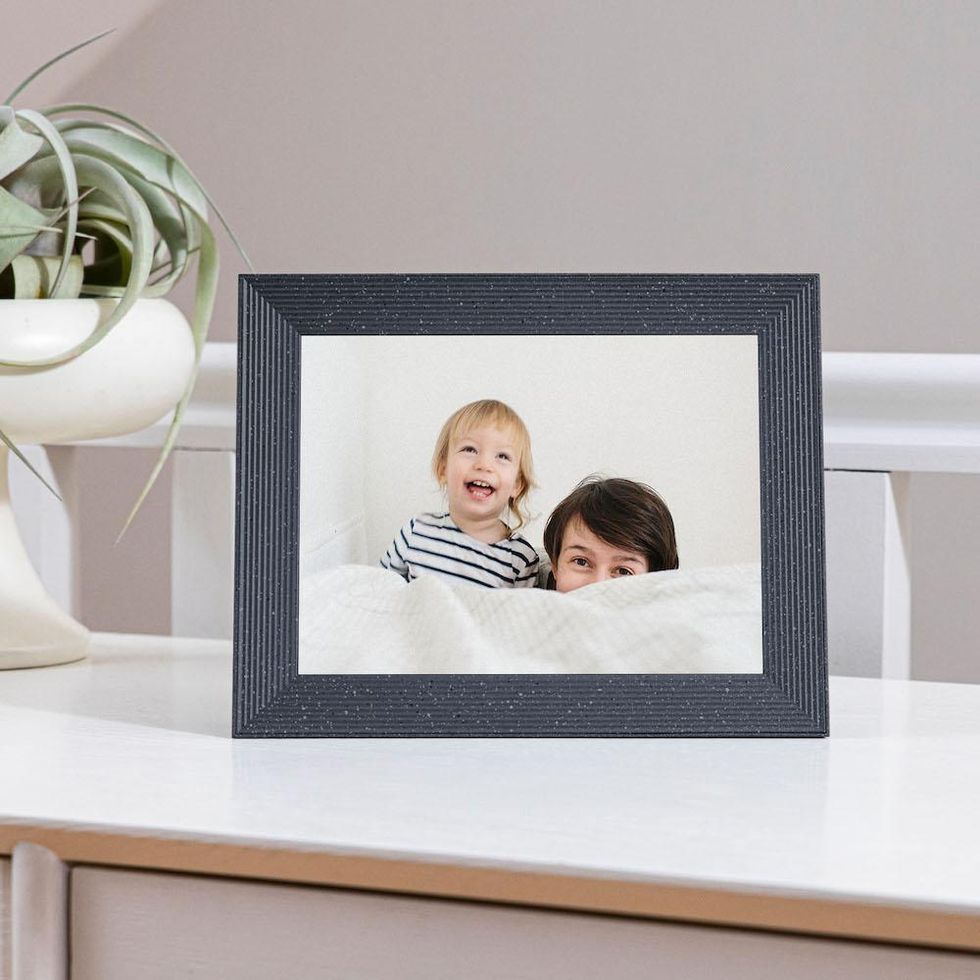 You can photos to the Aura by Carver frame from any mobile deviceAura Frames
Photo frames make perfect tech gifts for your grandparents. They can help you see your loved ones all year long and they are easy to operate. GearBrain has tested many of Aura Frames and like how you can easily invite other family members to add images, and even get notified if someone has added new images. Their new smart photo frame is Mason Luxe comes with the company's highest resolution display, support for video/sound, a craftsman inspired frame design, and free, unlimited storage for photos and videos making sharing memories effortless. It also works with Amazon Alexa and Google Assistant enabled devices. It costs $249 and available in Pebble and Sandstone. You can get on Aura's site . Other Aura Frame models are available on the company website for purchase as well as on Amazon.
Lenovo Smart Clock Gen 2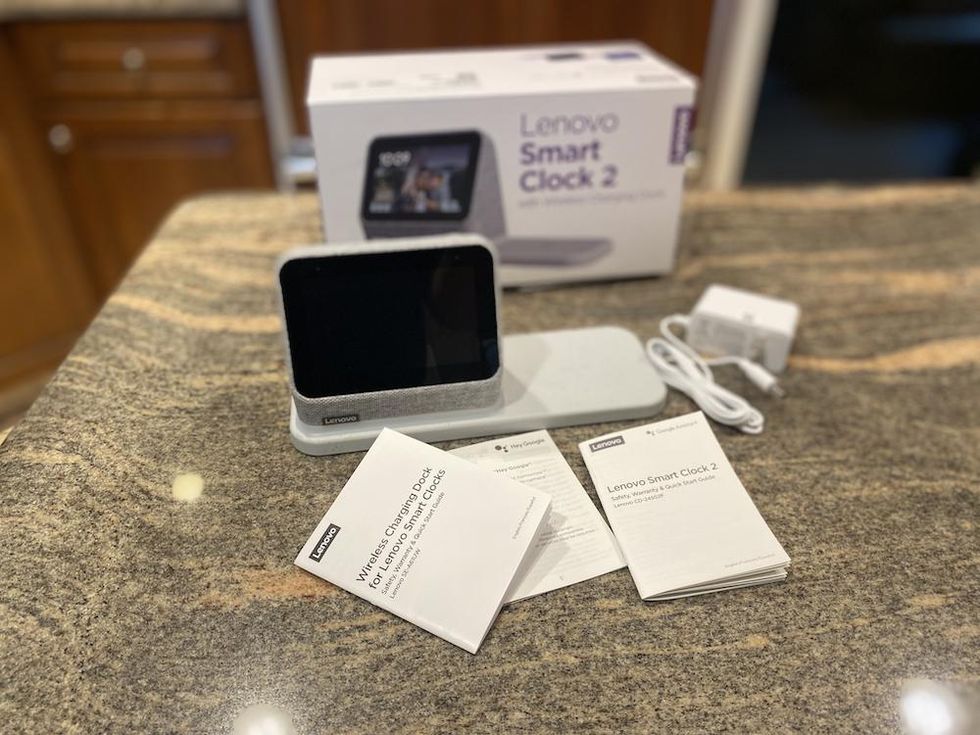 Lenovo Smart Clock Gen 2 GearBrain
The Lenovo Smart Clock Gen 2 is a follow up to Lenovo's popular Google Assistant powered smart clock,
Lenovo Smart Clock Essential
. This 2 Gen version still has the stripped-down retro look but comes with a wireless charging dock instead of charging ports. This makes it easy for your grandparents to easily charge their smartphones at night. The
Lenovo Smart Clock 2
also has icons that are easy to read and features you'd expect in a bedside clock like setting an alarm. But this new version does have extra features like voice commands using Google Assistant, better speakers, 4-inch touch display with ambient light sensors and powerful microphone which you can muted for privacy. It retails for $89.99 when bundled with the docking station. It's available on
Lenovo website
for only $69.99. You can also buy it on
Best Buy
($89.99) or
on Walmart
for only $89.
Cubo AI Plus Smart Baby Monitor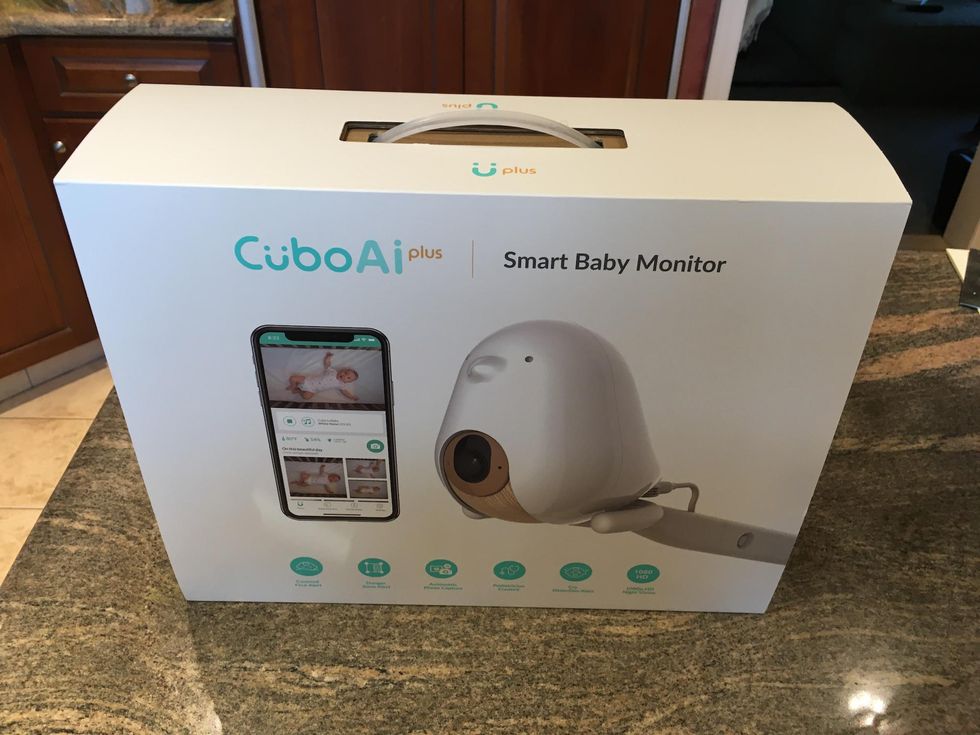 Cubo AI Plus Smart Baby Monitor Review www.gearbrain.com
Another great gift for your grandparents is a smart baby monitor, but it must be easy to setup and use. One smart baby monitor we would recommend for your grandparents is
Cubo AI Plus Smart Baby Monitor
. It's a smart baby monitor with artificial intelligence (AI) which helps track the baby's sleep and activities during the night. Cubo AI includes a security camera, a free app, a mobile and floor stand, cables, a crib stabilizer and a temperature and humidity dongle. But the AI in this smart baby monitor is perfect for grandma or grandpa because they can be alerted when the baby's face is covered or has rolled over. It even can notify them when their grandchild is crying. Cubo AI costs only $199 for the wall mount set or you can get Cubo AI monitor and three-stand set for $299. And available on the company website as well as on
Amazon.
Muse S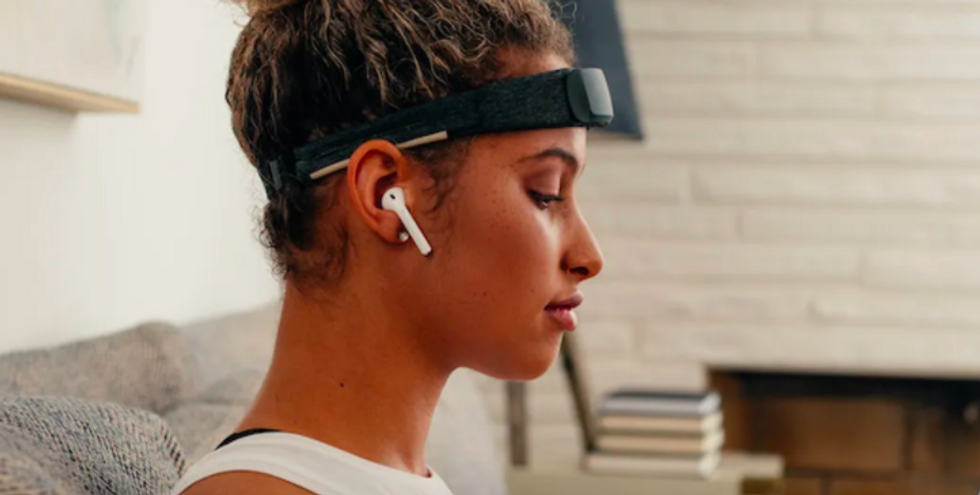 Muse S teaches you to meditate by listening for birdsMuse
Muse S is one of favorite devices we've reviewed this year, a way to making meditation almost a game. The soft band is easy to put on, the app easy to install, and together they can help train your mind to relax and quickly move to a state of calm. You're actually taught to try and get birds to sing — the more they sing, the more your mind is calmed. The device is $350, plus you'll spend about another $95 to subscribe to the app. But we think anyone, especially your grandparents, will find Muse a wonderful gift, a way to step away from any stress this year has brought.
Google Nest Doorbell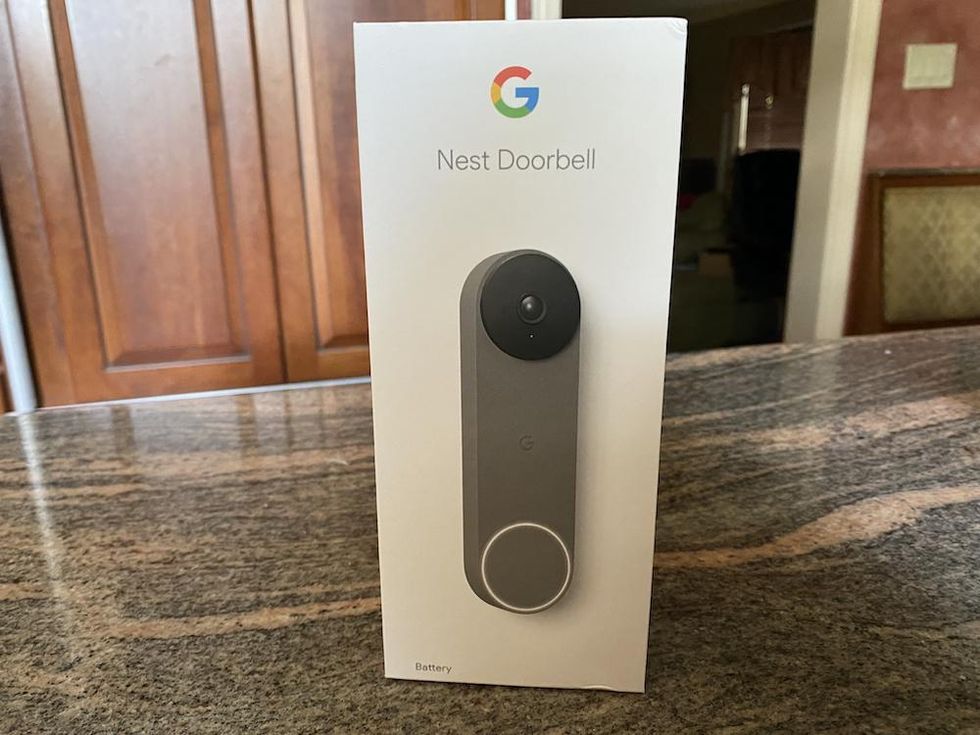 Google Nest Doorbell (Battery) GearBrain
If your grandparents are using Google Assistant enabled devices in their home, the perfect smart video doorbell to get this year is the new Google Nest Doorbell. The Google Nest Doorbell is a battery powered smart video doorbell with all the expected features you need to secure your front or backdoor. It's easy to install and comes with a 1.3-megapixel color sensor, PIR (Passive Infrared) motion sensor, 6x digital zoom capabilities, a 145-degree field of view (FOV) and 3:4 aspect ratio. The 3:4 ratio is perfect for your grandparents since they don't have to tilt their smartphone to get a full glimpse at the person at your door. They will be able to see the visitor from head to toe on their screen. It costs $179.99 and it comes in four colors (Ash, Ivy, Linen and Snow). This doorbell is available on Best Buy, Walmart, ABT Electronics and other electronic outlets.
Ring Video Doorbell 4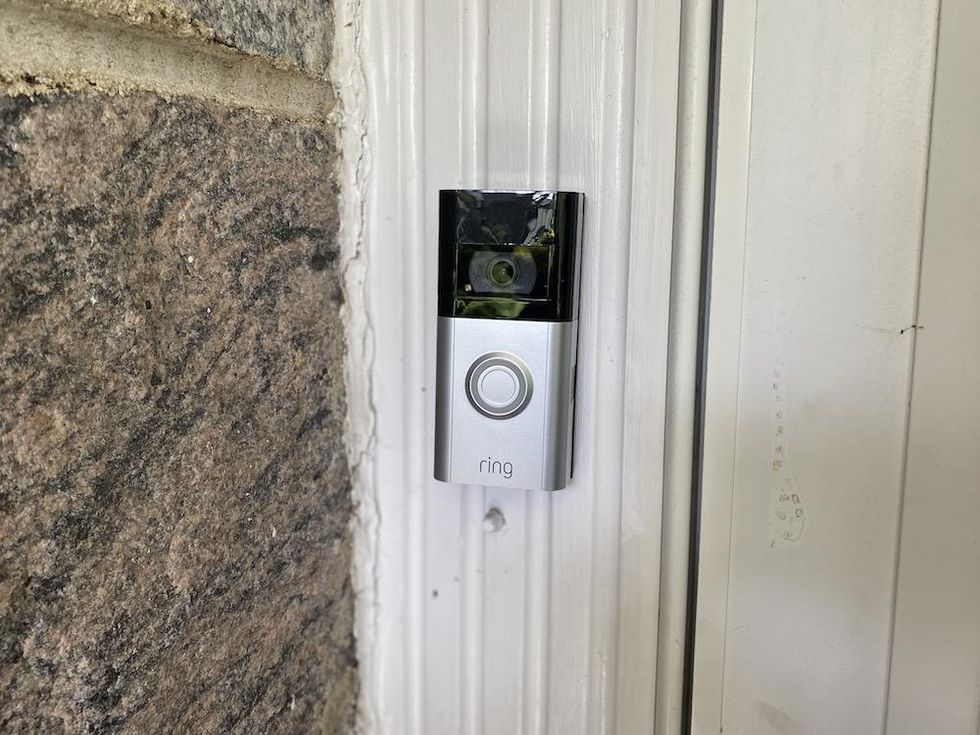 Ring Video Doorbell 4 installed GearBrain
Another good video doorbell to consider this holiday season for grandma and grandpa is Ring Video Doorbell 4, especially if they are using Amazon Alexa enabled devices. Reason: Ring is owned by Amazon and Ring devices work seamlessly with smart displays and speakers with Amazon Alexa voice platform. Ring Video Doorbell 4 is resourceful smart Wi-Fi video doorbell packed with the latest technology and security features to protect your smart home. It features a 1080p HD camera, 160-degree field-of-view (FOV), two-way communication with noise cancellation, a Live View of your doorbell in the free Ring app, color night vision and customizable motion controls. It also works on a Wi-Fi connection using either a 2.4 GHz or 5 GHz setting. And setup is quick and easy whether you have an existing wired doorbell or not. This smart video doorbell by Ring costs $199.99 and is available on the company website, Amazon, Best Buy, The Home Depot and other consumer electronics stores.
Yeedi Vac Station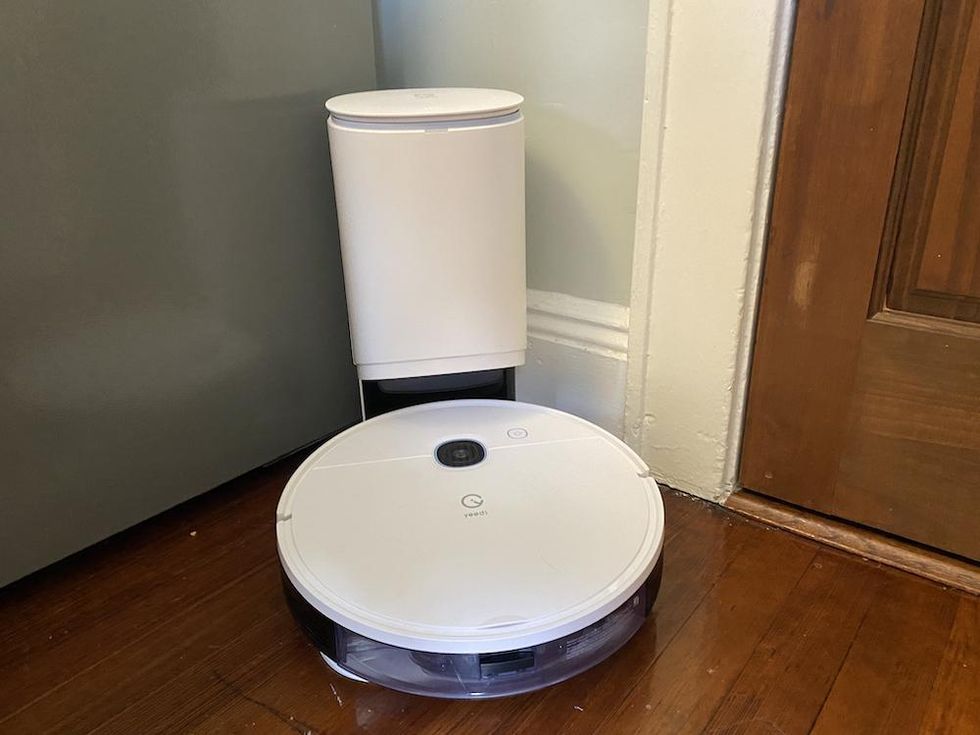 www.gearbrain.com
Robot Vacuums make great gifts since they are easy to setup and can do one thing well, clean your floors. Some of these smart robot vacuums can vacuum while others just mop. And if you can afford it, there are robot vacuums that can vacuum, mop and self-empty the robot. These are called 3-in-1 systems and normally run $600 and up. But we found one that is affordable and less than $500. It's the Yeedi Vac Station. This device is a self-emptying vacuum and mop cleaner that can intelligently identify the type of floor to clean and choose the right cleaning method. It has powerful suction (3000Pa), smart mapping and navigation features as well as works with Amazon Alexa and Google Assistant enabled devices. It costs only $499.99 and is available on Amazon.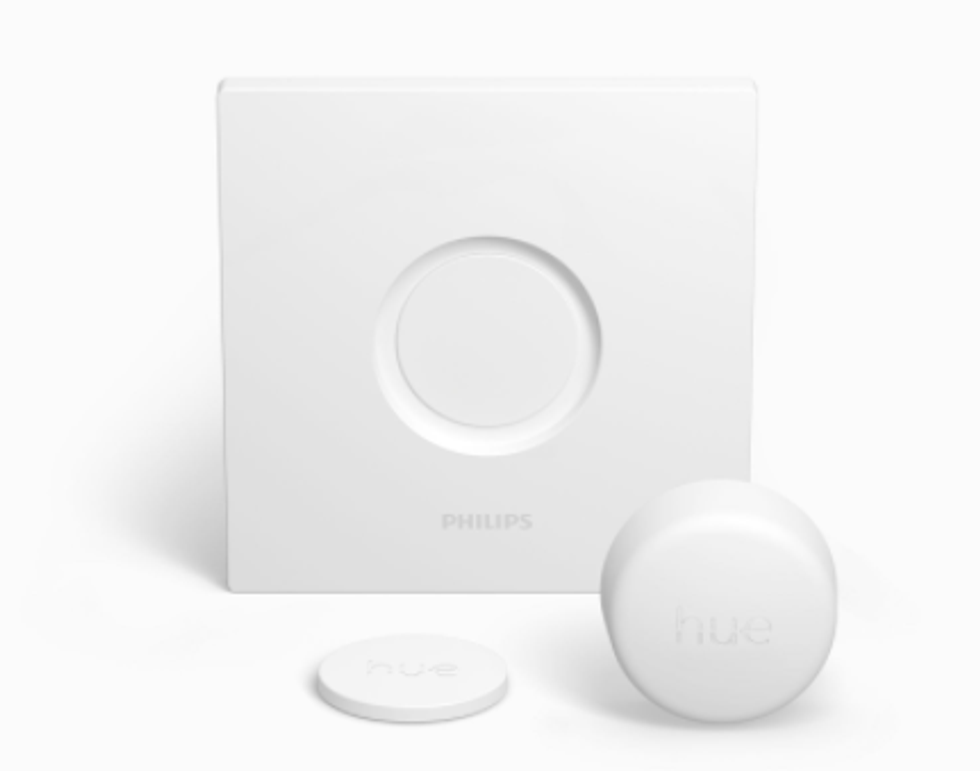 The Philips Hue Smart Button puts a smart light switch anywhere in your homePhilips Hue
A smart button is a fun little add-on that lets you add a switch anywhere in your home, even on a piano. With the Philips Hue Smart Button, you just click, and your lights turn on and off. You don't need to add wiring, you don't need to call in an electrician. And the entire device costs just $20. You do need to be using Philips Hue smart lights (which you could spring for if they don't already have) but after that, your grandparents have an easy way to just turn off the lights before they go to sleep, or turn them on before they get out of bed and never stumble around a dark room again.

Geek Squad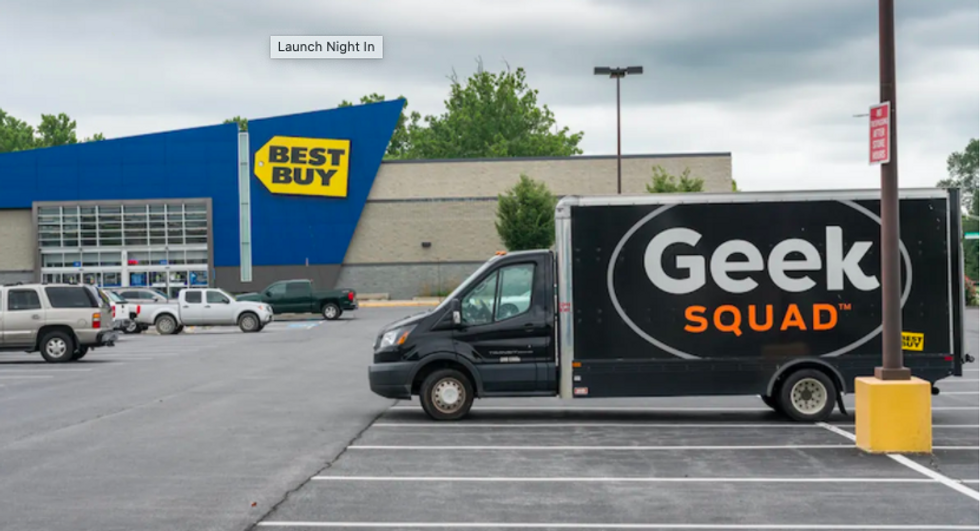 The Geek Squad will install any device, even those you don't buy from Best BuyGetty Images/iStock
After you've bought your grandparents a new tablet, robot vacuum or TV, consider splurging for the one thing you know they'll definitely need — some tech assistance. Best Buy's Geek Squad is a service that lets you make an appointment to have qualified people come to your home to install products, and maintain technology — even if you didn't buy that item from Best Buy. You pay $200 for the initial sign up, and then $50 each time you need something installed. Repairs are extra, but Geek Squad members get a 20 percent discount, and you never have to leave your home. Help comes to you. Or in this case, your grandparents.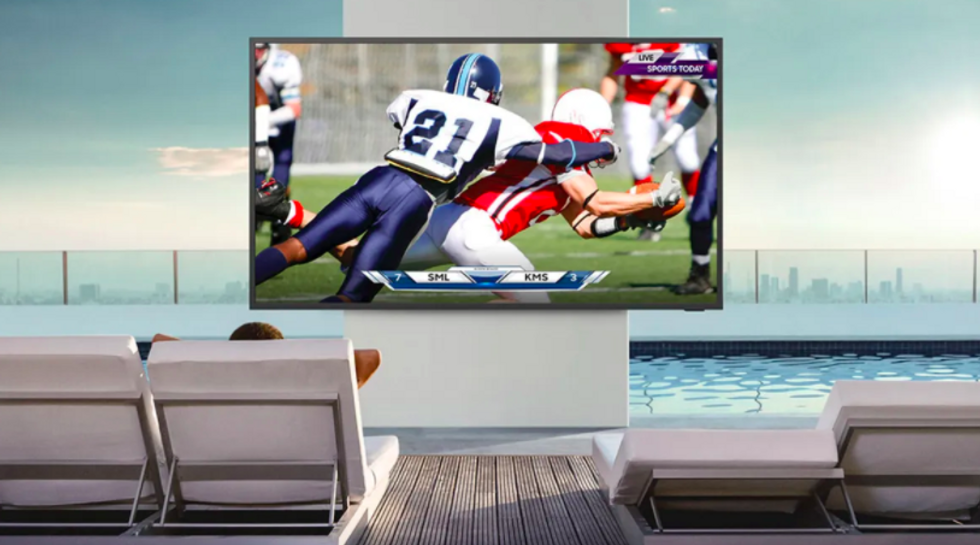 The Samsung Terrace is a TV designed for outdoor useSamsung
This is the TV of all TVs, the Samsung Terrace which is designed for outdoor use, making it perfect for any grandparents who live in climates where their backyard is like a second living room. The TV starts at a 65-inch size and goes up, and each screen has Ultra HD 4K resolution, even outside. Of course it's weatherproofed, and it also connects to Wi-Fi so you (or your grandparents) can stream Netflix, Apple TV and more. The TV starts at $5,000 so this may be one of those gifts where everyone in the family (hello, second cousins) may want to chip in for this big (very big) gift.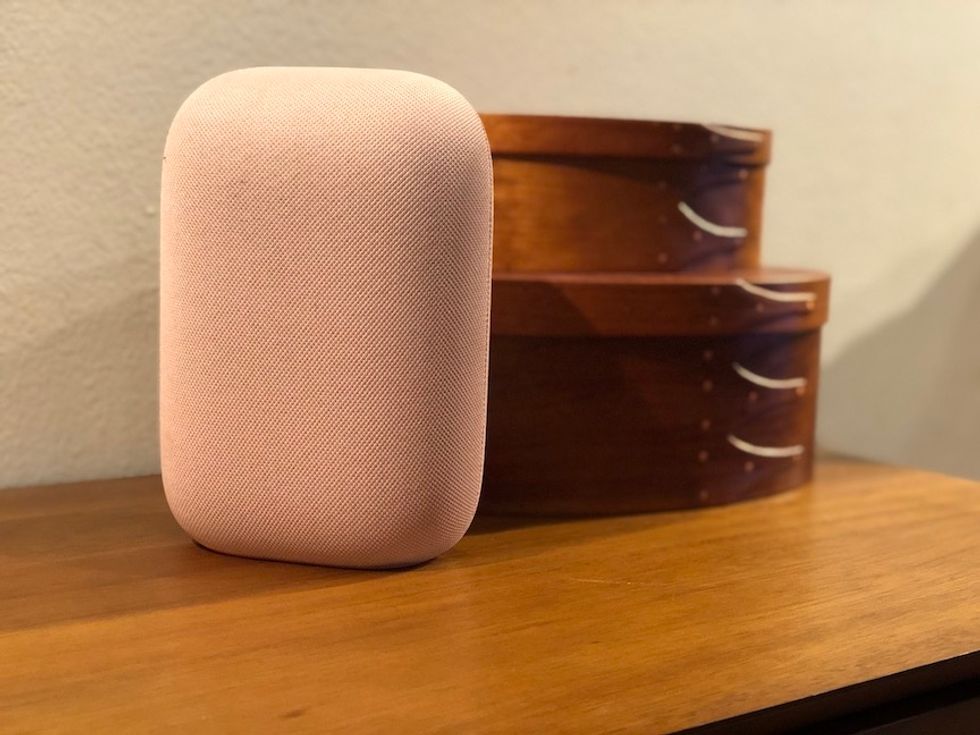 Nest Audio pushes out full, round sound in a well-designed speaker for just $99 GearBrain
Nest Audio is a good upgrade from the original Google Home, a speaker that first introduced people to the idea of having a smart assistant in their space. It's good a great design, and keenly solid sound quality — music sounds full, round and when put in a location where sound is directed forward, quite clean and bright. For grandparents who have adopted Google Assistant, whether they're Android users or Google Home fans, the new Nest Audio, at $99, is a fun gift this year.

Plus, check out The GearBrain, our smart home compatibility find engine to see the other compatible products that work with Amazon Alexa and Google Assistant enabled devices.

How to Find Products in The GearBrain, Our Compatibility Find Engine for Smart Devices www.youtube.com