Like GearBrain on Facebook
In switching from its first fleet of self-driving Ford Fusions to its current Volvo XC90s, Uber reduced the number of pedestrian-spotting lidar sensors from seven to one, causing blind spots around the car, according to the manufacturer of those lidar units.
Similar to radar, lidar is used by autonomous cars to scan the road ahead and the environment around them, up to a distance of about 300 meters in every direction. The lidar system spins quickly while firing out pulses of infrared light, which bounce off the environment and return to the car.
Read More:
The returning pulses of infrared light are then used to create a digital 3D model of the environment, including buildings, vehicles and pedestrians, which are identified by the car's onboard computer.
In scaling back from seven lidar units to one, Uber created a three-meter blind spot around its self-driving Volvo XC90s, according to several employees and autonomous vehicle experts who spoke to Reuters.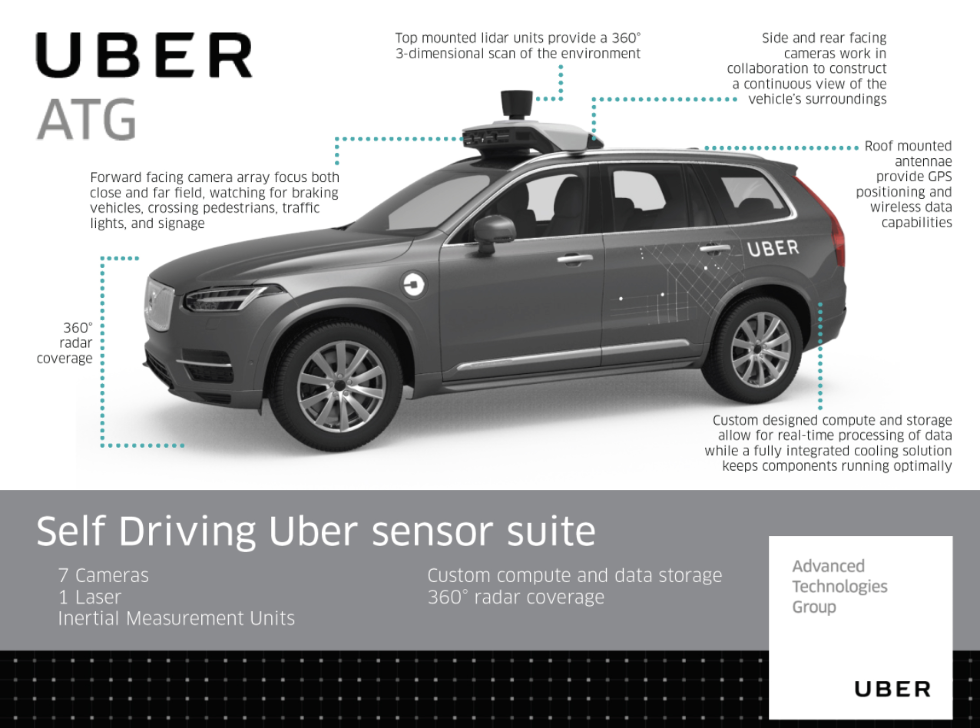 Uber's own images show the single roof-mounted lidarUber
Marta Hall, president and chief business development officer of Velodyne, the company that supplies Uber's lidars, said: "If you're going to avoid pedestrians, you're going to need to have a side lidar to see those pedestrians and avoid them, especially at night".
Autonomous test vehicles developed by Waymo, the self-driving car company owned by Google parent Alphabet, have six lidar sensors. General Motors' autonomous cars have five. Uber's Ford Fusions, which it no longer uses, had seven lidars, seven radars and 20 cameras; the Volvos have one lidar, 10 radars and seven cameras.
The revelation comes almost a fortnight after one of Uber's autonomous Volvo XC90s struck and killed a pedestrian in Tempe, Arizona. Elaine Herzberg, 49, was pushing her bicycle across the road but was not using a pedestrian crossing. Footage released by police and recorded by a dashboard camera on the Volvo shows how Herzberg appeared from the shadows just a couple of seconds before impact.
While it is unlikely, if lighting is accurately portrayed by the footage, that a human driver would have reacted in time to entirely avoid Herzberg, the Uber vehicle is expected to have seen her and reacted by slowing down, swerving, or both. The safety systems available on today's production cars - including the emergency automatic braking system fitted to all new Volvos as standard - would also likely have seen her and reacted. Uber is likely to have switched the Volvo's systems off to avoid them interfering with its own self-drive technology.
It was also reported this week that Uber had a close relationship with Arizona governor Doug Ducey, and that it began testing its autonomous cars on public roads across the state months before informing the public. According to emails seen by the Guardian, the vehicles hit public roads in August 2016, but the public wasn't told until February 2017.
Governor Ducey's relationship with Uber was also highlighted by the emails, with the newspaper reporting: "They reveal how Uber offered workspace for Ducey's staff in San Francisco, praised the governor lavishly, and promised to bring money and jobs to his state. Ducey, meanwhile, helped Uber deal with other officials in Arizona, issued decrees that were friendly to the company, tweeted out an advert at the company's request, and even seems to have been open to wearing an Uber t-shirt at an official event."
An Uber spokesperson said: "We believe that technology has the power to make transportation safer than ever before and recognize our responsibility to contribute to safety in our communities. As we develop self-driving technology, safety is our primary concern every step of the way."
Like GearBrain on Facebook