Uber says it plans to start delivering food by drone this summer, kicking off with a trial in San Diego with McDonalds.
The service will see customers pay a similar delivery fee to that of Uber Eats, which can stretch up to $8.50 in San Diego, and their food will be flown from the restaurant, potentially speeding up the process.
Read More:
Uber's announcement comes just days after Amazon showed off a new delivery drone of its own, which it says will begin operating in "a matter of months." Amazon's drones are designed to carry small items up to 15 miles from a fulfillment center, and deliver orders within 30 minutes of them being placed.
As for Uber, instead of delivering a BigMac and McNuggets right to your front door — or dropping them in the backyard, as Google plans to do with its drone delivery company, Wing — Uber will only use drones for part of the journey.
Using this approach, the food will be flown from a restaurant, but then be dropped off by the drone at a designated landing spot. This could, Uber told Bloomberg during a demonstration this week, be the roof of a car used by an UberEats delivery driver, who then completes the delivery on foot. A QR code on the roof of the car would help the autonomous drone spot where it is supposed to land.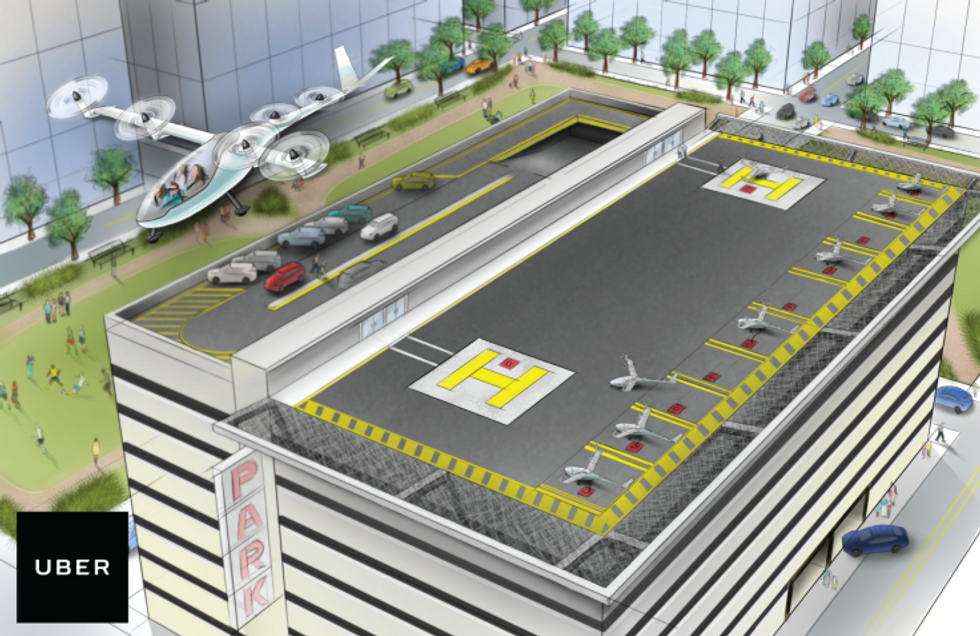 Uber also has plans for flying taxis in the first half of the next decade Uber
Despite this two-part delivery process, Uber claims there are significant time savings to be made, and eventually cost savings for customers too. As part of the demonstration (which was actually called off due to a 26-knot "strong breeze"), Uber said usual delivery methods take an average of 21 minutes to cover 1.5 miles, but with a drone this is cut to seven minutes.

The delivery service is called Uber Air and comes under the company's larger Uber Elevate division, which includes drones designed to carry people. Uber claims such aircraft will be available to hail from a smartphone app as soon as 2023, although there is still some way to go to make this claim a reality. Uber Elevate said this week how it hopes to begin offering such a service in Melbourne, Australia from 2023.
Uber claims the selection, quality and efficiency of food deliveries will be improved with the use of drones, but the company's flying delivery service is yet to gain approval from the Federal Aviation Administration (FAA), which it will require before being commercially available.
But this doesn't mean the FAA is against drone delivery. In 2018, the administration designated 10 US locations (including San Diego) for testing delivery services designed to carry goods by drone. Uber estimates that, while trials may well begin this summer, it will be three years before drone deliveries become the norm for Uber Eats customers, and even then it will only be in a handful of markets.