As the holiday shopping season approaches, Google has added Best Buy, Nike and Sephora to its growing range of brands you can shop with by speaking to the Google Assistant.
By joining the search giant's Shopping Actions system, the three brands can have their products appear alongside organic search results on Google's website, and on the Assistant smartphone app when users search for items with voice commands.
Read More:
A 'universal cart' ensures items added to a user's shopping cart through the assistant also appear in their cart when shopping through a regular web browser. Google stores your card details, making it easy to pay whether you are using the Assistant or shopping via Google Express and picking items from the search results on a web browser.
Google notes that 76 percent of US holiday shoppers over 18 years old use three or more channels to place orders, so Shopping Actions helps to let them buy whichever channel they are using.
This is a particularly interesting move as Google prepares to put its Home Hub on sale. A device which is basically a Google Home smart speaker with a 7-inch touchscreen display, the Home Hub adds attractive visuals and a user interface to the Google Assistant.
We can see situations where Home Hub owners realize they have run out of something in the kitchen, then reorder by asking the Assistant. They can quickly glance at the Home Hub to check Assistant has picked the right product, and confirm the order with a voice command.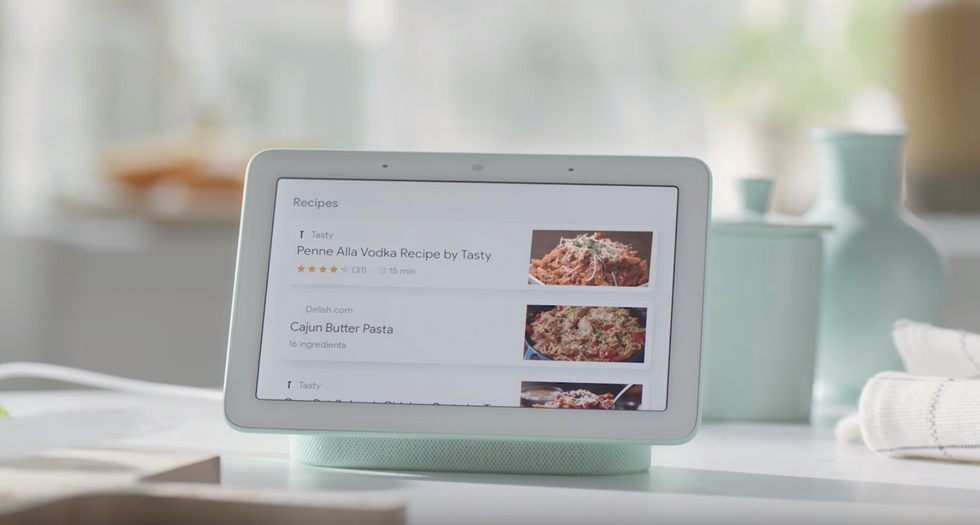 Smart displays like the Google Home Hub are making voice shopping easierGoogle
With Best Buy now a part of Google Shopping Actions, customers can ask the Assistant to check store opening times, the status of their orders, and place new orders - all with voice commands.

"We're committed to enriching lives with technology, and part of that means giving people the tools they need to research and buy in stores, online and at home," said Allison Peterson, president of e-commerce at Best Buy. "This partnership lets our customers explore the latest tech in a whole new way."
Despite the big names getting onboard — fashion retailer ASOS also recently joined the platform — Google might have a tough time convincing users that voice-based shopping is a viable future. It was reported in August how, according to company insiders, that just two percent of the 50 million Amazon Echo smart speaker owners use Alexa to shop. Even worse, is that 90 percent of those who shopped with Alexa once did not do so again.
It is even claimed that, because so few people are shopping with Alexa, Amazon is having trouble identifying patterns that would help it encourage more people to buy goods with voice commands.
With the Home Hub and Google Assistant smart displays made by others — like JBL and Lenovo — Google has an opportunity to offer a retail experience which is quickly available wherever the shopper is, via their computer, phone, smart speaker and smart display. It may not have the in-house retail power of Amazon, but attracting partners like Best Buy - along with Walmart and hundreds of other merchants — is a good place to start.
Check out The GearBrain, our smart home compatibility checker to see the other compatible products that work with Google Home and Home Mini.
Unboxing in 10 Seconds - Lenovo Smart Display with Google Assistant www.youtube.com