Like GearBrain on Facebook
Google has announced the Home Hub, a smart speaker with a 7-inch touchscreen display and new Home View app for controlling your smart home.
Similar to the range of Google Smart Displays sold by third parties like JBL, Lenovo and LG, the Home Hub is Google's own answer to this new device category. It is basically a Home smart speaker - complete with the Google Assistant - but with a touchscreen.
Read More:
The display can be used to show the Assistant's answers, but also information like cooking recipes, weather forecasts, news stories, YouTube videos and more. The Google Home Hub also displays controls for your smart home devices, like lights, locks, cameras, and your Nest thermostat.
Unlike smart displays from Amazon and Facebook, Home Hub does not have a camera - so that it can comfortably be used in private areas like the bedroom, Google says. This means that, unlike other smart displays, video chatting is not possible with the Home Hub.
The device is available in four colors, which are green, pink, gray and white, and costs $149. It can be pre-ordered now and goes on sale on October 22.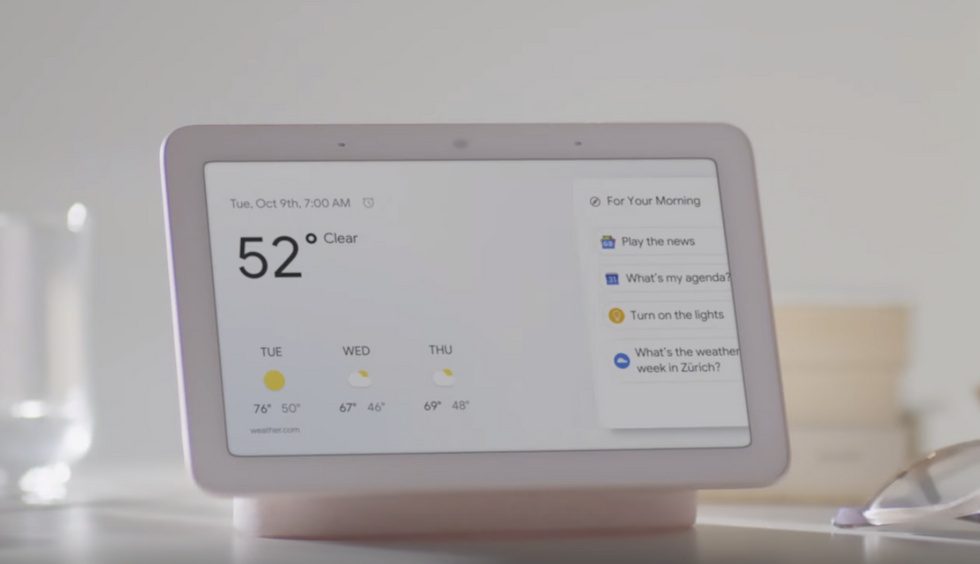 Google
The aim for Google is to make the Home Hub "blend seamlessly into your home", and through the Assistant's Voice Match feature, it can serve up relevant and personal information for whoever in the family speaks to it.
For example, saying "good morning" to the Home Hub recognizes who is speaking, then addresses them by their name, reads out information for their commute to work, lists any events in their calendar, then reminds them of items on their to-do list (like 'buy eggs') - all while displaying this information on the screen.
The Home Hub shows photos you have taken with your smartphone and uploaded to Google's cloud storage platform. However, it uses AI to filter out photos which are blurred or duplicates.
Controlling your smart home with Google Home Hub and the Home View app:
A new feature called Home View is a dashboard for every connected device in your smart home, such as lights, locks, plugs, thermostats, cameras and speakers. This will be a welcome feature in multiple-occupant smart homes, allowing everyone to control every device without needing that device's app - like Philips Hue, Nest or TP-Link Kasa - installed on their phone.
This same user interface is also coming to a new smartphone app, which is intended to be a one-stop-shop for controlling every device of your smart home. The Google Assistant and its app can already do this, but the new app offers a much cleaner and simpler interface.

Home View is a new app by Google for controlling your smart homeGoogle
Google claims smart home devices from over 1,000 brands can be controlled by Home View.

Google said that, together with smart thermostat maker (and Google company) Nest, it is working on creating "the thoughtful home". The two companies will "shape how [smart home] technologies come together to create the thoughtful home".
The Home Hub can be pre-ordered from the Google website now for $149 - $50 less than the Facebook Portal smart display announced earlier this week.
Check out The GearBrain, our smart home compatibility checker to see the other compatible products that work with Google Home and Home Mini.
From Your Site Articles
Related Articles Around the Web
Like GearBrain on Facebook