Like GearBrain on Facebook
Last Updated: August 9, 2016
As the Rio 2016 Olympic Games are fully under way, we thought we'd give you a virtual way visit Rio de Janeiro even if you didn't score some seats for the Gymnastics final or Triathlon. Here's what the athletes may get to do on their down time from roaming the Farmer's Market to climbing the Steps of Selarón.
Some of the Olympic events are actually going to be shot in VR—including the opening and closing ceremonies, and some judo, swimming and other sports competitions—airing this week on the Olympic Broadcasting Services (OBS). But you don't have to wait. Grab your own VR headset and get a virtual feel of Rio's famous groove and beat right now.
While those who attend the 2016 Rio Games are likely to get a view of Christ the Redeemer, the iconic Art Deco statue that keeps watch over the city. But an aerial view of that and Sugarloaf Mountain is unlikely to be included in your Decathlon tickets. AirPano delivers. The site is actually a non-profit project run by Russian photographers passionate about their work.
AirPano's Rio tours are only viewable on Google Cardboard or Cardboard-like VR headsets through Android devices.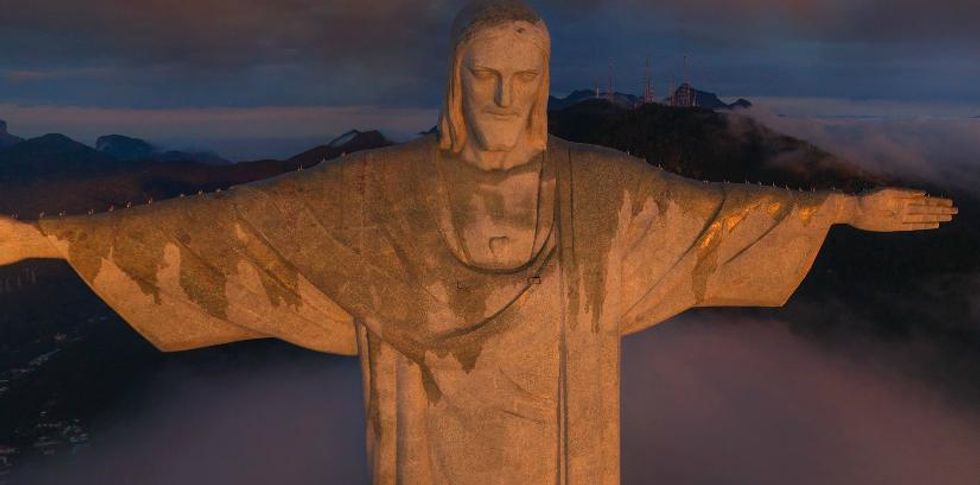 Art deco statue, Christ the Redeemer watches over Rio.Image via AirPano
No summer experience in Rio is complete without a dip at the beach. The water is a crystalline green in this virtual reality video of Arpoador Beach, located between Ipanema Beach and Copacabana, where diehards are known to night surf thanks to floodlights when the sun dims.
Some argue Arpoador is where surfing first started in Brazil—and . Waves are flat in this video—but there are plenty of hopeful kids on surfboards. You can even get a glimpse of the dual peaks of Dois Irmãos. The two minute sequence is hosted by Vrideo, which lets users post virtual reality pieces on the site, and supports Samsung Gear VR, Google Cardboard (both Android and iOS) and Oculus Rift.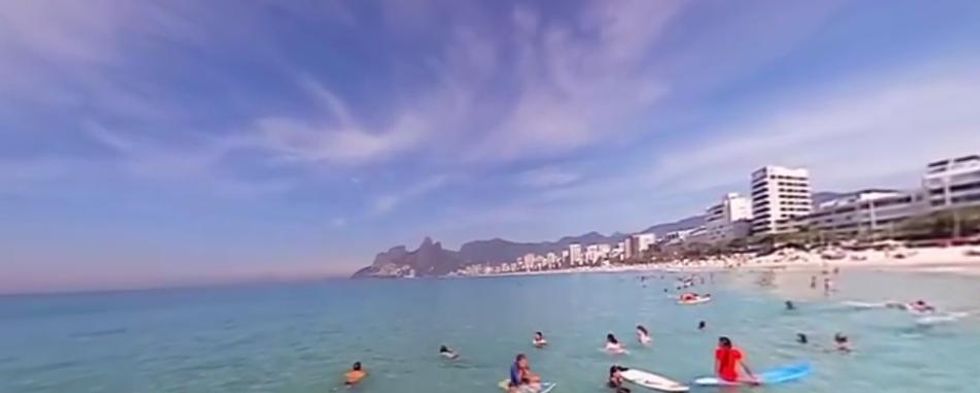 Arpoador Beach offers sweeping vistas and some of the best surfing in Rio.Image via VRIDEO
Want a glimpse at Maracanã Stadium before you arrive this summer? Nike actually created a mini-look last year in its virtual reality video of Brazilian footballer Neymar, forward for Brazil's national team. In this short video, you are Neymar dribbling the ball towards a goal in the stadium, where the opening and closing ceremonies for the 2016 Summer Olympics will be held.
Watch on Android devices using Google Cardboard.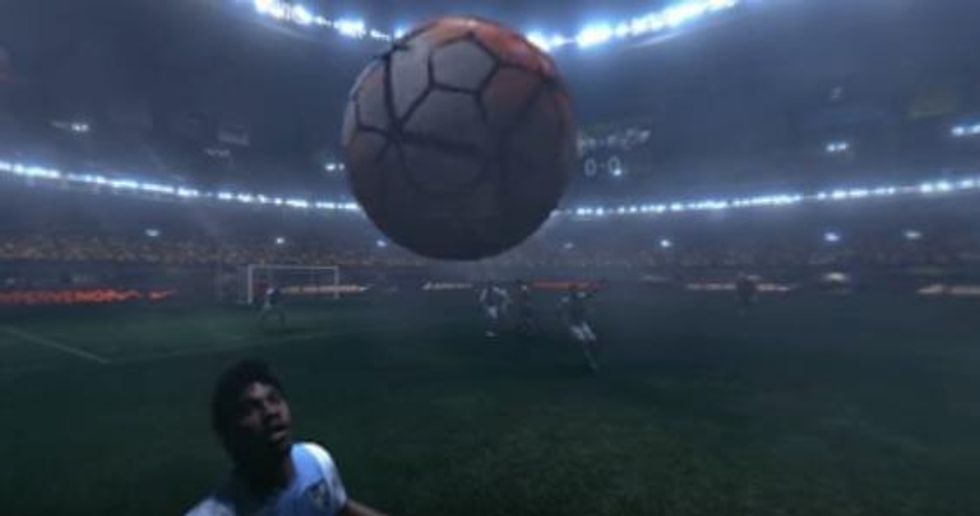 Play football in Brazil's iconic Maracanã Stadium, where the Rio 2016 Summer Olympic opening and closing ceremonies will be held.Image via YouTube
YouVisit should be familiar to you by now: A site steeped in glorious VR imagery that, in this case, does Rio proud. You can take a walk through the city's lush Botanical Gardens, hit the beach in Copacabana and even take in the view from Sugarloaf mountain.
YouVisit works with Oculus Rift. Plus you can download the YouVisit app for your Google Cardboard headset to use with either your iPhone and Android device.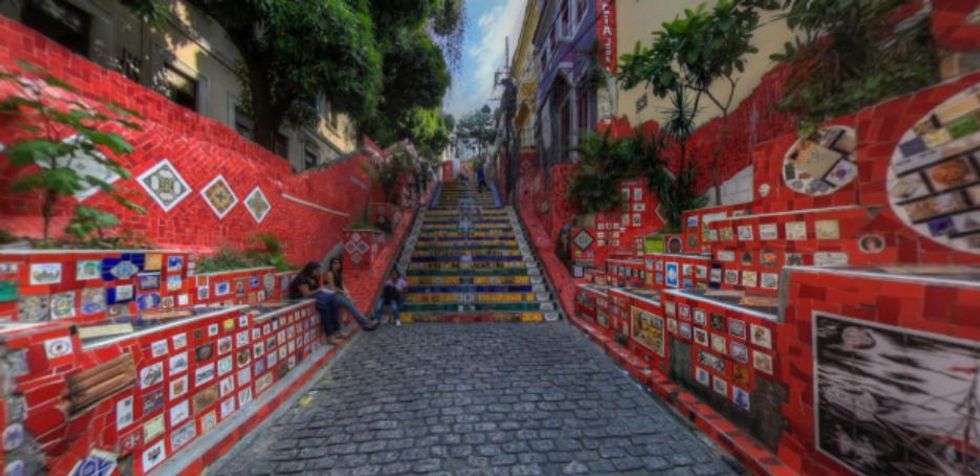 Jorge Selarón's famous steps are made up of more than 2,000 pieces of tile.Image via YouVisit
YouTube: Bala de Vanhäo water park
Okay, armed with Olympics tickets, you're unlikely going to take time out for a water slide visit. But this short one-minute video lets you take a quick dip at Rio Water Park, tucked into Rio's Vargem Grande neighborhood. There are quite a few of these to choose from, and they work with both Google Cardboard headsets and the Oculus Rift.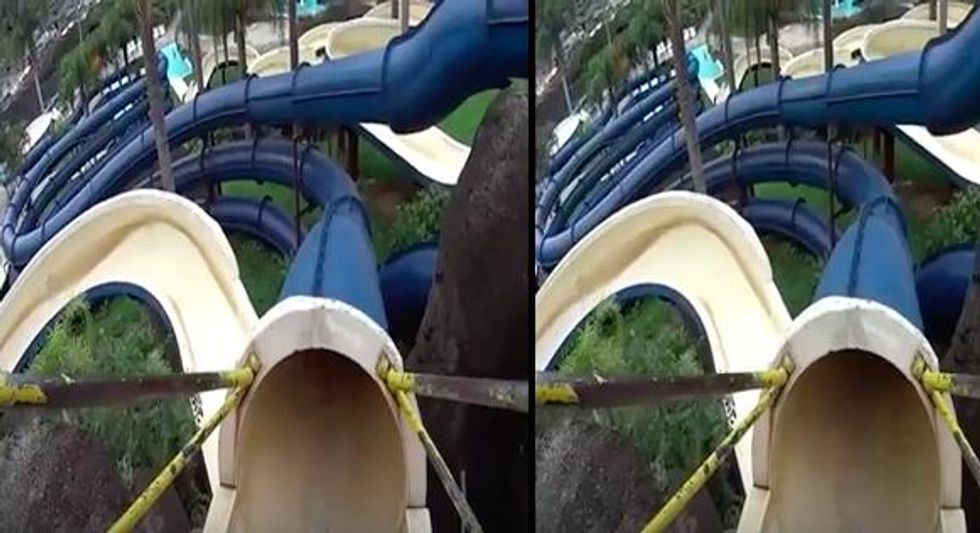 You won't need swim trunks to experience this virtual water slide.Image via YouTube
Click here to buy Samsung Gear VR Headset.

Like GearBrain on Facebook