AgTech — the technology used to run the agricultural space — is booming. Investments in AgriFood tech startups globally raised $10.1 billion in 2017, according to AGFunder, which tracks funding and deals. Israel alone has around 460 AgTech startups and raised $80 million for them in the first six months of last year.
Automation isn't unknown in the agricultural space. Nursery planting and crop seeding — two big pieces of farm work — already have innovative companies heading them such as HETO Agrotechnics and Precision Planting. But the heavy use of pesticides is getting attention from innovators eager to tighten the spigot on how many chemicals are sprayed. The latest now include weed-killing smart robots, helping farmers improve the way we safely grow crops.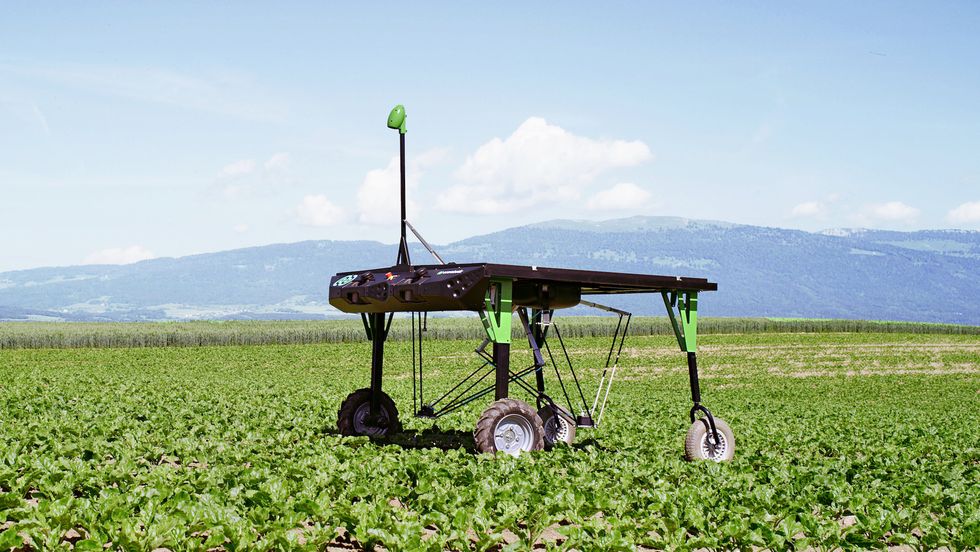 Robots are helping to reduce the amount of pesticides used in farmingecoRobotics
How to spray fewer pesticides
EcoRobotix, a Swiss company, is one of the front runners of the movement, a company that claims its weeding robots spray 20 times less herbicide than traditional methods, and can work 12 hours a day without human interaction.
The ecoRobotix robot looks a bit like the Mars rover — small and solar powered, but with grocery cart wheels and a flat bed back. The autonomous bot is also super lightweight — weighing in at only 130 kilograms, the ecoRobotix is designed so it won't pack down the soil or ruin the land. It'll also be 30 percent less expensive than usual treatments, the company claims, and of course, the entire robot is smartphone controlled.