Like GearBrain on Facebook
If you thought bitcoin's price rising by over 1,000 percent in 2017 was big news, you should take a look at Ripple, a fellow cryptocurrency which saw gains of 35,000 percent over the same period.
But, as bitcoin rocketed from $1,000 to almost $20,000 per coin, Ripple started 2017 at a more conservative $0.007 and in the first week of 2018 tore past $3.60. Ripple is now already the second-largest cryptocurrency by market capitalization, at $140 billion — still some way behind bitcoin's $250 billion, but closing in fast.
The Ripple cryptocurrency is a product of a startup called Ripple Labs, which began life in San Francisco in 2012 and was originally called OpenCoin.
The Ripple network is designed as an alternative to money exchange services like Western Union. Such a service is intended to help make international money transfers possible with minimal exchange fees and increased speeds over its more traditional rivals.
How does Ripple work?
If Person A has one currency to buy goods with and Person B sells goods, but operates in a different currency, then for Person A to buy from Person B, their currency will need to be exchanged into something more commonly used, such as USD. There will be a fee for Person A to transfer to USD, then for Person B to transfer the USD into their own currency. The whole process takes time and costs money at every step.
Ripple's currency — which uses the code XRP — is intended to act as a universal currency for transfers between all global currencies (including other cryptocurrencies, like bitcoin) - just as USD does in the above example. Transferring via XRP instead of USD or another currency is cheaper, and the entire process takes a maximum of four seconds — compared to the hours or even days of traditional methods. Ripple claims an average of $3.76 can be saved on each transaction using its service.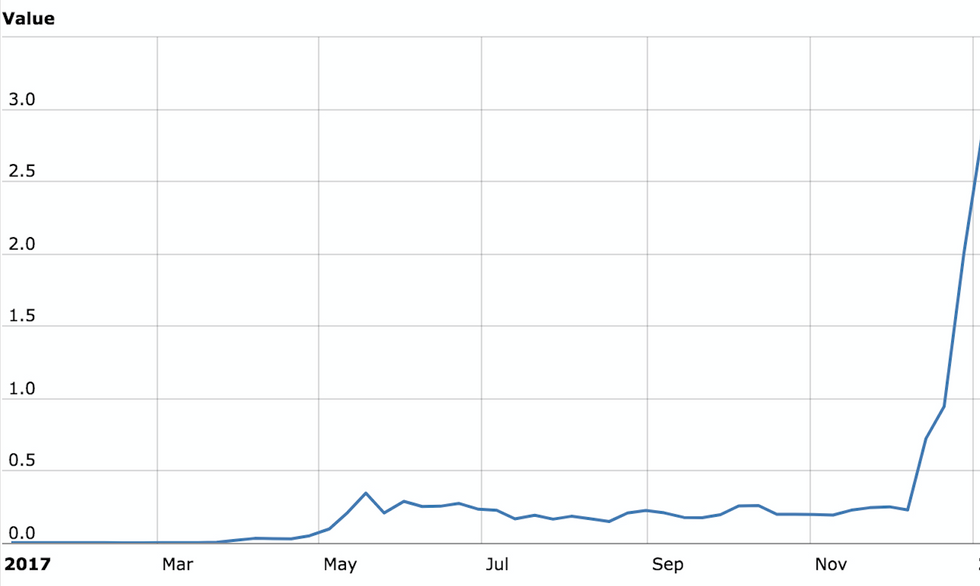 Ripple's value soared towards the end of 2017WorldCoinIndex
Some banks, including UBS, Santander and American Express, have already adopted Ripple as it saves them money by avoiding foreign exchange fees. In all, Ripple has over 100 customers worldwide.
How is Ripple different to bitcoin?
Bitcoin and Ripple both operate using blockchain technology, whereby every transaction is held on a public ledger, called the blockchain.
Ripple offers faster transactions than bitcoin, which has slowed as its popularity increased over recent years. Bitcoin transactions can now take up to an hour to complete.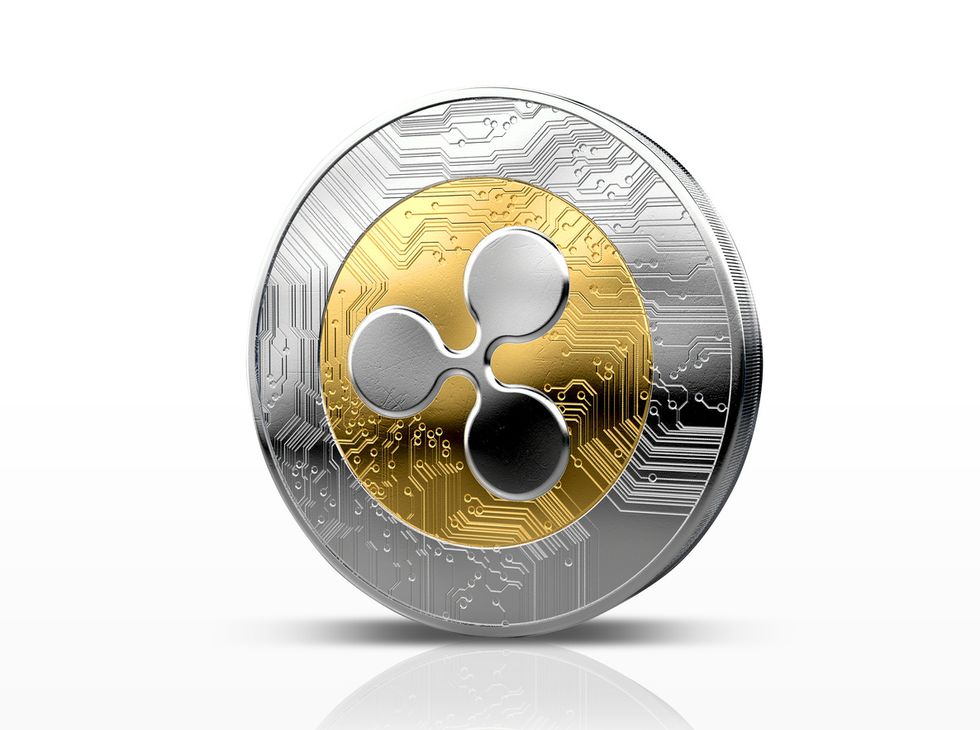 A mocked-up Ripple coiniStock
But, unlike bitcoin and most other cryptocurrencies, Ripple is not mined. All 100 billion XRP coins already exist and no more can possibly be created. They are held by Ripple Labs and distributed when it sees fit, like how governments print more money and distribute it when necessary. Bitcoin, however, is constantly being created until it reaches a pre-set limit of 21 million coins; this limit is not expected to be reached until around the year 2140.
Ripple is not intended to be used to buy goods, as bitcoin is. Instead, Ripple should be seen as a tool to make international transactions smoother, and not a replacement for fiat currencies like dollars and euros.
Will Ripple continue to increase in value?
If the last few months are anything to go by, then Ripple's value could well increase sharply — but, as with bitcoin, it could also tumble down again at a moment's notice.
Speaking to CityAM, a financial newspaper distributed in London, Dennis de Jong, managing director at UFX, an online trading platform, said: "While the governance of bitcoin and other cryptocurrencies remains unstable, Ripple's seems far more reliable, with validators run by MIT and Microsoft."
De Jong adds: "2016 and 2017 saw banks trialling the product, with this year likely to see some major implementations - which means we could see some very quick short-term growth. Whether this is able to last longer-term, however, does still remain to be seen."
Like GearBrain on Facebook