Starship Technologies robots just got the okay to start make deliveries along public sidewalks in Washington state. It's the eighth state to give permission to these autonomous coolers on wheels — and other so-called personal delivery devices (PDD). Starship alone claims to have completed more than 50,000 deliveries to date.
Companies are in a race to find alternative means of getting people the things they've bought. From Wing earning its air carrier license to make deliveries by drones through the U.S. skies, to Amazon launching its own autonomous robot, Scout, Starship is one of the latest to also put autonomous methods into service.
In Starship's case, the first state to give the company permission to use public sidewalks along side pedestrians was Virginia, with Idaho, Wisconsin, Florida, Ohio, Utah and Arizona following as well.
Its robots claim to be zero emission vehicles, and deliveries are schedule through the company's app which works on iOS and Android devices. Each robot can carry up to 20 pounds — which would be a very heavy lunch — and cameras are attached to each one allowing it to run in the rain, snow and in the dark.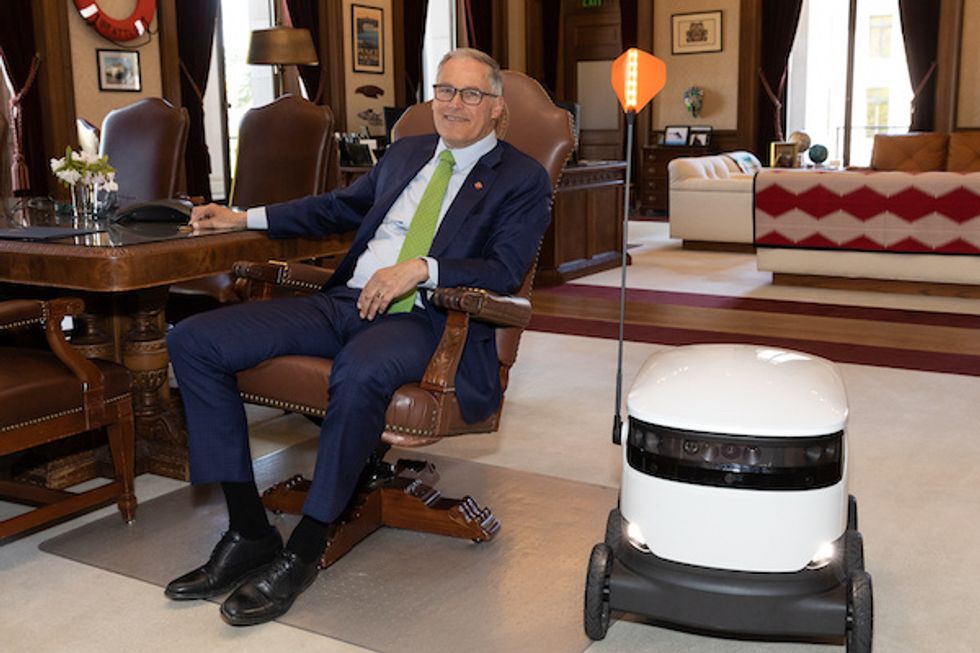 Starship's robots just got approved, along with other autonomous delivery robots, to start operating in Washington StateStarship
To date, Starship's robots have carried everything from bagels to students at Northern Arizona University to groceries to residents in the town of Milton Keynes in the U.K.

The latest will be those who live in Washington state, with the signing by Gov. Jay Inslee of HB 1325 which regulated these PDD vehicles on Monday April 30, 2019. The robots can't roll faster than 6 mph, and must have brakes that can bring it to a full stop. In addition, anyone hoping for a late night beer run is going to be disappointed as the robots cannot carry "beer, wine, spirits, or other consumable alcohol," according to the bill.
"We'd like to thank Representative Shelley Kloba, Senator Marko Liias and Governor Jay Inslee for their support on this bill," said Lex Bayer, CEO of Starship Technologies. "They appreciate how technology will shape our future and the positive impact delivery robots will have on the people of Washington, local businesses and the environment. We look forward to becoming a valued part of the community."