Remember Yahoo email? You may be surprised it's still around — and has just undergone a transformation that will appeal to those who shop both online and in stores. The new app, which goes live September 23, automatically organizes email boxes, putting an emphasis on shopping deals that Yahoo says are about half of what flood our email today.
Come back
Yahoo suffered one of the worst hacks in recent years, with every single one of its three billion accounts breached in August 2013. At first the company estimated one billion accounts had been hacked, only to discover that every account had been compromised, Yahoo is now owned by Verizon, which bought the company in 2017 for $4.5 billion, and the company has been beta testing the new app for months.
The Yahoo Mail app, which can be accessed from a desktop, is clearly aimed mostly at mobile users, with navigation that makes it simple to click through with just one hand. Folders are at the bottom, and include big categories from attachments such as photos and travel documents. You can also change the background, add colors, and even sounds and GIFs to create a more personal look. Other customizations include choosing which notifications you allow popping up on your screen, and a way to opt out of email subscriptions.
One thing that isn't available now, a way to train the app to learn that emails from one account now going into, say deals, should be in another, like groceries. However, Android users can create filters on the desktop version of the Yahoo Mail program, which will then work on the mobile app. But iOS users can't take advantage of this option yet.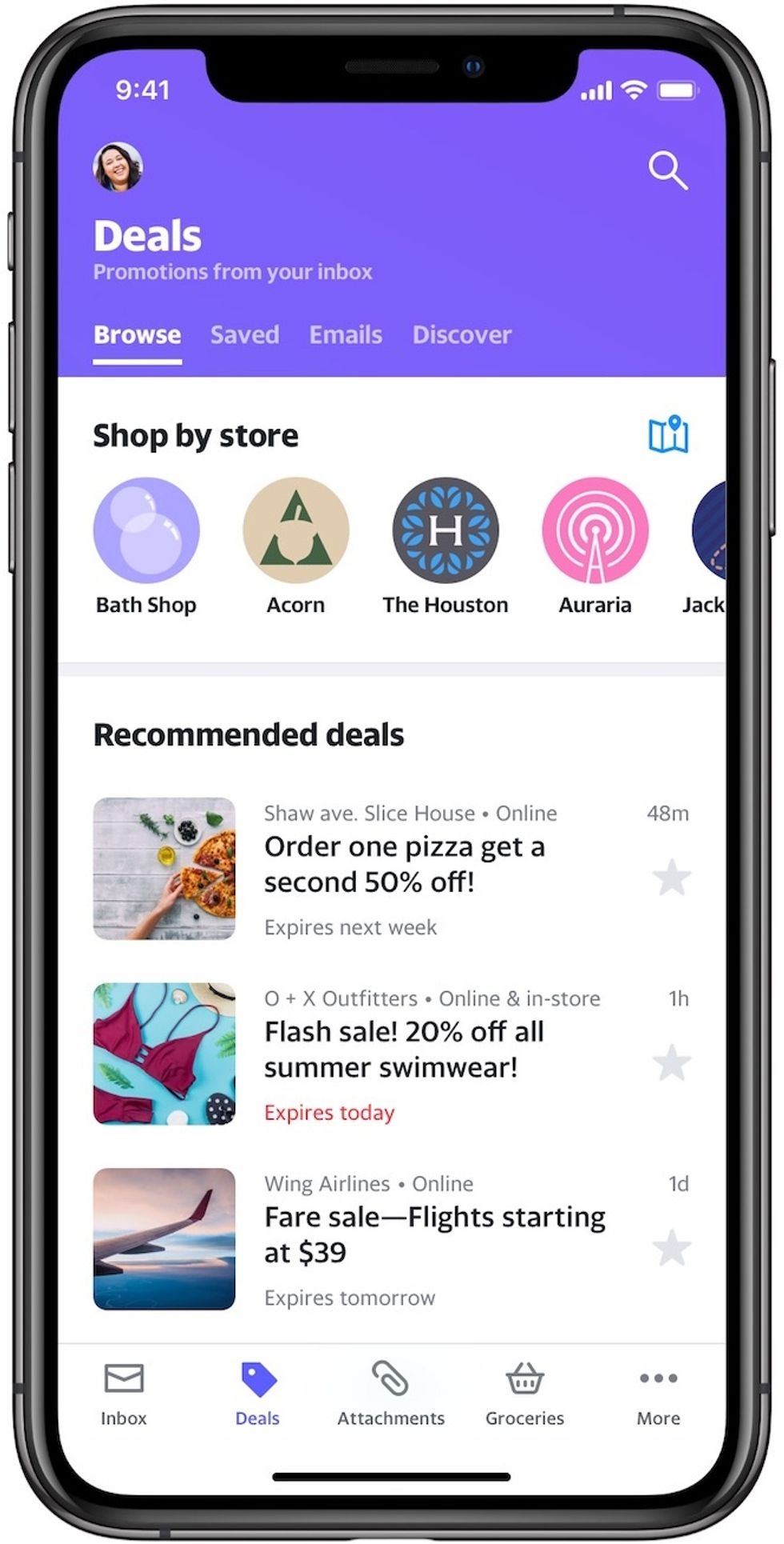 Categories at the bottom of the app highlight deals, groceries sales and attachmentsYahoo
Prioritizing shopping emails

Shopping is clearly the big focus in the new redesign. Two of the biggest smart assistants, Amazon Alexa and Google Assistant, now let people shop via their voice, through a smart speaker, like Amazon Echo. Email is a more common avenue, with customers finding deals in an inbox, and then clicking through to the web site.
Yahoo Mail streamlines that option, with three tabs at the bottom of their inbox that breaks emails into categories: Deals, Groceries and Location.
Want to unsubscribe from a brand's emails? You can do that, without leaving an app, with one click. Users can also bring up a Yahoo search of a specific retail store from an email, and even locate one near you with the deal mentioned in the message.
Yahoo also wants people to link their store loyalty cards to the new app. If those are connected, when you find deals from your Yahoo mail in-box, you can apply them into a shopping list you've created. The company also has 15,000 individuals stores connected into this feature from brands including ShopRite, Safeway, Giant and Market District.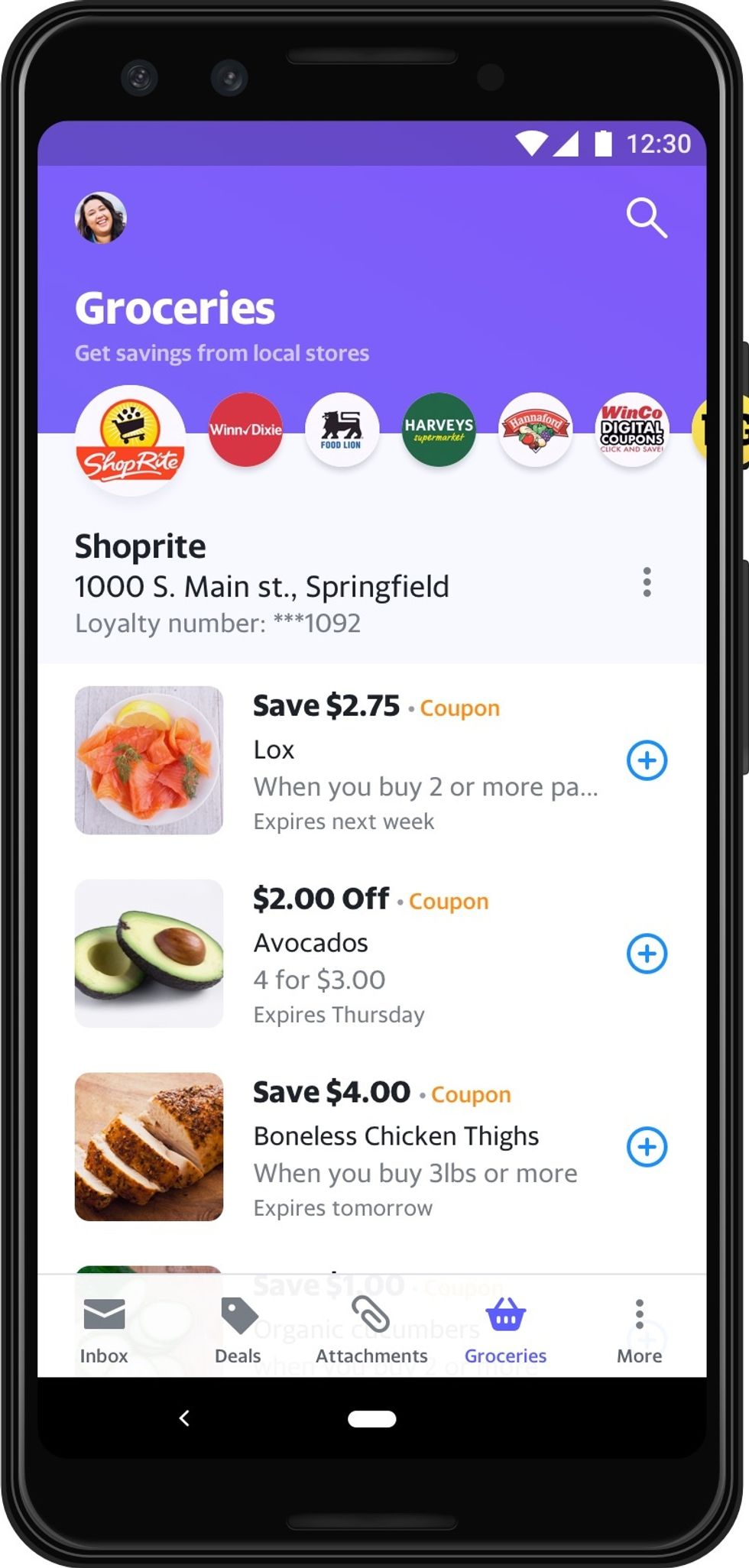 Grocery deals get their own tab in the newly designed Yahoo MailYahoo
One of the design priorities centered around finding emails more easily, Josh Jacobson, senior director of product management for Yahoo Mail told GearBrain. He noted that the different categories help people find notifications when they need them, not when they arrive, such as plane tickets or tracking numbers for shipments.

"Some emails are important when they're delivered," he said. "Another type, you might receive it, but it's a few weeks later when it's useful."
For those who are interested, there's both an iOS and Android version of the new app, and you can flow in different email domains and accounts, including those from Gmail to Outlook to AOL. While you don't need a Yahoo email to use the Yahoo mail app, you will need a Yahoo account.