Like GearBrain on Facebook
Changing the Wi-Fi network that your devices connect to isn't something you need to do very often. But when you do — such as when you install a new router or change the name of your Wi-Fi network — it can be tricky working out what to do.
Things can get even more complex when you're working with devices that don't have a way to change this on the device physically, like a smart home products that's specifically controlled through a smartphone app.
Read More:
In this article, we will explain how to change the Wi-Fi settings of a Google Home or Nest device. This includes the following products:
To get started, you'll want to make sure your smartphone and Google/Nest device are connected to the same Wi-Fi network.
Next, open the Google Home smartphone app, then tap on the device where you want to change the Wi-Fi settings. Now tap on the Settings icon (which looks like a machine part) in the top-right corner, then tap Wi-Fi -> Forget this network.
You will then be returned to the home screen. Here, you can go through, and need to go through, the Wi-Fi setup process again, and connect the device to your new Wi-Fi network.
However, if you have already set up a new Wi-Fi network — say you have installed a new router and thrown your old one away — you may not be able to connect to the Google/Nest device using the Google Home app. If you run into this problem, which we have experienced ourselves, you can try this next step for troubleshooting, which involves a factory reset of your smart home device.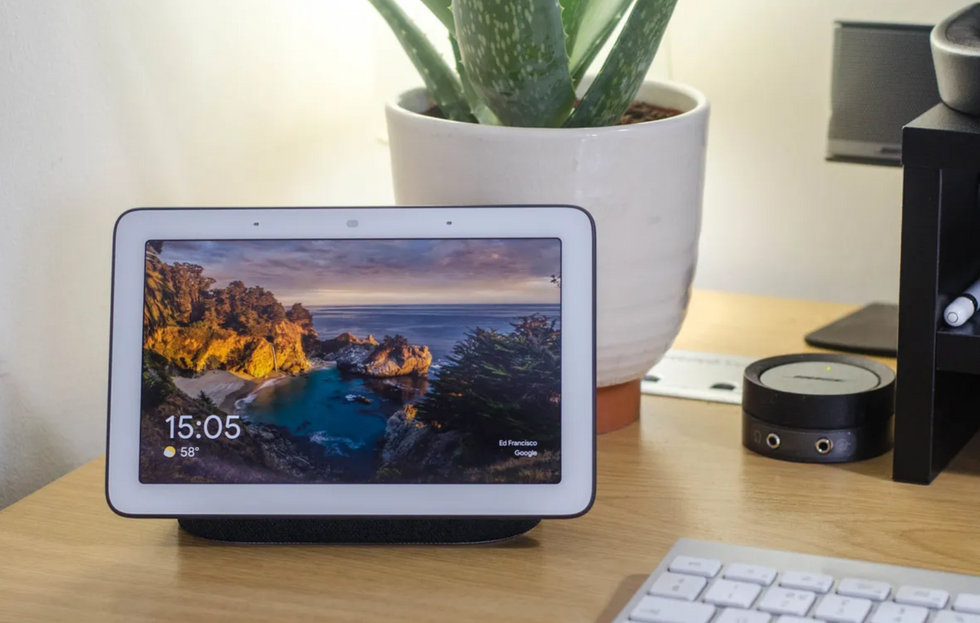 Changing a Home Hub's settings requires the Google Home phone appGearBrain
Troubleshooting: If the smart home device won't connect to the new router
If your smart home device refuses to connect to the new router, you can do a factory reset of the device. This is not as ominous as it sounds, as smart home devices themselves don't hold much information on them — those details are in the app.
To start this option, to perform a factory reset of the product, follow our instructions here, then come back to this article. It should take just a few seconds to reset the device.

Once you have either reset the device or told it to forget your Wi-Fi network, it's time to get it reconnected.
To do this, plug in the Google/Nest device and make sure your smartphone is connected to the new Wi-Fi network, then open the Google Home app.
The app should automatically see your Google or Nest product trying to connect. If the app doesn't see your Google/Nest device, unplug it, wait 10 seconds, then plug it back in and try again.
Next, tap Add in the top-left, then tap 'Set up a device,' followed by 'Set up new devices in your home.' The app will now walk you through the setup process and connect the device to your new Wi-Fi network.
Check out The GearBrain, our
smart home compatibility checker
to see the other compatible products that work with
Google Assistant
devices.
Awair 2nd Edition Air Quality Monitor
Like GearBrain on Facebook