Like GearBrain on Facebook
Buying an 8K television is already confusing, as two different certification programs have emerged, with backing from different TV manufacturers.
Although many consumers are a long way off from buying their first 8K television - indeed, only a handful are on sale right now - the complication of two different standards both claiming to identify true 8K is far from ideal.
The first set of 8K standards came from the 8K Association back in September 2019. The key details of this standard are:
A resolution of 7680 x 4320 pixels
Input frame rate of 24, 30 and 60 frames per second
Display peak brightness of 600 nits or more
Using the HDMI 2.1
Using the HEVC codec
Televisions which reach this criteria, as determined by a compliance test created by the 8K Association, are awarded with an 8K Association logo - just like those 'HD Ready' stickers attached to HD televisions a decade ago.
Hisense 120L10E Ultra Short Throw 4K UHD Smart HDR Home Theater Projector Laser TV with 120'' Ambient Light Rejection Screen, Harman Kardon Sound DBX-tv, Wireless subwoofer, Alexa Voice Remote
Members of the 8K Association include Samsung, Panasonic, TCL, Hisense and Panasonic, plus technology firms Intel and Tencent, and IMAX is a member too. Samsung is to reveal its first televisions to meet the 8K Association standards at the CES tech show, which takes place in Las Vegas next week. These TV sets should go on sale later in 2020.

This all sounds sensible enough, until you realize LG is missing from that list of manufacturer partners. Instead of joining the 8K Association, LG has teamed up with the Consumer Technology Association (CTA) to create a different 8K standard. Naturally, LG says its new TVs (coming at CES) will be the first to comply with the CTA's 8K standards.
Described by LG as "Real 8K TVs", the products will feature their own 8K standard logo (not the one made by the 8K Association), and go on sale later in 2020 as part of the company's Signature OLED and 8K NanoCell TV ranges.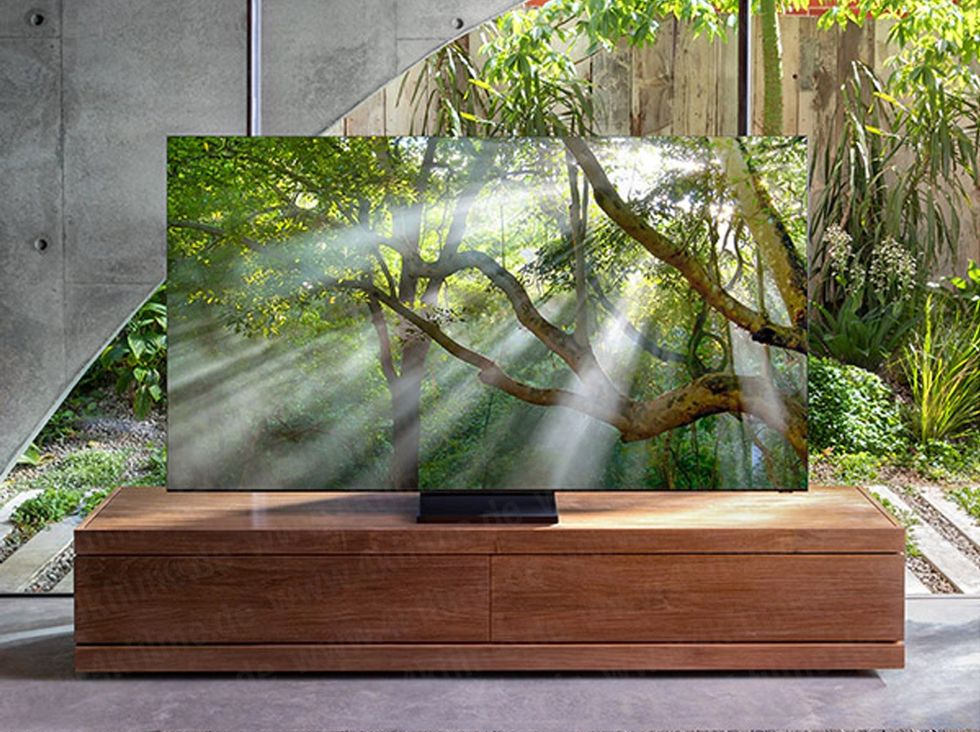 Leaked image of Samsungs upcoming TV without bezelsSamsung / 4KFilme
Thankfully, the CTA's 8K requirements are broadly the same as those drawn up by the 8K Association. This means a resolution of at least 7680 x 4320 (meaning at least 33 million active pixels), a display aspect ratio of at least 16:9, one or more HDMI inputs capable of 8K resolution, and a bit depth of 10-bit. Frame rates of 24, 30 and 60 frames per second are also required, along with HDR functionality, and the ability to upscale SD, HD and 4K video into 8K resolution. There is no mention of a minimum peak brightness level in the CTA's 8K standards.

All of this stems from LG stating at the IFA tech show in 2019 that it didn't think Samsung's new 8K TVs met true 8K standards, due to how individual pixels could not be seen with the naked eye, making the picture less sharp.
Consumers shouldn't waste too much time comparing one standard with another, but it is important to check than an 8K TV you intend to buy meets one of the standards. These are in place to prevent manufacturers from selling televisions branded as 8K, but which fall short of the basics, like resolution, frame rate and bit rate.
You can expect to see a lot of 8K TV news from CES next week, with Samsung, LG and many others showing off their new models with big screens and even bigger prices.
From Your Site Articles
Related Articles Around the Web
Like GearBrain on Facebook