You could be forgiven for thinking that television technology has plateaued somewhat in recent years. Consumers who had their fingers burned by the failure of 3D are only slowly buying into Ultra HD — then left wondering when any broadcast channels will actually offer 4K resolution.

In the mid-range, this summation is broadly true. Almost all televisions of 40 inches and up support Ultra HD, and most come with a range of streaming applications for watching content from Netflix, Amazon and YouTube without needing to buy a Chromecast or games console.
Read More:
But look to the high-end and innovation is still rife, with new features appearing on an annual basis. A good example here is Samsung and its QLED lineup for 2018. For review we have the Q8C, which sits one step below the company's flagship Q9C.

The particular television we were sent for review has a curved 65-inch screen and offers HDR10+, Ultra HD, a host of streaming apps, Samsung's clever One Connect system, and the company's Ambient Mode, which attempts to make the huge black slab of a switched off television blend into your room. It also packs Samsung's QLED technology, which is billed as an alternative to the OLED tech used by televisions from LG and others.
Samsung Q8C review: Design
Samsung has been a leader of television design for several years now, and the Q8C continues this tradition. The TV sits on a central chrome leg with a wide curved foot, and features a tiny, almost invisible bezel around its display. You'll need a pretty wide piece of furniture to sit the TV on, but we find this single-foot setup is better than other Samsungs which have a pair of legs at each end of the screen. With a central foot, you can have the TV overhang the edges of its stand a little if needs be.
The back of the TV is quite deep, because Samsung has stuck with LCD screen technology instead of OLED. The difference here is that the pixels of an OLED screen each act as their own light source (the O stands for organic), while an LCD panel requires LED backlighting, which takes up space and makes the TV deeper. It is still just a couple of inches deep, however, and the curved shape of this particular model negates any issues here, because it inherently won't sit flush against your wall, so the thickness is less of a problem.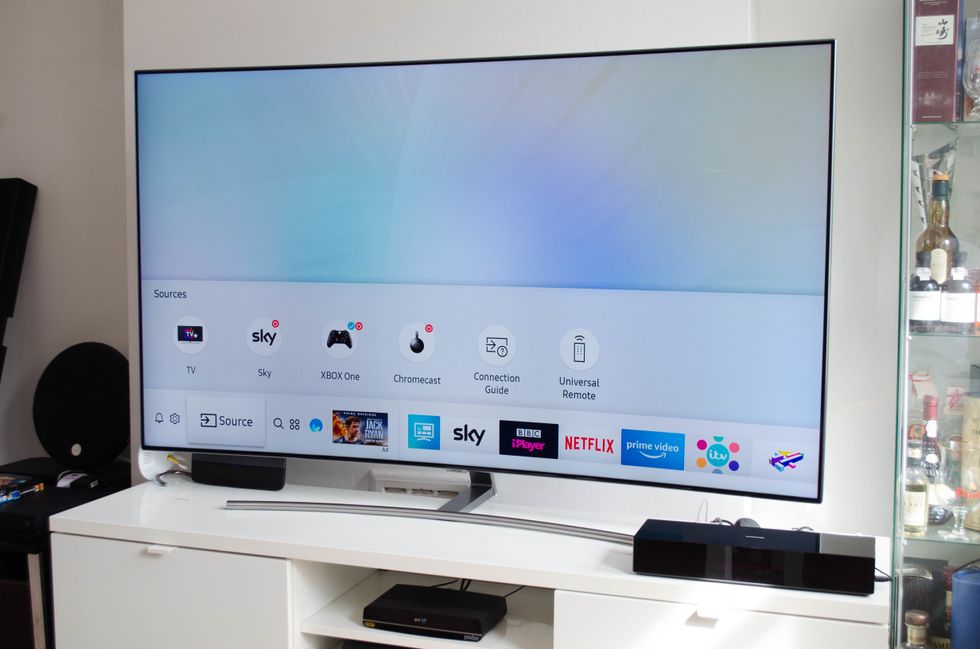 GearBrain
Samsung Q8C review: One Connect
An important element of the design of Samsung's flagship TVs is the One Connect box. Instead of plugging your media devices into the TV itself, just a single cable plugs into the back and runs through the leg and out the back of the foot. This cable is thin and partially transparent, meaning it'll be almost invisible if you choose to wall-mount the TV and run the cable down the wall.
The other end of this thin cable connects to the One Connect box, which is where you will find all of the TVs inputs (including its power supply and USB ports). In all there are four HDMI ports, plus Ethernet, optical audio out, aerial and satellite inputs, three USB 2.0 ports, and the power socket.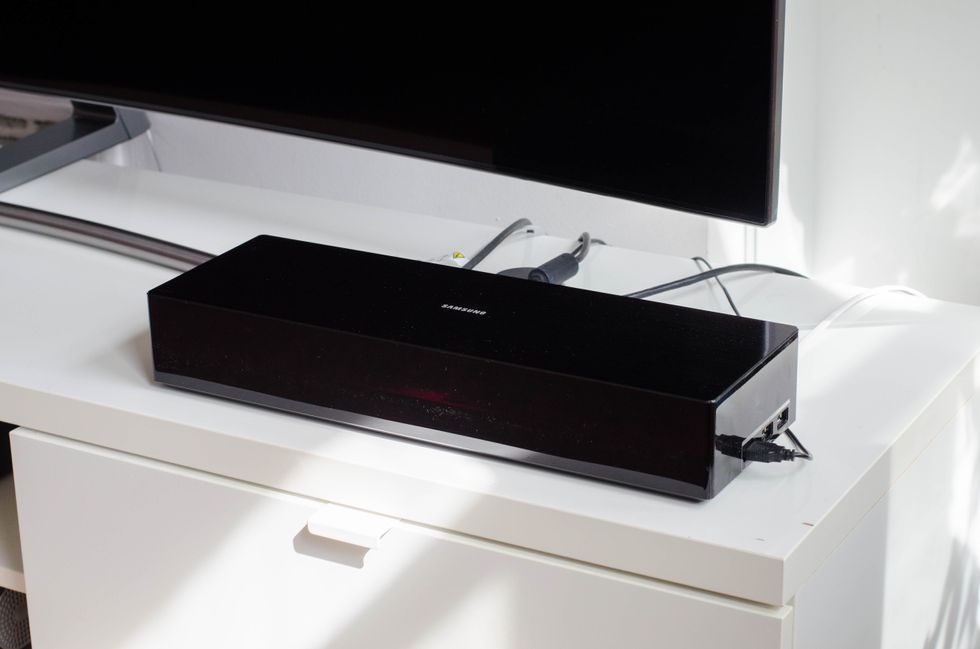 All of your A/V equipment plugs into the One Connect boxGearBrain
We are very impressed at how all of these - including the power — are fed to the TV through that single, semi-transparent cable. It's a clever and neat solution which means you can put the One Connect box on a shelf, or away from the TV entirely, making your A/V setup look more organized.

We would have liked an extra HDMI input, as a household with a couple of games console, a cable box and a device like a Chromecast will quickly see the four available ports used. You could use a switcher, of course, or connect everything to an A/V receiver, then plug that into the TV, but for the casual consumer we think four is the minimum number of HDMI ports which should be offered.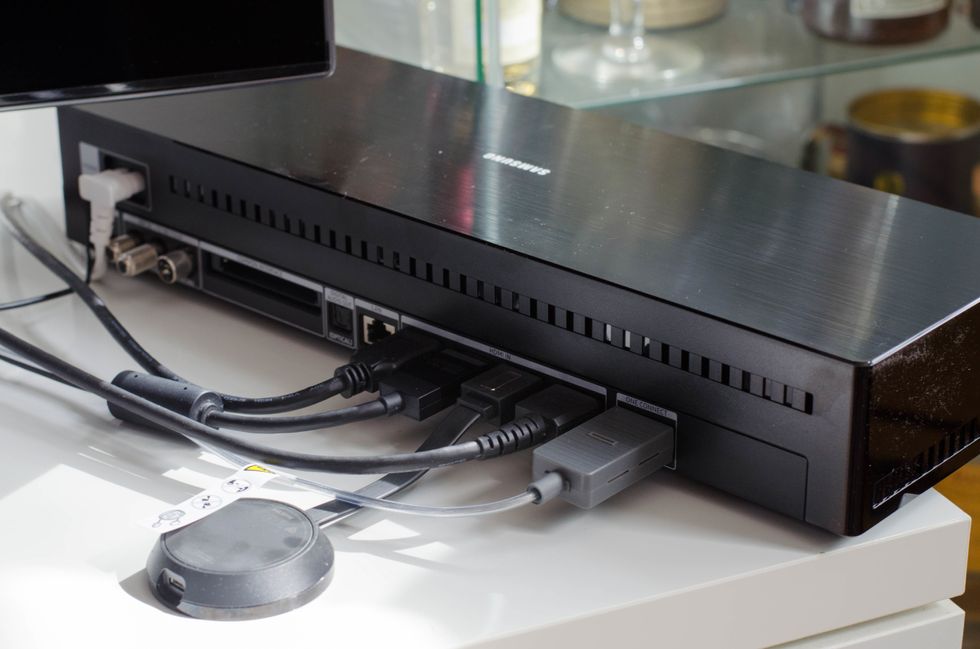 The nearest cable is what connects to the TV, carrying all video, audio and powerGearBrain
Samsung Q8C review: Ambient Mode
Another feature employed to help the TV fit into your home without dominating the room is Ambient Mode. At its simplest, this is a screensaver which can be activated for up to four hours at a time, displaying the time, date and weather. It can be configured to show news headlines instead, or selections of artwork loaded onto the TV, or your own images uploaded from your smartphone.
The aim is to create an Ambient Mode screensaver which closely matches the wall your TV is in front of (or mounted to), thus helping it blend in to your decor. You can fiddle with the brightness and temperature to do this — or, if the TV is sat in front of brickwork or patterned wallpaper, you can use the SmartThings phone app to take a photo, which the TV then uses to turn itself into your wallpaper, chameleon-style.
We have plain white walls, so weren't able to test this properly, but other examples online show how complex wallpaper can be matched perfectly. Of course, a flat-screen TV is going to blend in better than this curved model.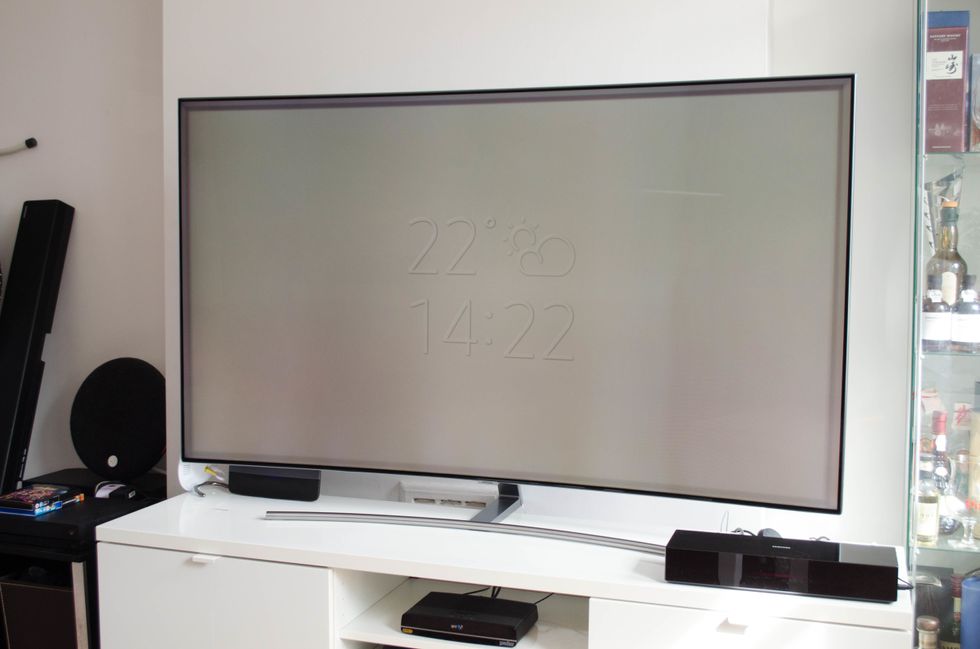 Ambient Mode tries to make the TV blend into your room - but it's more effective against patterned wallpaperGearBrain
Samsung Q8C review: Picture quality
Now, onto the main event; picture quality. This is where the Samsung Q8C shines bright, quite literally. When fed with Ultra HD footage, either from Netflix, a video game, or preferably from an Ultra HD Blu-ray, picture quality is spectacularly good.
Colors are bold and punchy, while black levels are beautifully deep. The display's backlighting is split into 40 dimming zones, helping to localize the backlight to where it is needed in each frame. This helps to light up only what's needed, then dimming darker areas to create deeper blacks, instead of the lit grayish blacks of lesser televisions.
This mostly works well, but the system is occasionally caught out and you can see an area of the picture dim for a moment, then fade back to full brightness. During two weeks with the TV, we saw this happen around three times, so it is not a huge problem.
This is where the flagship Q9 range would show a clear advantage, as they have over 400 dimmable zones, compared to the 40 of this Q8C.
All that said, for the majority of the time this television is excellent. Going back to our two-year-old TV from another manufacturer, although still Ultra HD and HDR-compatible, we noticed right away how the black bars of a widescreen image were nowhere near as dark as those produced by the Samsung.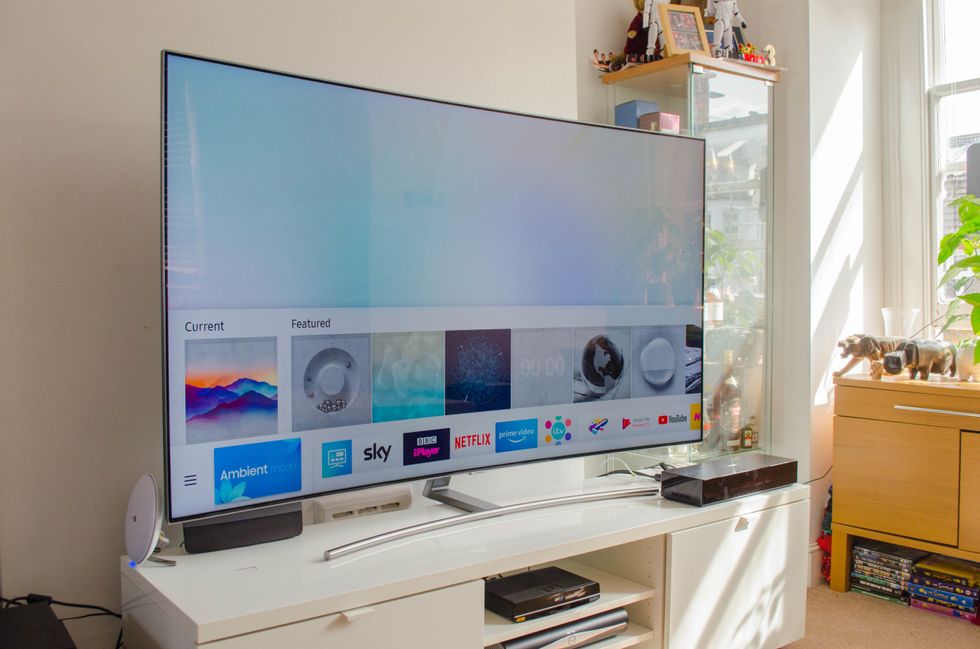 GearBrain
A small criticism is that we found Samsung's automatic motion processing to be overly-aggressive, leaving distracting artifacts around the edges of fast-moving options as it tried to smooth out motion vibration. This was most obvious when watching Formula One, where fast panning shots would cause artifacts to appear just behind the cars. Switching the processing off in the settings menu fixed this without causing any vibration problems.

It seems that, no matter how good televisions have become, it's still worthwhile switching off some of the more advanced settings, as counterintuitive as that may sound.
For the full blockbuster experience we shut the curtains, dimmed the lights and loaded up Avengers: Infinity War on an Ultra HD Blu-ray. This, as you might expect, was hugely impressive. Partly this is because the 65-inch screen was comically large for our room — where our own 55-inch TV sometimes feels intimidating — but mostly it is the picture quality. Large-scale shots have a huge sense of depth to them, while fast-paced action is smooth, and dark scenes manage to not disappear into a see of reflections.
HDR content automatically switches the TV to its HDR picture mode (which is itself split into dynamic, standard, natural and movie sub-modes to help you find the right setting). Standing for High Dynamic Range, HDR content asks compatible TVs to make their picture much brighter and darker than normal, producing images where both the hazy cloud of a bright sky and the dirt in the shadow cast by a building are equally exposed and detailed.
The Samsung Q8C features HDR10+, which is the highest standard for HDR content and produces stunning results.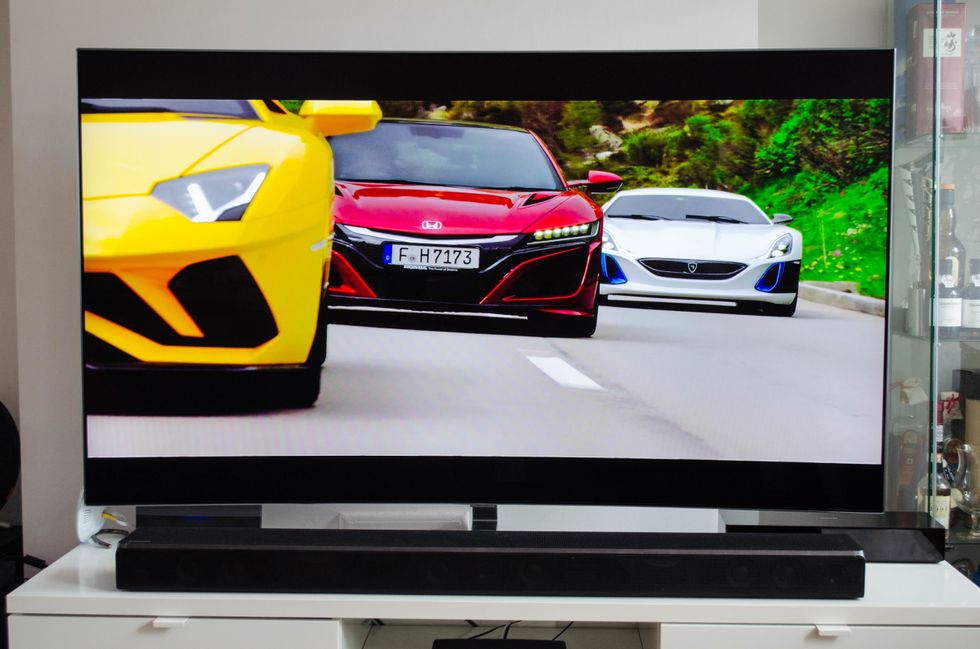 GearBrain
But all of this is only possible if you feed the television with the very best content. Ultra HD Blu-rays are expensive (Avengers Infinity War is $40), and so are their players — we used a $500 Xbox One X, although the cheapest UHD players are around half this.
For streaming UHD content (also known as 4K), you need to pay for the most expensive tier of Netflix; however, Amazon Prime offers Ultra HD (and HDR) content to all subscribers, and of course 4K content on YouTube is free. Ultra HD broadcast and cable channels are few-and-far-between (this writer has access to just one, being a subscriber to BT Sport's 4K channel in the UK), although this will change over the coming years, just as HD channels grew in popularity.

Speaking of HD, the Samsung does a good job of up-scaling this lesser content. It doesn't magically turn regular TV shows into glorious 4K, but everything looks better - and so it should when you've just paid (deep breath) $4,800 for a television. Even standard definition content gets a boost, although there's only so much such a huge display can do to improve low-resolution footage.
Samsung Q8C review: Sound quality
The Samsung Q8C has a pair of 20-watt speakers which produce decent sound, considering the small space they've to work within. But, as is almost always the case, you will want to invest in a sound bar or a surround sound system. When spending almost $5,000 on a television, it shouldn't be a big ask to spend $400 or so more on something like the Sonos Beam, or a soundbar from Bose, or Samsung itself.
Samsung Q8C review: Curved screen
This is likely to be personal preference, but we - or this writer, at least — prefers flat TVs to curved ones. The curve produces strange reflections which warp distractingly across the screen when you move your head, and the shape of the TV feels at odds with the efforts Samsung has made with Ambient Mode to make it blend into its surroundings.
That said, if you sit dead-center then the experience is slightly more immersive thanks to the subtle curve. Samsung's Q8FN is the flat-screens alternative to this model, but unfortunately misses out on the neat One Connect box, opting for a cable-management system on the back of the TV itself instead.
Samsung Q8C review: Controls and smart features
Finally, the Samsung Q8C has all of the smart and connected features you'd expect from a high-end television. Connect it to your router or Wi-Fi network and there's Netflix, Amazon Prime Video, Spotify, YouTube and a wide range of TV and music streaming services.
There is also a web browser, news apps, and Samsung SmartThings. Connect the TV to your existing SmartThings hub and smart home devices, and you can control them (and any scenes you've created) from the TV's own interface.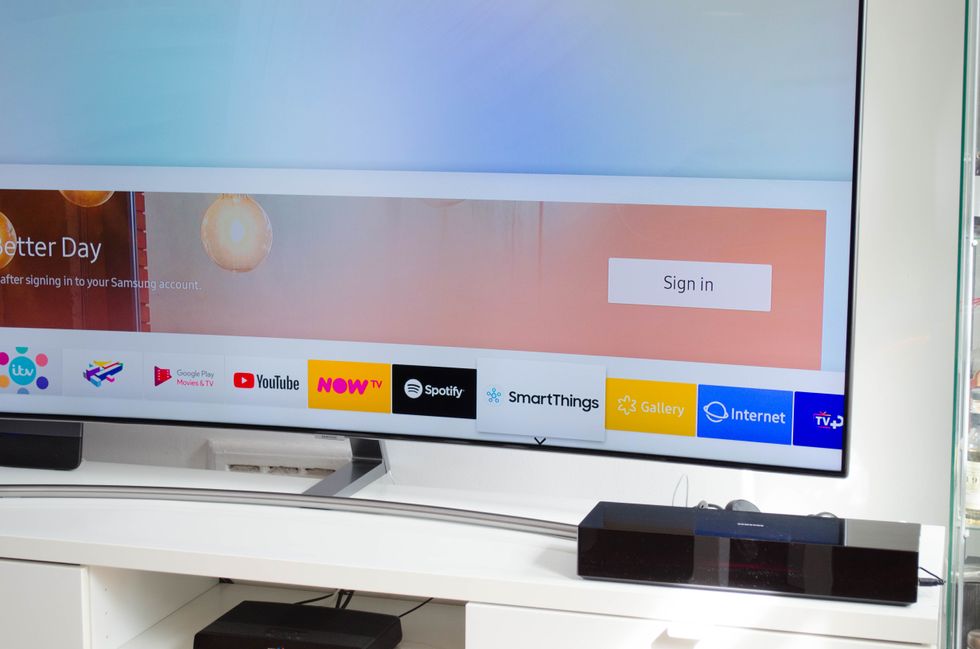 GearBrain
This makes the TV feels like the command center of your smart home, with access to lights, plugs, smart devices and video feeds from your connected security cameras.
The TV comes with a pair of remotes, one with conventional buttons and a keypad, and the other with the bare essentials and a microphone for issuing voice commands. Bixby, Samsung's voice assistant, is not included here, and we found the voice recognition to be fairly hit-and-miss. You can use it to launch apps like Netflix by saying 'open Netflix', but when doing so is only a couple of button presses away anyway, we can't see the voice system getting much use.
Although there are two remotes, you can use either one to access all of the TV's menus, settings and features.
Samsung Q8C review: Verdict

The Samsung Q8C is a phenomenally good television, but comes with a price to match the quality. It produces superb Ultra HD footage with excellent HDR capabilities, a fast and intuitive menu system, has all of the streaming apps you'll need, and the brilliant One Connect box keeps your A/V setup neat and tidy.
If you are already invested into the SmartThings ecosystem, then this TV acts as the command center for all of your devices, while Ambient Mode helps it disappear into the decor when not in use.
We aren't huge fans of the curved screen, but this is personal preference and depends on where you position the TV, and what the viewing angles are like from your sofas. For you, the unusual reflections could be a complete non-issue.
Pros:
Superb picture quality
One Connect system keeps everything tidy
Simple but fully-fledged operating system
Cons:
Curved screen isn't for everyone
Fewer dimming zones than flagship Q9F
Expensive