Like GearBrain on Facebook
A year on from its removable rollable TV, LG will use this year's CES technology show in Las Vegas to reveal a new range of curved and rollable TVs and displays.
The first is a rethink of last year's Series OLED TV R - better known as the rollable TV. Instead of rolling down into a box on the floor, the new model descends from a box fixed to the ceiling, then rolls back up again when you're not using it, saving space.
Read More:
Perhaps more interestingly, however, is what LG has planned for the first class airplane cabin of the future. LG wants to replace conventional windows with huge, curved OLED panels along the sides and ceiling of the cabin.
LG 43UM7300PUA Alexa Built-in 43" 4K Ultra HD Smart LED TV (2019)
These could be used to show live views of the airport and runway while taxiing, then switch to views of the sky once airborne, before adjusting to help passengers get a good night's sleep. At the end of the flight, the passengers could then be woken up with an artificial sunrise before landing.

LG has also created a transparent OLED panel which acts as an information display and a partition between the seat and aisle. An image from LG shows how this could show the seat number and passenger name, helping travelers find their seat, before turning into a privacy partition.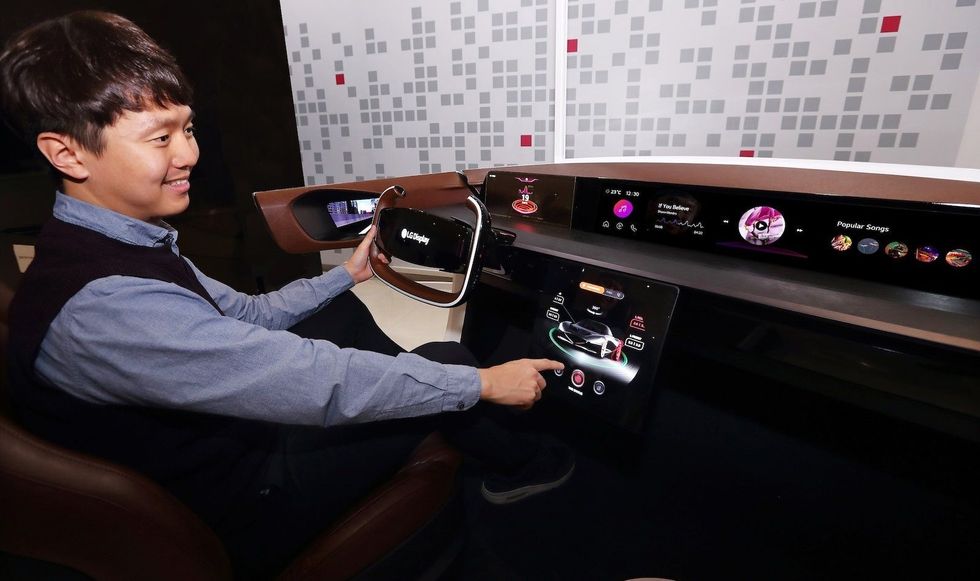 OLED panels are seen on a concept car interior by LGLG
Finally, LG has created a huge 65-inch TV screen which is curved at both ends and acts as an entertainment system for first class passengers. Most cabins at the front of the airplane have screens in the 20 to 30-inch region, so for LG to more than double this is quite something.

We wonder if airlines would be able to make room for all of these displays, or if a smaller entertainment screen (and more seats in the cabin) would be a more sensible approach.
That issue aside, we really like what LG is doing here with its display technology. We doubt any of these will arrive in commercial aircraft anytime soon, but it's still fun to see what the future of air travel could one day look like.
Elsewhere on the LG stand, the company will show off a range of displays designed for use in cars. These appear in prototype form across a car's dashboard, center console, and even on the steering wheel. We also hope to see a price and release date for its rollable television at CES 2020.
LG WM3499HVA - 2.3 cu.ft SMART WI-FI ENABLED ALL-IN-ONE WASHER/DRYER
From Your Site Articles
Related Articles Around the Web
Like GearBrain on Facebook