Like GearBrain on Facebook
A growing number of car manufacturers are including Alexa as part of the infotainment system. But if you don't have a new car, you can also get the Amazon voice assistant — all you need is a spare USB port or 12V socket.
With an Alexa device installed in your car, then fed a data connection from your smartphone or the car itself, you can use Alexa just as you do at home.
Read More:
You can ask her questions, have the assistant play music, podcasts or radio stations, give driving directions, read out the weather, news and traffic reports, and even control your smart home devices remotely.
Here are four ways to get Alexa in your car:
Garmin Speak - $50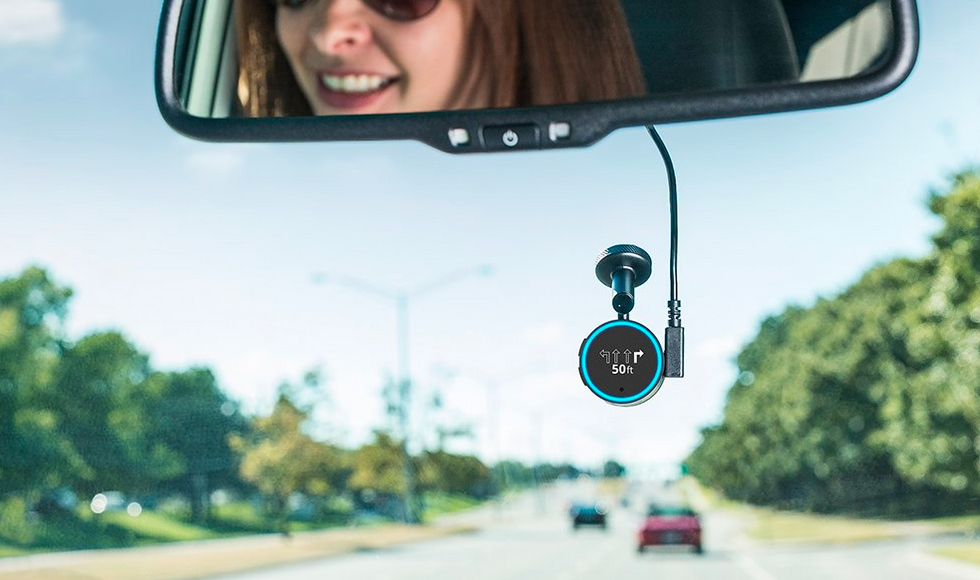 The Speak offers Alexa and turn-by-turn directionsGarmin
The Garmin Speak is currently half price, at $50 instead of the usual $100, This device fits to the windshield, then is powered by a micro USB cable which you can plug into your car's 12V socket (sometimes referred to as the lighter socket) using an included adapter.

You can then connect the Garmin Speak to your car using Bluetooth or an auxiliary cable to have its audio play through the car's speakers. The Garmin Speak gets its data connection wirelessly from your smartphone, so the phone can be left safely out of sight and out of reach while you're behind the wheel.
Once set up, you use Alexa just as you would at home, and what's unique about this device is an in-built Garmin Drive navigation Alexa skill and simple display. Say: "Alexa, ask Garmin to navigate to the nearest gas station" and the device will do exactly that, using Garmin's own navigation system, complete with direction arrows and other visual prompts appearing on the simple monochrome display.
Because Alexa works the same on any device, you can ask the Garmin Speak to update your pre-existing shopping and to-do lists, and control smart home devices — switching the driveway lights on as you get home, for example, or closing the garage door and checking the thermostat is turned down when you leave.
The $180 Garmin Speak Plus takes this same feature set and adds in a dash cam, which points forwards through the windshield and records footage to a microSD card. This model also offers forward collision and lane departure warnings.
Anker Roav Viva Pro - $70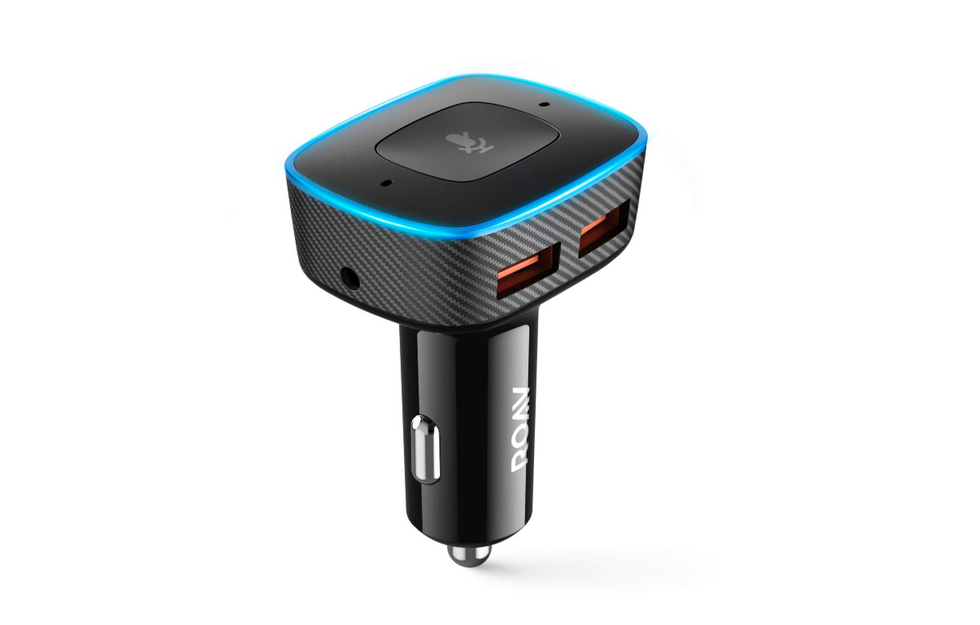 The Roav Viva Pro includes Alexa and two USB charging socketsAnker
A more discreet option for bringing Alexa to your car is the Roav Viva Pro by Anker. This $70 gadget plugs directly into your vehicle's 12V socket and connects to the sound system via Bluetooth or the auxiliary socket.

As with the Garmin Speak, the Anker gets its data connection from your smartphone, but it also includes two USB ports for charging devices, like your smartphone. A microphone means you can make hands-free calls, and there's the trademark blue light ring to show when Alexa is listening.
A mute button on the top makes it easy to stop Alexa from listening out for its name, just like on Amazon's own Echo products. It should be noted that, while music can be streamed from Amazon, as well as podcasts and radio stations from other sources, Spotify is not available. This is likely because Spotify is working on its own in-car music streaming device, due out later this year.
Echo Auto - $25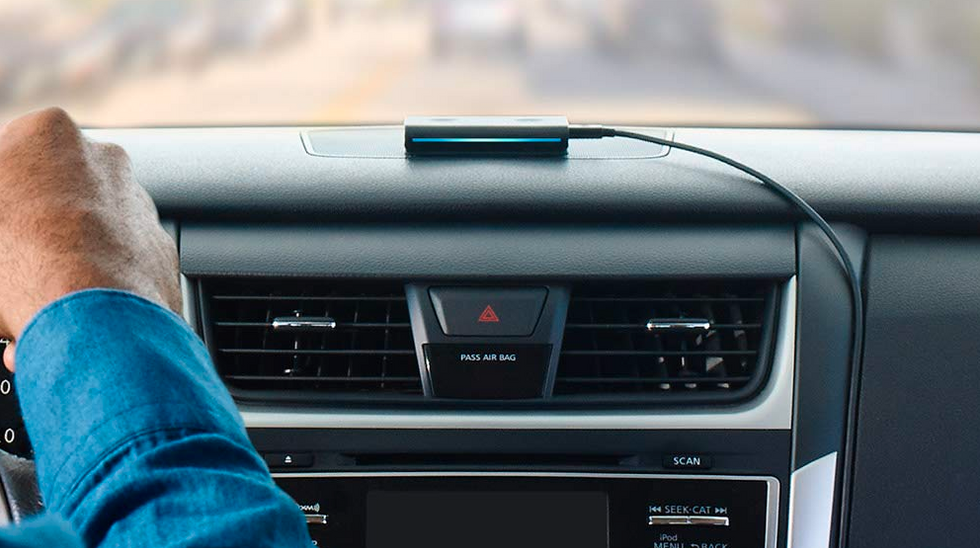 The Echo Auto is available on an invitation-only basis for nowAmazon
The Echo Auto is Amazon's own in-car Alexa device, but is only available via invitation for now. If you live in the US you can request an invitation, and if accepted you'll get to buy the Echo Auto at a discounted price of $25, half what it will cost when sales are opened up to everyone.

This device connects to the Alexa app on your smartphone, then plays its audio through your car stereo via Bluetooth or the auxiliary input. The device includes eight microphones, helping Alexa hear you clearly over the sound of music, road noise, and the air conditioning.
Unlike with the Anker Roav, Spotify streaming is included here, as well as all of the podcast, radio and music services you use on other Echo devices. You can also access Alexa skills, control your smart home devices, and ask for driving directions from supported apps, including Google Maps, Wayz and Apple Maps.
The Echo Auto is designed to be mounted on the dashboard of your car, and plugged into the 12V socket.
Echo Dot (2nd generation)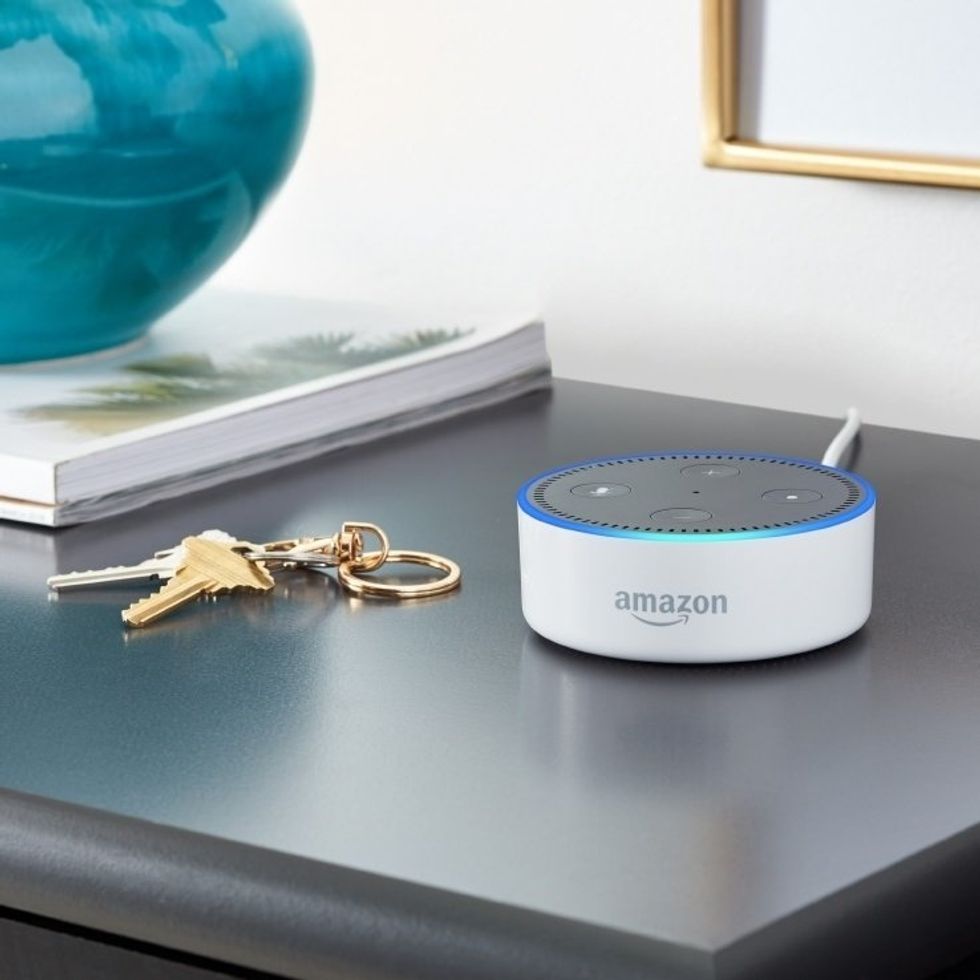 The second-generation Echo Dot can also be used in the carAmazon
Although no longer sold by Amazon, you could pick up a second-hand or refurbished Echo Dot second generation from eBay or elsewhere. This can then be plugged into your car's USB port or 12V socket via an adapter (as some USB ports aren't powerful enough to run the Dot).

You then need to plug the Dot into your car's audio input socket, or connect via Bluetooth, then enable your smartphone's mobile internet hotspot feature, and connect to the Wi-Fi network that broadcasts.
Plug your phone into a second USB port (as the hotspot tends to quickly drain the battery), then use the Echo Dot exactly as you would at home. All you need to think about is keeping the cables tidy and out of the way, and to position the Echo Dot so its microphones can hear you clearly.
You cannot use a third-generation Echo Dot, as this does not use a USB cable and instead needs plugging into a wall outlet. If you prefer using the Google Assistant, this method also works with the USB-powered Home Mini.
Check out The GearBrain, our
smart home compatibility checker
to see the other compatible products that work with
Amazon Alexa enabled devices.
From Your Site Articles
Related Articles Around the Web
Like GearBrain on Facebook