Like GearBrain on Facebook
Gone are the days of loading up a six-disc CD changer or making do with the intermittent radio in your car. With Bluetooth or a USB cable it's now easier than ever to access almost any music ever made while on the road.
Some modern cars come with a Spotify app pre-installed, ready to be logged into with your account and used just as you would at home or on your smartphone. Other options include streaming from your phone over Bluetooth, plugging in via a USB or auxiliary cable, and using Apple CarPlay or Android Auto. For older cars you can even tune the radio to play music coming from your smartphone.
Read More:
Here is everything you need to know about listening to Spotify in your car.
Spotify built in

The music service is available as a dedicated app in some new carsSpotify
The simplest way is to use the car's built-in Spotify app. Tesla was one of the first manufacturers to offer this, although it is exclusive to Europe for now. But others have since followed suit, with BMW, Mini, Jaguar Land Rover and Volvo among several automakers who include a Spotify app.

All you have to do here is log in with your existing Spotify credentials, and away you go. No need to pair your smartphone to the car, or even plug it in — and because you control Spotify using the car's own controls (or voice commands), there are no distractions from reaching for your phone.
In this case, Spotify music is streamed to the car (instead of downloaded and saved locally) and relies on the car's own SIM card and internet connection. Naturally, if you drive through an area with no signal, then Spotify may stop streaming. But because car's often have much larger antennas than your smartphone, signal drop-outs are less frequent.
Apple CarPlay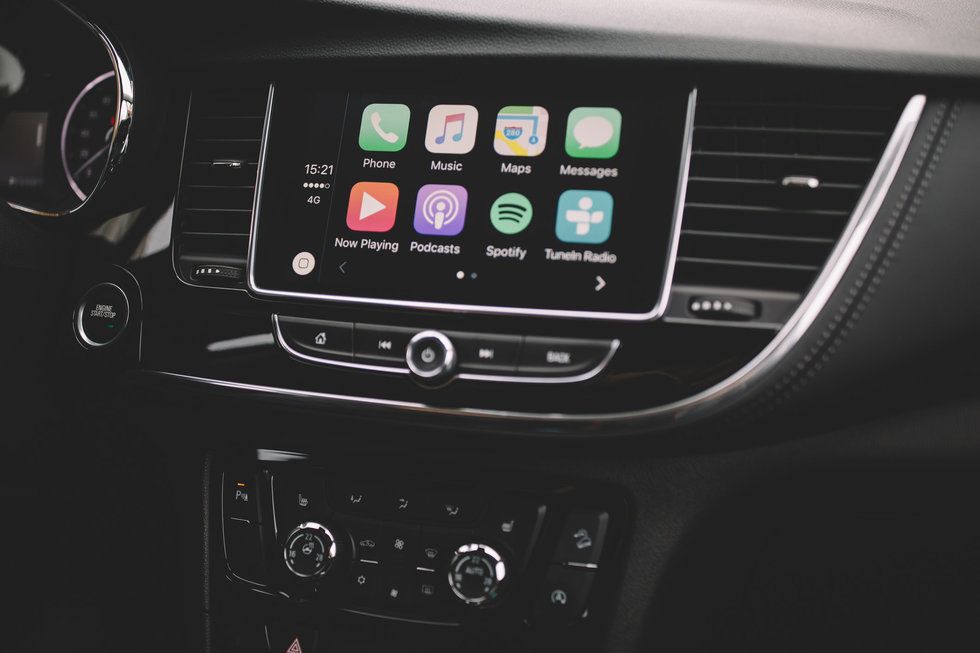 Apple CarPlay lets you interact with Spotify iStock
Apple's answer to the car infotainment system, CarPlay is powered by your iPhone and replaces the car's system with one that looks like iOS. This makes it familiar and easy for Apple fans to navigate, and among the limited selection of apps deemed safe to use while driving, you will find Spotify.

Providing the app is installed on your phone and logged into, you can tap the app in CarPlay and access all of your playlists as normal.
Browsing is limited to an extent, with the CarPlay version of Spotify not offering as much visual interaction as on your phone; this is of course to prevent drivers from being distracted.

CarPlay in most cars requires a USB connection with your iPhone, although some newer vehicles offer wireless CarPlay. This is of course convenient, but will drain your phone battery if used for long periods of time. Pick up a car with a Qi wireless phone charger, and you can enjoy the best of both worlds.
Apple announced a major update to CarPlay in early June, and it will be launched to the public with iOS 13 this September.
Android Auto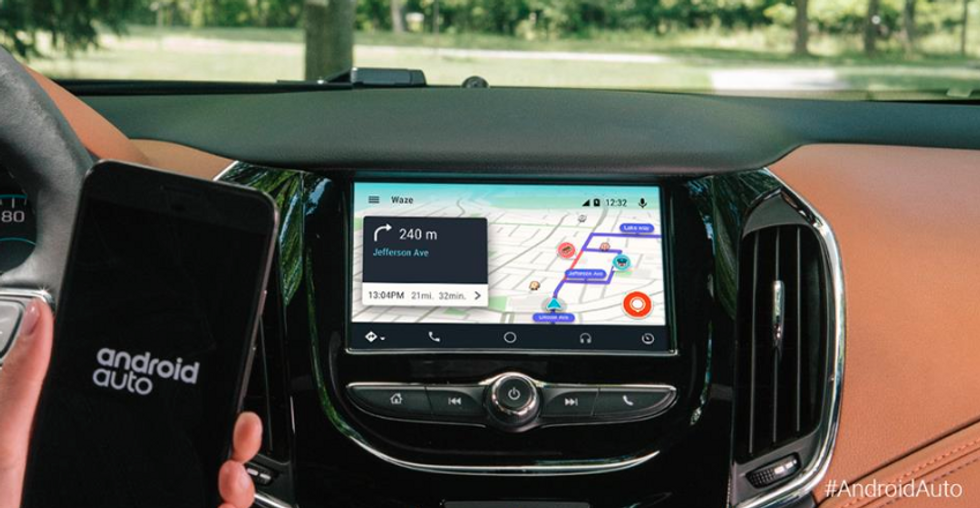 Android Auto is available on over 400 new carsGoogle
Google's answer to CarPlay, Android Auto is powered by your USB-connected smartphone and replaces the car's infotainment system with one reminiscent of Android. Spotify can be used here just as it can with CarPlay; Android Auto runs on all Android phones running version 5.0 Lollipop and later.

Over 400 models of car now offer both Apple CarPlay and Android Auto — either as standard or as an optional extra — and several aftermarket head units also work with both systems, so you can bring Spotify to an older car that way, too.
Bluetooth or USB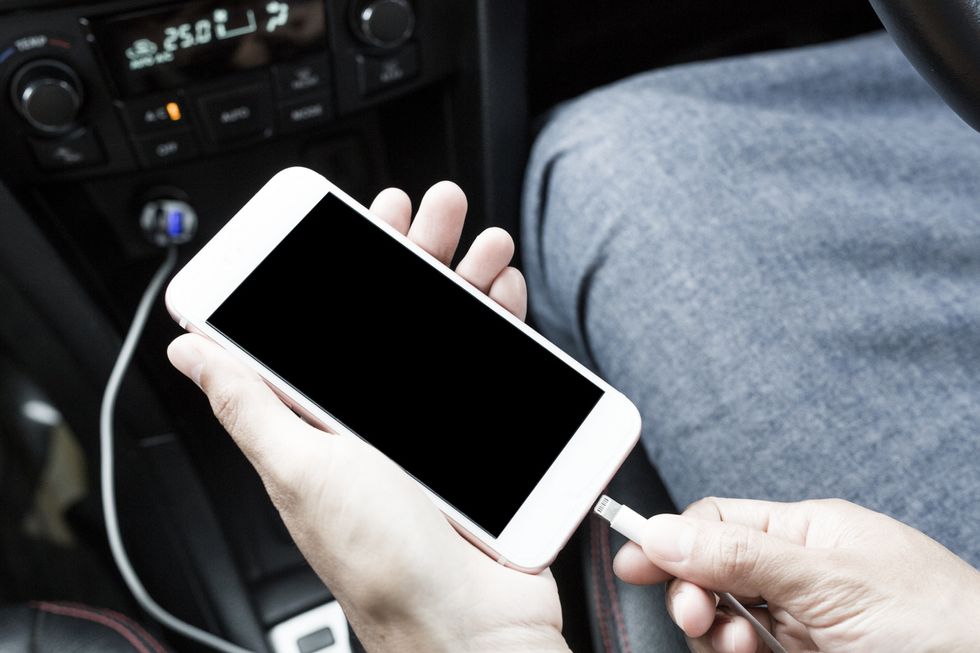 Almost all recent cars can play music from a smartphone over USB or Bluetooth iStock
Most new cars today come with Bluetooth support and USB ports. Both of these can be used to connect your smartphone to the car, then have its audio come through the sound system.

When pairing or plugging in, the car will add your phone to its list of audio inputs, along with AM, FM and DAB radio, plus the CD player if there is one. Just pick your phone from this list of inputs, and you can control your Spotify music using the car's buttons.
Some cars only allow very simple control of Spotify in this scenario, with you only being able to play, pause and skip tracks. This can make it tricky to change playlist, or search for an artist or album.
To help make this easier, Spotify recently rolled out Car View to Android users. Car View serves up a different interface when the Spotify app knows it is sending music to a car, thus making it easier to control your music by tapping your phone, and not distracting you from the road ahead.
Remember, while Car View will likely make using Spotify easier and safer, you must adhere to local road laws. In some states and countries it is an offense to physically interact with your smartphone in any way at all while driving, so you're best off picking a playlist before you set off, or have your passenger act as DJ.
Of course, a USB connection will charge your phone while music is being streamed. However, many car USB ports are low-powered and may struggle to actually add charge to the battery; instead, and especially if the phone is being used intensively to stream music and provide driving directions, the USB port will merely slow down how quickly your battery depletes.
Additionally, heat causes a smartphone to charge slowly or stop charging entirely, so using an air vent mount and turning up the climate temperature may prevent your phone from charging.
Auxiliary cable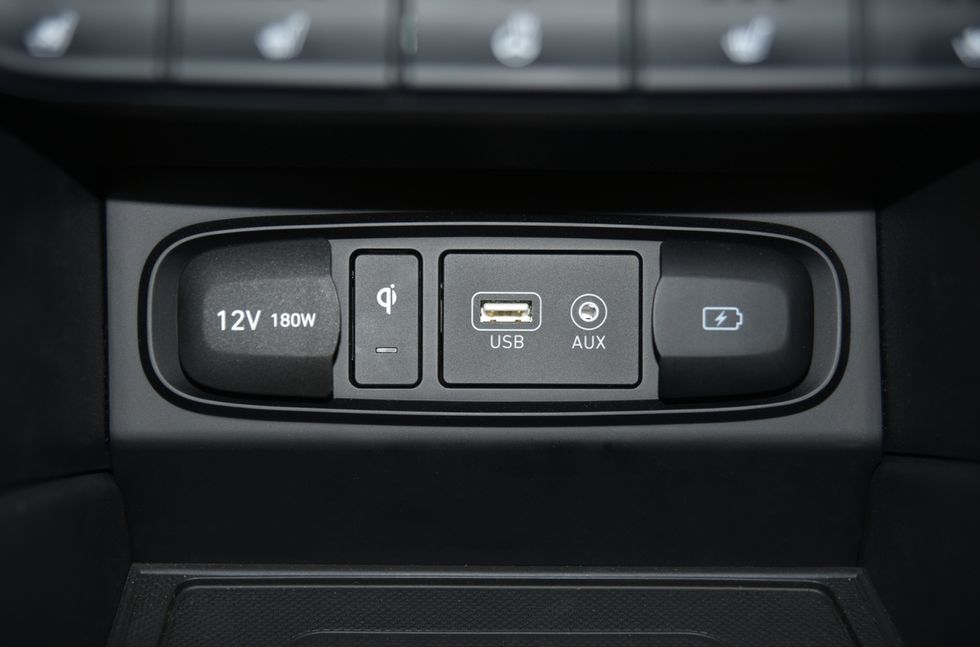 Almost all cars have an aux socket for connecting audio devices iStock
If you car doesn't have Bluetooth or a USB port, you can still bring Spotify with you thanks to the humble auxiliary cable. Most cars built in the last decade have an axillary port (the same size as a headphone jack), into which you can plug a smartphone or other music player.

Once plugged in, your phone's audio will play through the car's speakers. However, the car's own buttons and dials (apart from the volume knob) can sometimes not be used to control music playback this way. Instead, you'll have to reach for your phone, which you should only do when it is safe and legal to do so. You could also shout at Siri or the Google Assistant, if you like.
Using a cable might not always be convenient. But music quality through a cable is generally higher than through a Bluetooth connection, and there's no chance of the signal being interrupted. This method should also drain your phone battery more slowly than streaming over Bluetooth.
FM transmitter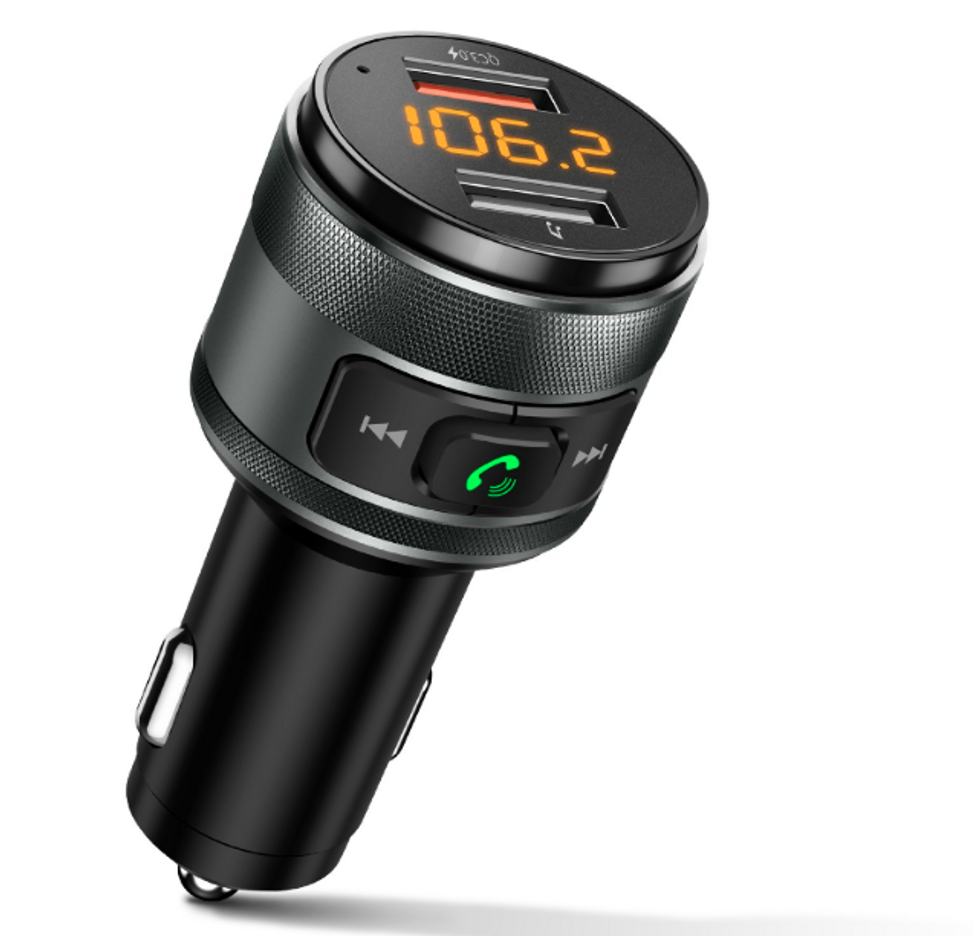 This gives your car Bluetooth and Spotify, no matter how old it isImden
If your car doesn't have Bluetooth, USB or an aux input, then you can still get Spotify working - with a little help from a 12V FM transmitter like the one pictured above from Imden. Available on Amazon for $18, the device plugs into your car's 12V lighter socket. You can then plug your phone into the device' USB port to charge the battery, and connect to the device via Bluetooth.

This sends music from your phone to the device, which then broadcasts it on an FM frequency; tune your car radio to this frequency and your phone's audio output comes through the car stereo.
Alexa and Google Assistant in the car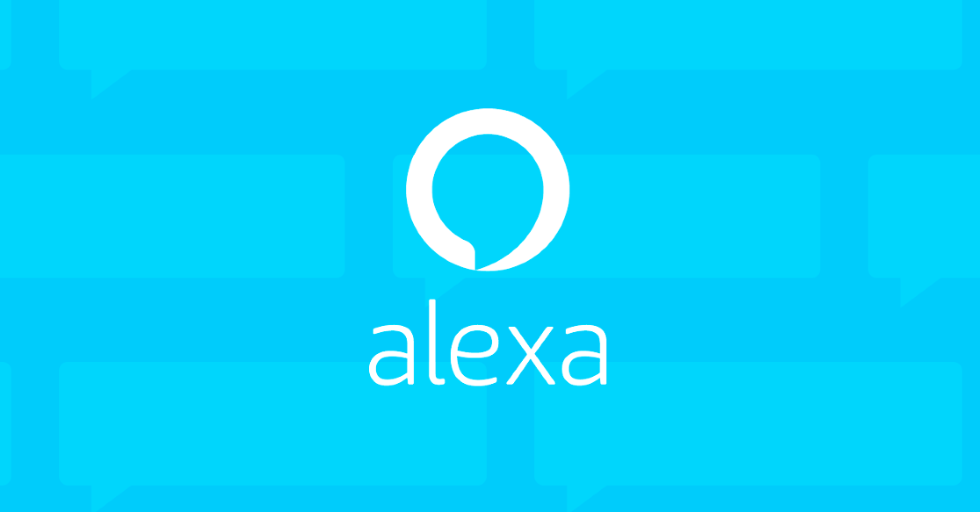 Voice assistants like Alexa are increasingly common ways to control car infotainment systems Amazon
Set to become an increasingly common feature in the coming years, car makers are starting to offer voice assistants like Alexa and the Google Assistant. Tapping into your pre-existing accounts for each, these can be used to play music from Spotify (or your streaming music of choice) just like at home.

BMW and Mini are among the first manufacturers to offer Alexa, letting you control music playback by speaking to the Amazon assistant.
You can also bring Alexa to the car via a number of third-party accessories, such as the $37 Roav Viva, and via Amazon's own $25 Echo Auto, although the latter is limited to purchase by invitation only for now.
As for Google, Polestar is to be the first company to build its entire infotainment system on Android. This system will debut on the electric Polestar 2 in 2020, and provide access to Spotify, which can be controlled with voice commands.
Spotify hardware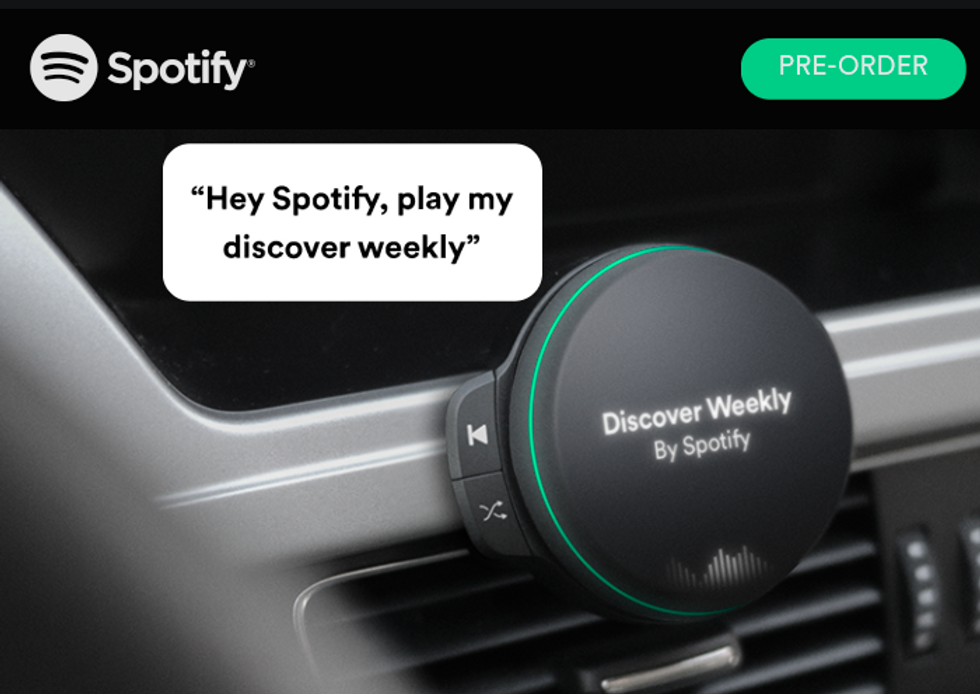 Image of Spotify device briefly appeared on the app in 2018 Reddit (FlexinFiesta)
Finally, Spotify is working on its own in-car solution. Expected to be released later this year, the unnamed device is rumored to cost in the region of $100 and will be the company's very first hardware product.

An image of the device briefly appeared in the Spotify app of some users back in 2018, but it has not been seen since. The image showed how music can be controlled by saying "Hey Spotify" then a command like "Play my discover weekly playlist."
The device will sync to a car's stereo via Bluetooth, then allow the driver to adjust their music with a set of physical buttons. There will also be support for voice commands, although little is known about this for now.
We think $100 seems quite steep for a one-function device. But for drivers who do not have Apple CarPlay and Android Auto, or don't want to pay the premium for it when buying a new car, the Spotify device could make a good alternative to plugging in and syncing up a smartphone every time you want to play music in the car.
Practical, Ridiculous & Crazy Things You Can Ask Android Auto www.youtube.com
Like GearBrain on Facebook