Like GearBrain on Facebook
During its bumper product launch this week, which included a flying indoor security camera, Amazon announced an upgrade to its Alexa Guard home security system.
Until now, Guard has felt like a functional but somewhat limited feature of Alexa, where Echo smart speakers and displays could listen out for the sounds of broken glass and smoke alarms, then alert you via a smartphone notification. Guard has always been a neat use of Echo hardware and Alexa intelligence, but still some way short of a complete home security system.
Read More:
But now there is Guard Plus, which costs $4.99 a month (or $49 a year) and is pitched as a more complete package.
Update: Amazon announced on January 25, 2021 than Guard Plus is now available to subscribe to.
First, the similarities. Both Guard and Guard Plus use the microphones of Echo speakers and displays to listen out for broken glass and smoke/CO alarms, upon which a notification will be sent to your smartphone, You can then use the Alexa app to listen in, start a Drop-In call, or watch through the camera of the Echo Show to see what's going on.
Guard and Guard Plus also share a system where Alexa automatically turns your smart lights on and off to simulate the home being occupied, in a bid to put off any potential burglars while you're away.
Now for the differences, and what you get with Guard Plus for your $4.99 a month.
What's the difference between Amazon Guard and Guard Plus?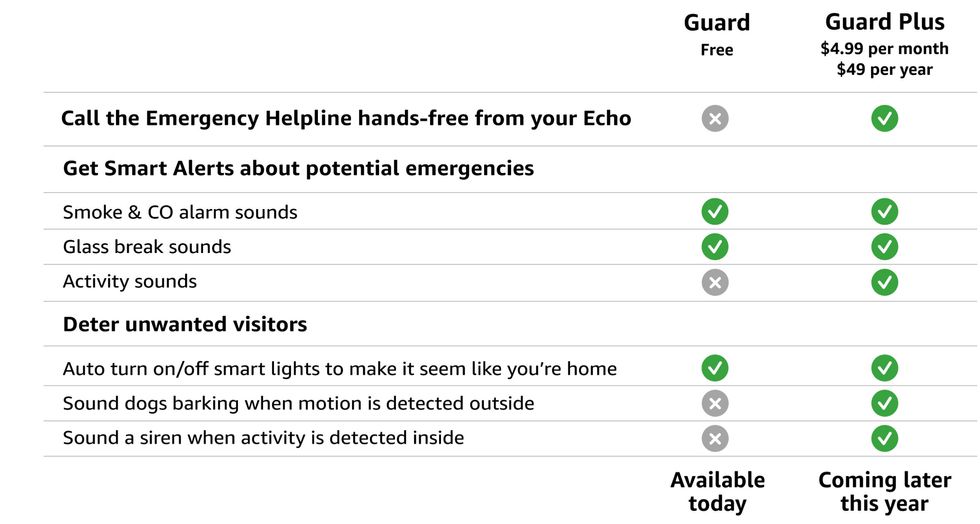 Features of Guard compared to Guard PlusAmazon
One of the headline differences, and much of why Guard Plus costs $4.99 a month, is 24/7 emergency helpline calling. When you are at home and need help to deal with a fire, break-in or medical emergency, just say: "Alexa, call for help" and the nearest compatible devices (like an Echo speaker or display) will call the emergency services.

Guard Plus also lets you call the emergency services from within the Alexa app, after you have been alerted to something suspicious. For example, if an Echo smart speaker hears the sound of broken glass while you are away, you will be notified. From there, you can listen in through the Echo's microphone, then call the emergency services to your home if required.
Guard Plus can listen out for broken glass and smoke alarms, but also what Amazon calls 'activity sounds', like the nearby footsteps of a potential intruder, talking and closing doors.
When Guard Plus has heard something suspicious outside the home (or sees motion nearby through an Alexa-connected security camera or video doorbell), it can be set to automatically play the sound of dogs barking. If sound is heard inside, Echo devices can sound a siren in a bid to scare off an intruder.
As with the regular Guard system, Guard Plus can simulate an occupied home by switching your Alexa-connected smart lights on and off.
Both systems are switched on by saying: "Alexa, I'm leaving" to your Echo device, and disarmed by saying: "Alexa, I'm home". The system can also be switched on and off using the Alexa phone app. Amazon hasn't yet said whether Guard Plus will require some form of authentication, like a spoken PIN or passcode, to prevent an intruder from switching the system off.
All-new Echo Dot (4th Gen) | Smart speaker with Alexa | Twilight Blue
From Your Site Articles
Related Articles Around the Web
Like GearBrain on Facebook