Like GearBrain on Facebook
Alexa Guard is a simple but effective way to improve your smart home security, using any Amazon Echo speakers you already own. Free to use, once Guard has been armed it will use the microphones of your Alexa speakers and smart displays to listen out for the sounds of smoke or CO alarms and broken glass, which could be a sign of a break-in.
Read More:
The alarms don't need to be smart devices in any way. Alexa is simply listening, and filtering out sounds until it hears specifically glass breaking or a regular smoke or carbon monoxide detector sounding their alarm. If either of these sounds are heard, you will be alerted via the Alexa smartphone app, which will play an audio recording taken from your Echo speaker moments earlier. Amazon also plans to have Alexa Guard listen for footsteps, talking, coughing, a door closing and more, when it's activated, the company said in late 2019.
You can then drop-in on your Echo speaker, and listen to the ongoing live audio from its microphone. If you have an Echo Show smart display with a camera, you can view a live video feed too. During the drop-in, you can also speak through the Echo speaker, in a bid to ward off an intruder who may have just broken into your home, if that's what setting off your alarm.
Another feature of Alexa Guard turns your smart lights on and off in a pattern that mimics your normal usage, making it look like someone is home. Enable this when you head away on vacation, and your home won't look vacant, thanks to the Alexa-controlled lights switching on for a few hours each evening.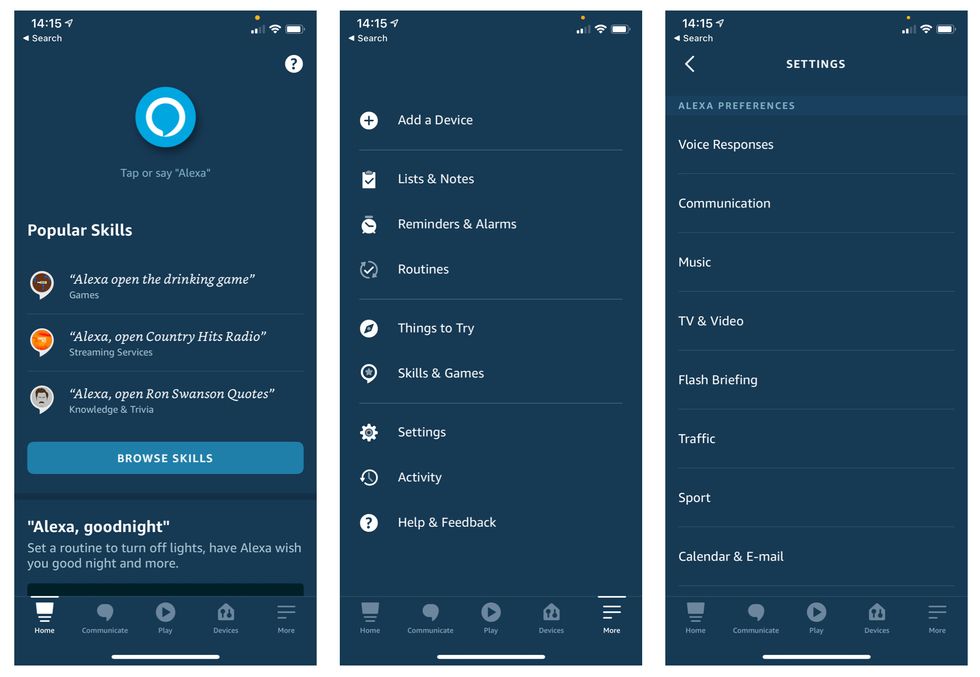 Alexa app settings pagesGearBrain
Alexa Guard device compatibility:

Alexa Guard works with all Echo speakers and displays that have far-field microphones. This means all generations of Echo, Echo Dot, Echo Plus and Echo Show, plus the Echo Spot and Echo Input. The only devices not compatible with Alexa Guard are the Echo Sub, which has no microphones, and the Echo Auto, which is designed for use in the car.
Alexa Guard rolled out in the U.S. in 2019, but is currently not available in other markets. The feature briefly appeared on Echo devices in the UK in July 2020, but this was an error, as it turned out, and Amazon quickly removed it again.
How to enable Alexa Guard
Not switched on by default, Alexa Guard is enabled by following these instructions:
Open the Alexa smartphone app
Tap on the More button in the lower-right corner
Tap on Settings
Scroll down to the Alexa Preferences section and tap on Guard
Tap on the gear icon in the top-right corner, and follow the prompts
Once Alexa Guard is enabled, just say: "Alexa, I'm leaving," to arm the system. When you return home say: "Alexa, I'm home," to disarm the system.
Alexa Guard, Ring and professional security monitoring
A final feature of Alexa Guard comes into play if you pay for professional home monitoring through Amazon-owned Ring, or through an ADT Control smart home system.
Through these, you can configure Alexa to send alerts directly to your security provider (as well as to the Alexa app on your phone) whenever broken glass or an alarm is heard. With this notification, the security provider can then alert the authorities and have them visit your home to check out the problem.
Alexa Guard might not be a comprehensive home security solution, but it's still a clever way to increase the protection of your home by using the Echo devices you may already own. Google also offers glass and alarm detection with its Nest and Home smart speakers and displays, but only for customers who pay for the Nest Protect service.
From Your Site Articles
Related Articles Around the Web
Like GearBrain on Facebook