Like GearBrain on Facebook
We've tested a number of robot vacuums at GearBrain from those that connect to the internet to others that work through an app or a remote. The Amarey A800 is in the latter category, a robot vacuum shaped much like its competitors, round with plastic sweepers to pick up dust and dirt on your floor. At $200, it's certainly more affordable than those from higher end makers. That price, however, may also reflect its limitations in how it performs in its primary job, which is to sweep your place clean.
What is the Amarey A800?
Amarey is a manufacturer of robot vacuum cleaners. The A800 is its robot vacuum that does not connect to the internet. Priced at $210, it's round, almost identical in shape and size to other robot vacuums, and is designed to work similarly. You charge the vacuum on a port that plugged into an outlet, and then let the vacuum sweep up autonomously around your space. In the box you get both the vacuum, two plastic brushes, the charging dock plus an AC adapter, an extra set of brushes, filters and a rolling brush.
Notably, the Amarey A800 is not a smart vacuum — it won't connect to the internet or to an app. The company does make an internet-connected vacuum, the A900, which is about twice the price. But with A800, you can run the device through a remote, or manually by just pressing the button on the top of the vacuum to start the vacuum, stop it and send it back to its charger.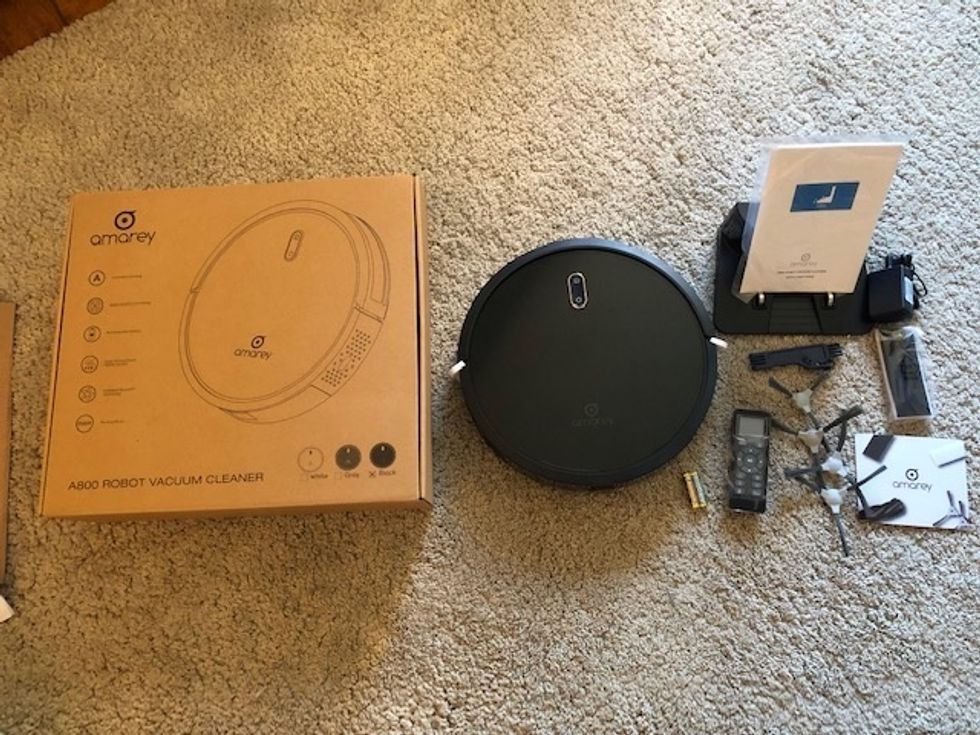 Everything in the Amarey A800 box, including spare filtersGearBrain
Read More:
How do you install the Amarey A800?
After opening the box, you'll need to install the two plastic sweeping brushes into the base. They snap right in — you'll hear a click so you know they're attached. You don't need download an app, because again it not a smart device. But you do need to charge the vacuum, which you'll do by plugging the charing station into an outlet against a wall. It should take a few hours for the vacuum to be fully charged.
To use the remote, install two AA batteries. That's it, you're good to go. If you do have trouble, Amarey has a short two-page installation guide online, and one in your box, to show you how to install the brushes.
How well did the Amarey A800 work?
We tested the Amarey A800 in a real home environment, putting it up against wood floors and rugs — both thick piled shag rugs and wool rugs that were thin and low to the ground. There was also furniture laid out, with tight corners as well as open areas for the vacuum to run unimpeded.
To start, Amarey relies on knowing when to turn away or move in another direction when it runs into a block. That can be a chair leg, couch, a table – even a shoe. The vacuum was able to read quickly if it needed to switch directions, and did that well. It also moved easily along wood floors and thick rugs, able to move from one surface to another without any trouble. That's a plus.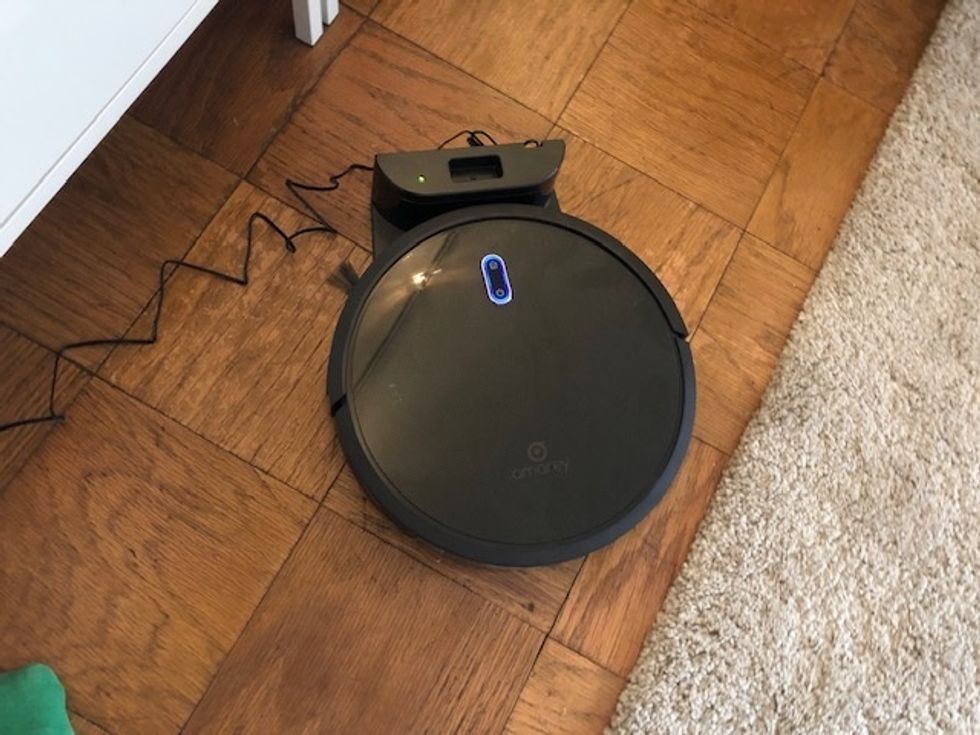 Charging the Amarey A800 robot vacuum on its charging stationGearBrain
I did find, however, that the vacuum would bump fairly hard against objects before turning around. This wasn't a big deal during testing for two weeks. But I have some old pieces in my space, and would have concerns if the vacuum would have been hitting my 100-year-old piano, for example, every other day that forcefully.
As for its main purpose, the Amarey A800 would run over dog hair — both on the floor and on a rug — without catching it. The sweepers would just swirl it around, and that was disappointing. Other bits of fluff and debris did come up, and I would say the space was certainly cleaner after the Amarey A800 ran than the rooms looked before, but I always felt I needed to go back over areas again with a regular upright vacuum.
I also found that the vacuum couldn't navigate small spaces as easily as other vacuums we've tested. It needed to be rescued from a situation where there was certainly enough room for it to turn around near a piano and a table leg with about two feet between them. The A800 also wasn't able to find its charger as easily as I would have liked, and needed to be placed directly on it each time.
Cost: $209.99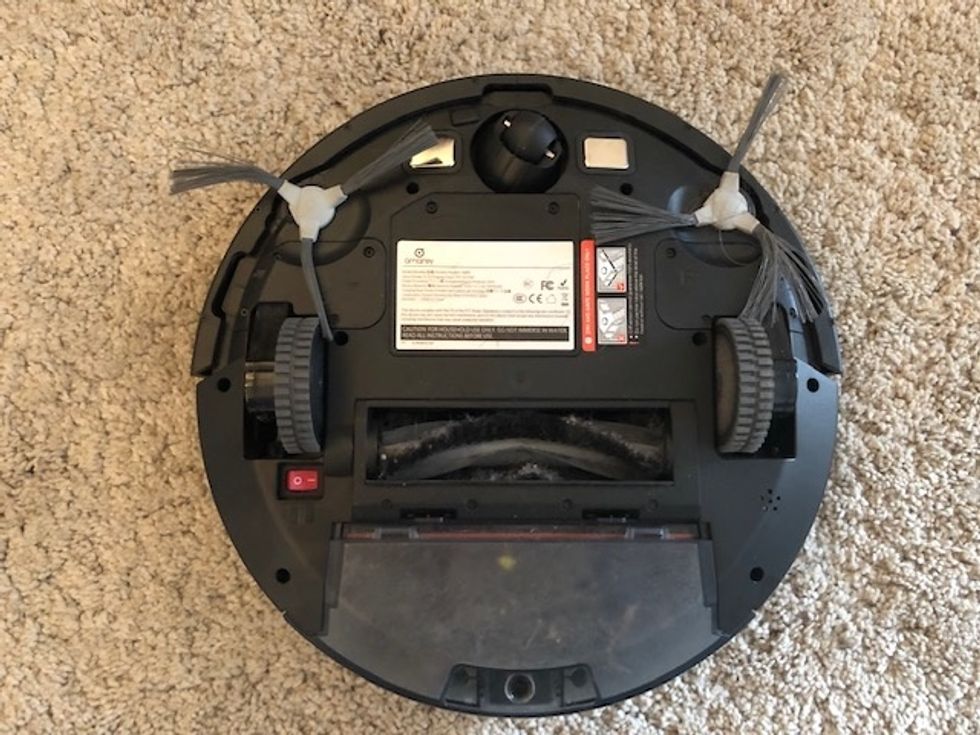 Under the Amarey A800, you'll find two sweeping brushes and a roller brush tooGearBrain
Should you buy the Amarey A800?
A recent survey noted that just 15 percent of users find robot vacuums more useful than they expected. We can understand why. Even the best robot vacuum isn't always going to be the same as someone running an upright vacuum over (and over) a spot until something is whisked away. Few robot vacuums can empty their bins themselves — and one that we tested that could was loud enough to startle us. Robot vacuums are sometimes not as helpful as we initially hope they will be.
The Amarey A800 does works — it will pick up bits of dust and dirt. When we emptied the bin, we also saw plenty of evidence that it had cleaned up our floors to some effect. The robot just isn't as powerful as others we have tested. For the price, we think it's certainly a decent starter robot vacuum. It's not too loud, it's easy to start up — and people concerned about privacy will find its lack of connectivity to the internet a plus.
For those who have a bit more to spend, want a device they can operate through an app on their smartphone, and want something powerful right from the gate, though, they may want to look at some other vacuums too, and make sure the Amarey A800 is right for them.
Pros:
Well-priced compared to other robot vacuums
Easy to install
Transitions easily between thick rugs and wood floors
Cons:
Wasn't very strong as a vacuum, left some detris behind
Lacks internet connection and can't work with an app
Had a hard time navigating and turning around small spaces
Specs:
Suction: 1400Pa
Sound: less than 58db
Dust bin: 500 ml capacity
Features: anti-scratch tempered glass top, infrared sensor for avoiding obstacles, returns to charging base on its own when battery is low, drop-sensing tech to avoid falls
Operates: Remote control or one touch on the device
Surfaces: Ideal for hardwood floors
Dimensions: 2.75" tall
Battery: Li-ion battery, 120 minutes of working time
Warranty: 30-day money back guarantee, plus one year warranty after buying from the online store
Like GearBrain on Facebook