Like GearBrain on Facebook
When it comes to buying an Amazon Echo, there are two ways to go – an Echo smart speaker or an Echo Show smart display.
There are three options for each, with the Echo Dot, Echo and Echo Studio being speakers, and the Echo Show being available in three versions, called the Show 5, Show 8 and Show 10 in reference to their display size.
Read More:
For this article we will focus on the Echo Show range, which was recently updated to include the new Echo Show 10 – and you can find the GearBrain review of it here.
Price, display size and resolution
The entry-level Echo Show 5 is priced at $65 and has a 5.5-inch display with a resolution of 960 x 480. This is followed by the mid-range Echo Show 8, which is priced at $105 and has an eight-inch screen with a resolution of 1280 x 800. The range is completed by the Echo Show 10, which at $250 is the most expensive Echo device yet and costs more than twice as much as the Show 8. It has a 10.1-inch screen but the same 1280 x 800 resolution as the model below it.
Lastly, the Echo Show 10 has a trick up its sleeve – with the help of a motor the display can rotate through almost 360 degrees. This allows the screen to follow you around the room, both keeping you in shot during video calls but also ensuring whatever's on the screen can be seen as you walk around the room, for example while preparing a meal in the kitchen. It can also be manually tilted up or down.
If you plan to watch video on your Echo Show then of course bigger equals better, but this is a device intended for places of the house away from wherever your TV or computer monitor is. It is likely for occasional watchin of shorter video formats, like YouTube while cooking. As such, you are best off buying the Echo Show that fits best in its designated environment, which is likely already fairly busy.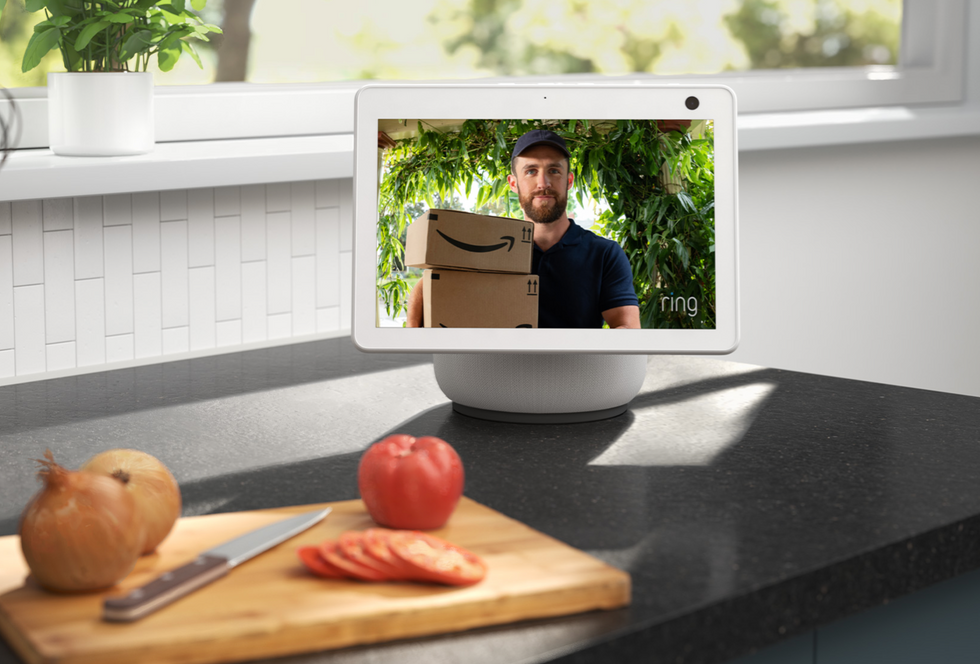 All models of Echo Show can display your Ring video doorbell feedAmazon
Sound

The smallest Echo Show has a single 1.7-inch speaker, making it perfectly good at playing Alexa's voice and even the radio, but for more serious music playback and video content, its sound production is likely similar to that of your smartphone or tablet. This is much like how the Echo Dot does a decent enough job at low volumes.
Next up is the Show 8, which has a pair of slightly larger 2.0-inch speakers. This means stereo separation is possible with distinct left and right audio channels. Music and video will therefore sound better, but bass isn't a strong point here.
Finally, the Echo Show 10 has a pair of 1.0-inch tweeters and a 3.0-inch woofer. This means it can produce stereo sound like the Show 8, but the fairly large woofer means bass is plentiful for a device of this size and it can be turned up to high levels without too much distortion. To our ears, the Show 10 sounds marginally better than the latest Echo speaker.
Camera
All three models of Echo Show have a camera for video calls. The Show 5 and Show 8 each have a 1-megapixel imaging sensor, while the Show 10 increases this significantly to 13 megapixels.

This camera is used to track your movement so that the screen can rotate to face you, for video calls, and can also be viewed via the Alexa smartphone app. This turns the Show 10 into a simple indoor security camera of sorts, which can be viewed live and even rotated via the app to get a complete view of the room.
We would like to see high-quality cameras on the smaller Shows, but space constraints mean the larger (and considerably more expensive) Show 10 is likely to always have the superior camera.
All three models of Echo Show have a switch for covering the camera lens and switching off the microphone.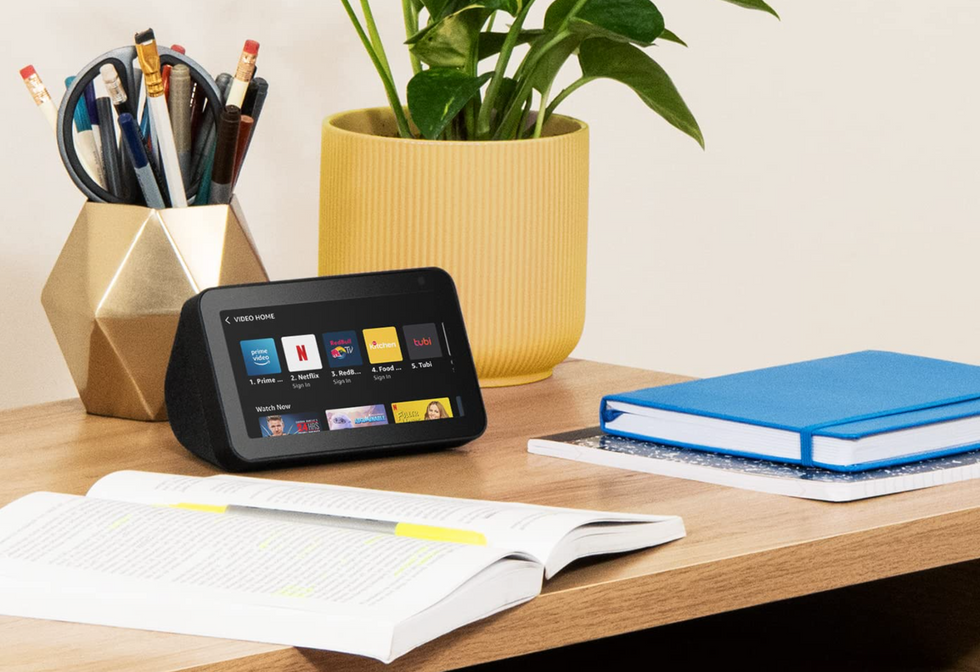 The Echo Show 5 has a 5.5-inch displayAmazon
Dimensions

The two smaller Shows are both relatively compact, while the Echo Show 10 with its extra speakers, larger screen and rotating design is much larger, and needs extra space if you want your to rotate.
The Echo Show 5 is 5.8 inches wide, 3.4 inches tall and 2.9 inches deep. The Show 8 has a similar design but is 7.9 inches wide, 5.4 inches high and 3.9 inches deep. Finally the Show 10 is 9.9 inches wide, 9.0 inches high and 6.7 inches deep, but requires a footprint of 15x10 inches to rotate fully.
Audio connections
The two smaller models of Echo Show have a 3.5mm audio jack for connecting to another speaker. This helps to make up for their average audio quality, and means you can plug them into whatever sound system or other speaker you might have.
The Show 10 doesn't have this, but its superior sound quality means this is less of a concern.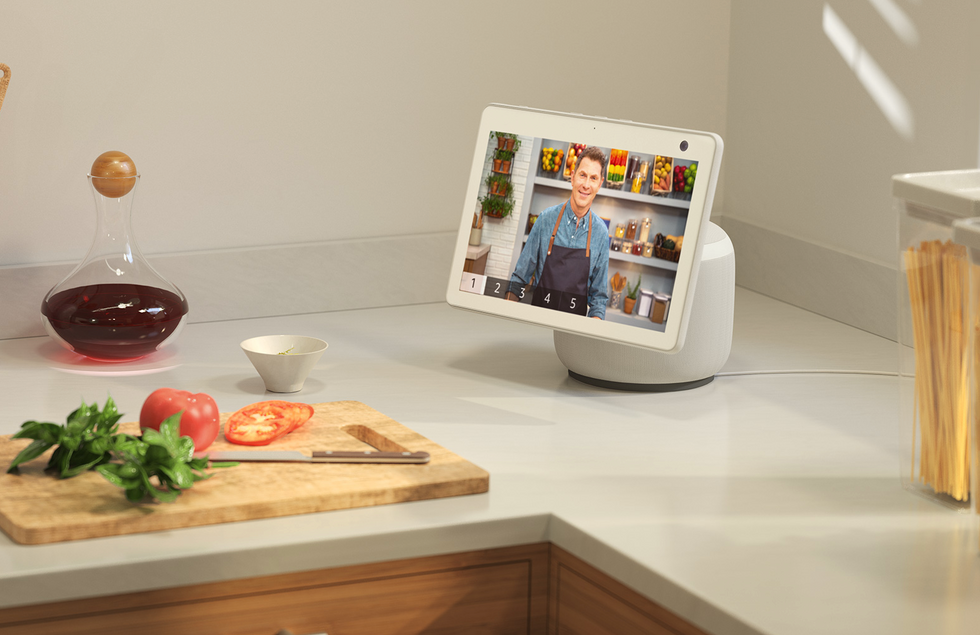 The Echo Show 10 has a rotating display that always faces youAmazon
Alexa and smart home connectivity

As with other members of the Echo family, all models of Echo Show have the same version of Alexa with exactly the same intelligence and features. You can read GearBrain's comprehensive guide on everything Alexa can do here.
Having screens means these devices can show Alexa as well as play its voice aloud, so timers, weather forecasts and other information you ask for is shown on screen as well as said.
This includes controls for your smart home devices, which can be accessed by tapping at the touchscreen or by speaking to Alexa. As for connecting to smart home devices, Alexa is now compatible with thousands of devices from almost every manufacturer, making it easy to add all manner of IoT devices to your Alexa system.
The only difference here between the three models of Show is how the Show 10 has Zigbee, the wireless smart home standard. This means the Show 10 can connect to (and control) some smart home devices directly, instead of them needing their own hub, like the Hue Bridge. This is a nice convenience feature to have, but for most smart home builders it shouldn't be seen as a dealbreaker.
From Your Site Articles
Related Articles Around the Web
Like GearBrain on Facebook