Like GearBrain on Facebook
The smart speaker or display is an obvious place to start when it comes to building your smart home, and if Alexa is your voice assistant of choice, you'll be wanting an Amazon Echo.
The Echo product range began in late-2014 with the first-generation Echo , followed by the Echo Dot in 2016. As of early 2021, the Echo duo are now on their fourth generation with an all-new spherical design and multiple color options.
Read More:
Meanwhile, other Echo speakers include the Echo Dot With Clock, which is – you guessed it – an Echo Dot with an LED clock glowing from behind its fabric front. Then there is the range-topping Echo Studio with its improved audio quality.
Amazon's Echo Show range includes several different sizes of Alexa-powered smart displays, and the voice assistant also appears in the car-friendly Echo Auto.
Here is a quick look at Amazon's Echo device range for 2021:
Amazon Echo (4th Gen) – $100 (often reduced to $80)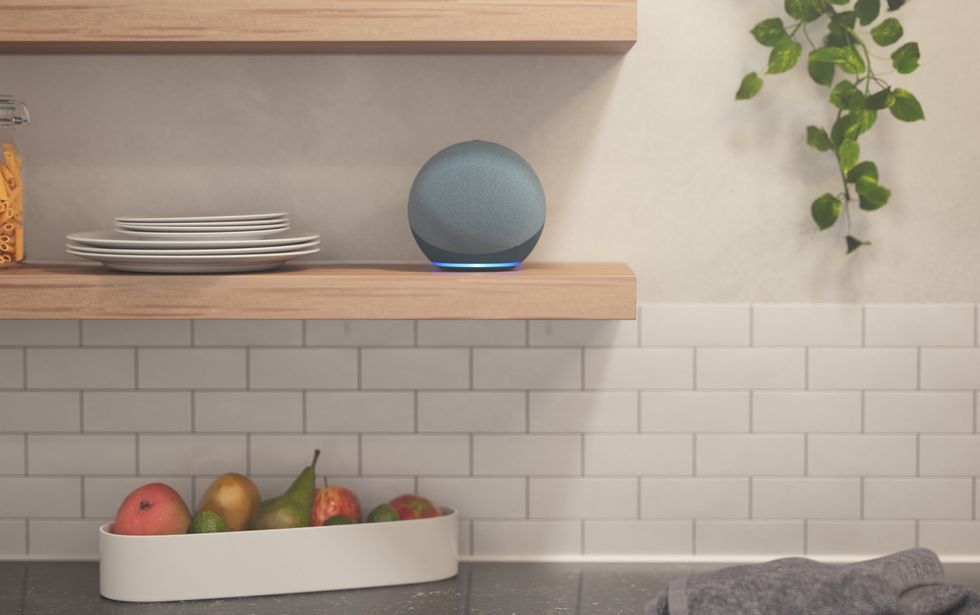 Amazon Echo (4th Gen) smart speaker Amazon
The backbone of the Echo range is, and always has been, the regular Echo. Amazon switched from a cylindrical design to a ball for the fourth generation , and in doing so turned the Echo into a more homely, friendly-looking device.

The latest Echo is available in charcoal, white , red and blue, with all models finished in fabric and with the trademark Alexa blue light ring at their base. The Echo has buttons for volume control, muting the microphone and getting Alexa's attention (for when you don't want to say its name) on the top, and a 3.5mm audio input next to the power socket on the rear.
The device measures 5.7 x 5.7 x 5.2 inches, weighs 34.2 oz and contains a 3-inch woofer and two 0.8-inch tweeters. The regular Echo is well suited to most rooms, providing good sound at a decent volume without distortion.
Read the GearBrain review here
Amazon Echo Dot (4th Gen) – $50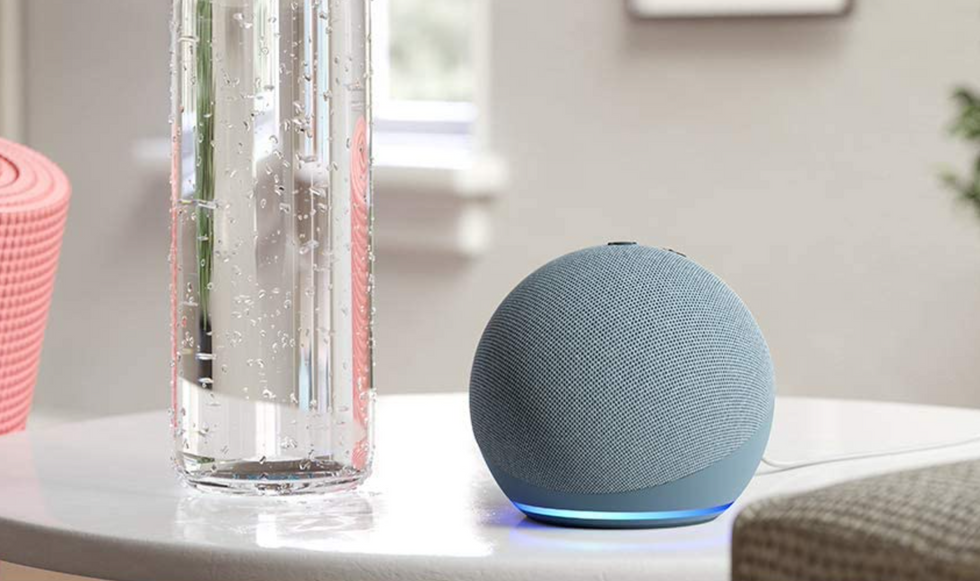 Amazon Echo Dot (4th Gen) Amazon
Like the Robin to the Echo's Batman, the Echo Dot is a smaller but equally intelligent sidekick, with the same Alexa voice assistant and features, but with a compact form and less powerful sound.

The Echo Dot is available in the same charcoal, white and blue colors but misses out on the regular Echo's (Product) Red option. The Dot is much smaller than the regular Echo, at 3.9 x 3.9 x 3.5 inches and 12 oz. Inside, there is a single 1.6-inch speaker, while the buttons on the top are the same as the Echo, along with the power socket and 3.5mm audio jack at the back.
The Echo Dot is best suited to smaller rooms, or placed where it can be heard clearly at low volume. It cannot get as loud as the regular Echo and music sound quality isn't as good. A useful addition to a home that already has one or more Echo speakers.
Read the GearBrain review here
Amazon Echo Dot (4th Gen) with Clock – $60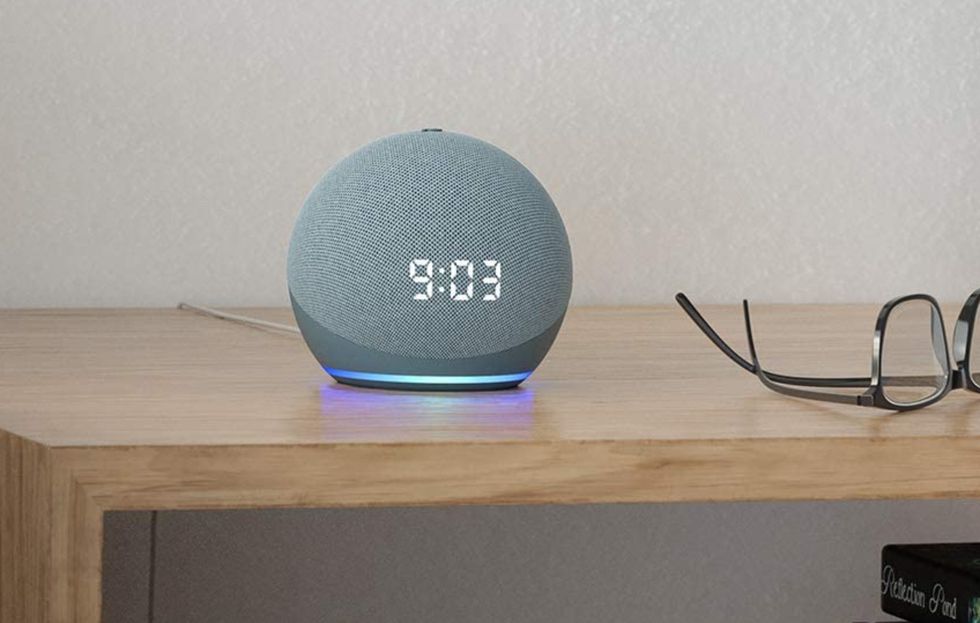 Amazon Echo Dot (4th Gen) with Clock Amazon
This is identical to the regular Dot, but as the name suggests there is an LED-illuminated clock shining through the fabric. Naturally, this is a smart speaker best used on a bedside table. It works just like any other Echo, is physically identical to the Dot, and is available in white and blue.
Amazon Echo Studio – $200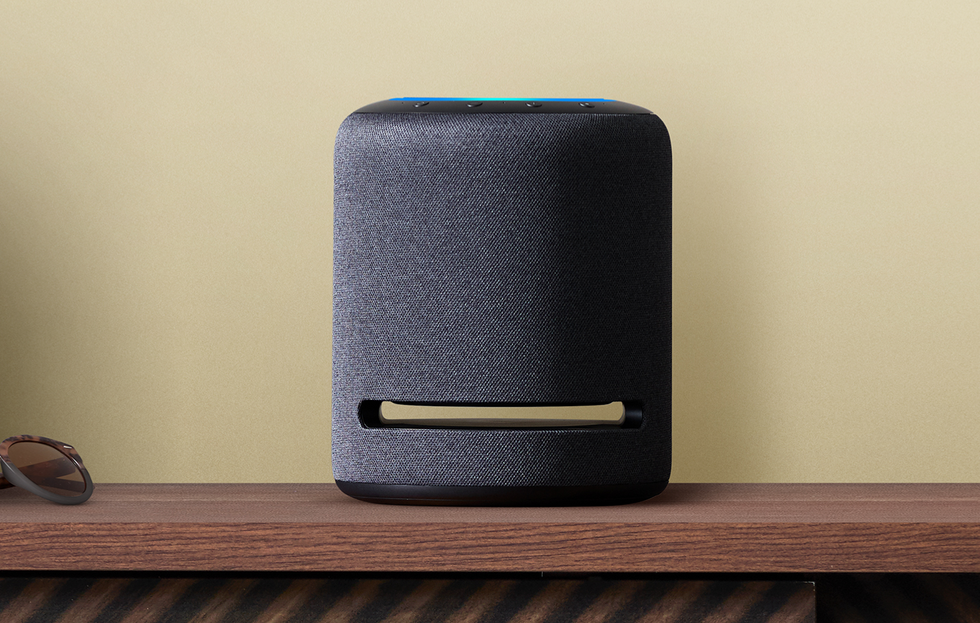 The $200 Echo Studio is the Alexa flagship Amazon
The flagship of the Echo range in 2021, and costing twice that of the regular Echo, the Studio is a far more capable smart speaker. Its intelligence and use of Alexa is the same as ever, but the device is larger and houses a more complex speaker setup.

There is a two-inch, upward-firing midrange speaker at the top, a pair of two-inch midrange speakers below this and firing to the left and right, a one-inch forward-firing tweeter, and a 5.25-inch, downward-firing subwoofer.
The cylindrical Echo Studio is 8.1 inches tall, 6.9 inches wide and weighs 7.7lb. It has the same Alexa control buttons at the top, plus the blue notification light, and a 3.5mm audio jack on the back.
The Studio can be enjoyed in the larger rooms of your home, and can even be connected wirelessly to a Fire TV streaming device to create a Dolby Atmos surround sound system .
Amazon Echo Show 5 – $90 (or $60 when refurbished)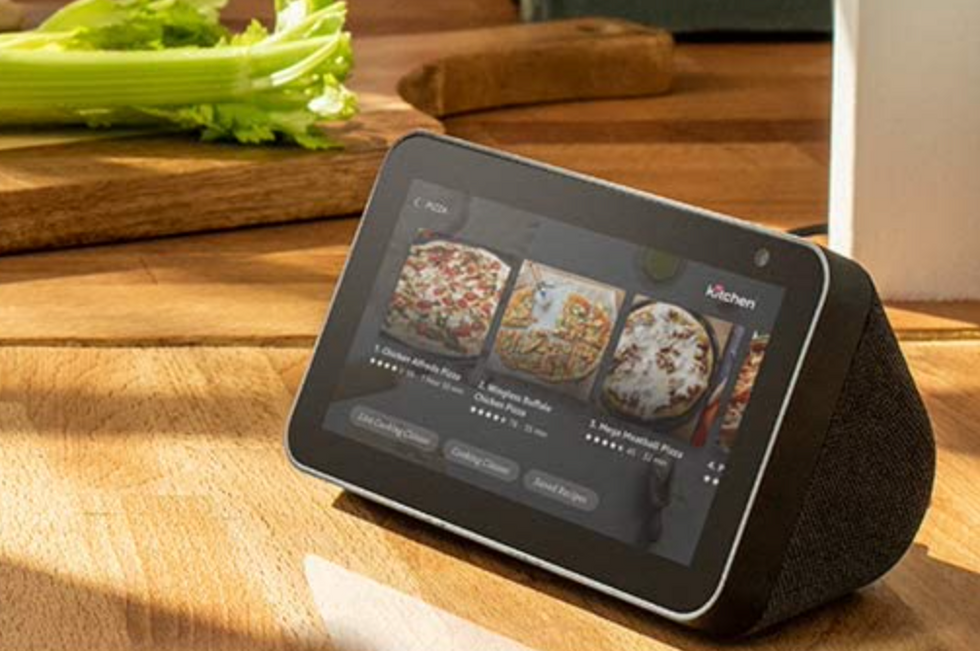 Amazon Echo Show 5 Amazon
Now for Amazon's Echo Show range of smart displays. These work just like the above speakers but include a touchscreen display for showing information relevant to whatever you say to Alexa, along with the time, date, and video either from on-demand services or compatible security cameras and video doorbells.

The Echo Look line begins with the 5. This is available in black and charcoal and has a 5.5-inch display with 960 x 480 resolution and a 1-megapixel camera for making video calls. The Echo Look 5 is 5.8 inches wide, 3.4 inches tall, 2.9 inches deep and weighs 14.5oz. It has control buttons on the top, along with a pair of microphones and a switch for hiding the camera, plus a 3.5mm audio jack on the back. Audio is catered for by a single 1.7-inch speaker.
This Show is best suited to smaller spaces in the home, where at-a-glance information is useful but where you are unlikely to sit and watch video content for long periods.
Amazon Echo Show 8 – $130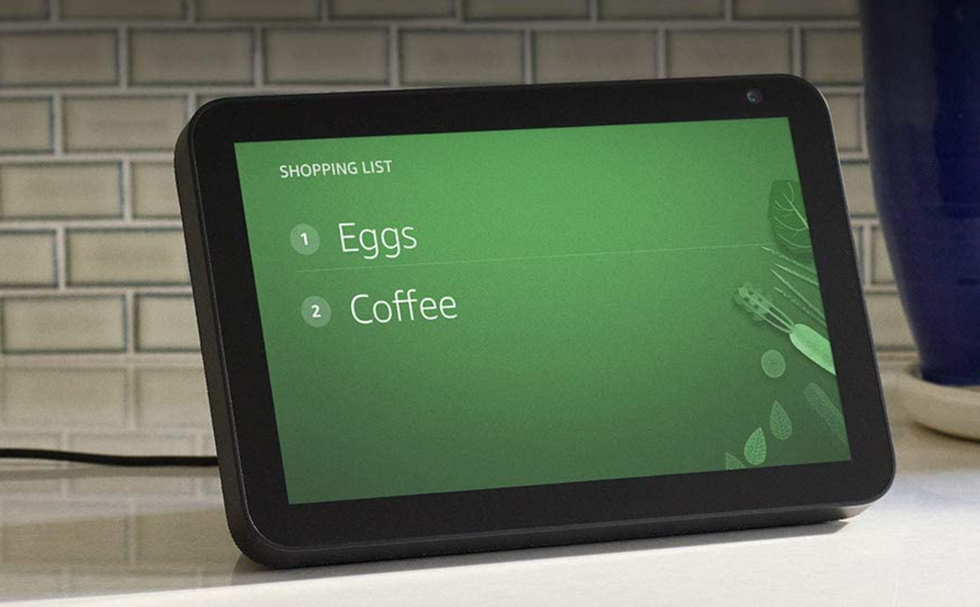 Amazon Echo Show 8 Amazon
Next up is the Echo Show 8 – and you guessed it, it has an 8-inch display, this time with 1280 x 800 HD resolution for a sharper Alexa experience and improved video calls. Video calls on Echo Show devices work with Skype and Zoom, as well as Amazon Chime. Music and video services include Amazon Music, Apple Music, Spotify, Audible, Netflix, Prime Video, Hulu and Food Network. As with the Show 5, there are buttons on the top for controlling Alexa and volume, and a switch for hiding the camera when you don't want to use it.

The Show 8 produces better sound thanks to a pair of 2.0-inch speakers, while the camera is the same 1MP resolution as the Show 5. The Show 8 is 7.9 inches wide, 5.4 inches high, 3.9 inches deep and weighs 36.6oz.
The Show 8 works well on a kitchen counter, where it can play music and display digital recipes.
Amazon Echo Show 10 – $250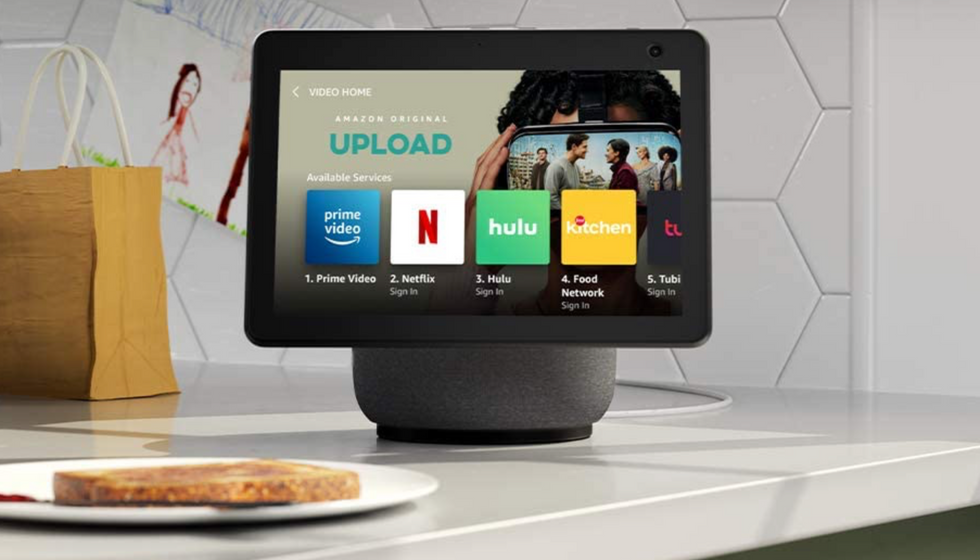 Amazon Echo Show 10 Amazon
Lastly, the Echo Show has a 10.1-inch HD display with a resolution of 1200 x 800. Sound is made using a pair of 1.0-inch tweeters and a 3.0-inch subwoofer, and the webcam is great;y improved over other members of the Echo Show family, thanks to a resolution of 13 megapixels.

The screen of the Show 10 rotates using an electric motor to help frame your video calls, and can also be tilted up and down to get the right angle. There is no 3.5mm audio jack on this model, but it has the same physical controls and camera shutter switch as the other Echo Shows. The Show 10 measures 9.9 x 9.0 x 6.7 inches and weighs 90.3oz.
The Show 10 works best in a larger space, such as the kitchen or lounge, where you want too watch video, listen to music at a fairly loud volume, and hold video calls with friends and family.
Amazon Echo Auto – $50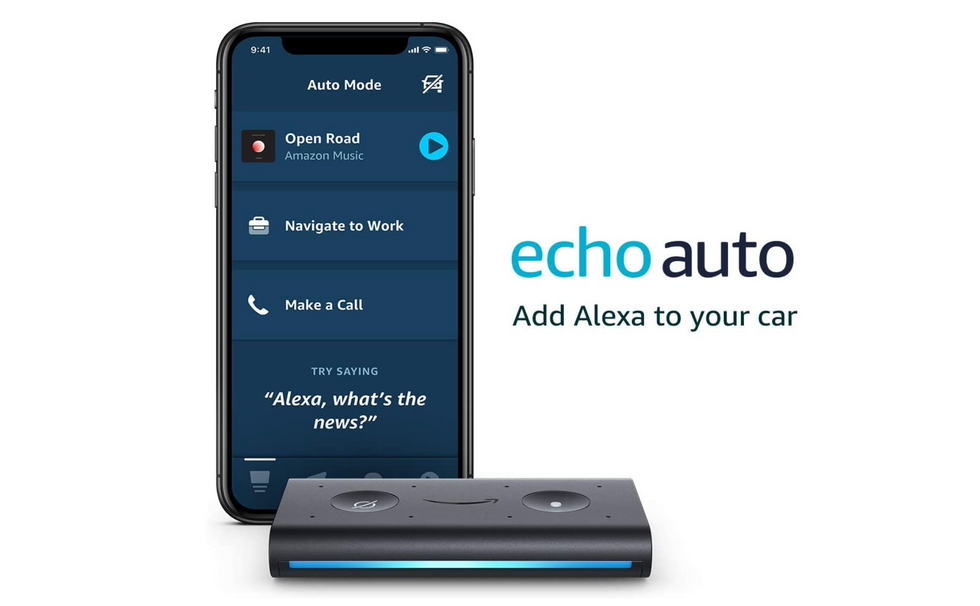 Amazon Echo Auto Amazon
Finally, we have the Echo Auto. This small device is designed to attach to your car dashboard and act as a way to take Alexa on the road. The Echo Auto connects to your smartphone and the Alexa app for an internet connection, then plays its audio output through your car's sound system.

As with other Alexa devices, there is the blue status light, plus a button to mute the microphone and one to summon Alexa without saying her name (although the "Alexa" wake word works too).
Echo Dot (3rd Gen) Charcoal with Echo Auto
Check out The GearBrain, our smart home compatibility checker to see the other compatible products that work with Amazon Alexa enabled devices.
See How Amazon Alexa Can Save You Money on Your Grocery Bill www.youtube.com
Like GearBrain on Facebook