Like GearBrain on Facebook
Ever since the Amazon Echo smart speaker arrived in 2014, it has sported a tall, cylindrical design. The speaker became shorter over time and grew a fabric hide to better blend in with the living room setting where Amazon hoped you'd place it, welcoming its Alexa intelligence into the home.
Now though, things have changed. The new fourth-generation Echo (and smaller Echo Dot) has morphed from cylindrical to spherical. Alexa now resides in a ball-like housing, but still wrapped in interior design-friendly fabric, with a glowing blue light circling its base and just as much intelligence as before.
Read More:
Amazon Echo (4th Gen) review: Design and hardware

I didn't have much objection to the previous Echo design, but the spherical design at least injects a freshness into the look of Amazon's smart speaker. Just as Google gave its Nest Audio a major redesign for the fall of 2020, it's fitting that Amazon would do the same (and Apple is also about to enter the race with its new, equally priced HomePod Mini).
A dense orb, the fourth-generation Echo is heavier than it looks, tipping the scales at 34.2 ounces (970g). Rather than being unwieldy, this gives the Echo a premium heft and no doubt helps to improve sound quality.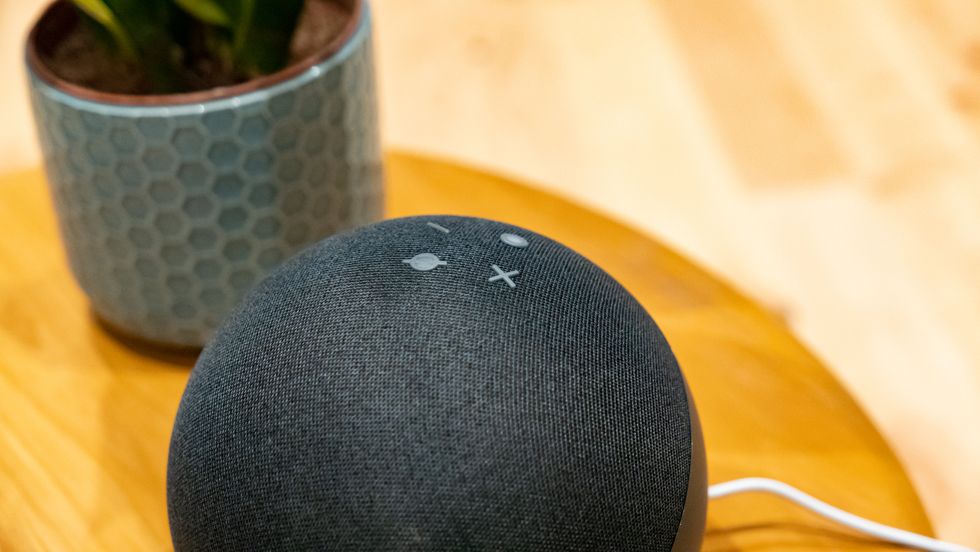 Buttons for volume, microphone mute and summoning AlexaGearBrain
The Echo is available in blue, white and black, with the latter featuring in the photos of this review. The speaker is mostly covered in fabric, save for a plastic section on the back that arcs around and downwards to the front. There are four buttons on the top for adjusting the volume, muting the microphone, and getting Alexa's attention without saying the assistant's name aloud.

I personally think the blue model looks best, but if you want a subtle design that will blend quietly into the background of most rooms, the black option does a perfectly fine job. Although wider than previous Echos, the new model being shorter makes it seem far more compact and less obtrusive wherever you decide to put it. It's a speaker to blend in rather than stand out.
Amazon Echo (4th Gen) review: Set up
Setting up the new Echo is just like any other Amazon smart speaker. If you already have an Alexa smart home it's simply a case of plugging the Echo into a wall outlet, opening the Alexa smartphone app, and following the instructions. The app should automatically spot the new Echo, then help you connect it to your Wi-Fi network, and associate it with your Amazon account.
If you are new to Alexa and this is your first Amazon Echo device, setup is still very simple. Just open the Alexa app, log in using your Amazon credentials, then follow the prompts to set up the Echo.
If you'd like to adjust the audio settings of the Echo, open the Alexa app and tap on Devices, then Echo & Alexa. Now tap on the device whose settings you want to adjust, then tap Audio Settings, and you will be shown a page with sliders for changing the bass, mid range and treble.
I found the Echo (4th Gen) to be slightly bass-heavy in some situations, so was able to easily adjust this in the Alexa app.
A top tip is to always give your Echo devices a logical name and assign it to the correct room of your home. That way, when asking Alexa to play music in a certain room, or use the intercom-style Drop In feature on a specific Echo speaker, it's easy to identify. For example, by saying: "Alexa, play music in the kitchen," or: "Alexa, drop in on the lounge Echo."
Changing the volume is done either by pressing the buttons on top of the Echo, or by asking Alexa. You can request a volume number between one and 10, or say something like "louder" or "quieter."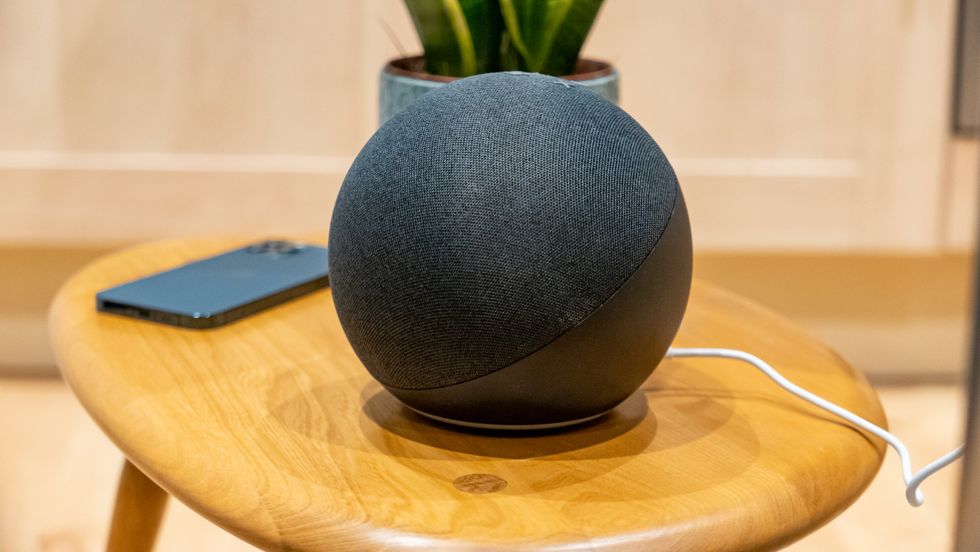 The Echo (4th Gen) is available in black, white and blueAmazon
Amazon Echo (4th Gen) review: Sound quality

Just like Google with the equally new Nest Audio, Amazon has worked hard to improve the sound quality and quantity of the Echo. This fourth-generation speaker is realistically as loud as most rooms can accommodate; it fills the room well, projecting sound broadly and retaining composure even at high volume.
The speaker really does sound good for a $100 (£90) speaker, and in everyday situations I found it was almost as good as my Sonos One. The Sonos has a slightly warmer, more premium sound to its acoustics, and ultimately gets louder than the Echo, but for half the price Amazon should be pleased with what it has achieved.
I found the Echo works best when listened to from a distance. While it can be placed on your desk and used to play music or the radio at low volume, the speaker only really gets into its stride when placed a few feet further away, and the volume is cranked up to 40 percent and over. This makes sense, as Amazon recommends sitting between six and 10 feet away to get the most out of the Echo.
The new Echo is the first from Amazon to feature room tuning audio, where the speaker uses its microphones to constantly monitor the sound output, then make adjustments based on reflections from its surroundings. Put the Echo in a different place (against a wall instead of on a table in open space, for example) and the room tuning technology will notice this, then make adjustments to improve sound quality.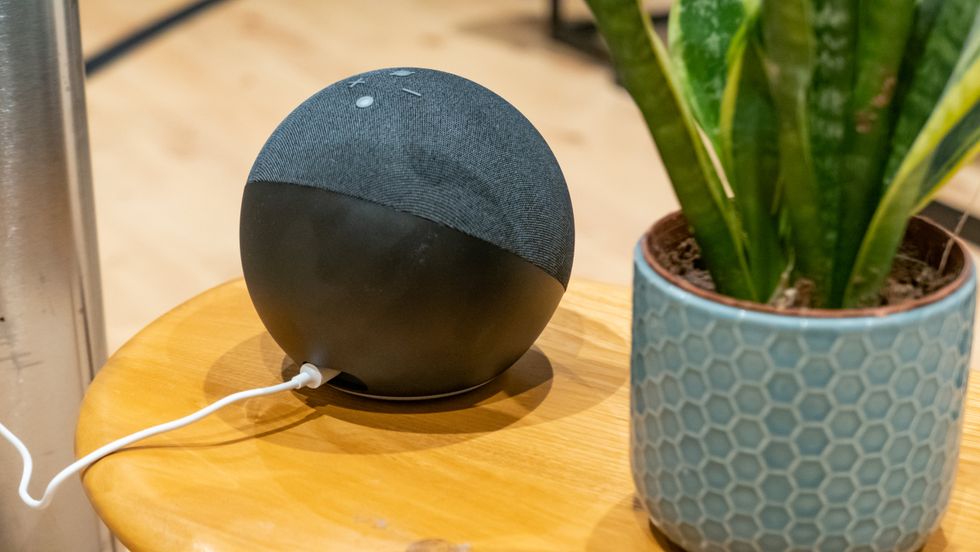 Echo power adaptor connection and 3.5mm auxiliary socketAmazon
I liked how this feature is automatic and doesn't require any setup, as it does with Sonos speakers. However, room-tuning can't be turned on or off on the Echo, so there's no way of knowing exactly how well (or not) it is working.

Dolby Audio is also onboard, but the speaker isn't capable of the 3D sound of Dolby Atmos, which is saved for the more expensive Echo Studio. That said, the soundstage produced by the Echo is wider than you might expect for a speaker of this size and price, with a hint of stereo separation thanks to there being two tweeters.
Creating that sound is a three-inch woofer and a pair of 0.8-inch tweeters. These give the Echo (4th Gen) a wide breadth of abilities, with great performance from all genres of music I tried.
Although Amazon has its own Prime Music streaming service, the Echo also works with Spotify and Apple Music, so you can play tracks from whichever service you subscribe to on your own.
Amazon Echo (4th Gen) review: Alexa and the smart home

As with any Echo product, Alexa is the star of the show. Amazon's artificial intelligence doesn't sound as natural as the Google Assistant, and therefore I feel less willing to have a flowing conversation with it. But it still works very well, reliably hearing my voice clearly even when loud music is playing, and answering quickly.
Alexa is also smart enough to know when you are referring back to something. Ask about today's weather and you'll be told the local forecast; then say "what about [another city]," and Alexa knows you are still asking about the weather. Then say: "Will it rain there?" and Alexa knows you are referring to the second location.
I already think Alexa is quick at understanding and answering, but Amazon promises an improvement later in 2020 when its new AZ1 Neural Edge processor, debuting inside the new Echo, is switched on. I'm looking forward to seeing how that will change Alexa's performance, especially compared to the Google Assistant of the Nest Audio and Siri of Apple's new HomePod Mini.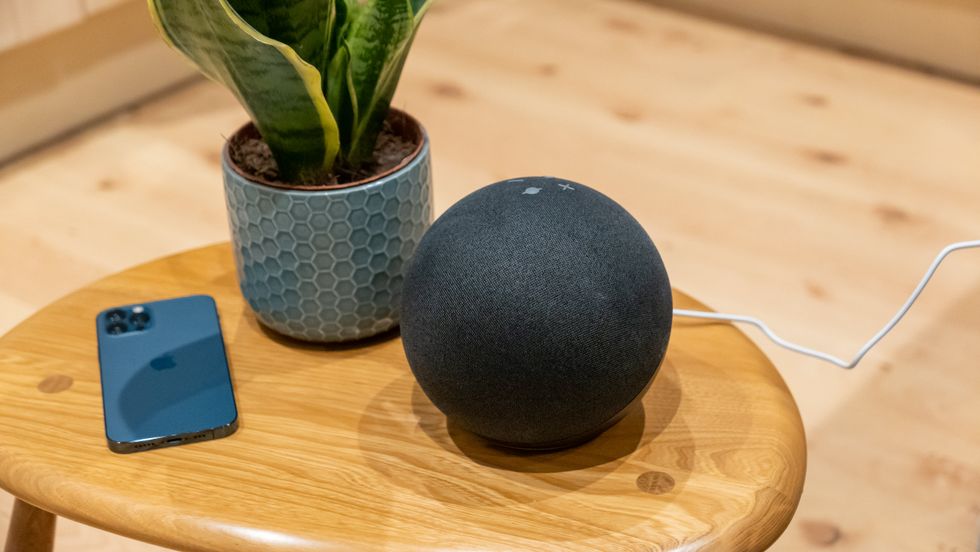 Echo (4th Gen) photographed with an iPhon12 Pro for scaleGearBrain
Alexa's integration with the smart home has been well-documented over the years, not least by GearBrain. The system works with a huge amount of smart home devices, from light bulbs and switches, to plugs, fans, heaters, thermostats, door locks, window blinds, garage door openers, garden irrigation systems and robotic vacuum cleaners. Adding new devices to Alexa is often a case of setting up the device using its own application from the manufacturer, then opening the Alexa app and tapping More, then the + button.

New for the fourth-generation Echo (and previously only offered on the pricier Echo Plus) is support for the Zigbee smart home standard. This means some devices, like lights and sensors, can be connected to Alexa and the Echo without needing another hub plugged into your router.
At GearBrain we have created a regularly-updated guide to everything that Alexa can do, which I recommend you read to learn more about what Amazon's assistant is capable of.
Amazon Echo (4th Gen) review: Price and release date
The new Echo (4th Gen) is priced at $99.99 in the US and £89.99 in the UK and is available now.
Verdict:
Until now, buying an Amazon Echo was the easiest way to invite Alexa into your home, while more expensive speakers from the likes of Sonos offered better sound quality, but missed out on some key Amazon-only features.
But now most consumers won't need to make that decision, because the fourth-generation Echo puts all of Alexa's intelligence into a speaker with the audio abilities to match. The latest Echo can, in most circumstances and to most ears, hold its own against the Sonos One, despite costing around half the price.
I don't expect this to be enough to convince any true audiophiles to pick up an Echo, and nor will it temp Sonos owners into swapping out their system for one run by Amazon and Alexa. But for those who appreciate better sound, yet are on a $100 budget and would rather have a small and attractive speaker sat on a shelf, instead of something larger and more demanding of their attention, the latest Echo is very hard to fault.
I wouldn't normally suggest readers swap out their smart speakers for the latest model, because with previous Echos the differences from one generation to another didn't justify the upgrade expense. But this time it does. Owners of older Echo speakers (Echo Studio aside) will notice the difference — and of course there's no need to throw out the older model, just put it in another room and extend Alexa's convenience further across your home.
Pros:
Great sound quality
Attractive new design
Alexa system is easy to use
Cons:
New processor isn't active yet
Sound lacks warmth
Alexa doesn't feel as natural as Google
Check out The GearBrain, our smart home compatibility checker to see the other compatible products that work with Google Assistant and Amazon Alexa enabled devices.
All-new Echo (4th Gen) - Glacier White - bundle with TP-Link Smart Plug (Certified for Humans product)
Like GearBrain on Facebook