Amazon can start using radar waves in a consumer sleeping device to pick up motion, and also track people's sleep behavior, according to a story in Bloomberg. The Federal Communications Commission gave the company the green light for a device that would support touchless or gesture control while also "used for sleeping tracking," wrote Amazon in a filing.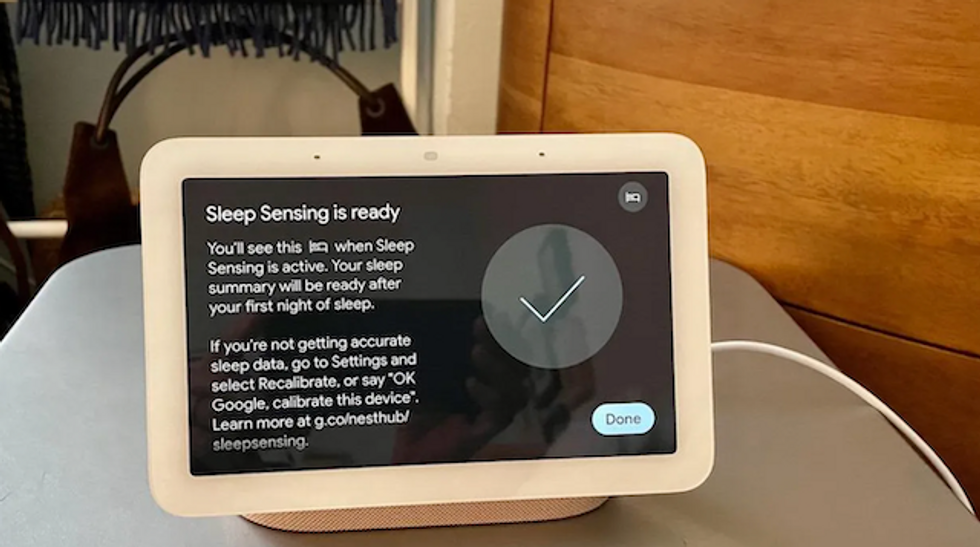 Google uses radar in its Nest Hub to track motion, gestures and people's sleepLauren Barack/GearBrain
The device is said to be designed to sit on a bedside table, and not used as a wearable or under a mattress, to collect data about people's sleeping habits. It would be able to sense breathing and also concerns like sleep apnea.
The feature sounds exactly like Google's Nest Hub, a newer smart display that recently launched, which uses Google's Soli sensors, which use low-energy radar technology to support hand-gestures for controlling the display without touching it, and also picks up movement, breathing and even coughing and snoring. The sleeping feature, called Sleep Sensing, is specific to the Nest Hub and is currently opt-in only — meaning people can use the display and choose not to turn on that ability. (They can also turn it off, and opt out.)
Google uses the Soli sensors in other devices as well, including the Google Pixel 4, which enable gesture control on the smartphone too.
Amazon in its filing did not elaborate on what specific product would be embedded with radio waves — only that it wanted permission to use this kind of technology for "non-mobile devices." The company also wrote that it believes that in using the technology, it could provide "…significant benefits to consumers with mobility, speech, or tactile impairments."
The filing was made on June 22, 2021, and the FCC, which controls air waves, gave permission on July 9, 2021.
All-new Echo Show 5 (2nd Gen, 2021 release) | Smart display with Alexa and 2 MP camera | Deep Sea Blue