Amazon is reportedly working on an Alexa-powered sleep-tracking device fitted with millimeter-wave radar technology.
The introduction of such a device would see Amazon expand its interest in health technology. In 2020 the company announced a fitness band called the Halo, which works like a Fitbit but also attempts to monitor a person's emotions by analyzing their speech patterns at random intervals during the day.
Read More:
According to Business Insider, the as-yet unannounced sleep tracker will be an Alexa device designed to sit on a bedside table, instead of being worn or fitted beneath the mattress like other sleep trackers.
The device will reportedly use millimeter-wave radar technology to sense breathing and look out for sleep interruptions associated with sleep apnea, a sleeping disorder.
Wearables like the Apple Watch are also designed to spot signs of sleep apnea, but the advantage for Amazon would be how its device doesn't need to be worn at night, and likely doesn't rely on a battery. In this sense, it could perform in a similar way to the Withings Sleep Analyzer, which plugs into a USB port and sits beneath the mattress to monitor sleep activity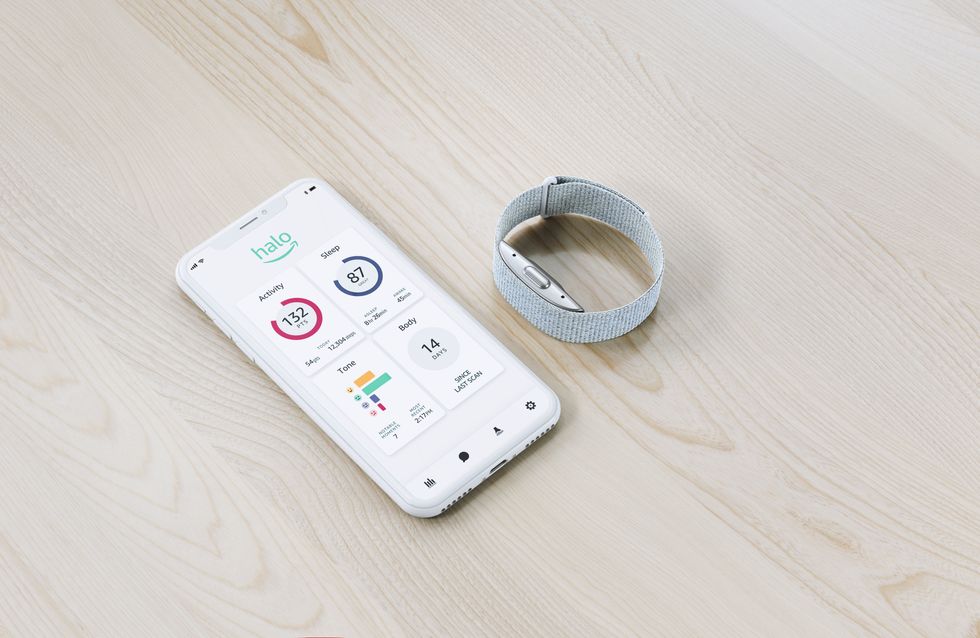 The Amazon Halo health wearable launched in 2020 Amazon
The Alexa device is reportedly codenamed Brahms, after the German composer of Lullaby, and has been worked on for at least the past year. It is said to resemble a "standing hexagonal pad connected to a metal wire base," the report claims.

It makes sense for Amazon to show interest in the sleep technology industry. Sleep hygiene has been in the spotlight for a couple of years now, with books like Why We Sleep by Matthew Walker emphasizing the importance of sleep, and how a lack of sleep can cause wide-ranging health problems.
Although Alexa is best known as a voice assistant used to play music and control smart home devices, last year's Halo wearable demonstrated how Amazon is interested in expanding into the health and fitness market. We feel a sleep tracker is an obvious route to take, so long as obvious privacy concerns are accounted for.
We see a future where Alexa could adjust your morning wake-up routine based on how you slept the night before, and then encourage you to wind down earlier the next evening if you slept badly the night before.
Amazon isn't alone in its use of radar to monitor health. OnePlus, the Chinese smartphone maker, announced a prototype handset in December 2020 that uses radar to track breathing activity.