Nest Hub has been Google's display since it launched in 2018, of course then it was called the Google Home Hub, a robust device that can serve up your daily routine, act as alarm clock, connect you to your family and even make dinner plans for the night.
Now Google, following its purchase of Fitbit in 2019, has launched a new Nest Hub (2nd gen) and stitched in a feature called Sleep Sensing — which borrows from some of the sleep analysis that device could support.
The new Nest Hub (2nd gen) which uses radar to track how you slumber along with three sensors, a light sensor, temperature sensor and the Soli sensor, which is actually low power radar, for picking up motion and even breathing. Together these detect when you actually fall asleep, when you leave the bed, and through sensors when you snore, cough, and even your respiratory rate.
We spent some weeks with the Nest Hub and here's how it worked — including the new feature.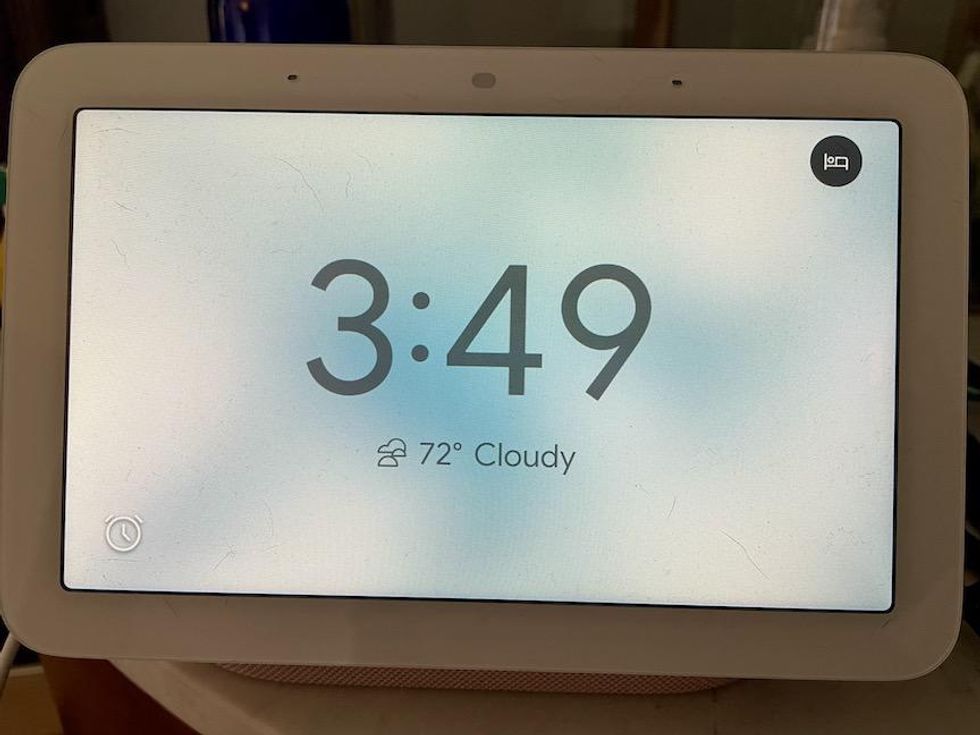 This is Google's second edition of the Nest Hub, a display that taps Google Assistant as a voice assistantLauren Barack/GearBrain
Setting it up

Like most Nest device, the Nest Hub was simple to launch. For anyone with other Google Home device, this involves plugging the display into the wall, and linking it to both Wi-Fi and the Google Home app.
If this is the first Google or Nest device you've ever owned, you'll need to set up a Google Home account and also launch some key tools like Voice Match to optimally be able to take advantage of the full features on the Nest Hub.
One of the new features is Sleep Sensing, which does require a specific set-up we want to mention early on in the review.
The Hub needs to be within a certain range of your bed — and at a height equal to your mattress. This enables the sensors to correctly pick up your motion, breathing and even sounds like snoring. A wrinkle though is that not everyone has a bedside table that is the height Google ideally wants — and in my case, I had to create a temporary ledge by opening a drawer in my side dresser. We think that's not going to work for everyone.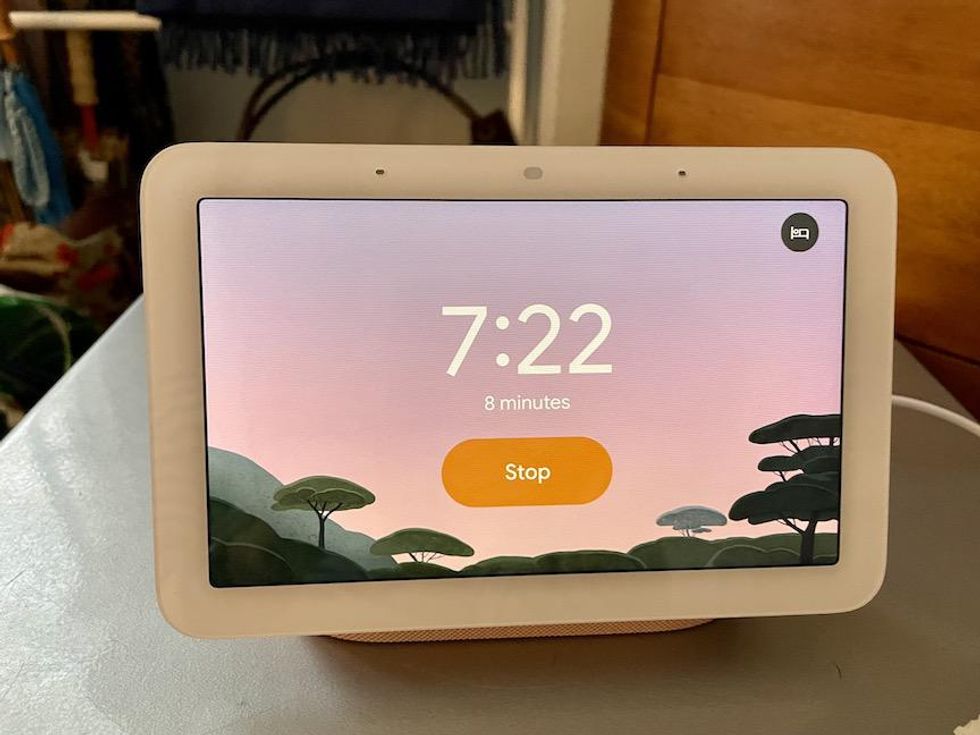 The new Next Hub (2nd gen) needs to be placed at the same height as your mattress to use the Sleep Sensing featureLauren Barack/GearBrain
Design

The design is tidy, a small display that sits on a pedestal. It's rectangular, meant to be used horizontally. Crucial to note — the Nest Hub (2nd gen) does not have a camera, and this is by design as you're granting it permission to watch you while you sleep.
And on the back is a volume button as well as a microphone switch that turns it on and off preventing Google from hearing you. You'll also see a red light at the top when that's off as well.
You'll swipe left and right to pick up specific features including home controls, and Google tools like Broadcast. But primarily you're going to engage with the display by talking with Google Assistant.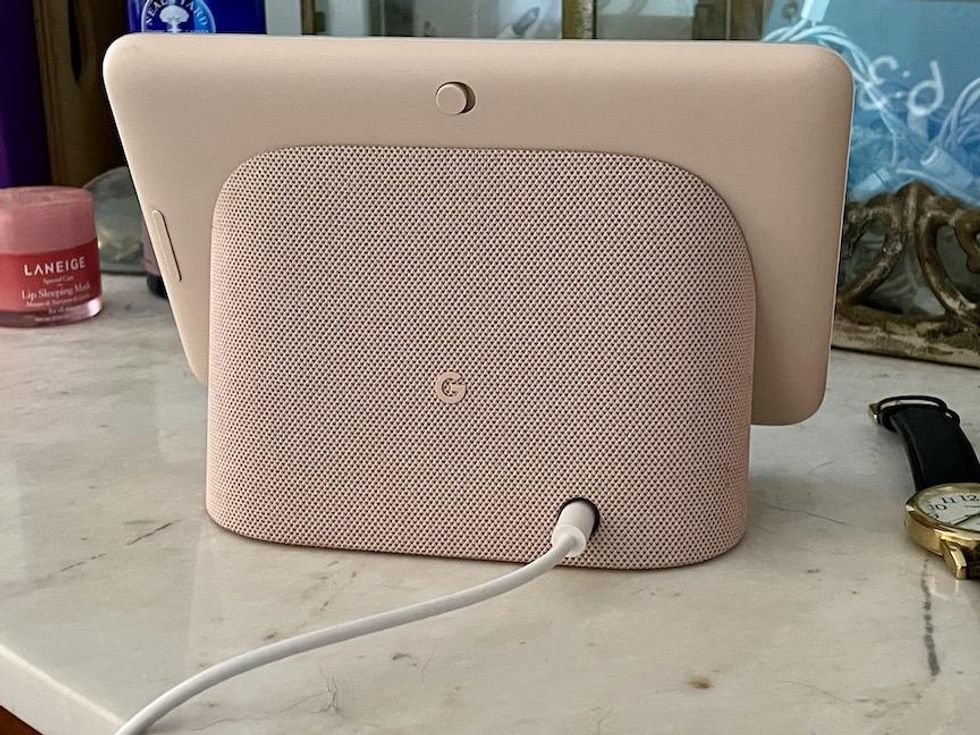 A switch on the back will turn off the microphones for privacy, and will also stop Sleep Sensing from hearing coughing and snoringLauren Barack/GearBrain
How it worked

Before we get in to Sleep Sensing, the display itself was great. I found it easy to navigate and the size is perfect for small spaces, a nice-sized screen but one that doesn't compete heavily with other things you need to have around you.
With Soli inside, the sensor, you can use hand gestures to operate some of the Nest Hub (2nd gen) including playing or pausing a video, or even turn off an alarm.
Sound also gets a boost here with 50 percent more bass, and I didn't feel wowed by the sound (it's not like Nest Audio) but I found it absolutely fine, and certainly my night sounds were clear, crisp and comforting. You can also use the display to play content from YouTube, Netflix, Hulu, Disney+ and others — and show images from Google Photos as well.
Much of what I've found great about the previous Nest Hub is still great here including Sunrise alarm, being able to run smart home devices. I also love the ability at night to play some ambient sounds to calm me down — like crickets. (Which, no, do not sound like cicadas.)
Notably there isn't a camera with the Nest Hub (2nd gen) and this may be because of the Sleep Sensing feature inside. Having a device that can keep watch over you while you sleep — and potentially really see you — may have been something Google felt was too much in one product. Without the camera, though, you're not going to be able to use the Nest Hub (2nd gen) for video calls with family as you can with the Nest Hub Max, for example.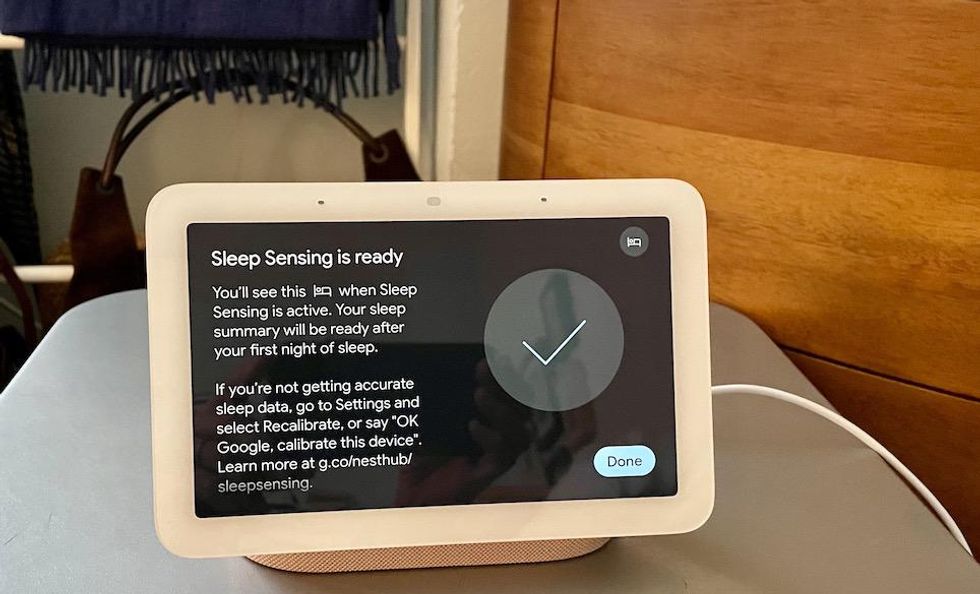 Setting up Sleep Sensing in the Nest Hub (2nd gen) is simple, although you will want to link this to the Google Fit app to get the most detailed metrics possible.Lauren Barack/GearBrain
Sleep Sensing

In terms of sleep details, the Nest Hub (2nd gen) Sleep Sending was fine but not really that illuminating. I was happy to get information about the length of my sleep, details about my respiratory rate and even if and when I coughed. I did not feel I was given information that truly affected my sleep or sleeping patterns. One night actually that I knew I was having trouble staying asleep, the display told me I'd had a good night's sleep. I really hadn't.
You can pull up most of the information in your Google Fit app, and if you don't have one, you'll download this and link it to the Nest Hub. You can also get some of these details just by asking Google Assistant — but I had a wrinkle here.
About two days in, the Hub (2nd Gen) began telling me it could not recognize my voice, and that setting up Voice Match would bring me better results. The problem? I had Voice Match working across my Google products. I re-trained Voice Match and continued to get the error. This happened quite a few times.
I unlinked the device from my account, and needed to re-link it again. But in doing so, I then We had to then start from scratch. All sleep data was removed from the device. And I had to re-train Voice Match again.
Oddly, this is the first Google device that repeatedly had issues recognizing my voice. This would happen every few days with this Nest Hub (2nd Gen) — which I have not seen in other devices including the Nest Hub Max. I would find, by modulating my voice, the device would finally start to ID me, but it was not a one-off.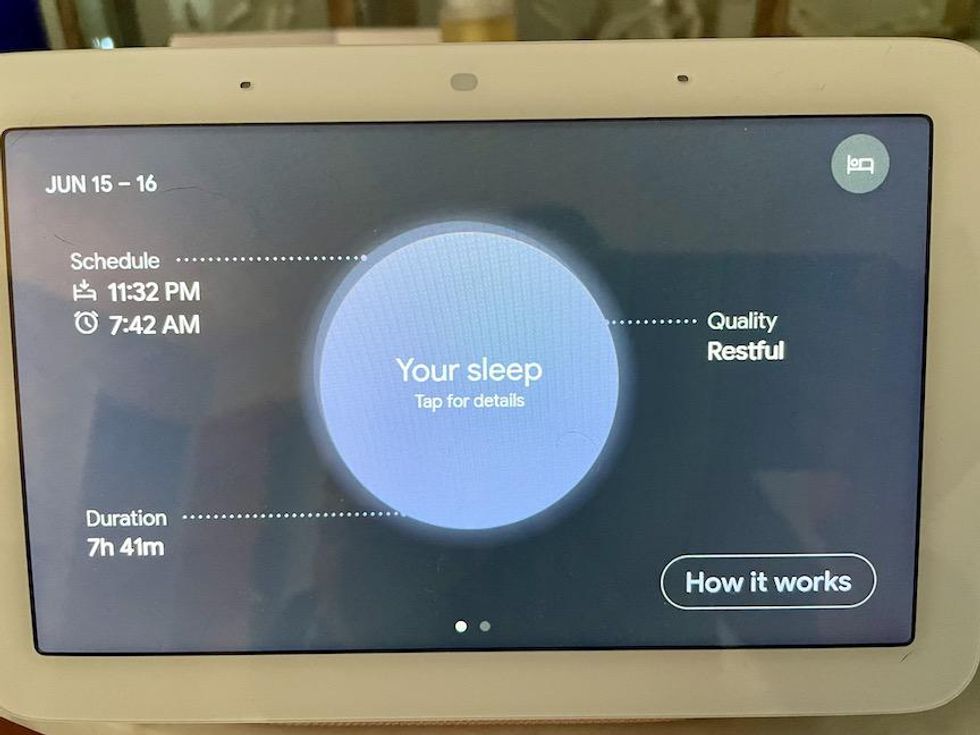 Details given through Sleep Sensing are picked up through three sensors, including the Soli, or motion, sensor, a temperature and a light sensor.Lauren Barack/GearBrain
Placement of this device is an issue to activate Sleep Sensing. You can't have it too high nor too low, and in fact Google does helpfully show you in images of what it means — indicating that optimally you have a side table that is level with your bed. In my situation, I have a platform bed, which is low, and a side dresser with a surface that is higher than my head. I needed to move the Hub every night to sit perched on a half-pulled out drawer to find the right height.

This is not going to be workable for everyone, and isn't something I'd want to have to do going forward. It's an issue. While it's understandable that the Nest Hub (2nd hub) used to read your movements in bed need to be projecting correctly over your body, it feels these constraints will impair some people from using this feature. And it's certainly worth being aware of this before you buy the Hub if you're picking it up for this sleep feature.
I did notice throughout the review that Sleep Sensing would pick up whenever I sat on my bed, even during the day to read for example, and when it was sitting above on the top of my dresser. But in those spots it didn't actually operate through the night - I didn't get a report on my sleep quality.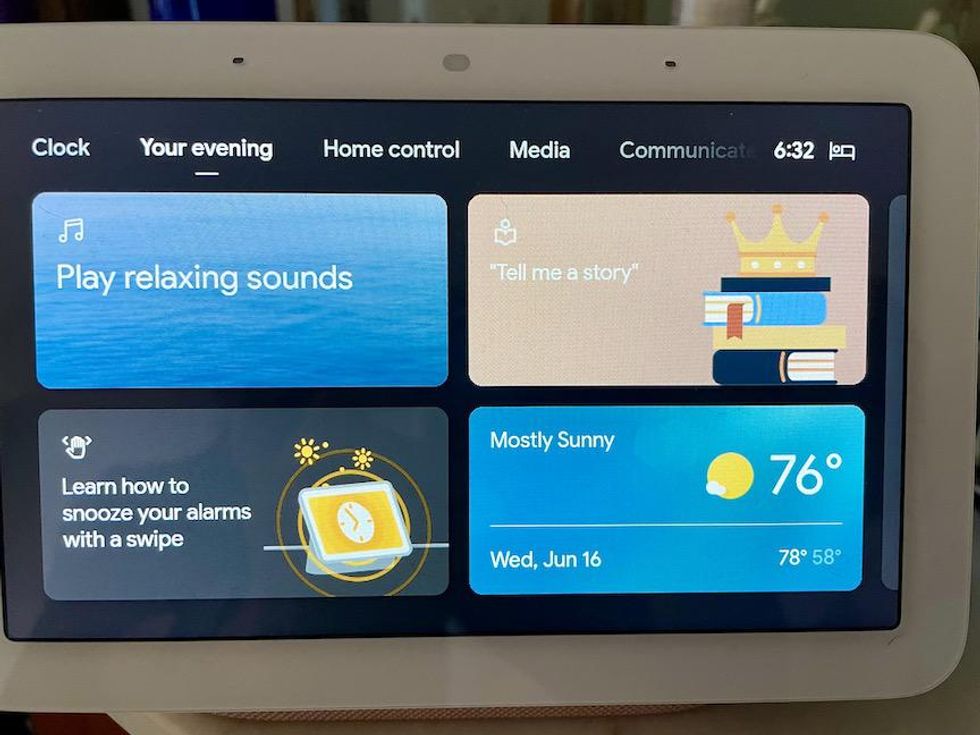 The Nest Hub (2nd Gen) includes a lot of favorite Google features including Sunrise Alarm, along with some gesture controlsLauren Barack/GearBrain
Price

You can buy the Nest Hub (2nd gen) for $99.99 and in four colors: chalk, charcoal, sand and mist. We have seen it marked down already during certain deals for $79.99
Worth picking up?
The Nest Hub (2nd Gen) is a solid, well designed display. It's nice to have on a bedside table and Google Assistant remains a robust voice assistant, one that when linked to your other Google accounts from email to calendars, and also Google Home, turns this display in to a very efficient personal and home manager.
To pick this up for Sleep Sensing alone? That's not something I think is warranted. I think it's nice to have these metrics from a curiosity standpoint. But they didn't feel that impactful to me, and I also found the placement of the device - where it needs to sit to work correctly for sleep data - slightly constraining. It's also important to note that while Sleep Sensing is included free right now with the Nest Hub (2nd Gen) it will not be next year. Google has said a paid subscription will be required after that.
As smart display and one that hooks into Google's ecosystem, the Nest Hub (2nd Gen) is a solid display, steeped in features and in a design that's very easy to fold in to most homes. But to pick it up for the Sleep Sensing feature alone? Especially one you'll have to pay for next year? Give that some thought.
Pros:
Soli sensor allows you to control some features with gestures
Sleep Sensing tracks details about how you slumber
Solid, small design and footprint
Cons:
Had some trouble with this device and Voice Match
Sleep Sensing is only free for the remainder of the year, and will be a charge starting next year
To use Sleep Sensing with this device, it needs to be at a specific height from your head.
How to Find Products in The GearBrain, Our Compatibility Find Engine for Smart Devices www.youtube.com