A new drone from Parrot, the Anafi FPV, with a 180-degree camera and 4K HDR video that can send live feeds to an included set of glasses. The drone is a quadcopter, with four rotors, and can travel up to 34 mph, and has a wind resistance of 31 mph. The camera itself has a 3X zoom and also 3-axis of stabilization.
Read More:
First person view (FPV) is easy to switch to through what Parrot calls the Cockpit glasses, which can flip between FPV and something called See-Through View, which will show you where the drone is flying. The glasses work with a smartphone, which is snapped into the spectacles, and then paired to the FreeFlight 6.6 app.
While pilots can fly in FPV, they'll also be able to see, and operate, camera controls so they can shoot photographs as they fly. Camera settings can be adjusted including shutter speed, ISO, white balance and exposure, as well as other custom options.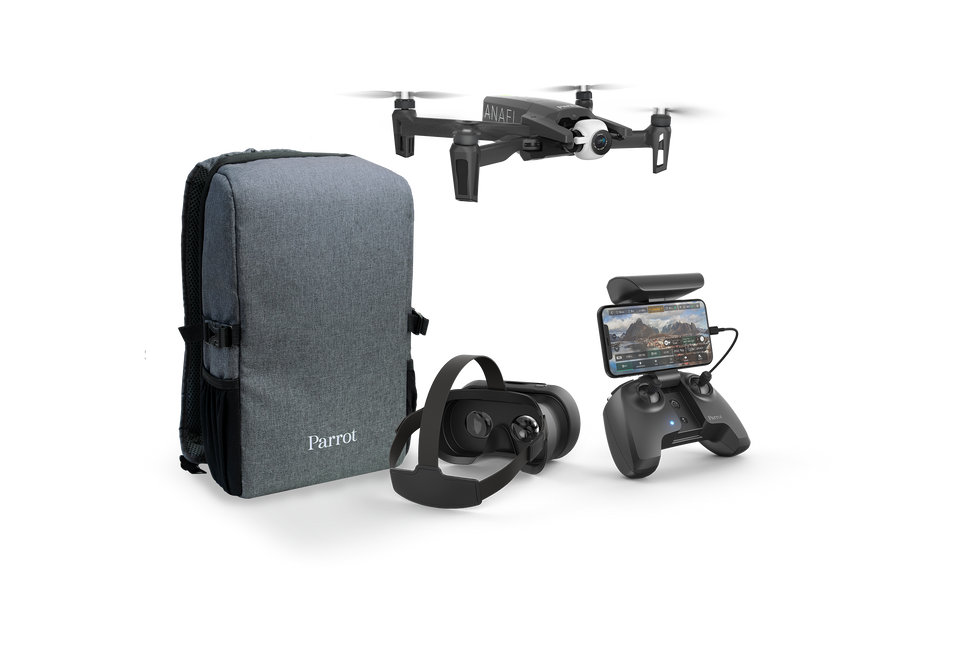 The Anafi FPV drone comes with a backpack which can be used as a launch pad for the quadcopterParrot
In terms of flying, there are two presets build into FreeFlight 6.6. The first is Cinematic preset, which locks the horizontal axis of the camera to the drone's tilt, creating video that's banks smoothly. The second is a racing preset, which brings more speed to the drone — and creates faster movement, and speedier shots.

Pilots will also be able to a new flight mode called Arcade Mode, which controls the drone through a joystick, by pointing the camera in the direction they want the quadcopter to fly. There's also an autonomous flight mode, plus geofencing and return to home mode — all which make it safer and easier to fly the drone for beginning pilots.
A backpack comes with each drone, which can double as a launch pad, and also a carrying case for the quadcopter — and with a power bank, can charge up the drone for those who are traveling across different locations. The drone itself should be able to get 26 minutes of flight time per charge.
Each drone comes with a battery, controller, the Cockpit glasses, memory card, a USB-C cable for charging and an extra set of propellers. The Anafi FPV goes on pre-sale and appears in stores starting in early September 2019.