Like GearBrain on Facebook
Parrot's latest drone, Anafi Thermal, is a work horse designed for those who need to capture heat and temperature signatures in the field. That ability comes from a Flir thermal sensor which can now pick up heat images, viewed live or captured through both still photos and video.
With Anafi's 4K HDR camera now joined by a second thermal camera on the gimbal, clean and stabilized imagery can be analyzed with extreme detail, including looking at zones specific to certain temperatures grades. Users can still view what the 4K camera sees, but a layer of thermal imagery can be added, merging both.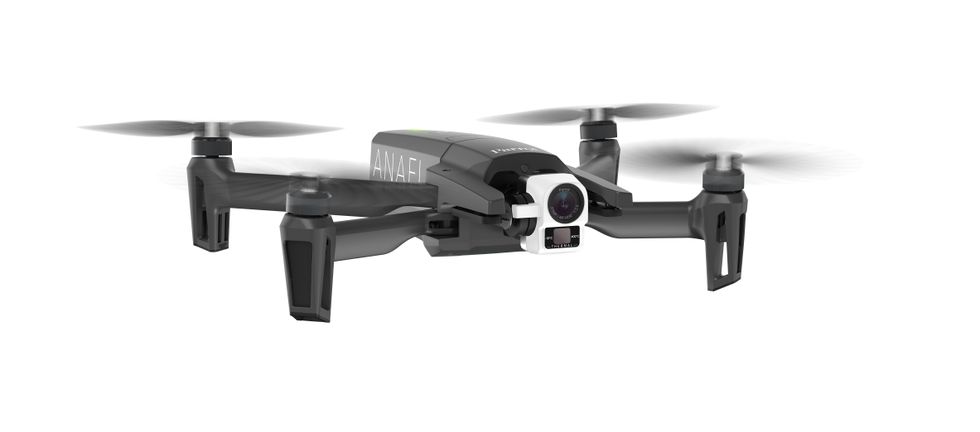 Parrot's new Anafi Thermal is designed for professional, with a thermal Flir sensor added to its gimbalParrot
Read More:
Weighing just 315 grams, the new Anafi Thermal has 26 minutes of flight time per battery, and can be sent up in the air in just 10 seconds. Parrot, founded in 1994, stocked the drone with two extra batteries, which have USB C ports allowing them to be recharged in a car. That also means you use the battery as a charger for a smartphone, for example.
YouTube www.youtube.com
Flight features

The Anafi Thermal is definitely aimed at the pro market, and although the drone can certainly be used by consumers, Parrot put the drone to test with different groups to beta the device. One group took the Anafi Thermal out to a volcano, checking the heat readings under lava flows. Another worked with conservation groups in South Africa to look for poachers.
Multiple features with drone give more flexibility to pilots on how they want to deploy the device including one called "away point," which sets a point on a map, which the drone stays focused on as it flies. However, some features will not work when the drone is in thermal mode, including image tracking and follow me mode — just something to note.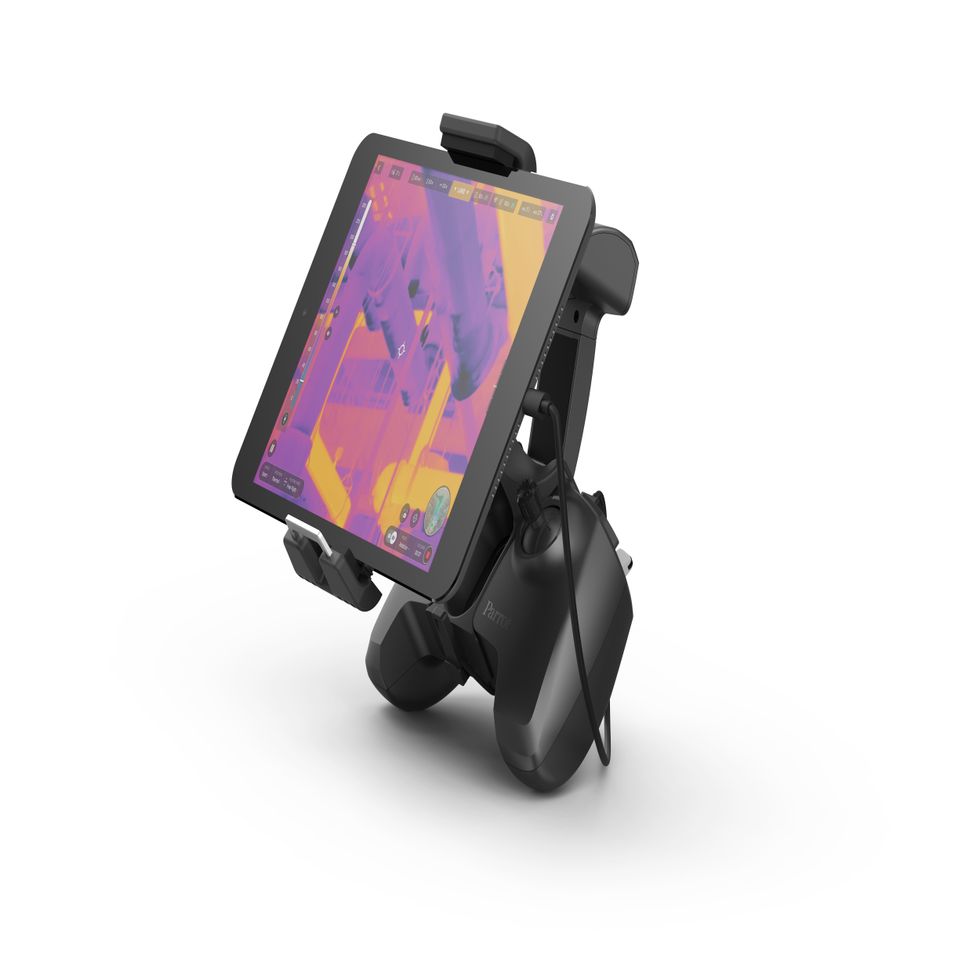 Through the screen, the Anafi Thermal drone can capture temperature ranges, and also let pilots grab spot temperatures by just tappingParrot
Camera + sensor details

The gimbal is stabilized on three axes — it can tilt up and down 90º, and the 4K camera has a 21MP Sony sensor built inside. The Flir camera delivers a 160x120 resolution, and can read temperature swings between 14ºF and 752ºF. And because the Flir sensor is built into the drone, pilots will also be able to use Flir's set of software tools.
The FreeFlight 6 app lets pilots view video after a flight, and can also show specific areas of heat loss, for example, which can be captured instantly to help pilots locate subjects. Pilots can freeze-frame so they can analyze a specific item they're viewing in real-time, and they can also pull up an estimated temperature of something by just tapping on their screen.
There are three different thermal settings that can be viewed on the screen: spot brings up the hottest and coldest areas, absolute can set up a temperature range to view, and relative shows the full extent of temperature ranges.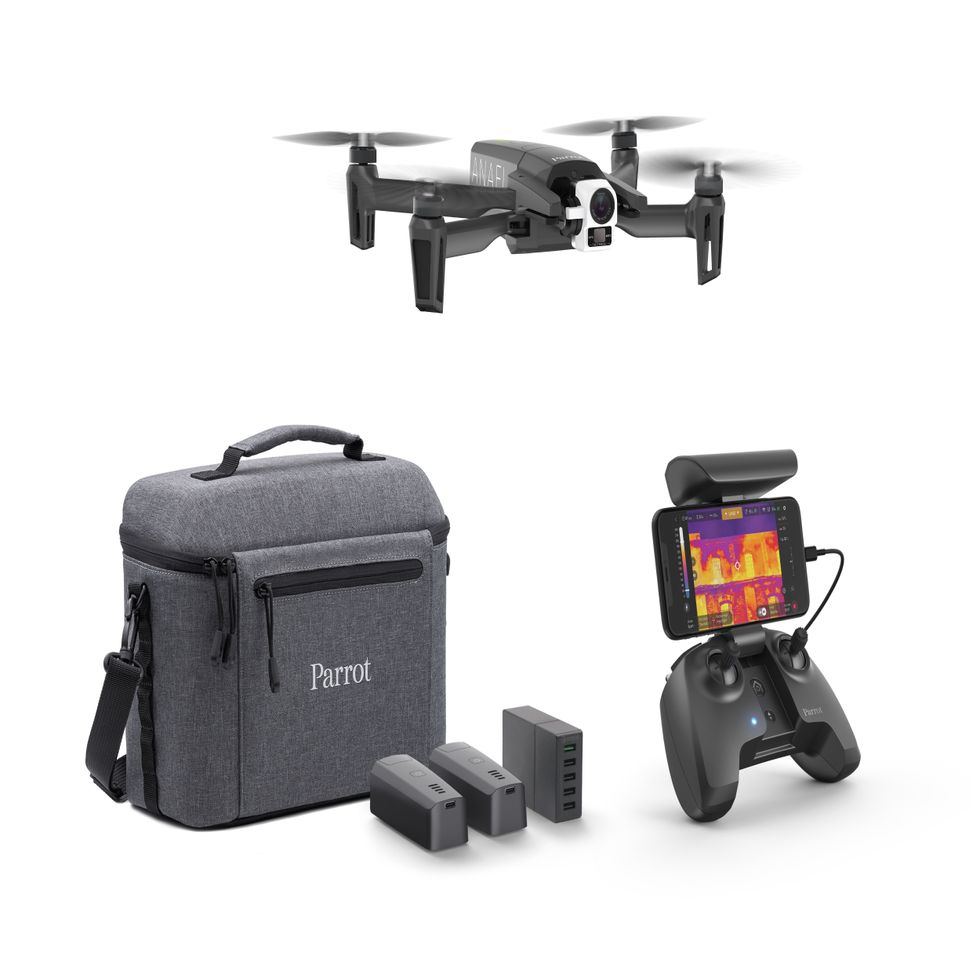 The Parrot Anafi Thermal drone comes with a carrying pack, controller and three batteries Parrott
The Amafi Thermal comes with a 16GB microSD card, and the drone works with an iOS and Android smartphone and tablet. The Parrot Skycontroller 3 remote control works via Wi-Fi and at a distance of up to 2 kilometers.

Buyers can pick up the Anafi Thermal in May at B&H, Adorama, Drone Nerds and also on Parrot's web site, for $1900.
Like GearBrain on Facebook