Like GearBrain on Facebook
It is easy to be wowed by the all-singing, all-dancing DJI drone range, with their high speeds, autonomous flight modes and high-quality cameras. But they are also complex, powerful and expensive - all important factors when one wrong move could see your new pride and joy crashing into a wall or plummeting to the ground.
If you are new to drone flying, then it is advisable to start out with a cheaper, simpler and less powerful quadcopter. That way, you can learn the ropes, become familiar with the rules of the open sky, and gain some experience before splashing the cash on something more capable.
Read More:
This is the GearBrain guide to drones best suited for beginners
Parrot Mambo - $120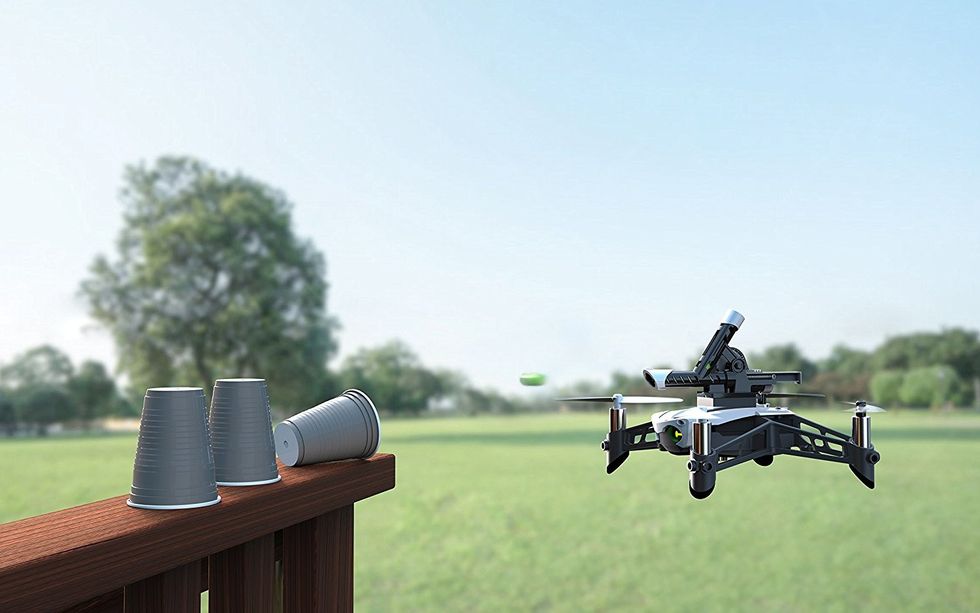 Parrot
Parrot has been a major player in the drone market for several years now, and the Mambo is arguably one of the most fun quadcopters on sale today. This mini drone can be flown indoors or outside - although wind can be an issue with it weighing just 2.24 oz - and performs acrobatic tricks and flips.
The Mambo comes with a detachable cannon which can be loaded with up to six lightweight pellets, ready to shoot at objects like a pyramid of paper cups. Alternatively, the Mambo can be fitted with a grabber which holds anything weighing up to 4g - such as a small paper flag, or a sign. Less useful than the cannon, perhaps, but you could surprise someone in the next room by flying a handwritten note towards them.
All of the Mambo's flight controls are in the companion smartphone app, so there's no dedicated controller to get to grips with; just pair the drone with your phone and fly with the on-screen joysticks, or by tilting your phone in the direction you want to fly. Rotor guards ensure they won't damage anything (or themselves).

However, being so tiny comes with its drawback - flight time is around six to 10 minutes. Also, while the drone has a camera which you can use while flying, it faces straight down to the ground, has a resolution of just 0.3 megapixels, and is primarily used to help it land.
OKPOW 2MP Selfie Drone - $75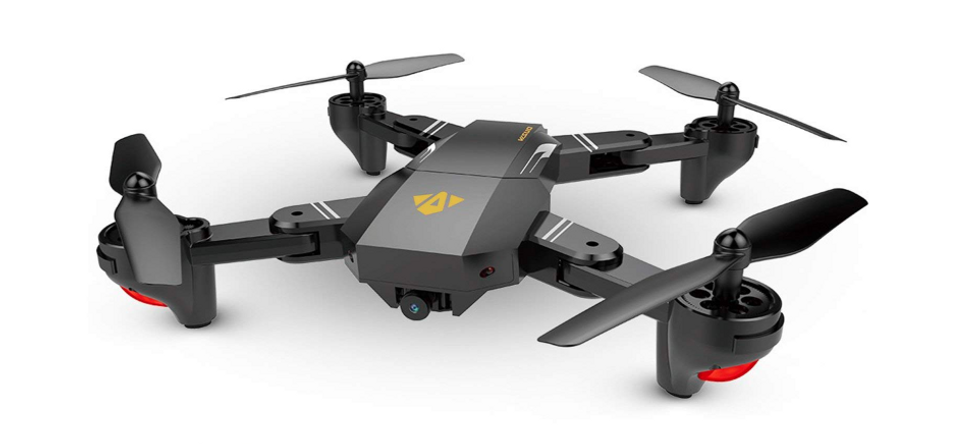 OKPOW
No prizes for guessing where this drone got its design inspiration from - its folding arms immediately reminded us of the DJI Mavic range.
As well as the compact design, this drone comes with a proper controlled with buttons, joysticks, and a mount for your smartphone which connects with Wi-Fi and displays a live video stream from the drone's 2-megapixel camera.
A barometer helps the drone maintain altitude, and the wide-angle 120 degree camera can record 720p HD video. Although not included in the box, a set of rotor guards can be bought separately for $7 - a worthy upgrade for the novice pilot. Flight time is a claimed 10 minutes and a set of three replacement lithium batteries can be bought for $20.
Hubsan X4 - $100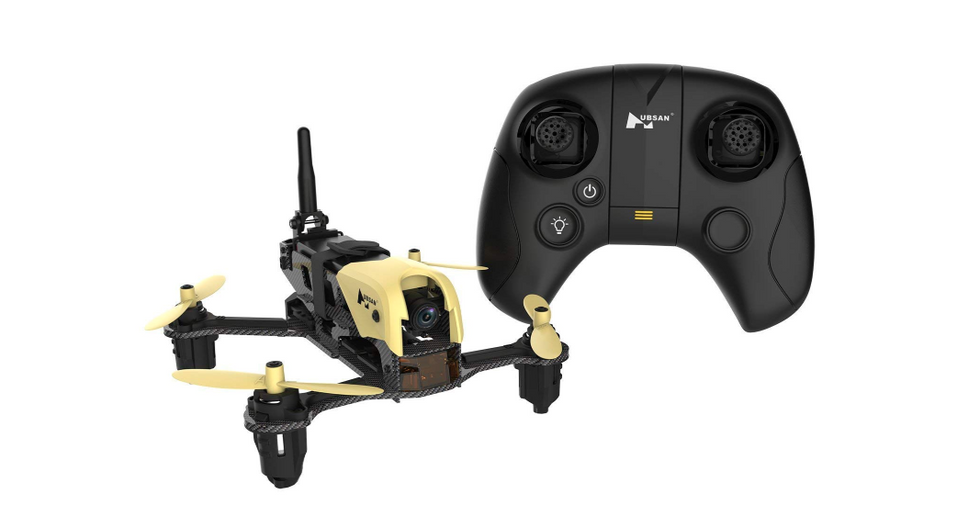 Hubsan
This compact drone has a battery life of around seven minutes and shoots 720p HD video with its forward-facing camera. There is an 'expert' flying mode for when you've learnt the basics, and the drone can perform 360-degree flips and rolls on command.

The drone can fly approximately 150 feet from its controller without losing signal, and at 1.2 pounds it weighs more than some others on this list, making it more suited to outdoor flying.
Holy Stone HS100 - $250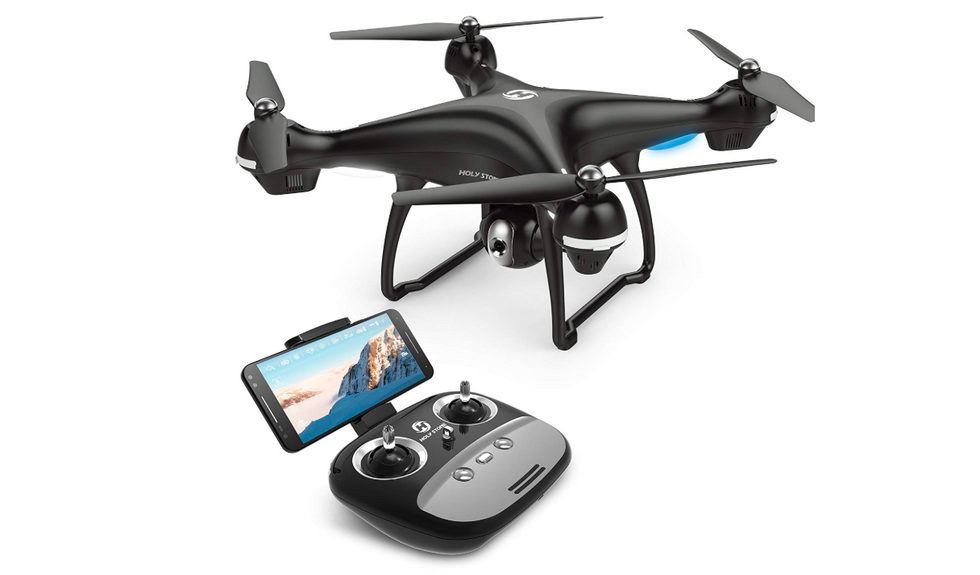 Holy Stone
Upping the budget (but still falling way below DJI prices), this drone has a very similar design to the DJI Phantom range. It also features a 720p HD camera, GPS-assisted flying to ensure the drone returns to its takeoff point when asked (or when the battery runs low), and flies for up to 15 minutes on a charge.
The camera also features a 'follow-me mode' where it will lock on to a moving target and fly to keep the subject in frame. The drone can fly up to 1,500 feet from its controller, which includes a mount for your smartphone to view a live video stream from the camera.
Helpfully, the drone comes with propeller guards and a range of spare parts, including propellers and landing feet, so hopefully a couple of heavy landings won't mean money down the drain.
ScharkSpark Drone Thunder - $90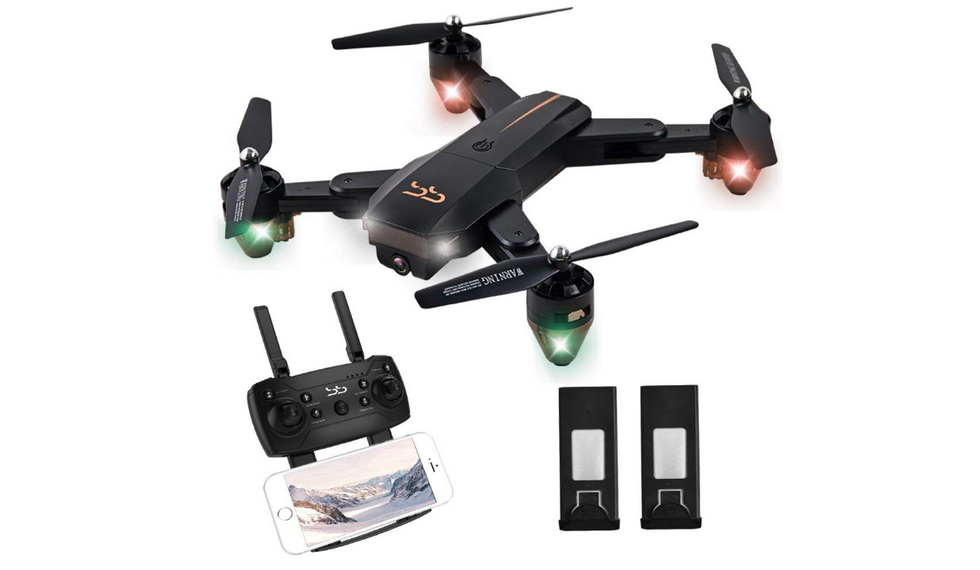 ScharkSpark
Another drone to borrow the Mavic's folding design, this quadcopter offers eight to 10 minutes of flight time and a Wi-Fi connection to your iOS or Android smartphone, which connects to the controller and shows live footage from the camera.
There are three flight speeds to choose from and a dedicated button for making the drone fly back to its takeoff point - a useful feature for when an inexperienced pilot gets into difficulty or loses track of which direction the drone is facing. Take-off and landing can also be performed with one button press, making this a good drone for beginners.
The manufacturer claims the drone can fly up to 328 feet from the controller without losing its connection, and live video is streamed to your phone from up to 95 feet away.
From Your Site Articles
Related Articles Around the Web
Like GearBrain on Facebook