Like GearBrain on Facebook
Towards the end of 2020, Apple added a new feature to its Home application called adaptive lighting, where compatible smart lights are automatically adjusted throughout the day.
With the feature enabled, your smart lights will begin the day with softer, yellow hues before shifting to a brighter, sharper and slightly blue tinge to increase alertness and concentration during the day, before turning back to soft yellow and orange in the evening.
Read More:
Other smart lighting systems offer similar features, but what's nice here is how Apple's adaptive lighting works with a decent range of smart bulbs from a variety of manufacturers.

If you haven't opened the Home app on your iPhone for a while (which, we confess, we hadn't until this week), the home page will include a message inviting you to set up adaptive lighting.
If you don't see this prompt, then navigate to the lights you want to set to adaptive lighting. You can do this by tapping the home icon in the top-left corner of the Home app for iPhone, then tap on the room you want to edit.
Now you will see all of the HomeKit-connected smart lights in that room. Next, long-press on one of the lights to open the light color menu, then tap on the adaptive lighting icon, which is the top-left of the six options and has a sun icon at its center.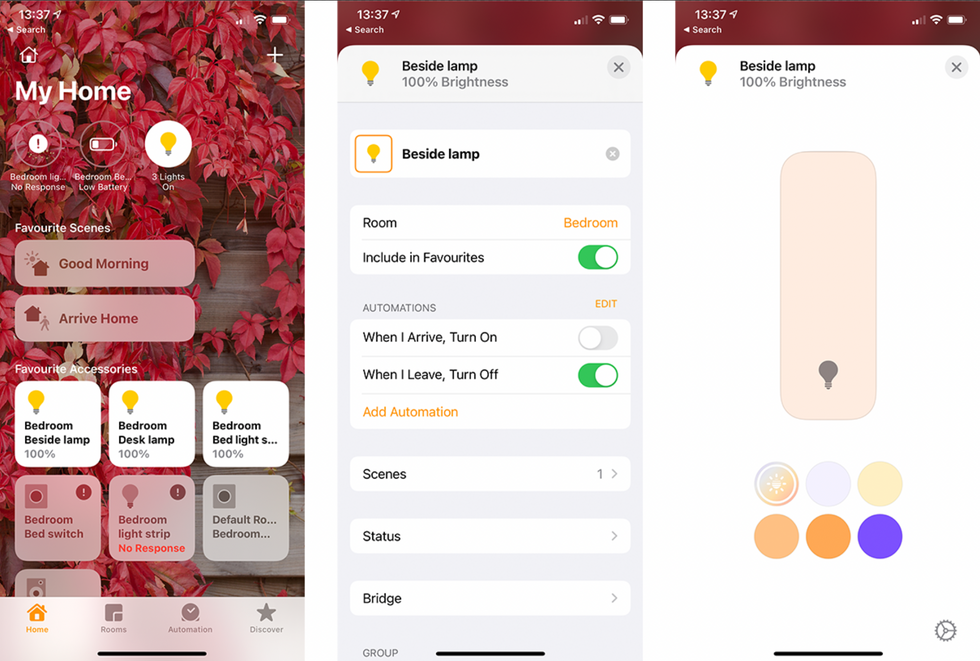 Enabling adaptive lighting in the Apple Home app for iPhoneGearBrain
Then tap the X icon in the top-right corner and long-press on the next light you want to change to adaptive lighting. It's as simple as that, and once active the lights will automatically adjust their brightness, color and temperature throughout the day, keeping in sync with local sunrise and sunset times throughout the year.

Adaptive lighting can also be integrated with a Home Automation. This means you can set certain lights to switch to adaptive lighting when you arrive home, for example, or at a certain time of day. That way, you can have the lights do one thing regardless of the time of day and year, then switch to date-specific adaptive lighting later in the day via the triggering of an Automation.
If adaptive lighting isn't working for you, your smart light system might need a software update. To do this, open the app of your lighting system (such as Hue or Eve) and check if there is a software update available.
Use The GearBrain, our compatibility find engine to find other smart lighting that works with Apple Homekit.
The GearBrain, First Compatibility Find Engine for Smart Devices www.youtube.com
From Your Site Articles
Related Articles Around the Web
Like GearBrain on Facebook