Like GearBrain on Facebook
Light strips are one of the newest smart lighting devices for homeowners today, adding a fun element to any room in your house. Want to add back lighting to a bookcase or a TV? Need more lighting underneath your kitchen cabinets or beneath your kid's bed to keep the monster's away at night? Light strips can fill these voids and more. And if you're an Apple user, there's a unique solution called the Eve Light Strip.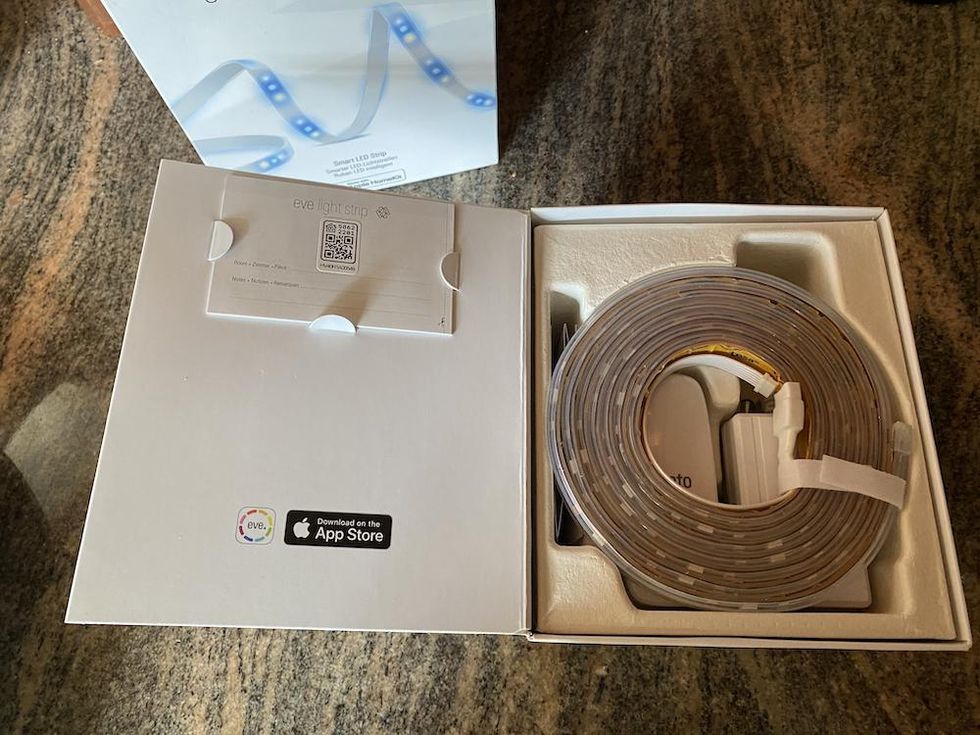 Inside the Eve Light StripGearBrain
What is Eve Light Strip?
Eve Light Strip is a strip of white and color LED lights. These little LEDs strips are 2 meters in length (6.6 feet) and can be expanded into a 32.8 foot-long strip, and can provide 1800 lumens of ambient light in any room in your house and can be dimmed or brighten with ease. The smart strip works with Apple HomeKit ecosystem and can easily be controlled using your smartphone and home Wi-Fi network. If you have an Apple HomeKit-enabled hub, like an Apple TV or HomePod, then you can remotely control your Eve Light Strip or setup automations, such as scenes, from anywhere.
To install Eve's Apple HomeKit-enabled light strip, you peel back the strong self-adhesive backing, and then stick them to any surface in your home. Then, plug the Eve light strip into the power supply, pair them with the app and place them where you want.
Features of Eve Light Strip
In smart homes today, light strips can work as great design tools. With a wide color spectrum, they can change colors to create the perfect ambience in any room, from your home to your office. We've seen many users install light strips under a bed, behind an entertainment center or desk, even on top of kitchen cabinets. And the Eve Light Strip makes it easy for you to control these light strips using its new app, or by asking Siri.
At the end of 2020, Eve launched a new version of its mobile app, which is now only available for iOS devices. Through the new app, people can set schedules, control the lights through an iPhone or Mac, select more colors, and even use it as a hub for all your Apple HomeKit-enabled devices. We actually found Eve's new app is easier to use than HomeKit app.

Smart Home integrations
Eve also has its own robust network of smart devices which can be controlled using the new Eve app, and work on Apple HomeKit platform or Thread. This means you can easily expand your network of smart devices, and easily control and monitor them.The company makes additional devices, including Eve-branded motion sensors, range extenders, smart plugs, smart switches, smart lights, smart thermostats, water monitors and water leak detectors.
Cost
Eve Light Strip retails for $79.99 and is available on Best Buy today. The company also sells the product on Amazon, but we found the devices are sold out at the time this review was published.
Performance
When we first started testing the Eve Light Strip, the new app had not yet been released, and we were not overly impressed with the functionality, finding it very basic and offering limited colors. But once the new app came to market — and we used it to test the light strip in a real home under normal Wi-Fi connectivity — we were impressed. There were a wide number of color options, and the device was easy to setup. You still need an Apple HomeKit hub to get the full usefulness out of this light strip, but as an entry level smart product, it's a good one for your home or office.
Who should buy Eve Light Strip? This product is ideal for Apple HomeKit users and only Apple HomeKit users. If you have an Android device, look elsewhere. Eve only works on iOS devices. But if you have an iPhone, Eve Light Strip is a good product to consider, especially as the company also offers a wide variety of smart devices for you to add to your home, all of which can be controlled by a single app and Siri.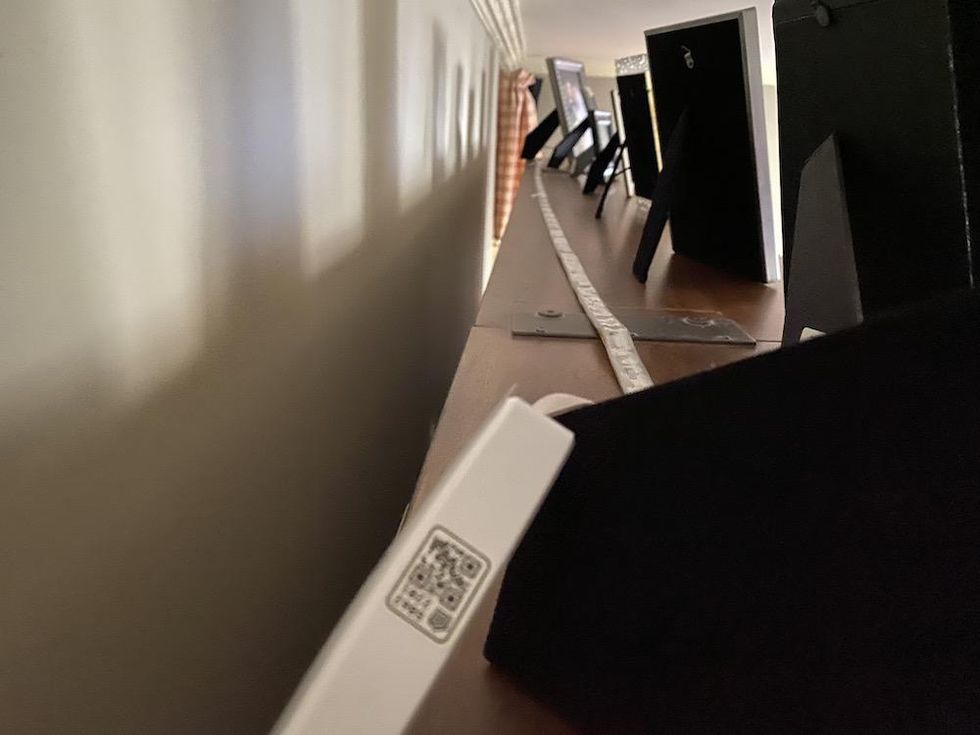 Eve Light Strips are easy to install and can provide a new look in any room in your home.GearBrain
Summary

After testing Eve Light Strip for several weeks, we really liked its ease of use and the new app. Though this product is limited to working with Apple HomeKit-enabled devices or on the Thread ecosystem, it did work well, for us, in our smart home. We used it to highlight holiday decorations and are now using it to bring a new soothing ambience in a room in our smart home.
If you're in the market for a smart light strip, and you own an Android device, look the other way. If you're also looking for a smart light strip to work on Wi-Fi, Z-Wave or a Zigbee.
Check out The GearBrain, our smart home compatibility checker to see the other compatible products that work with Apple HomeKit enabled devices.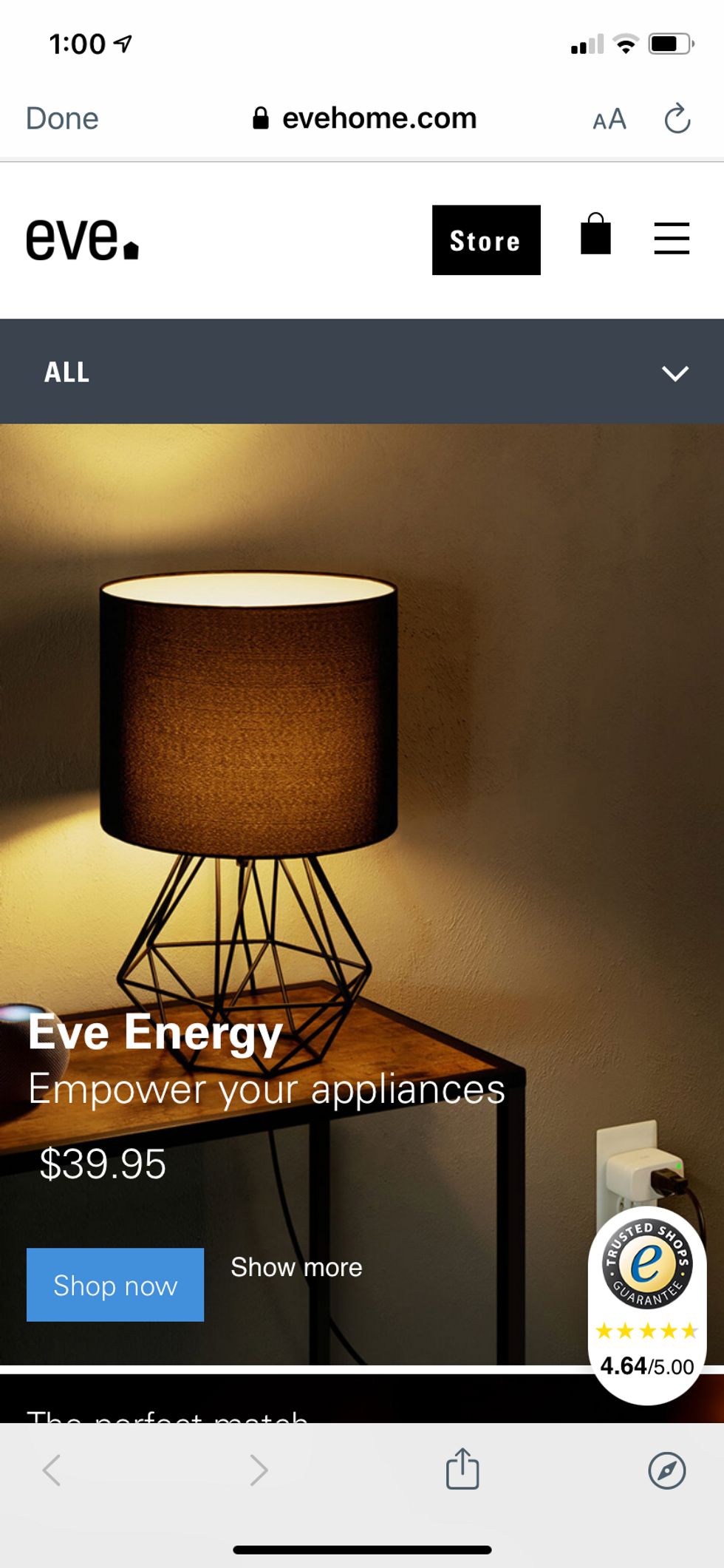 Eve sells products through their store.GearBrain
Pros

Wide selection of colors
Easy installation
App controls other smart devices
Voice control with Siri
Cons
Works only on Apple HomeKit and Thread ecosystems (no Z-Wave or Zigbee)
Need Apple enabled Hub for remote control
Hard to buy
No Android app
Eve Flare - Portable Smart LED Lamp, IP65 Water Resistance, and Wireless Charging with Apple HomeKit
Like GearBrain on Facebook