Like GearBrain on Facebook
When it comes to the smart home, it's easy to forget about Apple and its HomeKit system. Whereas Amazon and Google each offer a range of products designed to tap directly into your smart home system, using Amazon Alexa or Google Assistant, Apple's approach, using Siri and HomeKit, has felt less cohesive. But there are plenty of reasons to consider HomeKit.
The company's HomeKit platform and Home app rarely see much stage time compared to the iPhone and Mac. And while the Apple TV has had its share of the spotlight, this is mostly thanks to the Apple TV+ service, instead of its abilities as a smart home platform. We also rarely consider Siri a direct rival to Alexa nor Google Assistant when it comes to switching on lights, adjusting the heating and locking doors with voice commands.
Yet Apple's HomeKit platform is still entirely capable, and if you have an iPhone, iPad or Mac, you already have everything you need to build, control and automate a smart home system.
Read More:
What's the difference between HomeKit and the Home app?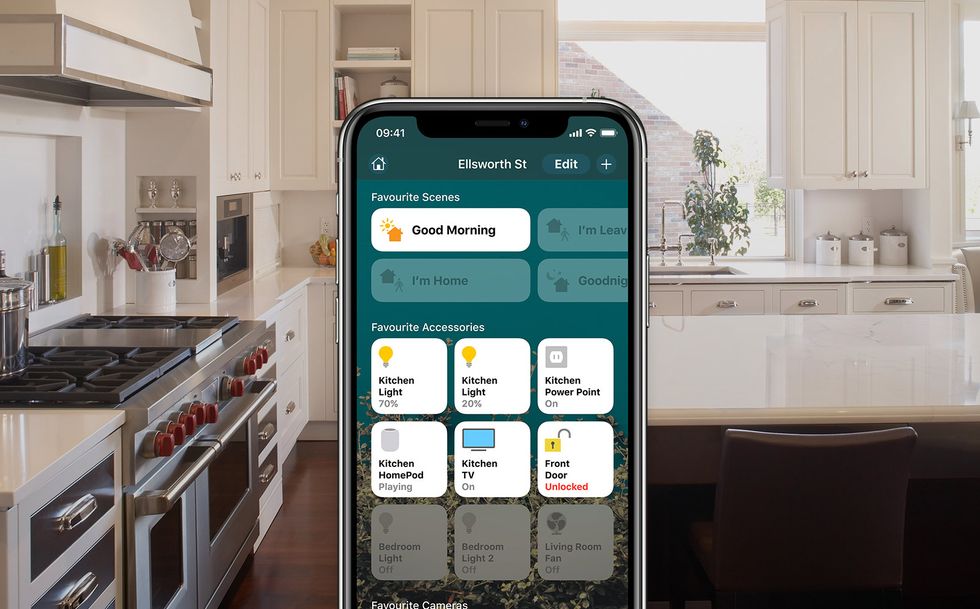 Apple Home app for iOSApple
In the simplest terms, HomeKit is the platform on which the Home app runs, and you use the Home app to add devices to your HomeKit system. This is a different approach to that of Amazon, where Alexa is the cover-all name for the system, app and voice assistant. But, just like Alexa and the Google Home app, HomeKit is the system that brings all of your smart home devices together, controls them, automates them, and enables them to talk to each other.
HomeKit is also a standard that smart home device makers need to adhere to if they want their products to work with Apple's Home app. Just like how you see the 'Works With Amazon Alexa' sticker on a product's box, if it's HomeKit-compatible there will be a 'Works With Apple HomeKit' badge too.
The Home app is how you set up and control your HomeKit devices, just like how you use the Alexa or Google Home app to add new light bulbs to rooms, and create automated routines that control several devices at once.
Yale Assure Lock SL - Key Free Smart Lock with Touchscreen Keypad - Works with Apple HomeKit and Siri (YRD256iM1619) in Satin Nickel
Why are there fewer smart home products for Apple HomeKit?

At the time when Amazon and Google began to take over the smart home industry, HomeKit-compatible devices were initially far less common. This is partly because Apple insisted that manufacturers included its own coprocessor on every product; this pushed up the manufacturing costs and made budget Home-Kit compatible products like bulbs, sensors and smart plugs too expensive to produce.
But Apple made a U-turn on this in 2017, and from iOS 11 onwards HomeKit devices could be authenticated using software instead, removing the coprocessor and the financial barrier to entry it created. This move helped turn the tide, making it easier for companies to make products that worked with Alexa, Google Home, Apple HomeKit (and other systems like Samsung SmartThings) all at once, without HomeKit versions requiring different hardware.
Once added to your Apple HomeKit system, compatible devices (like lights, plugs, locks, thermostats and garage doors) can be controlled using the Home app on your iPhone, iPad, Mac and Apple Watch, either by tapping and swiping at the screen, or by speaking to Siri on any of those, and on the HomePod speaker.
Does Apple HomeKit require a hub?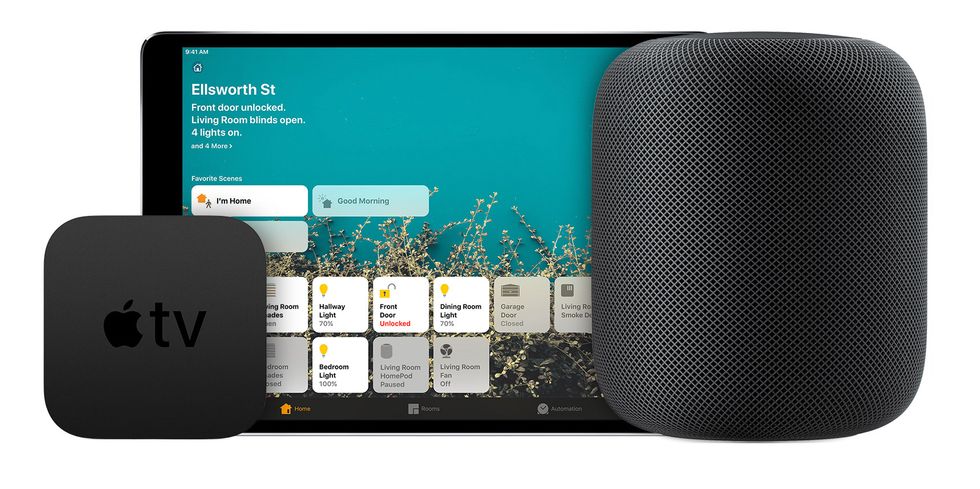 The Apple TV, iPad and HomePod can act as a smart home hubApple
Yes and no. When you are at home and using an iPhone (or Mac, iPad, Apple TV or HomePod) to control your HomeKit system, you do not need a hub. If all you have is an iPhone, that's fine – you can control your HomeKit-compatible devices using the Home iOS app, or Siri.

However, if you want to control these devices using the Home app while away and not connected to your Wi-Fi network, you need a hub. Apple doesn't make a HomeKit hub, because this duty is performed by a HomePod speaker, Apple TV or iPad connected to your home Wi-Fi network and iCloud.
This may sound strange, but it's a clever way to have the system work completely in the background. As long as the Apple TV, HomePod or iPad is left at home, switched on, and connected to your Wi-Fi network, it becomes the hub, acting as a gateway between your iPhone located anywhere in the world, and your HomeKit system at home.
What's also unusual is that, while the Apple TV can act as a HomeKit hub, it doesn't yet have a Home app of its own. Instead, you can speak to Siri using the Apple TV's remote to adjust the settings of your HomeKit devices, like the temperature and brightness of your lights.
Is HomeKit a viable alternative to Alexa and Google Assistant?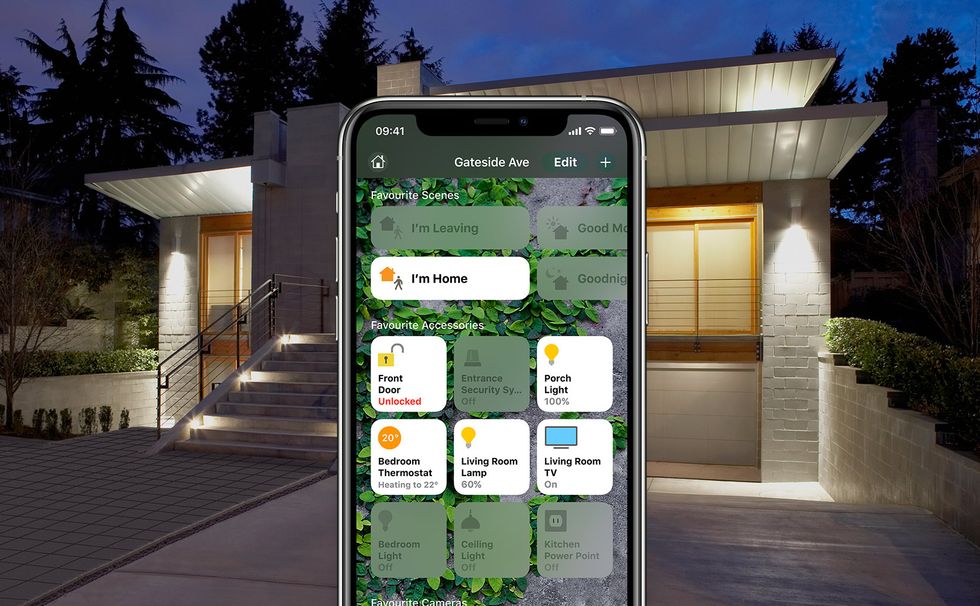 Apple Home app on the iPhoneApple
This depends entirely on what hardware you have and what you want to get out of your smart home. For starters, HomeKit doesn't work with Android or Windows, so you need to be an iPhone user. A lack of device compatibility used to be a problem for HomeKit, but that situation is improving thanks to Apple's scrapping of the coprocessor mentioned earlier. But HomeKit still doesn't connect to as many devices as Alexa and Google Assistant, especially at the budget end of the market.
Whether you create a HomeKit system also depends on which voice assistant you prefer to use. Siri has often lagged behind Alexa and Google Assistant in the intelligence stakes, and while that gap is slowly being closed, we feel Apple still has some work to do.
That said, Siri's omnipresence in an Apple fan's home can give it the edge over its rivals. What we mean here is, if you are fully-subscribed to the Apple way of life, then Siri is on your wrist in the form of the Apple Watch, and constantly at your side in your iPhone. So, while Alexa can only hear you if you're within earshot of an Echo speaker or similar device, Siri is likely attached to your wrist, ready to act on your smart home command.
The smart home sector has never felt like a crucial part of Apple's business – you could argue it has become the "hobby" Steve Jobs once described Apple TV as — but there are signs that it is slowly being taken more seriously. For iOS 14 and tvOS 14, which come to the iPhone and Apple TV this fall, Apple is upping its game.
Security cameras added to the Home app will gain features like motion zones and facial detection, smart lights can be set to gradually adjust throughout the day to mimic natural light, and Siri on the HomePod will say who is at the door when the doorbell rings (thanks to pulling facial recognition data from your Photos app).
Apple's new Mac operating system, macOS Big Sur, will also include a refreshed Home app when it too arrives in the fall.
Check out The GearBrain, our smart home compatibility checker to see the other compatible products that work with Apple HomeKit, Google Assistant and Amazon Alexa enabled devices.
Introduction of The GearBrain, The First Compatibility Find Engine for Smart Devices www.youtube.com
Like GearBrain on Facebook