The Apple HomePod goes on sale this Friday, February 9. The first round of reviews of the smart speaker went live earlier this week, and their message is clear - this is one of the best speakers you can buy for the price, but as a smart speaker, it lags some way behind rivals from Amazon and Google which cost a third of the price.
Let us start with the HomePod's audio quality and a review by What Hi-Fi? — a publication which specializes in sound. The HomePod is described as "the best-sounding smart speaker available - and by quite some margin." Excellent sound quality and an ability to automatically adjust its sound depending on where in your home it is placed — plus a system which constantly listens to itself and adjusts the levels accordingly — earns the HomePod five stars from What Hi-Fi?.
Superb audio quality is a common theme across all HomePod reviews. The Verge says how the Apple speaker "sounds incredible - it sounds far better than any other speaker in its price range," adding: "The HomePod sounds noticeably richer and fuller than almost every other speaker we've tested."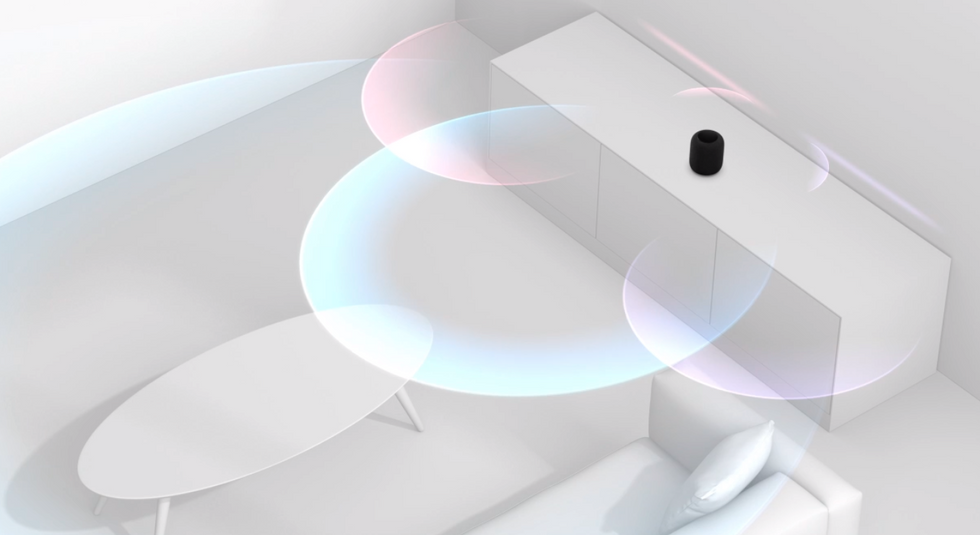 The HomePod's ability to play great music no matter the layout of the room, is one of its highlightsApple
Reviewers also praised the HomePod's design, with Pocket-Lint saying: "Like Google Home and the Amazon Echo, this is a speaker that is designed to sit in any environment, be it the bedroom or the kitchen, and it's a design that works from all angles when it comes to the sound performance". Unsurprisingly, Pocket-Lint also loved the sound quality, saying: "The music engulfs you wherever you are standing or sitting in the room. It's very clever, and very apparent, especially on acoustic live tracks."
The set-up process is also a win for Apple, with The Independent saying: "This is blissfully simple, better than on rival smart speakers and, frankly, most consumer electronics in general."
The Wall Street Journal said HomePod sounds "far better" than its rivals, but criticized the bass for being "far too front-and-center in the mix."
Another universally-praised feature is how well it can hear you when you ask for Siri, even when music is played at full volume. TechCrunch said the HomePod has "best-in-class voice recognition, vastly outstripping the ability of other smart speakers".
However…
Every review soon turned to the HomePod's smartness, or lack thereof. Despite it looking like an effort by Apple to compete with the Amazon Echo and Google Home, the HomePod has been in development for a claimed six years, pre-dating the launch of the first Echo by three years.
So while it may have been designed from the outset to produce the best sound possible, whether Apple likes it or not, the HomePod is now competing directly with the Echo and Home, plus a whole range of new and upcoming speakers powered by Alexa and Google Assistant, like the Sonos One. This new party of devices is controlling smart home appliances, dimming lights and managing our lives as much as it is playing music - and Apple is late.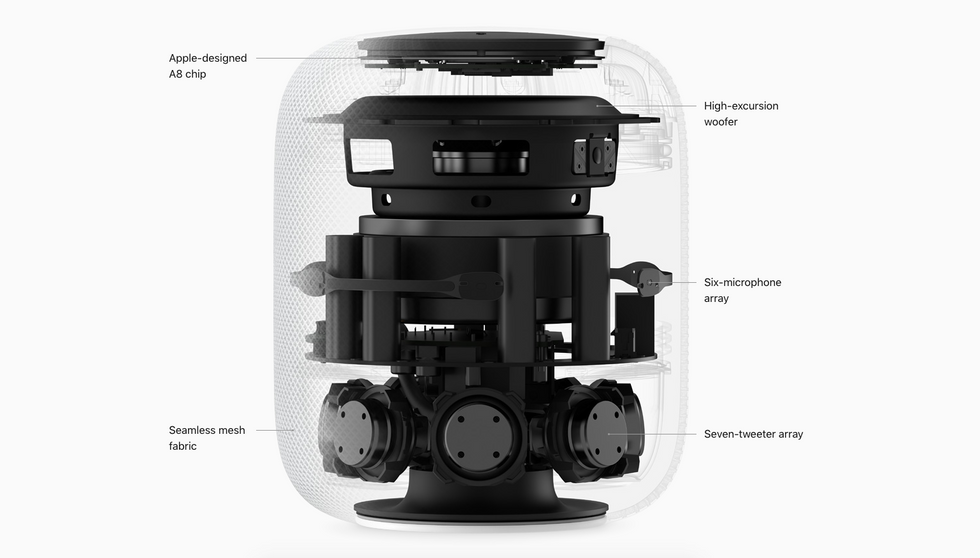 The HomePod contains seven tweeters and one subwooferApple
Not only is Apple late, but as far as smartness is concerned it has fallen short. By only the sixth paragraph, The New York Times says of Apple's latest: "The $349 HomePod, which costs roughly three times its competitors...is tough to recommend to you, dear reader."
The review adds: "HomePod makes the Amazon Echo and Google's Home sound muffled and tinny in comparison. But Siri on HomePod is embarrassingly inadequate, even though that is the primary way you interact with it. Siri is sorely lacking in capabilities compared with Amazon's Alexa and Google's Assistant. Siri doesn't even work as well on HomePod as it does on the iPhone."
Describing the HomePod as "one that simply isn't as smart as its competitors," The Verge explains how a simple, inexplicable omission highlights the HomePod's shortcoming. "It's baffling that the HomePod can't set more than one timer or name those timers; anyone who cooks with a smart speaker in their kitchen knows how incredibly useful that is."
It goes on…"You can't ask Siri to look up a recipe. You can't ask Siri to make a phone call...Siri also can't compete with the huge array of Alexa skills, or Google Assistant's ability to answer a vast variety of questions."
You also cannot ask Siri to play something on an Apple TV, as you can with Alexa and an Amazon Fire Stick, or Google Assistant and a Chromecast. Siri on the HomePod is also unable to say anything about your calendar when asked, and cannot order an Uber like Amazon and Google can.
As for using the HomePod as a smart home controller, as how the Echo and Home range can be utilized to great effect, there are more drawbacks. Pocket-Lint states: "HomePod's HomeKit skills mirror the experience on an iPhone or iPad, but at times feels light years behind Amazon and Google's offerings. While Amazon is busy adding Skills on a daily basis and getting others to do the same (there are 30,000 and counting), Apple offers virtually no third-party support aside from messaging apps."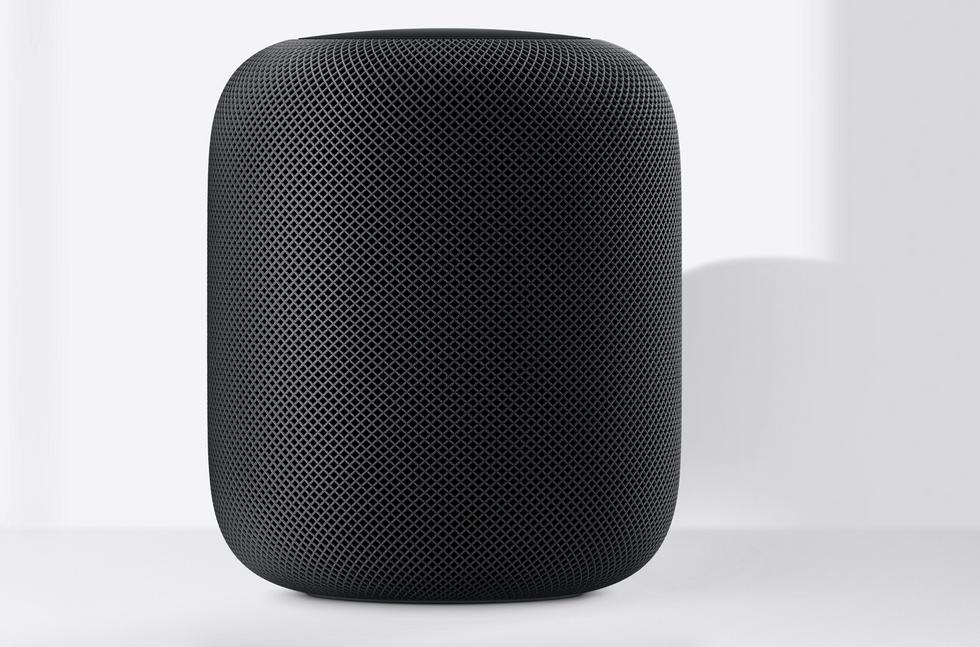 Available in white and space gray, the $349 HomePod goes on sale on February 9Apple
The publication also had issues with the way Siri sounds compared to Alexa and Google Assistant. "Siri, while sounding okay on the iPhone, doesn't sound like a native English speaker on HomePod. Compared to Alexa, Siri sounds horrid. Words are hacked together, things aren't pronounced correctly, and everything sounds abrupt...It's a talking computer without personality."
Separately, Pocket-Lint found the HomePod left an obvious mark on the oiled wood table it was sat on. "The mark hasn't disappeared and we'll have to sand and then re-oil or worktop," they said.
The boundaries of Apple's famous 'walled garden' are higher than ever with the HomePod, as the New York Times explains. "The HomePod requires an iOS device, like an iPhone, and iPad or an iPod Touch, to set it up. To use your voice commands to play music, you will also need to subscribe to Apple's streaming music service, Apple Music."
Music from other services, like Spotify, can be played and controlled from your iPhone via AirPlay, but a lack of native support for anything other than Apple's services - which include the Beats 1 radio station and the iTunes Music Store - has disappointed many reviewers. It is also not possible to use the HomePod as a regular Bluetooth speaker.
That walled garden led The Verge to "start thinking of the HomePod as lonely," adding: "It feels like it was designed for a very demanding person to use while living alone entirely inside Apple's ecosystem...Siri has none of the capability or vibrancy of what's happening with Alexa."
With regard to buying multiple HomePods and playing music through the house, the New York Times adds: "Apple is shipping the HomePod unfinished. On day one, the device will lack some cool features, like the ability to link several HomePods together to create a multi-room sound system...That feature will come in a software update later in the year." Beyond 'later in 2018', Apple has not said when this feature - offered by Sonos and Amazon today - will arrive.
GearBrain will be publishing our own review of the Apple HomePod soon.