Like GearBrain on Facebook
UPDATE: Apple has issued the following statement, refuting the claims of the original report:
"Customer excitement for iPhone X and Face ID has been incredible, and we can't wait for customers to get their hands on it starting Friday, November 3. Face ID is a powerful and secure authentication system that's incredibly easy and intuitive to use. The quality and accuracy of Face ID haven't changed. It continues to be 1 in a million probability of a random person unlocking your iPhone with Face ID.

"Bloomberg's claim that Apple has reduced the accuracy spec for Face ID is completely false and we expect Face ID to be the new gold standard for facial authentication."
Original story:
Apple has been forced to lower the quality of the iPhone X's biggest feature in a bid to fight back against stock shortages predicted to run into 2018.
Just two days before pre-orders open for the iPhone X, which arrives in stores on November 3, Apple has reportedly asked component suppliers to reduce the accuracy of the phone's facial recognition system, Face ID.
Used to unlock the handset with just a glance of the owner's face, the components include a dot projector, flood illuminator and infrared camera. All three pieces are housed in a small cut-out at the top of the iPhone X's screen, and work together to first recognize that a face is present, then scan it and compare it to that of the owner — a positive match unlocks the phone, or authenticates an Apple Pay payment.
Face ID performs the same function as the fingerprint-based Touch ID system, which still appears on the new iPhone 8 but is absent from the flagship X.
According to unnamed insiders speaking to Bloomberg, Apple quietly told suppliers they could reduce the accuracy of the Face ID system to make the iPhone X easier to manufacturer.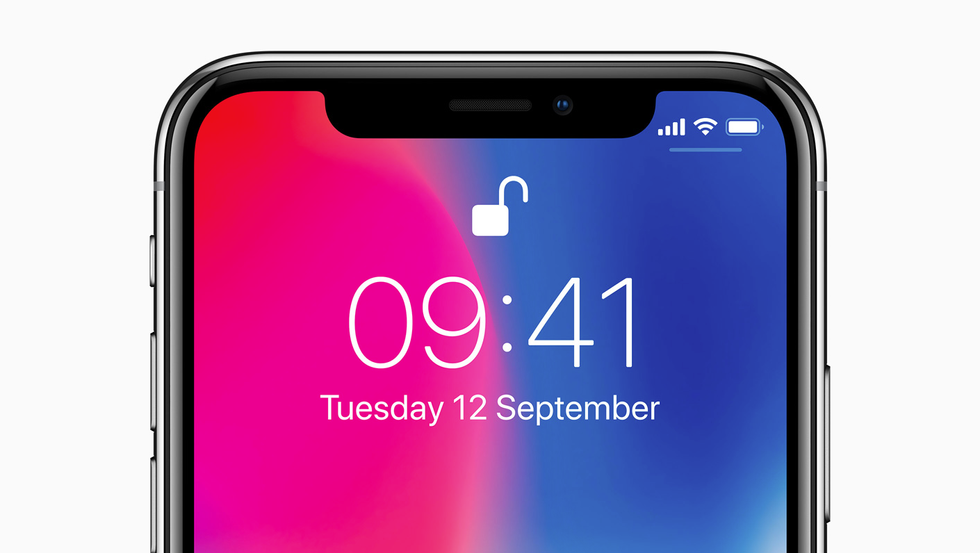 Face ID is the iPhone X's biggest new featureApple
It isn't known how far Apple lowered the bar by, but it is likely that Face ID will still offer far greater security than Touch ID. Apple says the odds of its fingerprint sensor unlocking with the print of someone other than the owner are one in 50,000, compared to one in a million for Face ID — a claim made when the iPhone X was revealed in September.
The extreme complexity and fragile nature of the Face ID components meant initial production was too slow for what Apple required.
Not only are the components fragile, but production accuracy is crucial. If the parts are just a few microns - far less than a hair width — out of place, Face ID will not work properly.
At one point, the report claims, just 20 percent of dot projectors produced by suppliers LG Innotek and Sharp were usable. The two firms - chosen after Apple's original dot projector supplier, Finisar, failed to meet Apple's specification in time for mass production - have had to slow manufacturing down to boost reliability.
It is no wonder that Apple is feeling the pressure. The Face ID system works in a similar way to the Xbox Kinect, a house brick-sized device which felt groundbreaking just a few years ago. Now Apple wants to cram the same technology into a space just an inch wide, and on potentially over 100 million devices per year.
Despite this tall order, Apple gave itself no extra time to build the iPhone X. Suppliers were given the usual two-year notice period, the report claims, and are now expected to bring the X to market just six weeks after the iPhone 8. An insider described the situation as "a very aggressive schedule."
No iPhone X for Apple co-founder Woz
Speaking of the iPhone 8, Apple co-founder Steve Wozniak revealed this week that he had bought the 8 and will not be buying the iPhone X. Wozniak told CNBC: "I am just worried about what it provides me. I'd rather wait and watch that one. I'm happy with my iPhone 8, which is the same as the iPhone 7, which is the same as the iPhone 6, to me. I think I will watch other people in this case...For some reason, the iPhone X is going to be the first iPhone I didn't - on day one - upgrade to. But my wife will, so I'll be close enough to see it."
Like GearBrain on Facebook