Like GearBrain on Facebook
Subscribers to Apple Music can now pull up lyrics to songs on their Samsung Smart TVs — which display simultaneously as the music plays. Think of this as a live karaoke option from your own living room, well-tuned for today's social distancing needs. The feature went live today, and is free to anyone using Apple Music.
The lyrics appear immediately as the song starts, and lyrics are synced to the music, animating each verse as its sung. The entire song is accessible too, meaning you can scroll through find certain parts, like the chorus, and still return to the live portion.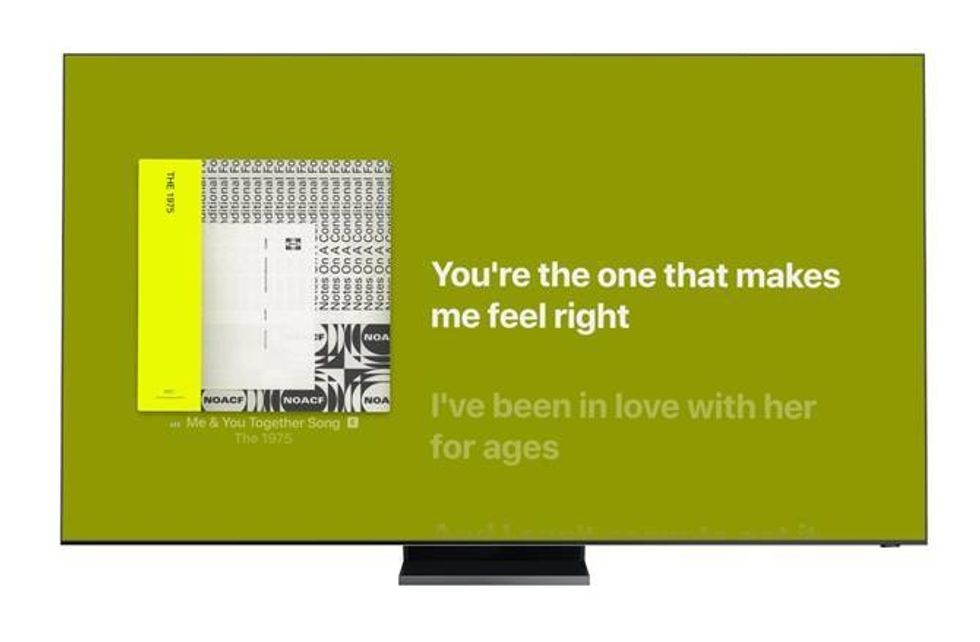 The lyrics are highlighted as the verse is played, allowing people to follow along while listening to Apple Music on their Samsung Smart TVSamsung
The album cover is also visible on the screen, as well as the title of the song and the band name, and the background design is also coordinated with the album art as well. Through the interface on Samsung Smart TVs, you can also search for songs through Apple Music on the TV by typing in a specific lyric as well.

Smart TVs are screens that connect to the internet, and support streaming media, content that comes, for example, from Netflix, Hulu and even Prime. Most new TVs on the market today would call into this category, expanding the way people not only watch shows and movies, but even connect to their smart devices from a robot vacuum cleaner to a smart speaker. Smart TVs can engage with smart assistants, like Google Assistant and Alexa, as Samsung Smart TVs can do as well.
Samsung Smart TV owners can access Apple Music right from the TV's App Store and sign in using their Apple ID. If they don't have a subscription to Apple Music yet, they can join from the TV as well, and get three months for free with any new subscription.
Samsung said it's the first TV brand to add Apple Music to its Smart TV platform. The feature works with Samsung Smart TVs that were manufactured starting in 2018 to those being produced today
Unboxing in less than 30 seconds Hisense H9F Smart TV with Google Assistant. www.youtube.com
Like GearBrain on Facebook