Like GearBrain on Facebook
The star of the show at Apple's March 25 launch event is likely a new service built to rival Netflix - but a second new product is also waiting in the wings.
This is another subscription service from Apple, but this time for newspapers and magazines, and offering access to news websites which operate behind paywalls.
Read More:
Building on the company's existing Apple News application, which is available on iPhones, iPads and Macs, the new service is expected to grant access to digital copies of newspapers and magazines in return for a flat monthly fee of around $10.
With less than a fortnight to go before the launch event at the Steve Jobs Theater in March 25, references to the news subscription service have been spotted in the latest beta of Apple's Mac software.
The references, found in the 10.14.4 beta of macOS Mojave, were unearthed by developer Steve Troughton-Smith, who has a strong track record for discovering clues about future Apple products in its beta software.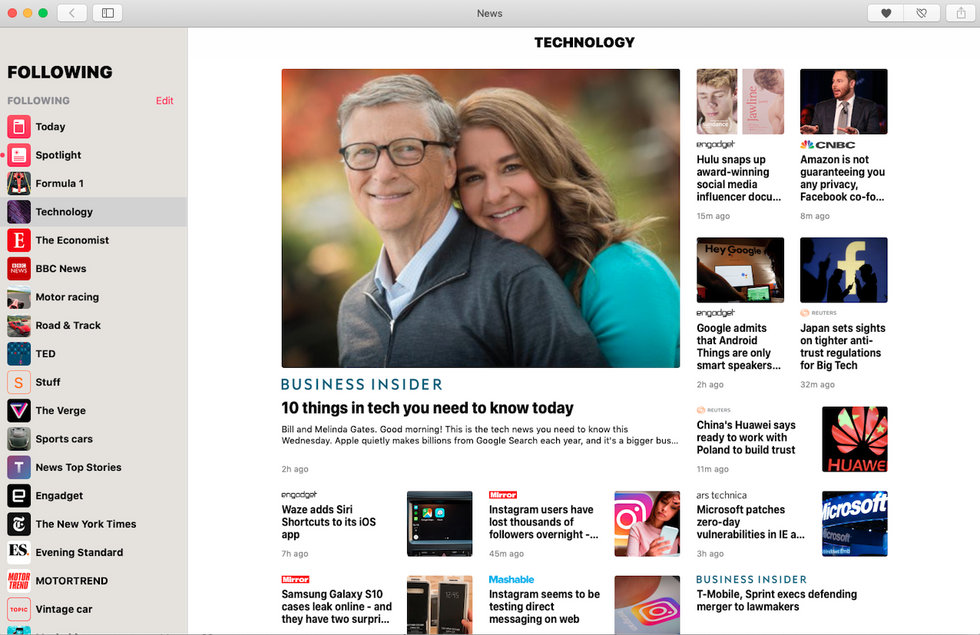 Apple News is currently a free aggregation app on iOS and MacGearBrain
Sharing screenshots of his finding on Twitter this week, Troughton-Smith discovered how the service will notify subscribers when new issues of their publications are available. These digital magazines will be PDF-based, the developer says (like many iPad magazines are today), and they can be stored for offline viewing.

Magazine genres were also discovered in the beta software, including the following categories:
Automotive
Business and finance
Crafts and hobbies
Entertainment
Fashion and style
Food and cooking
Health and fitness
Home and gardening
It is expected that Apple customers will pay for the service through their iTunes account, and that it will cost in the region of $10. This will give customers access to any magazine subscriptions they like - so once they have selected just two or three magazines, the service will work out cheaper than subscribing to each magazine (in print) individually.
Apple is thought to be building the system on the foundations of Texture, a digital magazine subscription service acquired by Apple in 2018. Texture is still available on the App Store, but is likely to disappear or, at the very least, be rebranded once Apple launches its own service. Texture charges customers $9.99 per month for digital access to over 200 popular magazines, including The New Yorker, Time, National Geographic, and Newsweek.
There's a bunch you can discern about Apple News' magazines from what's in the OS betas: for example, the magazines are PDF-based (like most iPad magazines), and issues can be stored offline. The magazine genres are listed as pictured. Most of its code is written in Swift pic.twitter.com/Uc1gN0qygu
— Steve Troughton-Smith (@stroughtonsmith) March 12, 2019
Apple is expected to charge the same amount for its service, although it isn't known for now if there will be a deal for customers who subscribe to Apple Music, as well as the new Netflix-style streaming service, plus the news and magazine service.
While it has been claimed that magazine publishers are mostly onboard with Apple's plans, newspaper publishers are less keen. This is due to Apple's plans to help itself to 50 percent of subscription revenue. Newspapers have reportedly objected to this, as they can instead earn 100 percent of the fee via their own paywalled websites.
Additionally, it is claimed that once Apple has taken its 50 percent share, it will split the rest of Apple News proceeds among news publications based on how many people read their articles.
It shouldn't be surprising to hear news publishers are unsure about this pricing structure. Apple takes 30 percent of the revenue earned by apps on its App Store. Apple also takes 30 percent from the first year's revenue of subscriptions made through apps, but this is lowered to 15 percent from the second year onwards.
It is also reported that Apple wants "at least some" news outlets to commit to supplying news to the subscription service for at least one year, preventing them from backing out early or signing up to a longer and potentially more secure arrangement.
We are sure to learn much more about Apple's plans here on March 25, when the media event kicks off at its Cupertino, California headquarters at 10am local time (1pm EST).
How Apple Homekit Works www.youtube.com
From Your Site Articles
Related Articles Around the Web
Like GearBrain on Facebook