Like GearBrain on Facebook
Apple is reportedly hosting a media event in the Steve Jobs Theater at the Apple Park campus on March 25.
But instead of revealing new iPads and AirPods - both of which are tipped to arrive this year - Apple is said to be revealing a news subscription service priced at $10 a month.
Read More:
This is the claim of unnamed sources speaking to Buzzfeed News, who describe the event as subscription-services focused. This means we may hear more about Apple's video-streaming Netflix rival, which is also expected to launch in the first half of this year.
Apple often holds launch events in March, so the timing doesn't come as a surprise. It also tends to make announcements on Tuesdays, although March 25 falls on a Monday this year. Buzzfeed's sources said the date might shift, not least because of news publishers pushing back against Apple's plans to take 50 percent of the $10 monthly subscription paid by users.
Additionally, it is claimed that once Apple has taken its 50 percent share, it will split the rest of Apple News proceeds among news publications based on how many people read their articles.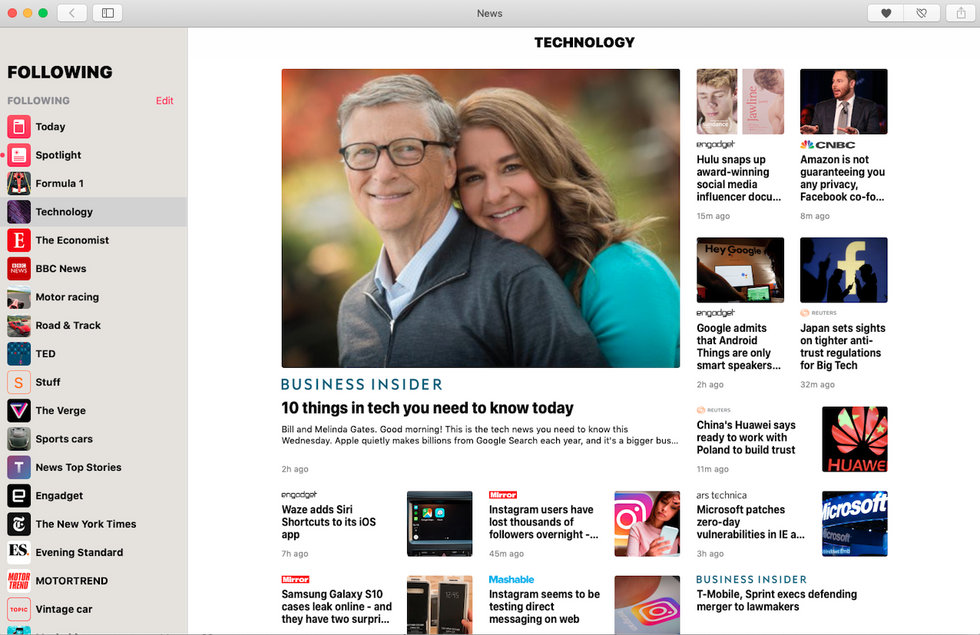 Apple News is currently a free all on iPhone and MacGearBrain
This claim - that publishers are unimpressed with the revenue split - was made by the Wall Street Journal this week. There is said to be some "resistance" from publishers who are hesitant about the arrangement.

And so they might be, given Apple takes a far smaller 30 percent cut from revenues earned by developers who sells apps on the App Store. Apple also takes 30 percent from the first year's revenue of subscriptions made through apps, but this is lowered to 15 percent from the second year onwards.
It is also reported that Apple wants "at least some" news outlets to commit to supplying news to the subscription service for at least one year, preventing them from backing out early or signing up to a longer and potentially more secure arrangement.
Apple already offers a News app on all iPhones and Macs, pictured above, and it is expected that the new subscription service will live within the same application; Apple claimed in October 2018 to have 90 million regular readers of the News app, but it's unknown how many will be willing to pay. The $10 per month fee - the same as the cost of Apple Music - is reportedly not set in stone just yet.
Given the recent slowing of iPhone sales - a trend felt across much of the smartphone industry - it makes sense for Apple to seek out revenue from services. By the end of 2019 this could likely include $10 a month each for Apple Music and Apple News, plus whatever Apple's Netflix rival costs. This has the potential to see Apple's biggest fans hand over around $360 annually for these three services, around a third of the cost of a new iPhone.
If Apple is indeed to host an event on March 25, then we should receive official confirmation of this a week earlier, on around March 18.
From Your Site Articles
Related Articles Around the Web
Like GearBrain on Facebook