Apple is working on a way for iPhone users to take group selfies while obeying coronavirus social-distancing practices.
According to a newly published patent, first spotted by Patently Apple, the system works by taking selfies taken by individual users, then merging them together so it looks like a single photograph was taken of the people in one location.
Read More:
Although this sounds like something quickly hacked together in a response to the coronavirus pandemic, the patent was originally filed back in July 2018, but was only made public this month, June 2020. Despite it being a useful tool during a pandemic, this timing shows Apple has had plans for distanced group selfies for at least a couple of years.
The patent doesn't say exactly which Apple products the group selfie function would work on. Instead, it describes it being used on "a plurality of computing devices."
Apple's patent explains how the selfie can be created either from a set of selfies (both images and videos) taken on multiple people's phones, or from live streaming video. This suggests a group FaceTime call could be used to set up the group selfie, although FaceTime isn't directly mentioned by the patent document.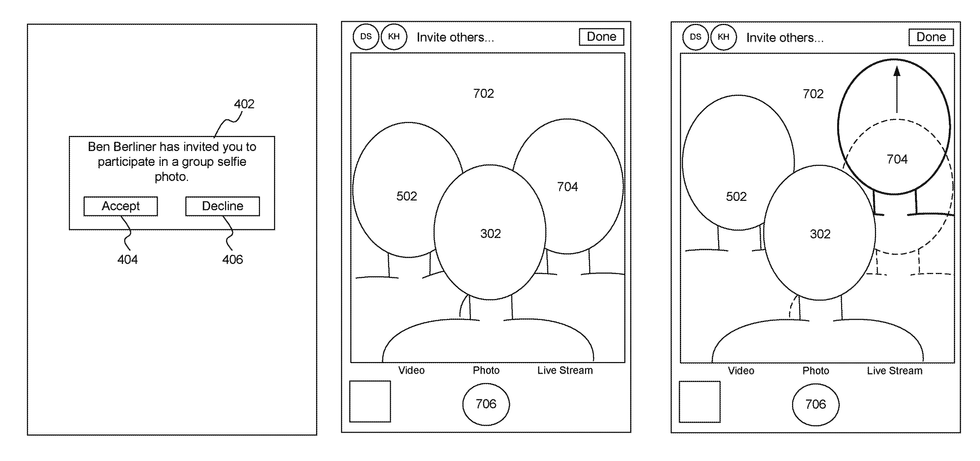 Patent images show how the feature could workApple / USPTO
Each person involved in the group selfie can manipulate it, moving themselves to a different position in the frame, for example. The patent shows how a request would be sent from one person to their contacts, asking them to take part in the group selfie.

The abstract states: "A synthetic group selfie can be an arrangement or composition of individual selfies obtained from a plurality of computing devices into a single group image...The individual selfie images can be still images, stored video images, or live streaming images...The computing device can automatically arrange the individual selfies into the synthetic group selfie."
Even though this feels like a relatively simple and particularly timely new feature from Apple, we should state that the normal patent caveats still apply. Companies file patents on a regular basis and just because the document exists it cannot be assumed that the feature is being actively worked on, and will ever even see the light of day.
That said, with Apple's WWDC event just around the corner (albeit virtually this year due to the coronavirus pandemic) we think the launch of socially-distant group selfies with iOS 14 would be a real crowd-pleaser.
Selfie Stick & Tripod Fugetek, Integrated, Portable All-In-One Professional, Heavy Duty Aluminum, Lightweight, Bluetooth Remote For Apple & Android Devices, Non Skid Tripod Feet, Extends To 51", Black