Like GearBrain on Facebook
CarPlay is Apple's answer to the car infotainment system. Run by your iPhone, CarPlay replaces the navigation, media, phone and messaging controls of your car with those of iOS — and even includes Siri.

CarPlay also works with the touchscreen, buttons, knobs and dials of your car, making navigation as intuitive as it is on both your iPhone and you car's own system. For Android users, Android Auto works in a very similar way, and is often included as an option on head units with CarPlay installed.
Read More:
A relatively new bonus for both systems is wireless connectivity. Until recently, CarPlay and Android Auto would only work if you plugged your phone into the car with a USB cable. But now, with a wireless connection to the car (or the third-party head units listed below) you can leave your phone in your pocket or the glove box, and use CarPlay or Android Auto just as before, freeing up the car's USB socket for powering something else.

But while CarPlay and Android Auto are mostly advertised as options on new cars, there are multiple ways to bring them to your older vehicle, thanks to after-market stereos. We have also included a new option from Porsche, which now sells head units designs to fit (and match the look of) its older vehicles, bringing CarPlay and 2020 connectivity to cars that are decades old.
The head units featured in this article include all of the regular in-car entertainment features, like Bluetooth and DAB radio. But hey also bring CarPlay and Android Auto into the mix - and in some cases, wirelessly too.
Here is everything you need to know about adding CarPlay and Android Auto (in some cases wirelessly) to your car, and some of the best options available to buy right now.
One DIN or two?
DIN stands for the German phrase, "Deutsches Institut für Normung," and refers to a standard size of stereo the country's car makers began installing in the 1980s. DIN refers to a stereo — also known as a head unit — measuring two inches by eight inches. This is the size of a single DIN unit, while a double DIN is the same width, but four inches high instead of two.
Obviously, such simplicity harks back to a time when car interiors and dashboards were sparse and more slab-sided than they are today. This design may not win many design awards. But it means older vehicles with poor stereos can be upgraded to the latest Silicon Valley has to offer.
Apple CarPlay systems — which in most cases come with Android Auto too — tend to be double-DIN sized. However some single-DIN systems exist where the display slides out of where a CD slot would be and flips upwards.
A quick warning: Car head unit makers are often terrible at naming their products, so you'll have to forgive us for repeating their meaningless, alphabet soup-inspired names.
Pioneer AVH-W4500NEX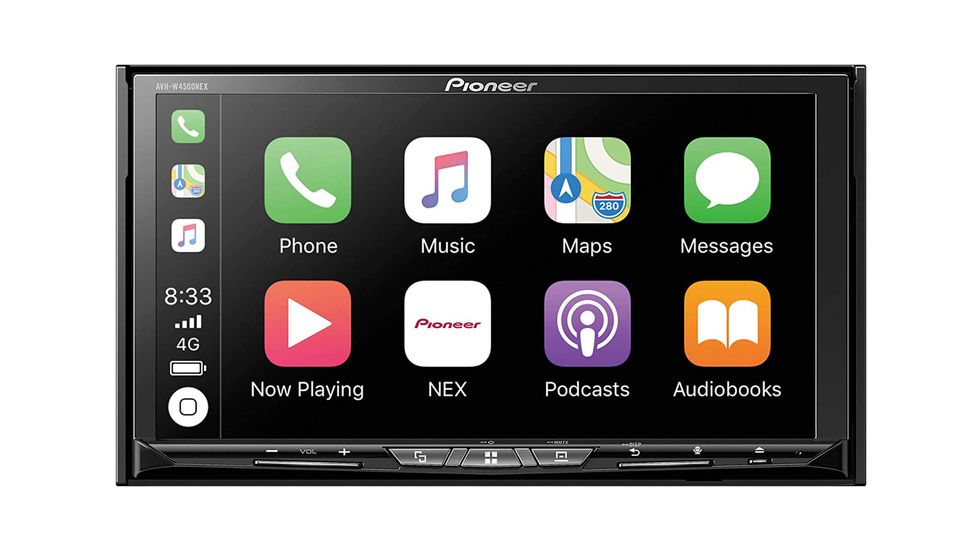 The AVH-W4500NEX has wireless CarPlay and Android Auto
Pioneer
The AVH-W4500NEX is a flagship double-DIN head unit from Pioneer. It features wireless Apple CarPlay and Android Auto, meaning there is no need to plug in with a USB cable, so your phone can stay in your pocket, in the glovebox, or rest on a wireless charger if your vehicle has one. You can opt to plug in your phone, if you so wish. There's also Alexa (via your phone's web connection), Pandora, and support for Siri Eyes Free.
The Pioneer has a 6.94-inch touchscreen display with a resolution of 800 x 480, plus Wi-Fi, Bluetooth HD radio and a 13-band graphic equalizer, There is also an SD card slot for loading in media not held on your smartphone, and USB Quick Charge is supported for Android devices. Audio power output is 200W across four speaker channels.
There is the option to fit a reversing camera to the Pioneer, which will show its video feed on the unit's display when you select reverse. We recommend you pay for professional installation if fitting a wired parking camera to your vehicle.
Sony XAVAX1000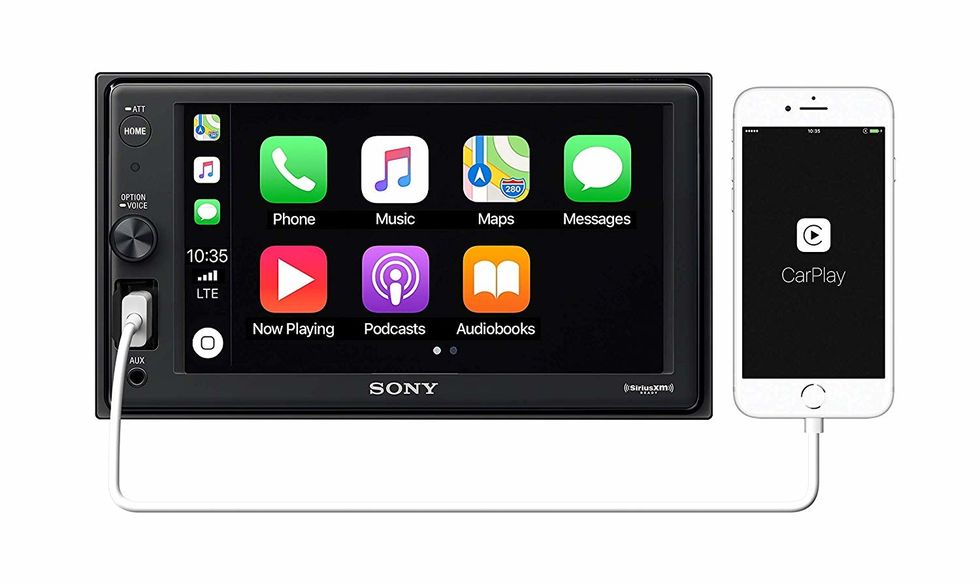 There are no wireless options here (other than Bluetooth) but this is reflected in the lower price
Sony
If your budget doesn't stretch to the $500 required for the Pioneer above, then this example by Sony is a great budget-priced alternative.
Costing $248, the Sony XAVAX1000 is a double-DIN unit with a 6.2-inch touchscreen and integrated Apple CarPlay and Android Auto. There is also a voice control function and Bluetooth.
Although a camera isn't included in the box, this Sony unit can be connected to a third-party reversing camera if you already have one installed, or are looking to buy one in the future.
Alpine iLX-F309 Halo9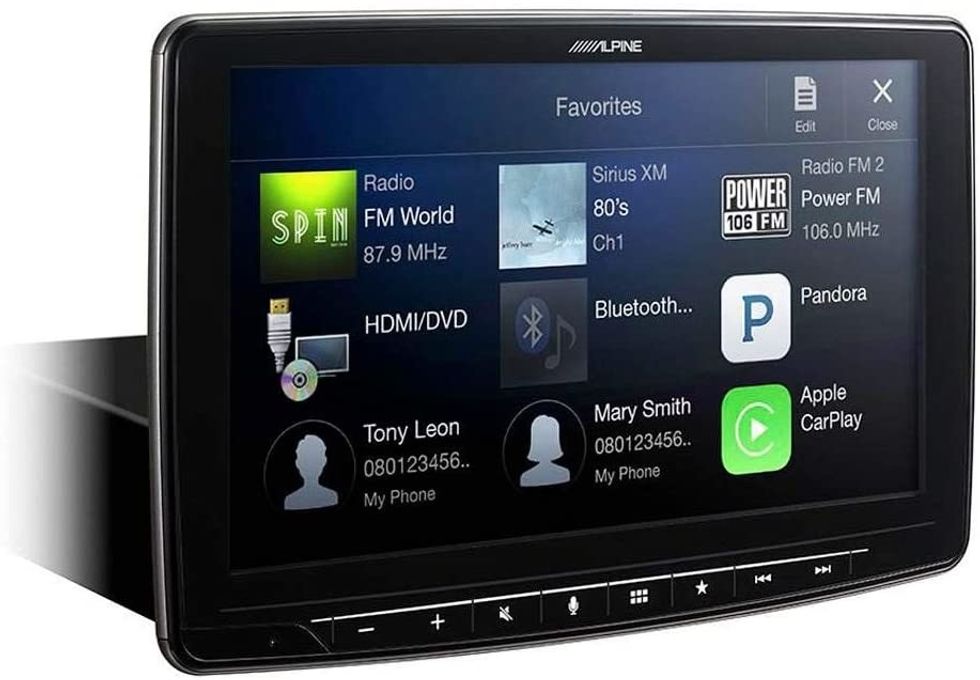 This head unit takes up a single DIN slot but has a large 9-inch display
Alpine
Taking a different approach to most, this head unit by Alpine fits into a single DIN slot, but has the screen size of a double DIN head unit. This means a huge 9-inch touch screen which includes Bluetooth for music streaming, as well as Apple CarPlay and Android Auto, although wireless connectivity is not offered for either.
Whether this head unit works for you will depend on the layout of your vehicle's dash board. If the screen doesn't obscure anything (like heater controls, for example) then you're good to go. The display also tilts up and down, to help you angle it just right.
At $1,000, it is certainly an expensive head unit, but could prove to be the perfect option for your single-DIN vehicle.
Porsche Classic Communication Management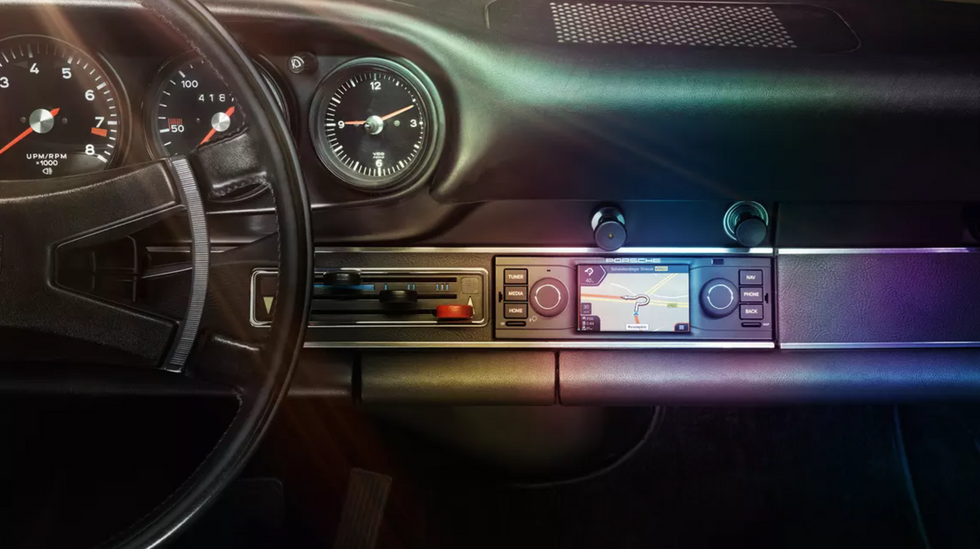 The PCCM brings 2020 technology to Porsches from as far back as 1965
Porsche
Porsche recently introduced a line of head units designed for its classic cars but with Apple CarPlay and Android Auto. That way, you can keep your car's classic looks, but update its technology – and with a head unit from the manufacturer itself.
Two versions are available, one with a 3.5-inch display for classic cars with single DIN slots (going as far back as the 911 F from 1965), and one with a 7-inch display for more modern vehicles, including all 996 and 986 models up to the 996-generation 911 from 2005. They aren't cheap, at around $1,500, but brings 2020 technology to cars over half a century old.
Pioneer AVH-3500NEX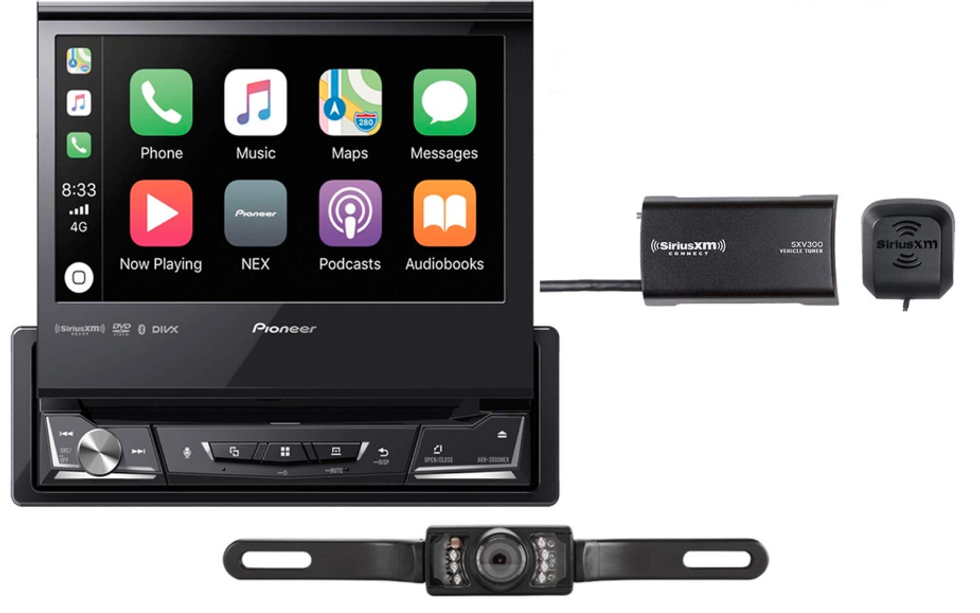 This flip-out screen fits into a single-DIM slot
Pioneer
The previous four options have all required a double-DIN space in your car or truck dashboard, but many cars only offer a single-DIN head unit slot. Thankfully, this $550 option from Pioneer features a flip-out display, meaning you get all of the benefits of a large screen (namely, CarPlay and Android Auto) but from a single-DIN unit.
The flip-out screen is also larger than most double-DIN options, at seven inches, and the unit also includes a rear-view reversing camera, to attach to your license plate. There's Bluetooth for hands-free calls, but CarPlay and Android Auto and wired-only so you'll need to keep a USB cable in your car.
Pioneer SPH-10BT Smartphone Receive with Subwoofer Review www.youtube.com
Like GearBrain on Facebook